A major figure of the 20th and 21st-century painting, Chuck Close is an American artist known for his monumental portraits which are rendered with exquisite realism taken from photographic sources. His large-scale pieces are some of the greatest examples photorealism has to offer from its artistic arsenal. Playing with ideas of scale, color and form, Close has become additionally famous for his fabulous compositions which, although abstract up close, form unified and highly lifelike images when looked from afar. Besides this Impressionism-like practice, Chuck is also active in the field of photography. It should also be noted that Close suffers from an inability to recognize faces - an interesting fact that sheds new light on his painting method. Chuck also suffers from partial paralyzation, a result of a spinal injury that occurred in 1988.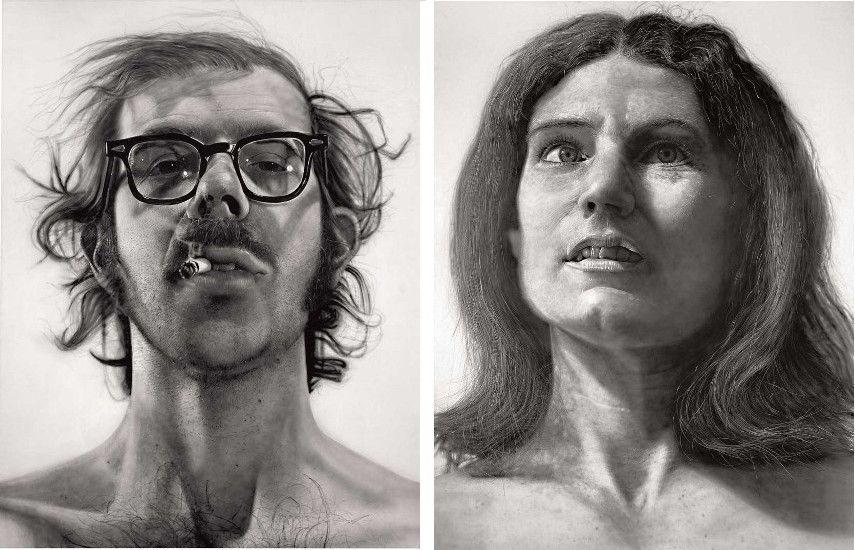 Art as a Form of Escape
Chuck Close was born in the year of 1940 in Monroe, a city in Snohomish County of Washington. His father's name was Leslie Durward Close and he died when his son was eleven years of age. As a consequence, Chuck was raised by his mother, Mildred Wagner Close. While he was still a toddler, Chuck suffered from a neuromuscular condition that made it difficult to lift his feet off the ground. Furthermore, he had a prolonged issue with nephritis that kept him out of school for most of the sixth grade. However, this was not the end of the problems for the small child - he also had dyslexia which was not diagnosed for most of his school days, heavily affecting his achievements as a student. As a mean of escape from such a troubling reality, young Chuck Close turned his attention to making art. Most of his early works are very large portraits based on photographs of family members and close friends. These pieces can be observed as announcers of his future work as Chuck Close never changed his subject - he only got a lot better with his technique.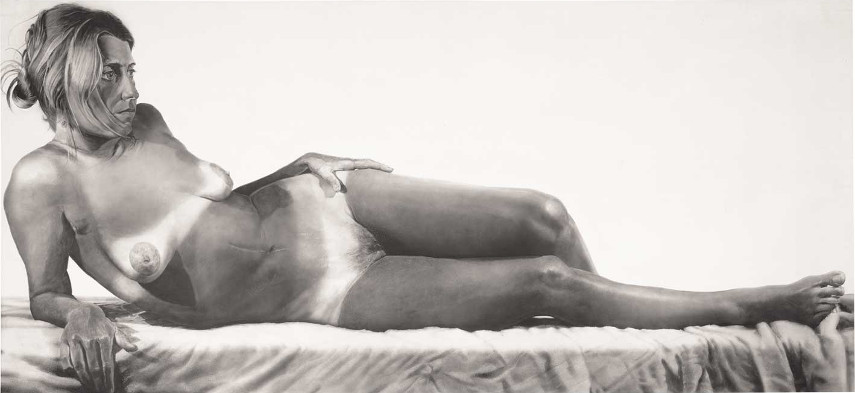 Pursuing Painting Despite the Issues
As if his other issues were not enough, Chuck was diagnosed with prosopagnosia, an illness which is better known by its layman's name of face blindness. Although this kind of disability would probably make most of us stay well clear from painting portraits, this was not the case with Close. Furthermore, the artist claims that it was this problem that inspired him to do portraits in the first place. Noticing that her son was at his happiest when he was painting, Mildred Wagner Close supported her son's creative endeavors. She would take him to museums and art shows, all in order to make sure her son does not lose interest in painting. The artist recalled such a memory during an interview he did with The Brooklyn Rail. In it, Close stated the following: I went to the Seattle Art Museum with my mother for the first time when I was 14. I saw this Jackson Pollock drip painting with aluminum paint, tar, gravel and all that stuff. I was absolutely outraged, disturbed. It was so far removed from what I thought art was. However, within 2 or 3 days, I was dripping paint all over my old paintings. In a way, I've been chasing that experience ever since. Pursuing a career in painting, Close started attending classes at the Everett Community College in the year of 1958.
After exploring other themes during the 1970s, Chuck Close swiftly turned to photorealistic painting of portraits, suggesting it as a means for exploring unsettling aspects of self-identity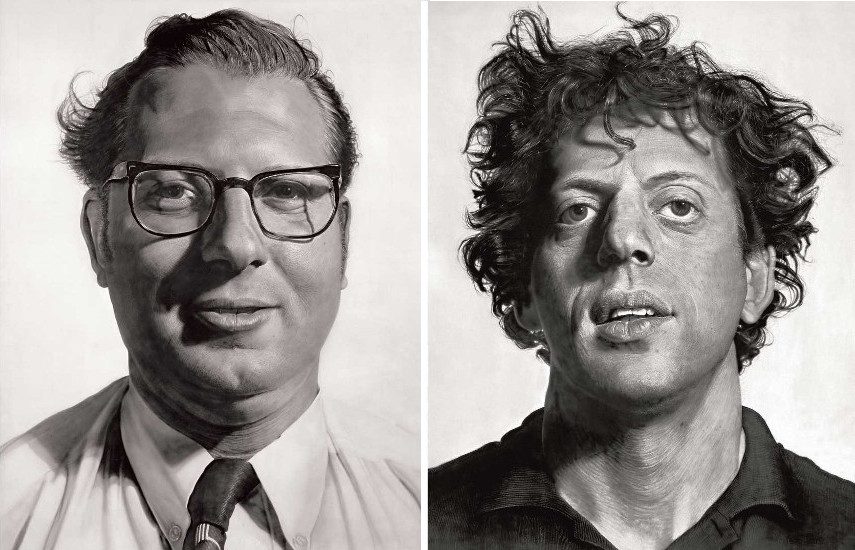 Chuck Close - The Rising Star
In the year of 1962, Close received his B.A. from the University of Washington in Seattle. He entered the graduate degree program at Yale University during the same year, an institution where he received his MFA in the year of 1964. After Yale, he studied at the Academy of Fine Arts in Vienna for a while on a Fulbright grant, enjoying Austria's well-organized presentation of European art history. After he returned to the soil of the United States, Close worked as an art teacher, giving lectures on a regular basis at the University of Massachusetts. Close came to New York City in the year of 1967 and established himself as a worthy artist in SoHo, a neighborhood in Lower Manhattan which came to the public's attention in recent history for being the location of many artists' lofts and galleries. Here, Chuck expanded his contribution to portraiture by mastering varied drawing and painting techniques, such as ink, graphite, pastel, watercolor, conté crayon, finger painting and stamp-pad ink on paper. Furthermore, Close worked with printmaking, exploring such techniques as etching, woodcuts, linocuts and silkscreens. He also used to create paper collage artworks, Polaroid photographs, Daguerreotypes and Jacquard tapestries. Interestingly, Close's early airbrush techniques directly inspired the development of the inkjet printer, a type of computer printing that recreates a digital image by propelling droplets of ink onto paper, plastic, or other substrates. Close's method was surprisingly simple when put into words, but make no mistake as this is a complex process. Chuck would first put a grid on the photo as well as on the canvas, later continuing to slowly copy cell by cell to its finest detail. His later work branched into non-rectangular grids, topographic map style regions of similar colors and CMYK color grid pieces.
Shifting confidently from one media to the other, Close proves that his conceptual intentions are ultimately timeless, whereas his tools or materials are infinitely interchangeable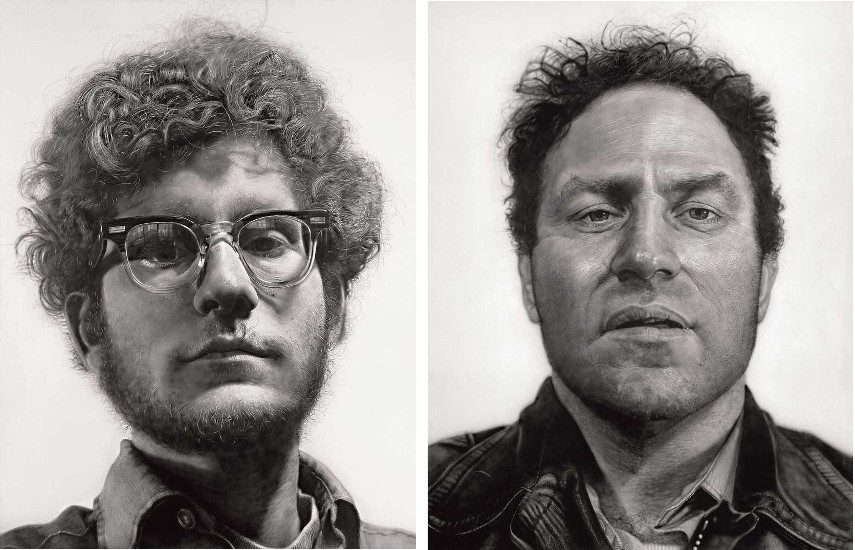 Investigating Photography
In the year of 1967, Chuck Close made a choice to make art hard for himself and force an individualistic artistic breakthrough by completely abandoning the paintbrush, turning to other methods of creative expression. The painter explained such a radical decision with the following statement: I chose to do things I had no facility with. The choice not to do something is in a funny way more positive than the choice to do something. If you impose a limit to not do something you've done before, it will push you to where you've never gone before. Soon, Close started working with a gridded photograph, building his images by applying one careful stroke after another. This methodical way of building a composition resulted in huge pieces which were highly focused. As a reaction, the New York City accepted photography which became assimilated into the art scene thanks to the works of Chuck Close, as well as pieces made by artists such as Richard Estes, Denis Peterson and Audrey Flack. Such artworks also had a massive impact on the development of Photorealism which will soon be accepted as a valid style within art history.
Through his portraits, Chuck Close suggests that self-identity is always a composite and highly constructed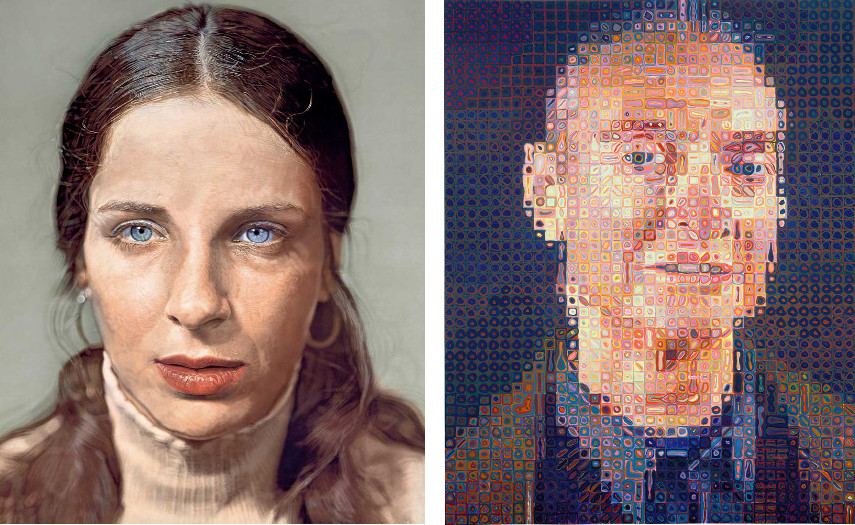 The Event and Later Art
On the 7th of December in 1988, Close was at a ceremony praising local artists in New York City and was waiting the moment he would be called to the podium to present an award. However, he felt a strange pain in his chest. Chuck was able to deliver his speech but suffered a seizure which left him paralyzed from the neck down. As soon as he arrived in a hospital, the cause was diagnosed as a spinal artery collapse. Unfortunately, there was nothing the doctors could do at that point. Close called that day The Event. For the next following months, Chuck was in rehab strengthening his muscles with physical therapy. The therapy was partially successful as the painter regained slight movement in his arms and could walk for a bit. However, he was bound to a wheelchair ever since. Yet this terrifying event was not able to have a crucial impact on his art - Close continued to paint with a brush strapped to his wrist with tape, creating large portraits in low-resolution grid squares with the help of an assistant. This was the time Chuck abandoned his photorealistic ideals altogether, although this process was well underway before The Event. Since then, Close started to turn completely to semi-abstraction as he adopted the aforementioned technique in which the composition is abstract up close, but forms a highly lifelike image when looked from afar. Since his life was altered so much, Close's art flourished, to say the least. He collaborated with many artists and made portrait pieces out of many of them, such as Kara Walker. His work continued to set standards and he is now well regarded as one of the most influential living artists in the United States of America. In 2000, Chuck Close was the recipient of the National Medal of Arts which was handed to him by the president himself. The artist also received the New York State Governor's Art Award, the Skowhegan Arts Medal and over 20 honorary degrees including one from Yale University. In the year of 2010, Close was appointed by Barack Obama to the President's Committee on the Arts and Humanities.
The photorealism of Close's work implies that the whole is rarely more (or less) than the sum of its parts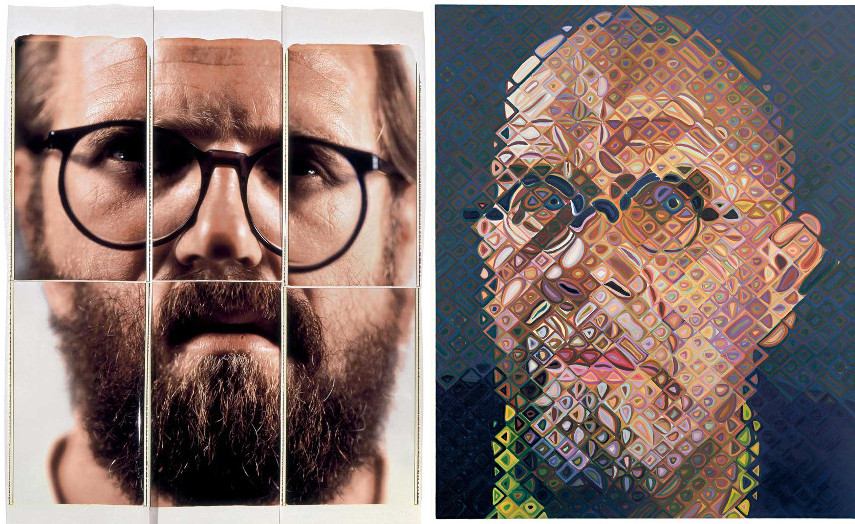 The Greatness of Chuck Close
Although it is easily possible to connect Close with the ideas of Conceputal art, his greatest contributions to art history are without a doubt his photorealistic portraits. Never before had there been such realistic depictions placed on a canvas and combining that fact with knowing Close is not physically able to distinguish faces makes his work that much more impressive. Another occurrence concerning Chuck's life and work makes us feel extremely lifted and inspired. The fact he has been able to stay undeterred after his severe injuries and the way he adapted his art to the limitations placed before him makes Close one of the most awe-inspiring chapters of modern art history. He is a living and breathing proof that there surely is no excuse nor obstacle if one sets his mind in the right direction.
This artist is represented by White Cube Bermondsey London, Gregg Shienbaum Fine Art Miami, Pace Galleries in London, Beijing, Menlo Park and Hong Kong, Me Collectors Room Berlin, Weng Contemporary, Kunzt.gallery and White Cube Mason's Yard London.
Chuck Close lives and works in New York City, United States.
References:
Lowry, G., Wye, D., Varnedoe, K., Storr, R., Close, C., Chuck Close, The Museum of Modern Art, New York, 2002
Close, C., Chuck Close: Daguerreotypes, Alberico Cetti Serbelloni, 2001
Rizzoli, Chuck Close, Rizzoli, 1987
Grynsztejn, M., Engberg, S., Close, C., Chuck Close: Self-Portraits 1967-2005, Walker Art Center/San Francisco Museum of Modern Art, 2005
Close, C., Chuck Close: Face Book, Harry N. Abrams; Ltf edition, 2012
Varnedoe, K., Close, C., Chuck Close: Recent paintings, Pace Wildenstein, 2002
Featured image: Chuck Close - Untitled, 1967-99 (detail). 29 67/100 × 22 in. 75.4 × 55.9 cm. Photo courtesy Kavi Gupta Gallery
Other images via chuckclose.com
All images used for illustrative purposes only