Cildo Meireles is a Brazilian conceptual and installation artist who was one of the pioneers when it comes to showing resistance to political regime in Brazil. His work is quite diverse, ranging from large installations and walkable labyrinths to fake banknotes and Coca Cola bottles with subversive messages. Meireles wants his audience to experience and understand his art through direct interaction and this is one of the reasons why installation became his favorite means of self-expression. Also, his art is entirely conceptual, because the artist's ideas take a strong precedence over common aesthetic values.
Brazilian Countryside
Meireles was born in the late 40s and showed a strong interest and passion when it comes to visual arts, especially drawing, sculpture and even animation. Meireles' father, who worked for the Indian Protection Service in Brazil, was glad to support his son's creativity. Meireles believes that growing up in the Brazilian countryside, which is quite poor and dangerous, had a strong impact on his artistic tendencies. He was often wondering about the destiny of beggars he was meeting on the streets of Brazil every day. Meireles was curious about what they eat and where they sleep and wanted to investigate their lifestyle, which was an unusual interest for a young boy. Meireles claims that this interest in poverty and social injustice and willingness to provide help to those who really need it was the most important path he decided to follow in his life. Also, while he was growing up in rural Brazil, Meireles became aware of the lifestyle and culture of the Tupi people, who are the most important indigenous peoples in Brazil, and later on included in his projects the idea of their marginalization in the Brazilian society.
Meireles started to study fine arts in 1963 at the District Federal Cultural Foundation in Brasilia. In the late 1960s he discovered the Neo-Concrete movement which was becoming popular in Brazil and felt that he has a lot in common with Neo–Concrete artists, who are typical for their strategy of blurring the line between fabricated and real life and using their style as a straightforward and bold response to the ongoing political affairs. Meireles happened to participate in the political demonstrations taking place in Brazil in the mid-60s and he considered them his own political awakening. The artist moved from the countryside to Rio de Janerio in 1967, where he continued to study at the Escola Nacional de Belas Artes.
Meireles' approach is blurring the line between fabricated and real life
Subversive Political Messages
Until 1968, Meireles' primary means of self-expression was expressionistic drawing. However, in the 70s, he completely abandoned this style and became interested in constructing various things, which was the very beginning of his career in installation. Meireles was very curious about the concept of the impermanence as well as the installation objects that exist only through the interaction with the audience. For example, his earliest experimental piece called Virtual Spaces aimed to show to the audience how objects are defined by three different planes (length, height and width) in human perception. In the 60s, Meireles' interest in politics was as strong as his interest in art and his plan was to find some clever approach and make artworks which are subversive but delicate and never aggressive. Dadaism was one of his main sources of inspiration, because of its irony and tongue-in-cheek approach.
Meireles' work can be divided into 5 series, each of them relying on the different concept and different objects. His earliest series, Red Shift (1967-84), consists of three rooms painted in red and the concept behind them relates to the scientific term called chromatic aberration, which Meireles used as a synonym for deviations of the society and politics. His second series, called Southern Cross, is a collection of small sculptures, dedicated to the Tupi people. The sculptures are tiny cubes made of pine and oak three, which are considered sacred trees of the Tupi people. Meireles' third and most famous series, called Insertions Into Ideological Circuits (1970-76) is the most political among the artist's works and it's goal, which is already explained by the title itself , is to insert counter-information or different, revolutionary thought into a huge system of information or products. Large American corporations such as Coca-Cola were Meireles' main target. His last two series, called Through (1983-89) and Babel (2001), are featuring equally interesting concepts. Through is an elaborate labyrinth built for experiencing an awkward tension between various visual and audio inputs, while Babel relates to the mythical tower of Babel and the idea of unity in spite of the obvious language barriers.
Meireles' Babel relates to the mythical tower of Babel and the idea of unity in spite of differences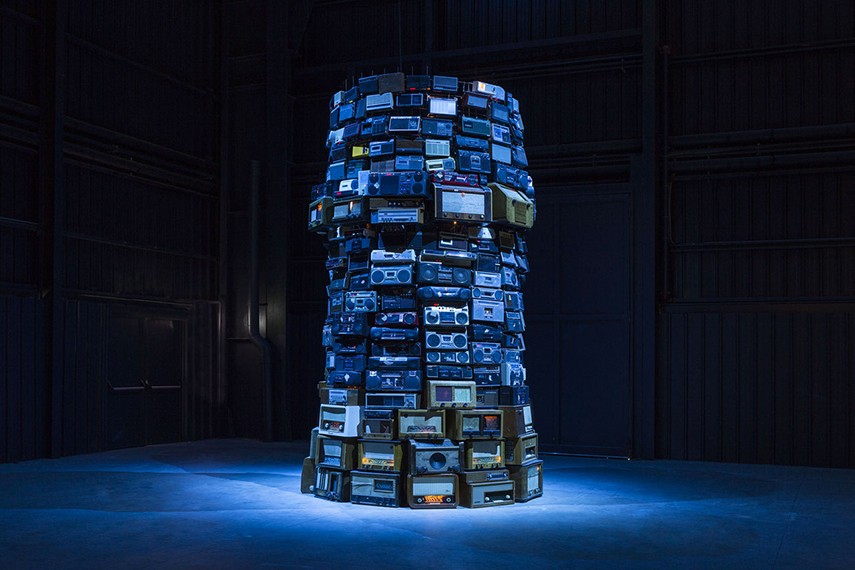 Insertions into Ideological Circuits
Meireles created his most famous series, called Insertions Into Ideological Circuits, in the 70s, around the time when Brazil was experiencing the most oppressive political period. Insertions were Meireles' response to the current political situation and his rebellion towards the censorship that was enforced at that time. This series consists of two parts, called Coca Cola project, and the Banknote project. The artist had very clear ideas about the principles he wanted to incorporate into these two projects – and it was to disrupt the already existing system of circulated information by inserting a piece of ideologically different or revolutionary information. This was achieved by printing messages onto various well-known goods such as Coca-Cola bottles and American banknotes.
Meireles wanted to make people aware of their role in the capitalist and consumerist society through the use of anti-imperialist propaganda. For example, Meireles made a large Zero Dollar tag for his replica banknotes and coins and he modified American bottles by printing subversive messages such as Yankees Go Home. In the 1970s in Brazil, Cola-Cola was a symbol of the US consumerism and the perfect target for Meireles' ideas. The artist commented on his project: The Insertions into Ideological Circuits arose out of the need to create a system for the circulation and exchange of information that did not depend on any kind of centralized control. This would be a form of language, a system essentially opposed to the media of press, radio and television.
Project Insertions has the goal to disrupt the already existing system of circulated information.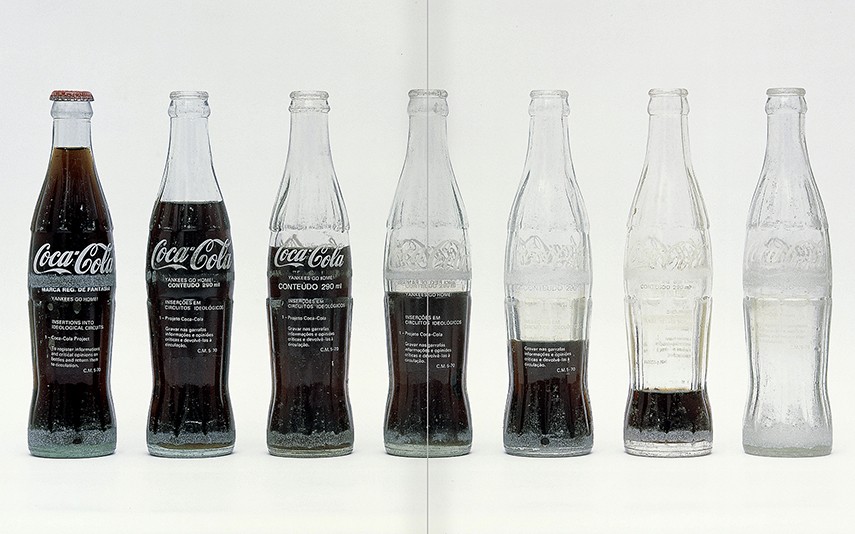 International Importance
Meireles became widely renown for his controversial work which is exploring a wide array of issues which aren't only political. He is a versatile and extremely prolific artist who had countless exhibitions worldwide and won many awards for his ingenious work. The first presentation of the artist's entire body of work opened at Tate Modern in 2008 and he was the first Brazilian artist that was given such significant retrospective by Tate Modern. Also in 2008, he won the Velazquez Plastic Arts Award of the Ministry of Culture of Spain. The great impact and value of Meireles' work lie in his enormous efforts to interact with his audience and deliver his messages in innovative , insightful and above all meaningful ways.
Cildo Meireles lives and works in Rio de Janeiro.
Featured image: Cildo Meireles' portrait - image via youtube.com
All images used for illustrative purpose only.