There's this thing about rulers – their reign must end. No one lives forever, no one possesses an inspiration strong enough to defy time and change. However, when we talk about contemporary Pop Art sculpture, the throne has been reserved for Claes Oldenburg. For the past half a century, his reign has been undisputed, his imagination without limits. Singlehandedly ending the tradition of austere and non-representational sculptures of Abstract Expressionism, he introduced what is now commonly known as Pop Art sculpture. Both the pieces and his own ambition grew over time, but one thing hasn't changed: he reversed all the traditional relationships between the viewers and objects by presenting seemingly everyday objects on a magnified scale. Suddenly, the audience was no longer dominating the relationship, as the absurdly oversized sculptures threatened to end their existence by devouring them in an instant. We indeed are small, and Oldenburg used his talents to show us the truth, applying his sharp insights on the popular American culture along the way.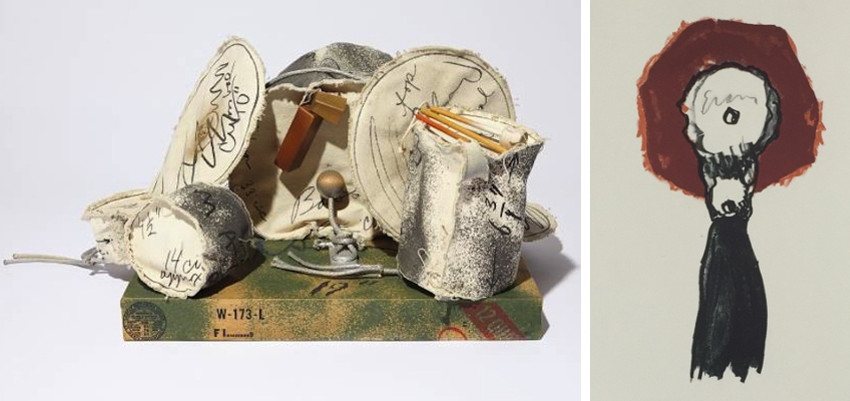 Personal Life
The son of Gösta Oldenburg and his wife Sigrid Elisabeth née Lindforss, Claes was born in Stockholm, Sweden.[1] His father was a Swedish diplomat stationed in New York, who got appointed Consul General of Sweden to Chicago in 1936. His parents were already in the USA when they found out they were having a baby. Without knowing where her husband's next appointment will be, Sigrid insisted that the child should be born in Sweden. Oldenburg first came to the United States when he was six months old, eventually becoming a naturalized citizen in 1953. He studied at the Yale University from 1946-1950, graduating with a degree in English and Art. After leaving Yale in 1950, he went to Chicago, where he was undecided about what to do and took a job with the City News Bureau of Chicago. He was doing that for a year and a half, but it seemed to him that it was a very unidealistic pursuit without any future in it. Since he didn't want to go into reporting, he resolved to become a professional artist. Oldenburg started a self-educating procedure which lasted from 1951 to 1959, when he first showed his work. For about eight years there was darkness, and he worked relentlessly. During the first three years, he also attended the Art Institute of Chicago whenever he felt he was getting too far on his own. In 1956, the artist returned to New York and continued working on his drawings.[2] Regarding his personal life – Oldenburg had three major relationships in his life. His first wife (from 1960-1970), Patty Mucha, was a constant performer in his happenings and also performed with The Druids. In the period 1969-1977, Oldenburg was involved with Hannah Wilke, a feminist artist and a sculptor. He met his second wife, Coosje Van Bruggen, in 1970, when he had his first major retrospective at the Stedelijk Museum in Amsterdam, where Bruggen worked as a curator. They collaborated on many pieces before she passed away in 2009. Another eminent art figure came from the Oldenburg family – Claes' brother Richard E. Oldenburg was director of the Museum of Modern Art in New York for more than twenty years and went on to become chairman of Sotheby's America.
He would often sculpt ordinary things, like tools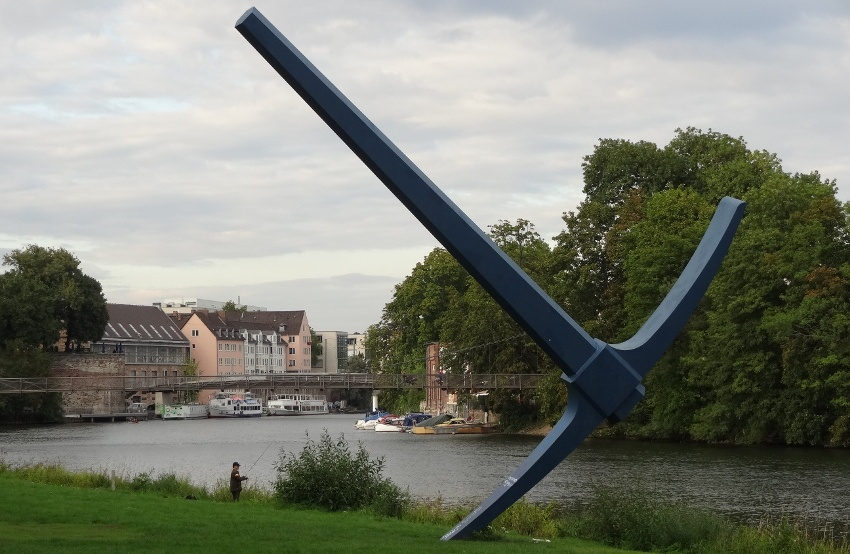 Style
In the years after returning to New York, Oldenburg was mostly interested in the figure. He was never an Abstract painter. After giving it a try at school, he felt he was not inclined that way. His mind was set on something else – a subject matter and what may be called a naturalistic form. In 1958, when he finally found a large enough apartment on the Lower East Side, the artist reverted to figure painting, drawing and painting a lot of figures and nudes.[3] In 1961, he wrote I Am For…, widely considered to be a manifesto, even though the artists disagrees. Through it, Oldenburg asserted his radical artistic position, stating: "I am for an art that is political-erotical-mystical, that does something other than sit on its ass in a museum. I am for an art that grows up not knowing it is art at all, an art given the chance of having a starting point of zero. I am for an art that embroils itself with the everyday crap & still comes out on top. I am for an art that imitates the human, that is comic, if necessary, or violent, or whatever is necessary. I am for all art that takes its form from the lines of life itself, that twists and extends and accumulates and spits and drips, and is heavy and coarse and blunt and sweet and stupid as life itself…"[4] Around that time he emerged as a Pop artist with his "soft" sculptures of quotidian objects. Asked about the lingering criticism towards the American society and its habits, the sculptor said that his procedure is entirely instinctive. Where others speak about contemporary (bad) objects and symbols, Oldenburg is only concerned with the living experience. Naturally, he has thoughts about America and the way of life, but it's not what he really thinks about. When he starts to work, these types of opinions may start the piece, but by the time he gets to something that matters, they have become generalized into something else. Not limiting his pieces to only one dimension (like the critique), the artist states that art objects should be something unique, but also that every single work should go many ways, all at the same time.
His process is entirely instinctive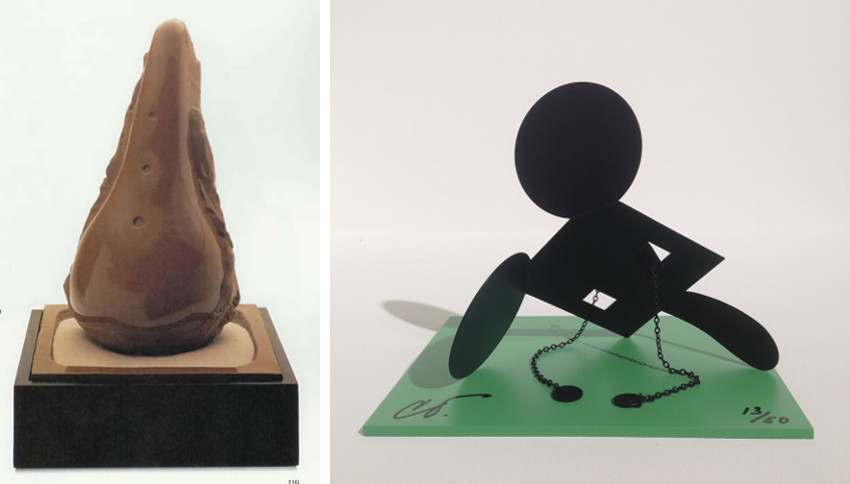 Exhibitions and Related Events
Oldenburg had his first solo show at the Judson Gallery in New York in 1959, which featured figurative drawings and papier-mâché sculptures. When the 60s began, he was already in the process of establishing himself through a series of performances and installations. Some of the first ones, such as The Street (1960), The Store (1961), and Ray Gun Theater (1962) contributed greatly to the emergence of the American Pop Art. While he was in Los Angeles, the artist shifted his focus towards subjects inspired by what he called The Home. The installation Bedroom Ensemble (1963) was quickly followed by performances Autobodys (1963), Gayety (Chicago, 1963), Stars (Washington D.C., 1963), Washes and Moveyhouse (New York, 1965), and Massage (Stockholm, 1966). In 1969, he exhibited his works at the Museum of Modern Art in New York, and a year later, at the Tate Gallery in London. The Whitney Museum of American Art organized a retrospective of the drawings made by Oldenburg and Van Bruggen in 2002, and seven years later, another major exhibition took place there. Claes Oldenburg: Early Sculpture, Drawings, and Happenings Films, along with Claes Oldenburg and Coosje Van Bruggen: The Music Room, showed the Iconic examples of Oldenburg's early sculpture - Giant BLT (Bacon, Lettuce, and Tomato Sandwich) (1963), French Fries and Ketchup (1963), and Soft Toilet (1966).[5] The Music Room was actually a full room dedicated to a series of sculptures of musical instruments by the duo, including both hard and soft instruments of differing scales that ranged in date from 1992 to 2006. Among the objects included were variations on a viola, saxophone, clarinets, French horns, sheet music, and a metronome. Up to this date, Oldenburg remains as one of the most exhibited contemporary artists, whether he's in solo shows, or participating in group exhibitions. Also, there are more than forty large-scale pieces installed around the world – from Norway, South Korea, Germany, The Netherlands, Italy, Japan, United Kingdom, Spain, France, to the USA. His works are admired by the entire world.
Since 1959, when he had his first solo show, Oldenburg had become one of the world's most exhibited contemporary artists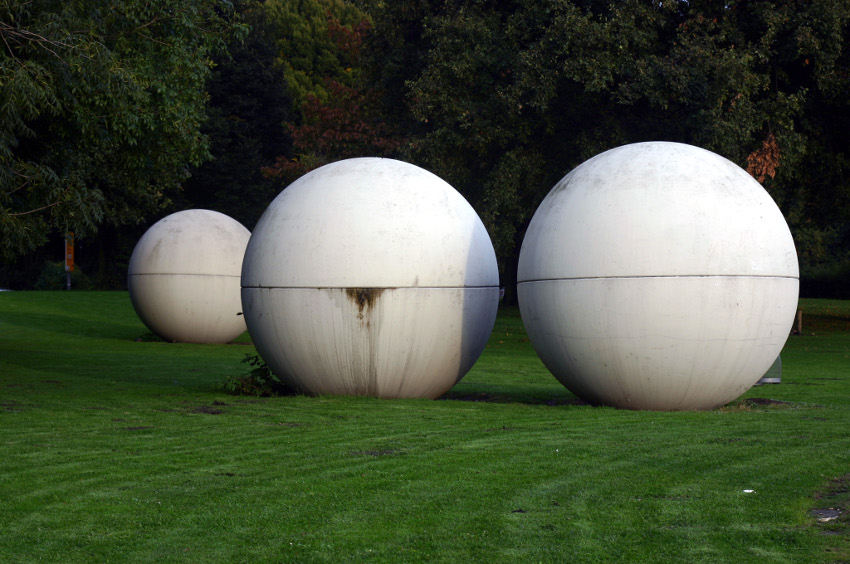 Legacy
Oldenburg made a major breakthrough in the world of sculpture, distancing himself from the aesthetics of Abstract Expressionism and its hard and vertical placed sculptures. His works may appear insignificant, but they are indeed expressive entities. He has also distanced himself from his Pop peers, like Warhol and Lichtenstein, by employing somewhat gentler cynicism. His innovative approach paved the way for the next generation. Oldenburg inspired some of the contemporary titans, such as Jeff Koons and Damien Hirst. In the end, one's contribution to the world art is not measured by the influence he makes in his own time, but rather can his style survive the test of imminent change and remain influential. This puts Oldenburg in the pantheon of the sculpture deities, along other masters like Brancusi and Michelangelo.
He is represented by Gregg Shienbaum Fine Art gallery.
Claes Oldenburg lives and works in New York.
References:
Anonymous. Claes Oldenburg, Wikipedia [August 26,2016]
Hooton B. Oral history interview with Claes Oldenburg, 1965 Feb. 19, the Archives of American Art [August 26,2016]
Rose B. Claes Oldenburg, Interview Magazine [August 26,2016]
Anonymous. Claes Oldenburg: I am for an Art, artist statements [August 26,2016]
Anonymous. Claes Oldenburg: Early Sculpture, Drawings, and Happenings Films, Whitney Museum of American Art [August 26,2016]
oldenburgvanbruggen.com
Featured image: Claes Oldenburg posing with one of his artworks – image copyright Keystone/Getty Images