The artistic opus of Claire Milner is largely drawn by the artist's desire to inscribe environmentalist discourse in art. The compositions that she creates are usually rotating around the main characters which are the animals themselves. The fascination and love for those creatures are deeply connected with many of them becoming almost extinct due to constant climate changes and pollution threats. On the similar trail of examining the human behavior in crises, Milner considers topics of identity, gender, and displacement.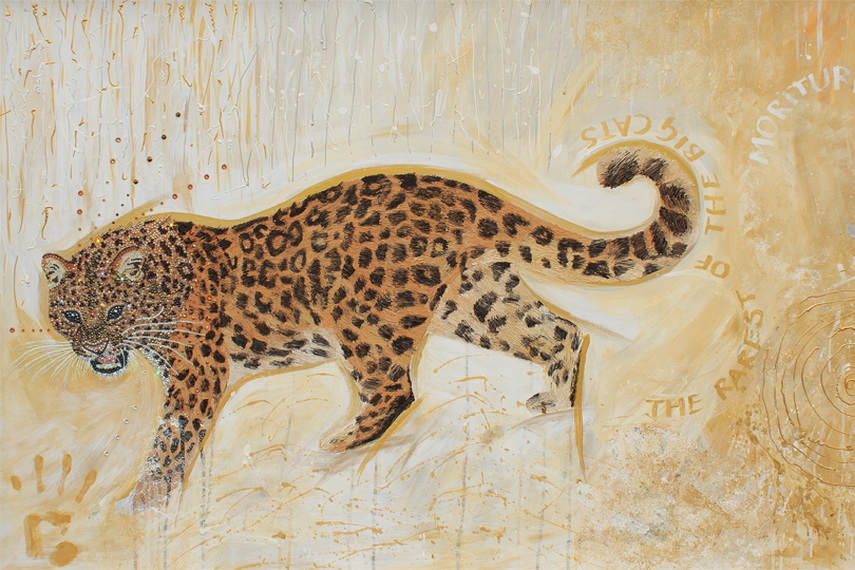 Maturing as an Artist
Claire Milner is born in Yorkshire and from 1985 to 1988 she studied Coventry University and earned BA in Graphic Design and simultaneously attended Foundation In Art & Design, at Harrogate College of Art. Almost a decade later Milner finished Elaine M. Goodwin Mosaic Summer School and Mosaic Workshop Course in London. In the meanwhile, the artist traveled extensively, in Australia, Africa, and South America. She even worked from time to time as a graphic designer and illustrator so her work was commissioned by many large corporations and publishing companies.
The works fullfilled with both literal and metaphorical contrasts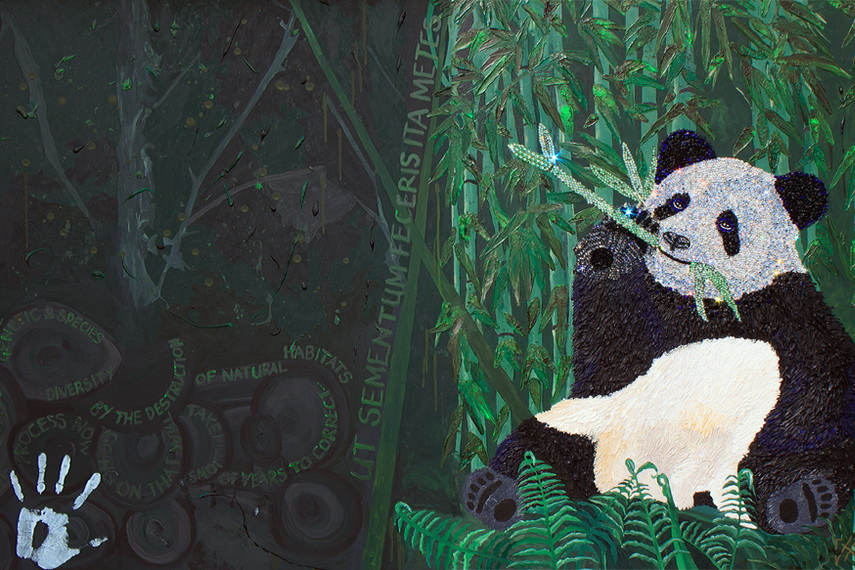 Prone to Portraiture and Mosaics
As the time passed by, Milner was more and more determined to pursue her personal artistic career. She started exhibiting and somehow focused on portraiture and the first works were basically commissioned by politicians, central European bankers, and company CEOs. That is how Milner started examining the very origin of portraiture throughout the art history starting from Greek, Roman and Byzantine style. One thing led to another and the artist became completely fascinated with mosaics. This specific style she developed further over the years into more contemporary Pop Art style, yet she kept the basics conjecture with the experience of working in the design and illustration industry.
The experince from illustration and design industry is apparent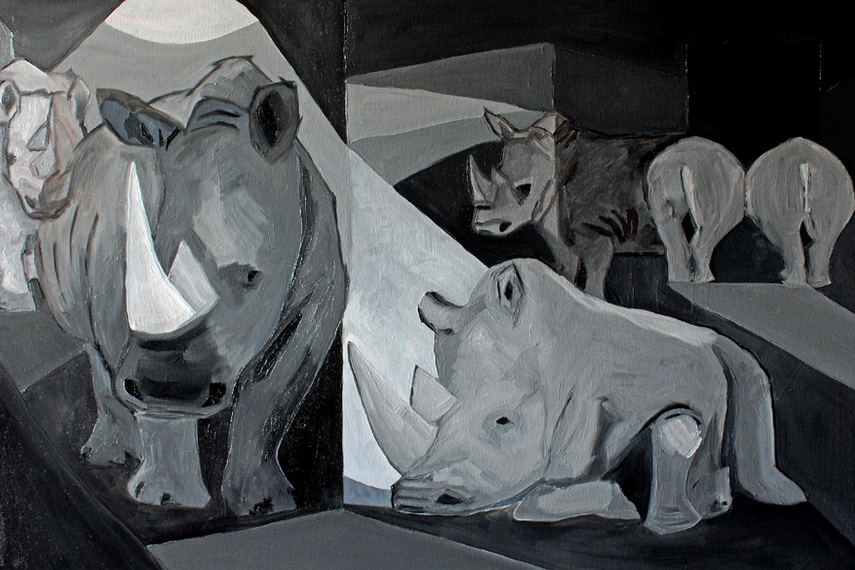 Establishing Authentic Style
The works of Claire Milner is constituted out of not only references from art history, yet from classical literature, fashion, architecture, science and most especially from the natural world. The artist is rather moved by the works of Picasso, Warhol, Bernini and de Lempicka although her skillfulness does not allow for those influences to be seen at the first glance. The creation process is usually well thought and involves traditional painting techniques and rigorous mosaic methodologies. Milner starts by building up a painting in layers from the information in her notes and sketches and includes relevant influences depending on the general context of the series and sometimes even employs text. In recent years, Milner decided to incorporate precious stones in her compositions in order to undermine additionally our consumer driven the world and reflect a society where people and animals are valued aesthetically and as commodities.
Raising awareness through her artworks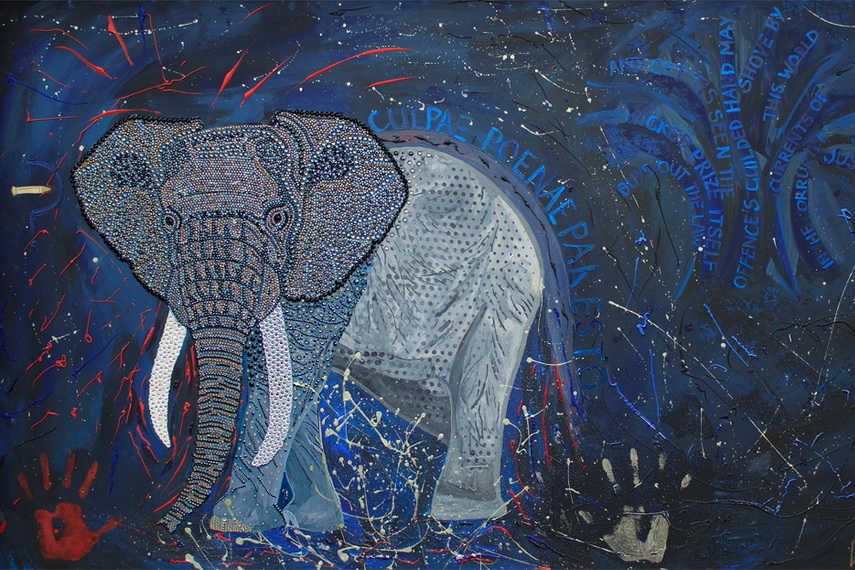 Peculiar Approach to Themes
Although the before mentioned love of the natural world takes the central role in her art, Milner is rather keen on articulating the intersections of identity, value systems, memory and mortality in regards to the intense relation between civilization and the natural world. Whichever is the subject matter, the artist is close to an idea of art as a tool for social and even political debate. The approach of accentuating both humorous and tragic quality is taught to suggest deeper meaning beneath the surface of a canvas.[1]
The different interpretation of the icon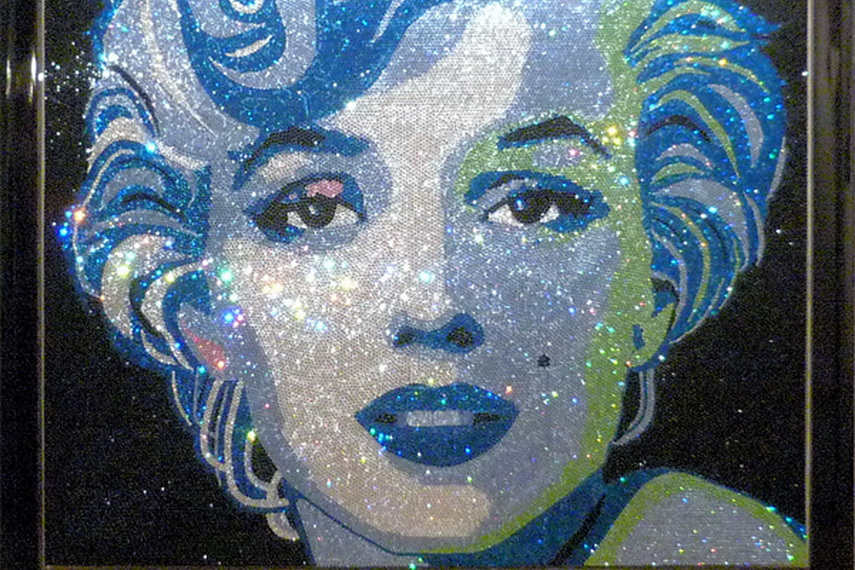 Blue Marilyn
During the years, Milner managed to establish her art step by step, so commissions were not that rare. In 2010 another one came but from a rather famous person – it was the pop star, Rihanna. Milner had to create the large-scale portrait of Marilyn Monroe in Swarovski crystals so she started with huge and detailed research in order to deliver the complicated and contradictory aspects of Monroe's personality, the glitter, and public facade, the vulnerability, and sadness in her eyes. After thorough thinking, the artist decided to depict untypical or, in this case, blue Monroe. By applying 65,000 Swarovski crystals, Milner wanted to reveal the observers own reflection, for each person to become mesmerized in order to undermine the clash of identities of public and private personas.
Allegory in the service of a social comment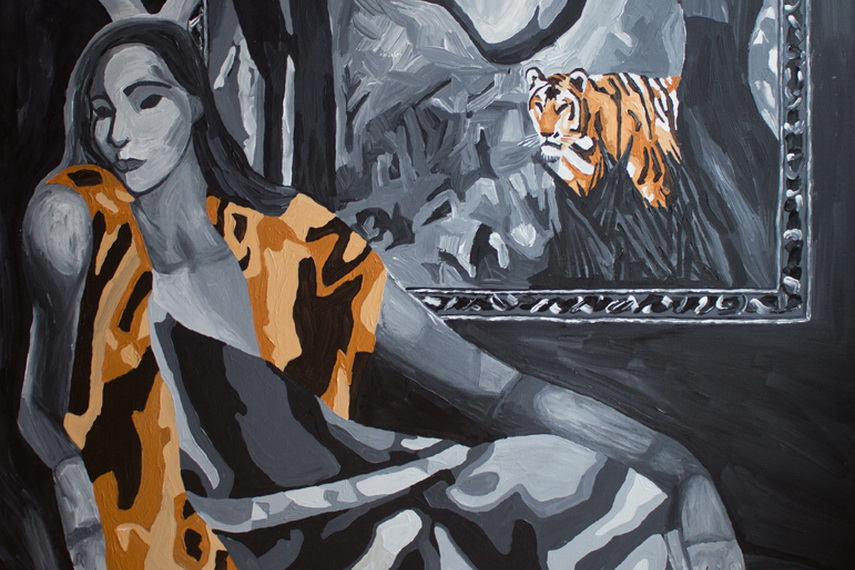 Great Success
Beside these astounding large scale painting and murals, Milner is devoted to participating in charity events aimed to maintain conservation fo wild animals, as well as to fight poverty in Africa by educating and empowering girls. Her artworks are part of several private collections around the globe and have been exhibited internationally. In 2011 Claire's business was chosen as a winner of a competition hosted by retail magnate and Dragon's Den star Theo Paphitis and shortly after she was chosen the same just hosted by one of Britain's most successful businesswomen.
Claire Milner lives and works between North Yorkshire, UK and Rome, Italy.
Refernces:
(2016): Claire Milner, from Marilyn Monroe to the Tiger Burning Bright!e, Ethical Hedonist, [January 17 2017]
Featured image: Portrait of Claire Milner in front of her artworks - image courtesy of the artist
All other images courtesy of the artist