Claudia Barthoi is a Berlin-based artist, whose art is strongly based in a mutual relationship between materials, surfaces, structures and lines.
Being an Artist is not for Pussies
Born as Claudia Corinne Siegert in Munich, Germany in 1971, the artist changed her name to Claudia Barthoi after she decided to focus exclusively to artistic development. At first, Claudia enrolled into a Fine Art studies, but soon switched to a graphic design school. Capable and competent, she instantly after graduation started working and building a career in advertising.
After a 10-year long career and after winning numerous national and international prizes – such as Cannes Lion, the highest international award in the advertising sector – Claudia leaves the never-loving advertising sector behind, changes her name to Claudia Barthoi to mark this transition, and starts investigating her artistic expression through sculptures and drawings on paper. She enrolls into renowned art schools in Hamburg, Berlin and New York and gradually develops her own visual language, influenced by the post-war art movements. At that time, Barthoi's motto that led her was "Being an Artist is not for Pussies", and remains her strong statement and attitude to creating art in years to come.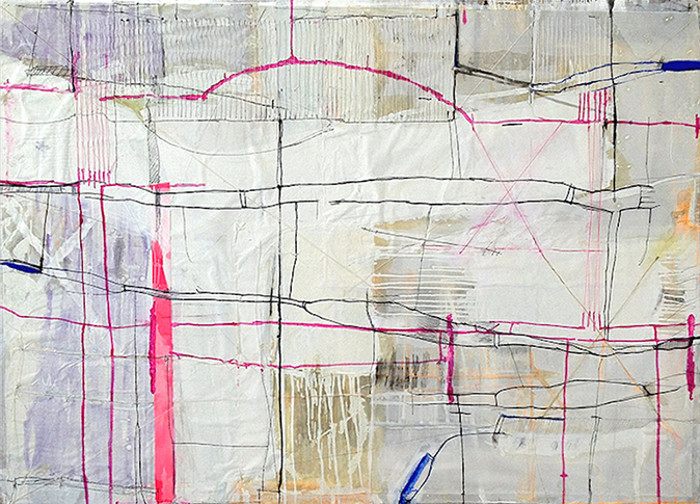 Structured Abstraction: Style of Claudia Barthoi
For Claudia Barthoi, the most interesting aspect lay the outset in the abstract. Using mediums ranging from pure works on paper and linen, to a needle and thread and adhesive techniques, she creates works that depict her obsession over connections between the shapes, surfaces and corners of her everyday surroundings. In her development as an artist, Claudia overpassed initial drawing-like strokes, replacing them with the presence of surface and drawn, sewn and painted strokes as her strongest means of expression.
With a bit of irony and a healthy dose of humor, stated through the artworks' titles, Barthoi connects elements and fields, lines and space, dividing and creating shapes and fields. Portrayed structures overlay each other, re-closing previously opened surfaces and creating new levels of layers. Shapes remain reduced and abstracted, as the artist consciously produces failure by merging incompatible materials such as delicate papers which she collages on linen using oil and solvent, or threads.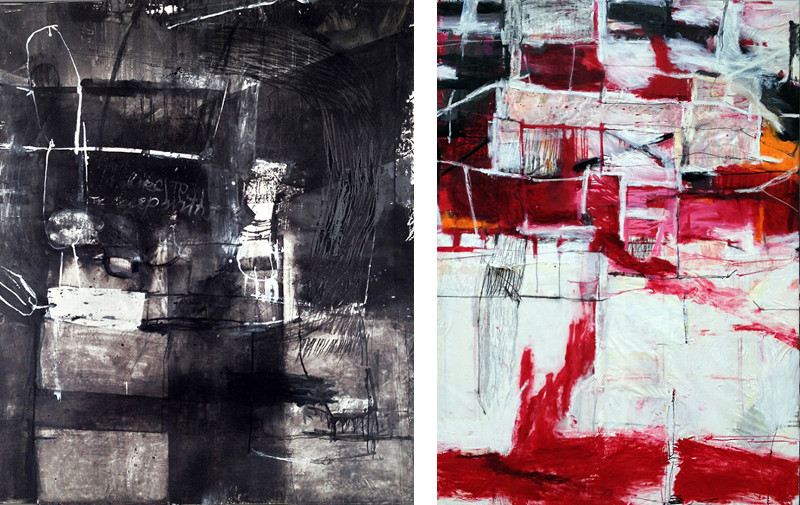 Bending the Rules
Claudia Barthoi first started exhibiting her works in off-spaces like the Galerie Hinterkonti or the Studio Ladezone Freihalten in Hamburg. At the beginning of a career, galleries featured her small paper works in oil, graphite and wax as well as installations with gauze, wax, wood and fabric. During the following years, Barthoi's visual style, as well as materials and scale of her works changed, now resulting in her total engagement in the medium on painting. However, some principles always remained the same – she still prefers to exhibit her works in unused off-spaces.
For her Quickshows, as Barthoi likes to call them, the artist enters an unused space quickly, leaving the artworks and moving onto the next project. Such creative process reflects not only her understanding of absolute self-determination, but is also typical of the creative metropolis of Berlin. In 2005, Claudia Barthoi became a part of the Flatfiles of the Pierogi2000 gallery in New York, where she continues to be represented to today.
Claudia Barthoi lives and works in Berlin.