Originally coming from the world of paintings and sculptures, Clet Abraham has moved on to putting street sign stickers in cities around the world. His philosophy is not to destroy, ruin, or invade with his artworks, but rather to be respectful and sometimes provocative. These interventions are made in order to wake up attention and create a dialogue. In this way, he believes his peaceful works contribute to the street art of cultural and historical cities in all parts of the world. Some people call him a guerilla artist, as he mostly works by night when the chances to get caught are smaller, and because his actions are sometimes illegal.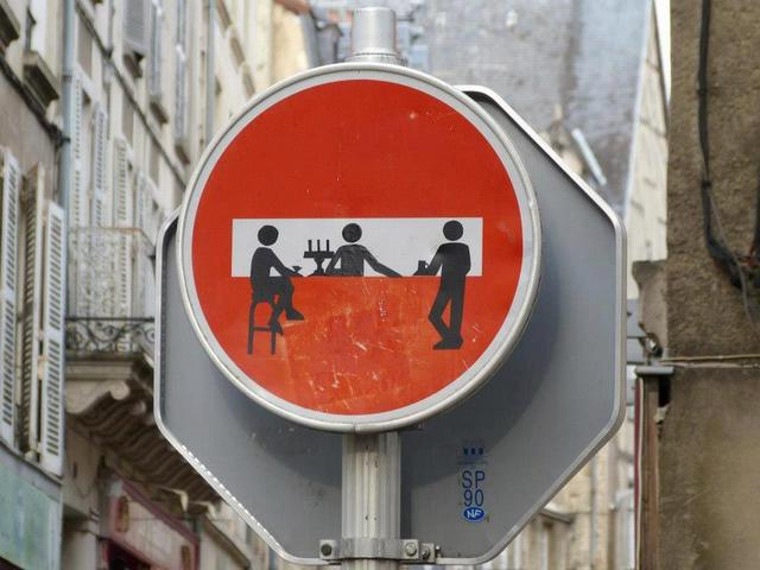 Clet Abraham's Beginnings and the Intention
He is French who was born in Britain in 1966. He earned his degree at the School of Fine Arts in Rennes. In the early 1990s Clet moved to Rome, and later to Florence, where he worked as an antique furniture restorer, but also as a painter and a sculptor. Although he doesn't belong to a group of conventional street artists, he has some connection with it. Abraham tries to invent his original language through personal and independent research work. His motivation is to correct the anomalies and contradictions of the signs, by giving them a note of humor. He also questions the principles of obedience; in places where authority is self-critical, his art remains, in others, it is removed very quickly. Most of the problems he had were in Brest, Pistoia, and Osaka, where his girlfriend spent six months in jail.
Abraham tries to invent his original language through the personal and independent research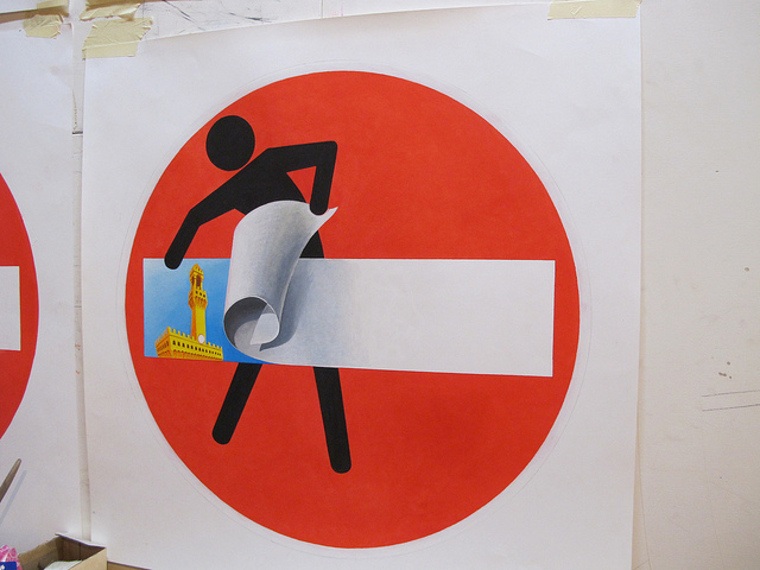 His Recognizable Signature and Projects
For Clet traffic signs are the maximum expression of power, with their messages: 'You have to do'. As a person who doesn't like obligations and doesn't respect the sacredness of law, he may be regarded as an anarchist in some way. However, he is always open for discussion and constructive solutions. Author's famous easy removable no-entry stickers or crucified road signs have become very popular wherever viewers see them. The mayor of Paris's 13th endorsement was so amused with his art that they even collaborated. The other collaboration was with the locals from Figline Valdarno, Tuscany municipality with a female majority, on a project of the celebration of International Women's Day. Apart from this section, the artist also develops art ideas of big installations on facades.
The mayor of Paris's 13th endorsement was so amused with his art

The Exhibitions
Clet's works have been exhibited in numerous galleries like Galleria Studio 99 and Gallery Le Marais in Paris, or Armel Gallery in Nantes. Besides these institutions, his art is a part of both private and public collections, such as Banca Popolare dell'Etruria e del Lazio, Istituto Tommaso Crudeli of Udine and Castello di Poppi. Abraham participated in three editions of the company Fuori Luogo organized by Chiessi e Fedi in 2008 at the Palazzo Strozzi, in 2009 at the Teatro della Pergola, and in 2010 at the Galleria delle Carrozze of Palazzo Medici-Riccardi. His unique stickers mark the street signs in numerous countries.
He is represented by the Graffik Gallery.
The artist's home is in Florence, Italy.
Featured image: Clet Abraham – Portrait – Photo via lanazione.it
All images used for illustrative purposes only