Born in South Florida, Alexander Perez was interested in art since he was a teenager. He started to draw at the age of 13, and seven years later when he discovered The Wynwood, artist Coinslot was born. He was always interested in politics, social events and the world around him, which was the main inspiration for his work. He appreciates a good wall covered with the mural and his canvases are made of recycled paper bags. Using the illustrations and cartoons he usually portrays particular political and social issues.
Coinslot's canvases are made of recycled paper bags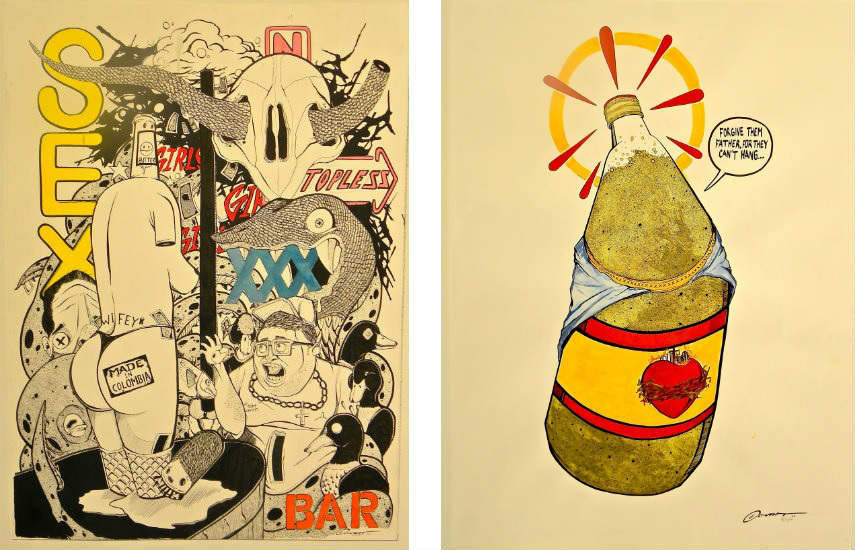 Mickey Mouse is a Symbol of American Dream
Realizing his dream by being the part of a Wynwood Walls, decorating its walls with murals, Coinslot is also represented by Gregg Shienbaum Fine Art and his work is sold internationally. The collector from London commissioned his The second coming which was Coinslot's first sale overseas. Mickey Mouse depicting the American Dream, Death on the mechanic donkey in front of the grocery store, Mc Donald's clown with nimbus, and Monkey see, monkey do, are only some of his ironic representations of today society.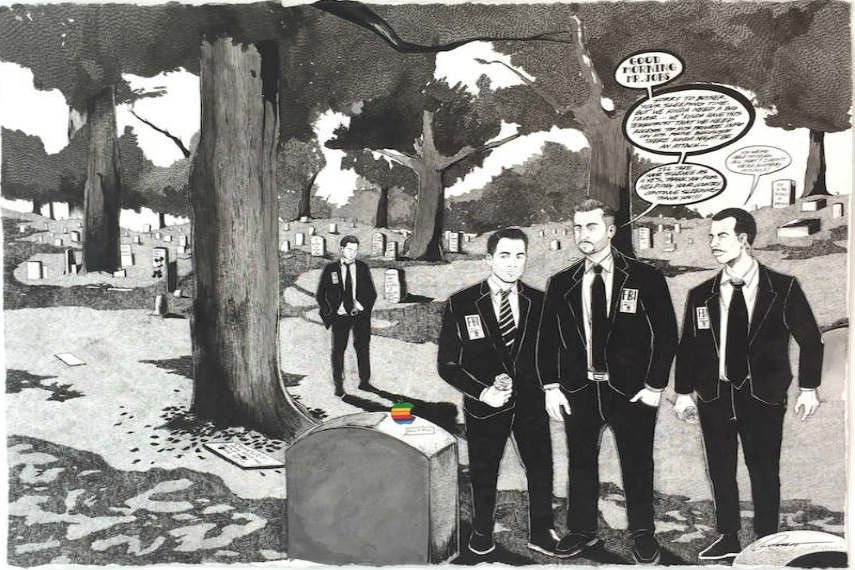 Irony is in the Detail
Coinslot admits that when he sees a white wall, he can't resist not to "murder it black". Enjoying in painting the murals, he is also thankful to the people who gave him the chance to exhibit in the inner space where his talent for drawing could come to the surface. This humorous young man didn't spare even the actual candidates for the American president race representing Donald Tramp with red hat who yell on a Mexican people to go back to Mexico. Detail plays very important role on all of his works, like apple painted in the rainbow colors on his drawing Jobs vs. the FBI.
He creates vivid images of cartoonish characters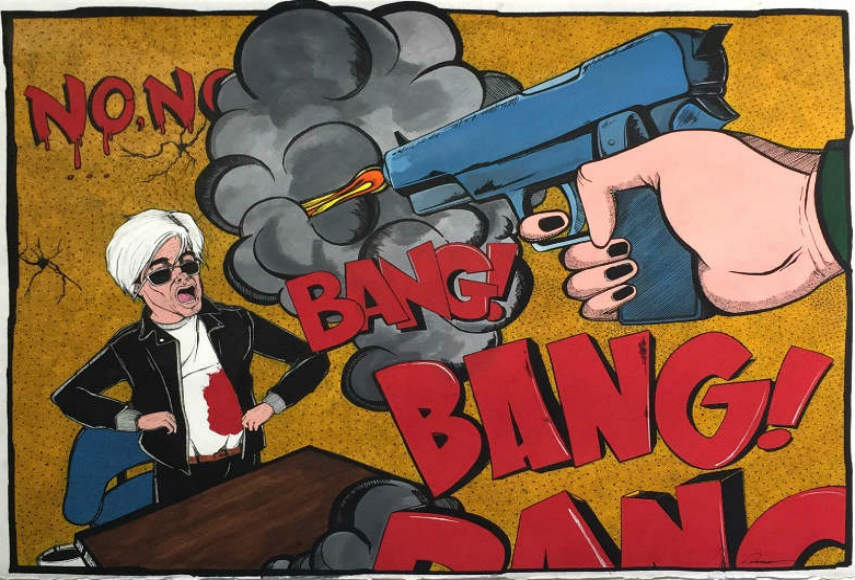 Following the Curent Aspirations
Coinslot's art gained popularity and great success since he decided to enter the gallery space. His work follows the current aspirations which enabled him to be up-to-date and always interesting to the audience and collectors. He thinks that every artist should emphasize on what's going on today. So, widely using this motto, he creates vivid images of cartoonish characters which on ironic and humoristic way represent everyday life around him. Coinslot does not consider himself an artist, but only the guy who likes to draw and don't want to be put in a box.
Coinslot is represented by Gregg Shienbaum Fine Art.
Coinslot lives and works in Miami, USA
Featured image: photo via the dailywood.com
All images courtesy of Gregg Shienbaum Fine Art