Colin Christian is a London-born Pop surrealist/lowbrow sculptor, known for his signature large-scale anime-inspired sculptures. His art is influenced by a Swiss surrealist painter H. R. Giger, old science fiction movies, the leather and bondage cultures, pinup girl aesthetic and ambient electronic music.
Born in London in the swinging 60s, Colin was never a person for school and formal education. Only art classes held his attention. He experienced sleep problems and anxiety when he was very young, and one time the doctor told his mother that it was probably due to an overactive imagination, and suspected that he would be an artist.
Cosplay-themed works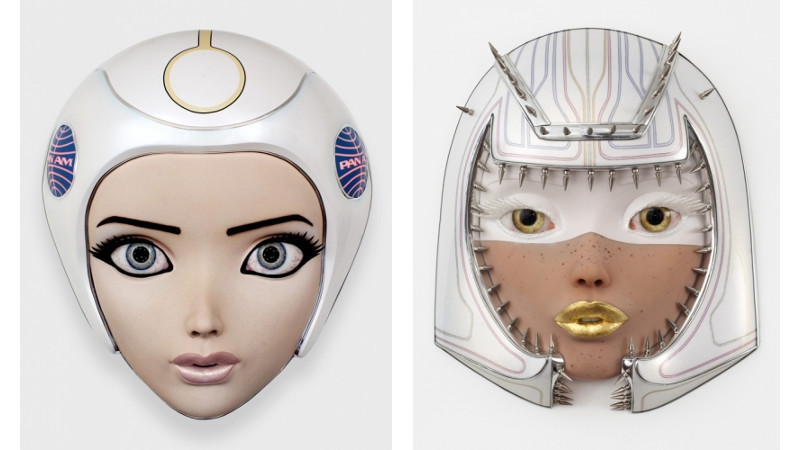 At the age of 15, the artist left school and lived for a year in Morocco. Upon his return to London at the age of 16, Colin worked at a record music store, later becoming a club DJ playing Goth, Punk, Metal and Electronic music. He also worked as a stage manager for a popular nightclub in the south of England. This was the place where he met his wife Sas, who is also an artist. The duo moved to the United States in 1993 to pursue art as it wasn't a viable career choice in the UK back then. In 1995, Colin and Sas started a small business Hotbox Inc., making latex clothing for fetish stores.
At the time, Christian did several commercial jobs, and in between he continued to develop and experiment with different materials for his own sculptural work. In 2004, he created Moist As A Snackcake, the first sculpture to include silicone in the design.
In 2010, Christian participated in Art from the New World collective exhibition, hosted by The Bristol Museum. For the occasion, the artist displayed several works, such as Capsules 1,2 and 3, and large-scaled Protean Brightwork and Gia'a sculptures.
Hello Kitty exhibition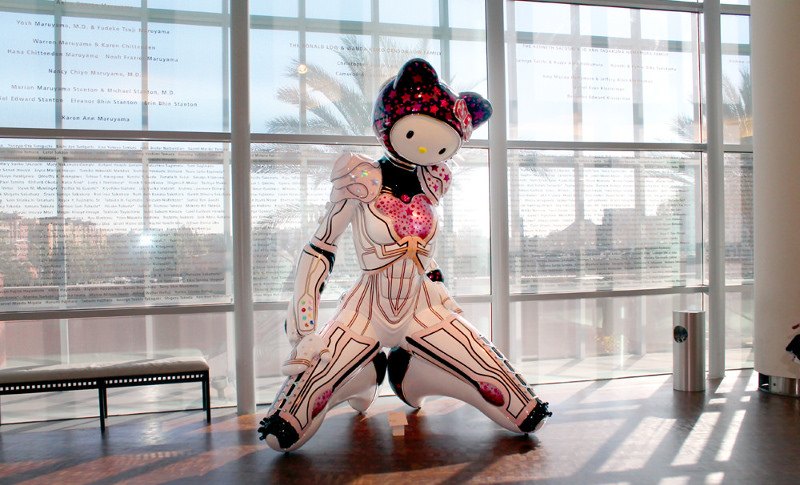 In 2014, Christian's glittery, pink and white, larger-than-life cyborg space explorer Hello Kitty was featured in Hello! Exploring the Supercute World of Hello Kitty, an exhibition held at the Japanese American National Museum – JANM.
Teeth, featured in Trypophobia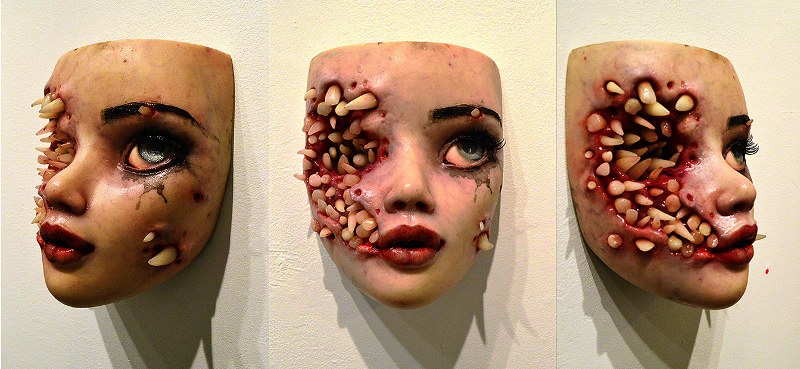 Although he is mostly known for his leggy sculptures with a supermodel or anime-inspired physiques, funky candy colors, and a 60s-pop aesthetic, Colin's work has recently taken a darker twist. Works showcased in his Trypophobia solo exhibition combine allure and repulsion, exploiting people's innate discomfort with porous organic matter. The title of the exhibition Trypophobia stands for a pathological fear of objects with irregular patterns of holes. With either a reaction of instant repulsion or a desire to tend the gaping, teeth-filled sores, Colin's works manage do produce a fantastic juxtaposition of emotions.
He is represented by Stephen Romano Gallery, located in New York.
Colin Christian lives and works in Tampa, Florida.
All images © Colin Christian