Cosmo Sarson is a British artist best known for his giant 28ft mural of Jesus break-dancing, created with over 1 kilo of gold glitter on a prestigious Bristol wall.
Cosmo Between Classic and Street Art
Sarson was born in London where he studied fine art painting at The Byam Shaw School of Art, achieving early success as a student when his degree show was sponsored by Paul Smith. This classically trained artist grew up in London, surrounded by Hip Hop, skateboarding, break dancing and graffiti. Normally, all this influenced his work, fusing with the paintings of Caravaggio, Manet and Bacon.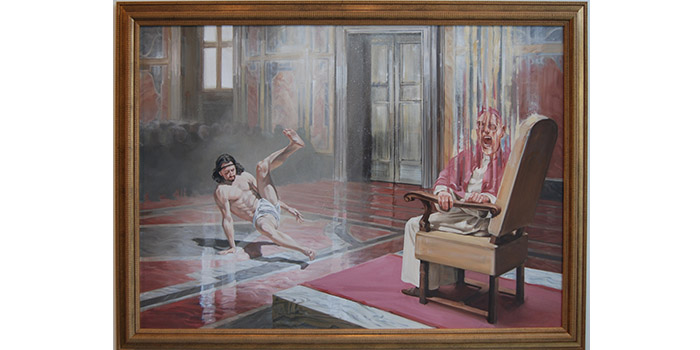 While searching for his own personal art expression, Cosmo blended both traditional and urban cultures, exploring and pushing the boundaries between these two worlds. He translated successfully an essence of the street art into highly collectible limited edition prints. In the beginning, Cosmo worked with oils and gouache, exploring themes around Hip Hop culture and creating something that comes closest to trompe l'oeil images of break-dancers, skateboarders and BMX riders.
12 Years long Art Break
Cosmo stopped painting in 1997, after his solo show on Regents Street. He remained silent until 2009, because - as he claimed, "being an artist isn't a job, it's a lifestyle, and it only pays for the lucky few, so you've got to work out how to survive and paint at the same time". His last paintings were self portraits while break-dancing. During that retirement from art, he worked as an art director in advertising and a scenic artist on film sets where he painted everything - from large scenic backings to props such as old master paintings or frescoes and graffiti.
Using a mix of traditional mediums and techniques such as oils, charcoals and etchings as well as print and spray paint, Cosmo's style is interspersed with pixels and dragged paint, with a great ability to turn his classical subject matter into new urban myth.
Riots
During UK student riots in 2010, Cosmo began producing images of both police and rioters. This is how a series of works depicting the anarchy of rioters and the desperation of the police was born.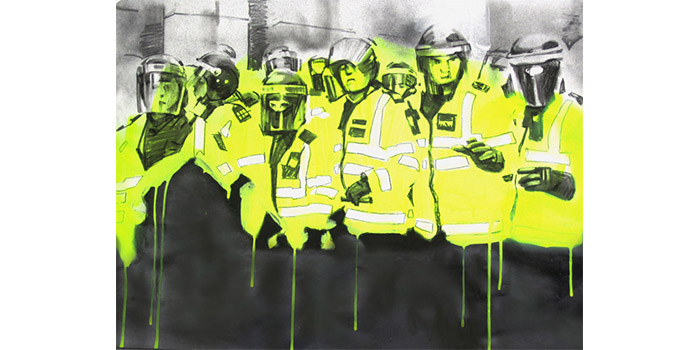 Most artworks from this series were based on dramatic real photographs of participants. Actually, it was a photo journalist David Hoffman who gave Cosmo permission to work from his shots of the riots. Few riot series pieces were painted on unconventional materials, like hi-viz reflective material or "Cheese Eating Surrendor Monkey" work painted on the same camouflage material that US Army uniforms are made from.
Break Dancing Jesus Mural
Sarson made a loud comeback with a controversial twenty-eight feet mural of a break dancing Jesus in Bristol, 2013. This project existed in his mind all those 12 years when he did not have a studio and did not practice art.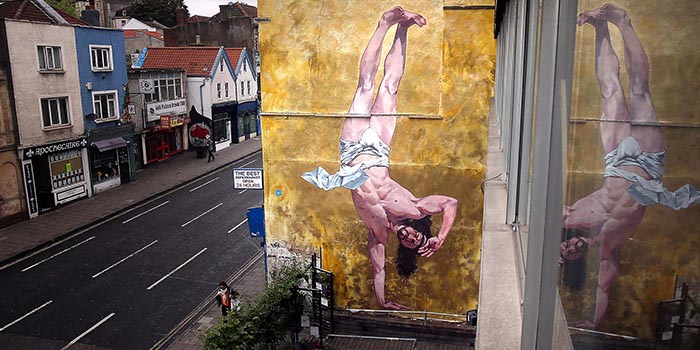 Cosmo promised himself that it would be one of the first paintings he would make upon his eventual return.
"Like Jesus coming out of the cave, it was kind of apocryphal that I should return from the dead also, and to the same subject matter, but with Christ risen in my place".
World's First Augmented Reality Mural
In 2014, Cosmo painted the world's first augmented reality mural, a 30 meter long, interactive series of painted portraits coming to life and starting to speak when viewed with a smart phone or tablet. It was a part of an Olympic Games arts trail, and by downloading the 'Aurasma' app, and pointing a smart phone at the mural, it would come to life.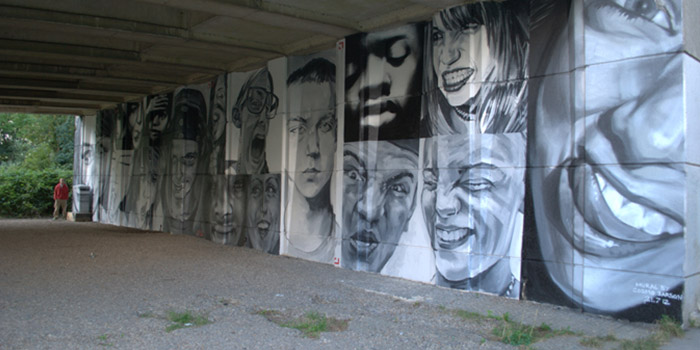 Each portrait on the mural triggered a bit of video footage that is super-imposed over the mural, and would start animating. The interactive element was updatable and anyone could upload his own footage and audio material.
Pure Evil Solo Show
For his first solo show since the controversial mural of Jesus, in Pure Evil gallery in 2015, Cosmo was playing with the Catholic imagery and he found inspiration for the show in Greek Mythology, its gods and monsters. So, the whole exhibition resulted in darker and more dramatic pieces.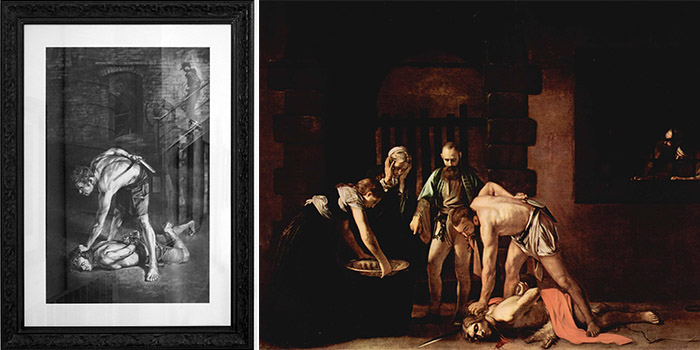 One piece that really comes out is his modern take on Caravaggio's Execution of Saint John the Baptist set in a dark graffiti-covered tunnel.
Cosmo's work has been published in the book Scrawl: Strange Graphics and Dirty Characters and his graffiti and mural work has appeared in many feature films including World War Z, Children of Men, Edge of Tomorrow, Guardians of the Galaxy…
Cosmo Sarsons lives and works in London.
All images copyright © the artist