Motivated by the fact that he feels truly content only when he's creating, for Craig Smith, a South African artist, there was never any doubt of what he wanted to do in life. Besides attending art school at the age of 15 for three years, he is mostly self-taught. In 1981, as a twenty-year-old, he started a career in photography, working as an assistant photographer / camera / darkroom / studio management. After six years of assisting the top commercial and fashion photographers in Johannesburg of that time, he decided to move to the medium of paint. He also began working as a scenic artist in film and private commissions. Between 1990 and 1997, his work evolved from scenic art to Production Design. In 1998, he moved from Johannesburg to Cape Town and started set building Company Upset. The artist realized that between design and building sets, all of his passions were brought together – painting, photography, and film. Over the period of twenty-five years, Smith has art-directed over 200 TVC for local and international clients, working with such directors as Mira Nai and Luc Besson.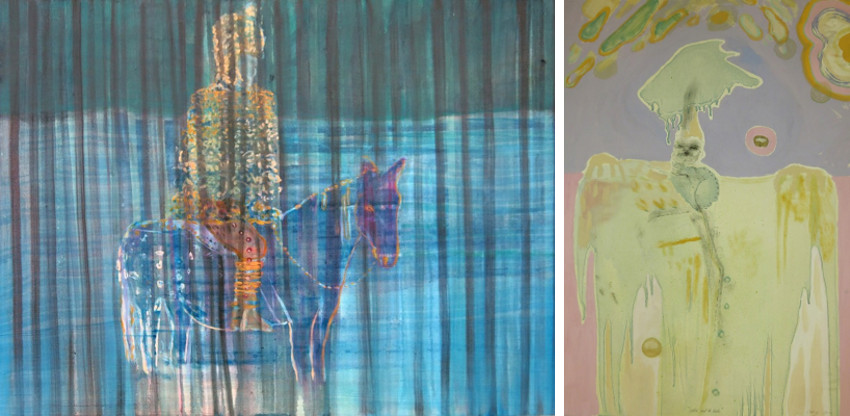 No Recipe For Uniqueness
Inspired by titans such as Vincent van Gogh, Paul Gauguin, Claude Monet and the impressionists, but also by photography and film, Smith works with oils on canvas and board. His process is about evolution and the magic of chance. By accepting the fluidity of his visual language, there is no recipe he sticks to in order to create unique and original pieces. Embracing the freedom of expression as his greatest inspiration, his creative process consists of alchemy, chance, consideration, and instinct. After many years of creating, the artist is more than satisfied with the sheer willpower that forces him into his studio on a daily basis. Asked about the themes he usually tackles, Smith states: "I stay away from thematic work, but that said, everything is a reflection of self and the human." Happy with all that he's accomplished so far, the painter doesn't put any importance on any single aspect of his journey. He is more than interested in evoking an emotional response in his viewers that they have seen and felt before, creating an uncanny similarity to a past experience of their, an echo in their lives. Currently, he's exploring new techniques and working on a solo show with Kalashnikovv Gallery and the art fairs in 2017.
He is represented by Kalashnikovv Gallery.
Craig Smith lives and works in Johannesburg.
Featured image: Craig Smith – Anti-hero (detail), oil on canvas, 1200mm x 900mm
All images courtesy of Kalashnikovv