Curiot (Favio Martinez) was born in Sahuayo, Michoacán. He went to school in California and moved back to Mexico in his twenties. He started drawing in adolescent age, and as he perfected his skills he decided to get a more formal education. As a self-taught artist, he painted for years before he went to the Universidad Michoacana where he earned his Bachelor of Fine Arts diploma in 2008. Curiot was strongly influenced by his culture and aesthetics. From Aztec prints to sugar skulls, he synchronizes his murals with the lively energy of Mexican folklore. Something powerful and energetic drew him back to Mexico after life in the States. He wanted to explore the symbols and legends and to create his own world of mythical half-human, half animal creatures.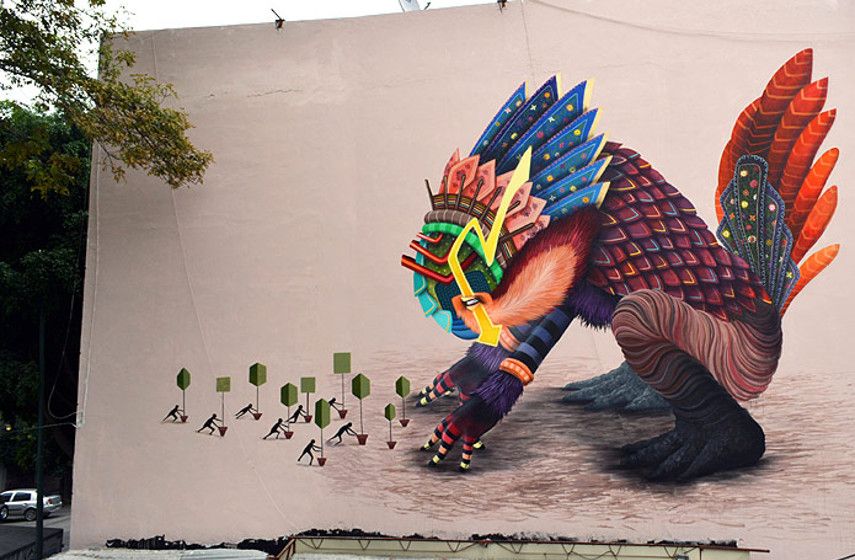 Mythical Spirits of Nature
Rich color palette and sound geometrical patterns are combined with strange looking creatures from another world. The creatures are often portrayed surrounded by small people who honor them and celebrate their presence. This connection to people ties the knot with Mexican culture and puts his work into the realm of the sublime. His world of murals is imaginary, but the symbolism is as real as it can get. The message is clear - men were and will be an integral part of nature, and their beautiful relationship must be maintained with mutual respect. Curiot's subject is coexistence with nature and the stories about this connections can be found in rich mythology and in Mexican art.
Curiot's subject is coexistence with nature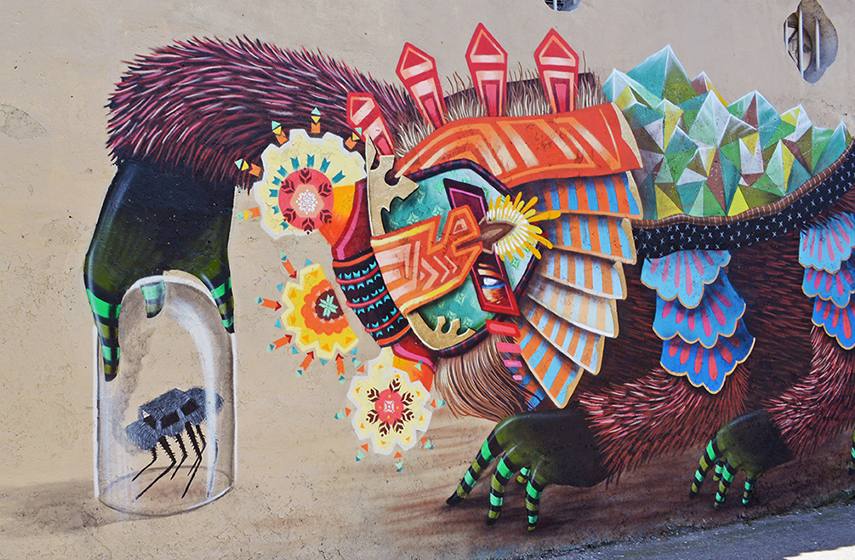 Overcoming the Personal Limitations
His personal philosophy is that curiosity brings knowledge and inspiration. Being a big supporter of another contemporary street artist, he enjoys working in the scene. Curiot takes every chance to challenge himself and to push the limits of possible when it comes to art. Because he works on such large surfaces, he has to deal with all sorts of logistical problems, and when he painted a seven-story building in Mexico City he even had to do it freehand. His personal opinion is that the more man distances himself from nature, the less enjoyable his life is becoming. When people are focusing on work, but not on creativity, instead they focus on moneymaking, they are losing the sense of self. Ego driven society populates dystopia, not the sustainable world we should live in.
Curiot's personal philosophy is that curiosity brings knowledge and inspiration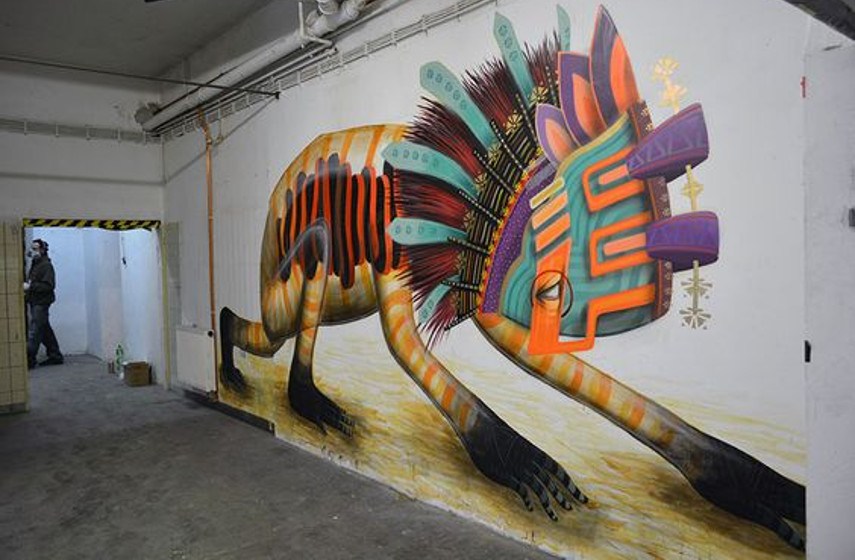 Age of the Omuktlans and the Story of Gorathma
Along with the spray paint murals, Curiot makes wonderful acrylics and amazing graphic work. His 2013 exhibition called Age of the Omuktlans was completely sold out. His studio work includes the same motifs and color palette. Mystical and mythical creatures are just a symbolic representation of the existent natural force that governs all the living beings. Curiot believes that the original existence in this world is unspoiled, that a child does not have a seed of destruction in his mind. It is the nurture and negligence that make one destructive and disregarding. At Centro Cultural Border in Mexico City, he did a mural on this subject called Pasaje de Gorathma (The Story of Gorathma). Gorathma is a spirit of nature and life in animal form who's being conquered by needy people, who exchange their innocence for power.
Curiot painted a mural called The Story of Gorathma, where Gorathma is spirit of nature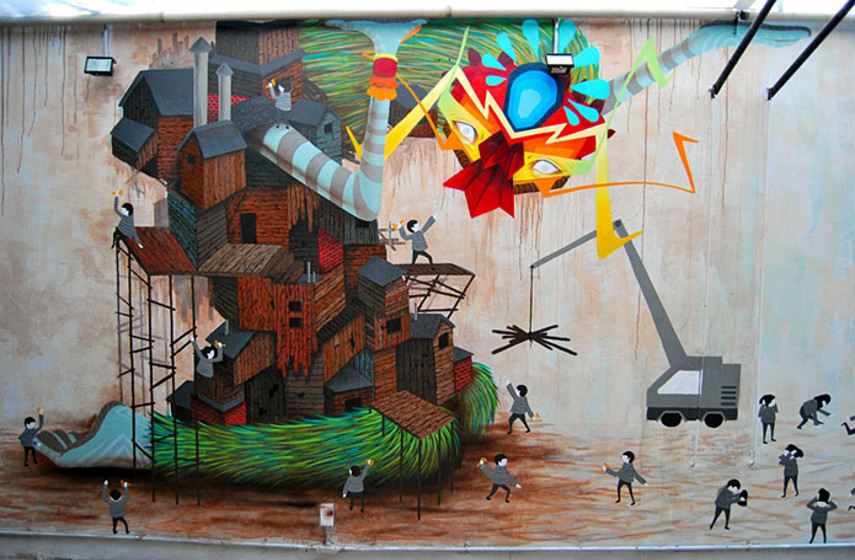 Collaborations and Motivation
The Dreamy atmosphere and childlike color play are the characteristics that drive the powerful narrative of Curiot's work. He tends to overcome his own limitations and continuously works on improvement. In the art world, they call him El Curiot and he is amazingly open and suitable for cooperation. With artist duo Low Bros, he did a massive mural in Berlin in 2013. Large works take long hours, but every single part of the wall is being painted with utmost perfection and dedication. It is obvious that in order to grow and learn, one must find motivation, and Curiot proves that there is not a better way to stay motivated than to do what you love. He feels that he explored the city and may move somewhere else, but so far, his roots brought him stories, and he brought the idea himself.
Curiot collaborated with Low Bros at the FIT freie internationale tankstelle festival
When the Myth Speaks to Us
As a visual artist, he uses color to engage the viewer into the story. As a socially conscious person, he uses his art to influence and inspire. In contemporary street art scene, he stands out a bit, with his folk elements of South America. Deficiency of pop culture stereotypes and tokens only makes him seem more serious about his subject. Geometrical monsters are not covering the walls to scare us, they are covering the walls to protect us from ourselves. They serve as a warning to everyone who takes environment sustainability for granted. They are also a gorgeous colorful reminder that myths carry important lessons. What was known before did not change. Being one with nature is still of the essential importance and it is through art that we can be reminded and forewarned.
Curiot lives and works in Mexico City.
All images used for illustrative purpose only © Curiot