Edwin Parker Twombly Jr., better known by a popular pseudonym of Cy Twombly, was an American artist and a significant representative of the Post-Abstract Expressionist generation. His brilliant large-scale paintings of gestural marks were scratched and smeared on raw canvas or linen, imbuing his pieces with a unique level of frenetic spirit and vitality that remains unmatched to this day. Besides combining numerous styles with his own concepts, Cy Twombly found massive influence in the sense of history and autonomy present in his beloved South, blending it with his interest in Greco-Roman mythology and heritage. The most efficient description of Cy's portfolio was provided by no other than the artist himself: My line is childlike but not childish.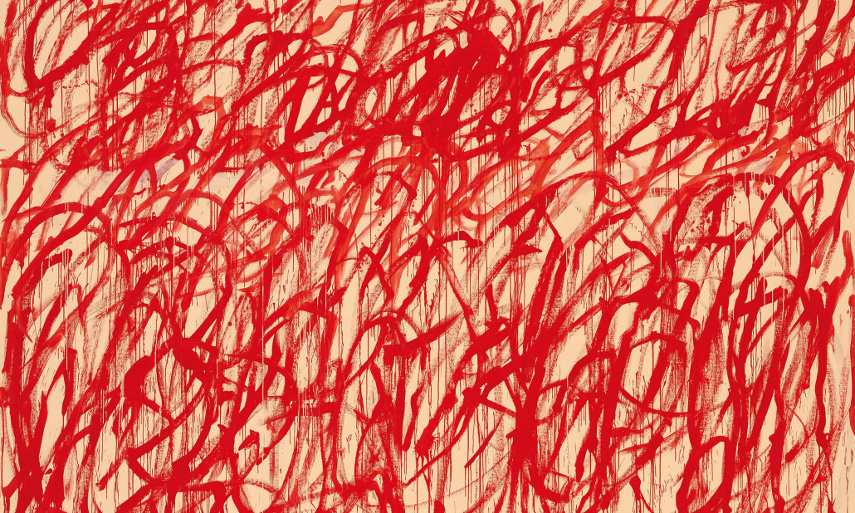 Navigation Between the South and the North
Edwin Parker Twombly Jr was born in Lexington, Virginia, during the year of 1928. Since he was a toddler, Twombly went by the nickname of Cy like his father before him - Edwin's dad actually pitched for the Chicago White Sox for a concise span of time and the nickname's origin can be related to the baseball player Cy Young. Although Twombly's parents were from the Northeast and he made frequent trips to Massachusetts and Maine, Cy was raised in the South and that part of the United States became a significant segment of his identity, heavily influencing most of his artistic decisions of the future. While he was still a toddler, Twombly would work on art kits he ordered from the Sears Roebuck catalog in order to somehow make the days pass quicker than they really were. Gradually and surely, Twombly developed an affinity for making art between his quarterly visits to the South, achieved solely by creating through child play and experimenting out of monotony. His parents supported and encouraged his interest in art and provided the twelve-year-old Cy with an opportunity of studying under the Spanish modern painter Pierre Daura. However, by that particular point, the painting was reckoned to be nothing more than a hobby for Cy and not a single soul predicted he will actually pursue a career of a professional artist.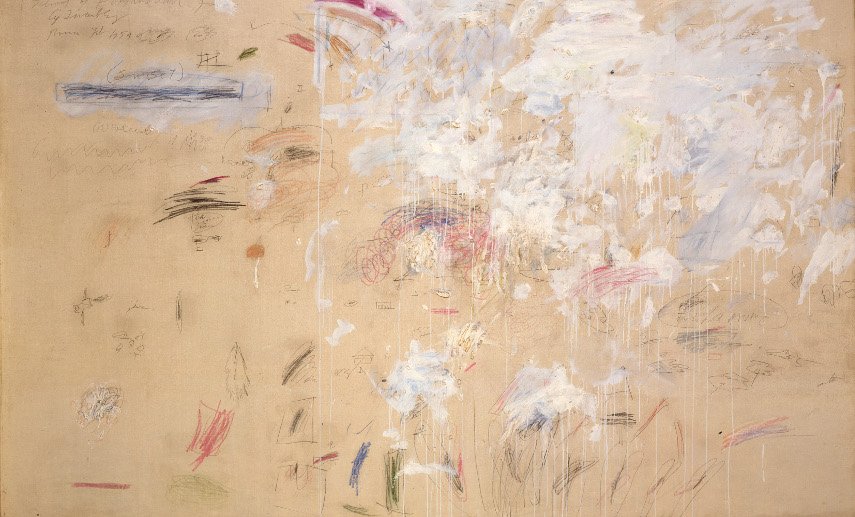 Art Training and Early Works
Following the encouraging high school graduation, Twombly made a decision to begin formal art training at the School of the Museum of Fine Arts in Boston, Massachusetts. It was at this prestigious institution that Cy was exposed for the first time to artistic European concepts of the early 20th century, witnessing the works of Marcel Duchamp, Kurt Schwitters and Alberto Giacometti. These experiences lit a desire under Twombly who wanted to learn even more about the Dadaistic and Surrealistic ideas - keeping that in mind, Cy's parents suggested that he should travel to Washington for a year and see what the art scene looked in the capital of The United States. The trip was a success and the acquaintances from D.C. opened a door for Twombly to study at the Art Students League in New York, which Cy precisely did during the year of 1950. The Big Apple proved to be even more than was expected - fantastic classes combined with the numerous New York gallery exhibitions provided Twombly with a bottomless ocean of art pieces to explore and analyze. Subsequently, exposure to the works of Franz Kline, Jackson Pollock and Robert Motherwell led Cy down the path of abstraction, heavily impacting and shaping Twombly's own aesthetic into something essentially different from his prior figurative compositions. The aspiring painter also met Robert Rauschenberg who became a close friend and yet another huge artistic influence. At Rauschenberg's encouragement, Twombly studied at the legendary Black Mountain College in North Carolina during the years of 1951 and 1952, after which the duo traveled to Italy and North Africa on a grant from the Virginia Museum of Fine Art.
When the artistic duo of Rauschenberg and Twombly returned to The United States, the two painters had a joint 1953 exhibition at The Stable Gallery in New York City. They displayed their experimental works based on unique and original concepts, but the pair was not welcomed with much positive acclaim - in fact, it is said that the gallery director Eleanor Ward remove the visitor comments book because there were simply too many hostile and negative responses from the public. At that time, Cy was largely working in a black and white style, desperately seeking a balance between Rauschenberg's paintings and the monochromatic work of Willem de Kooning, Franz Kline and Robert Motherwell. Cy Twombly based his aesthetic on the surprisingly complex theories of the primitive, ritualistic and the psychoanalytic concept of the fetish phenomenon. He was also combining all of the above with the Dadaistic and Surrealistic ideas he was still quite fond of. Cy was developing rather nicely when he was interrupted during the year of 1953 and was drafted into the army - he served as a cryptographer at Camp Gordon near Augusta, Georgia, and at the Pentagon in Washington, D.C. On weekend leaves, Twombly was spending most of the time in his hotel room, producing biomorphic drawings which he claimed set the artistic direction everything would take from then on. While still in the army, Cy modified the Breton's technique of automatic drawing by creating compositions in the dark after lights out. These "blind" illustrations resulted in distorted forms and curves that became distinct stylistic motifs in his later work.
Twombly attempted to base his early art on several concepts, balancing between Dadaistic and Surrealistic ideas whilst also trying to absorb the ongoing styles of the times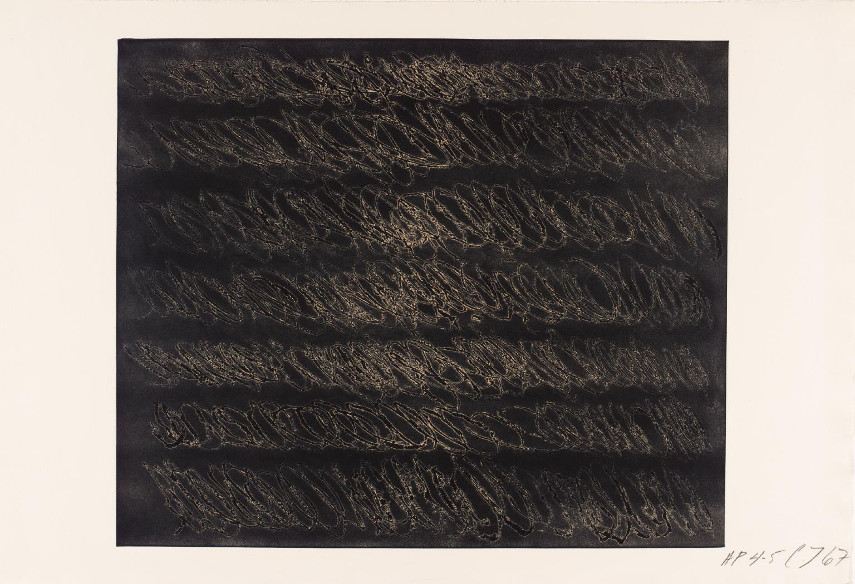 Mature Period and Related Work
Between the years of 1955 to 1959, Cy worked sporadically in New York City, falling under the shadow of the rising stars Robert Rauschenberg and Jasper Johns. Desperate for a change of scenery, Twombly returned to Rome where he met and married the Italian artist Baroness Tatiana Franchetti. The pair decided that they would prefer to be married in New York, which precisely happened in 1959. Afterward, they purchased a palazzo on the Via di Monserrato in Rome and a weekend residence in the seaside town of Gaeta. Cy Twombly insisted that the young couple should spend as much time as possible in Gaeta as he found the tiny town endlessly inspiring - it was here that Cy switched to a more tranquil, light tone and his work started to allude to Classical culture and literature, allowing the Greco-Roman themes to infuse much of his mature work. Quickly afterward, Cy became a star on the roster of artists sponsored by Leo Castelli, exhibiting in his first Italian solo show in 1960. Meanwhile, things in the United States were not looking so bright - there were some photographs circulating the media of Twombly living in his Roman mansion. His former friends and fellow artists were infuriated - some out of envy, some out of true anger - and everyone claimed Cy somehow betrayed the cause he once stood for. However, Twombly was not to be provoked and he never reacted to such ridicules acclaims.
Cy's early 1960s projects took on a greater scale and more vibrant color than ever before, while also rendering on themes of eroticism and violence. Throughout the 60s and 70s, Twombly's popularity can be separated on two fronts - the western one hated him whilst the Italian scene adored him. From 1966 to 1972, Twombly created a number of canvases that resembled blackboards, with light-colored loops and scrawls flowing across gray backgrounds. Since the 1980s set in, Twombly's productive endeavors took a noteworthy step back as he worked less frequently and didn't manifest the same artistic vigor as he did previously. Nevertheless, Cy proceeded to provide the art scene with crucial canvas pieces and continued to dictate what was popular and intriguing. Twombly also desired to somehow revive his long lost interest in sculpting, a medium he did not even think about for the last twenty years - these sculptures of the 70s and 80s oftentimes focused on Classical themes and were largely assembled from found objects painted in white. Main inspirations of Cy's later works continued to be Greco-Roman heritage and his ever growing fascination with the sea - Twombly often included Bacchus, the god of wine, into his compositions. His paintings evolved a bit in the 90s, as he expanded his previous use of color and started using gestural brushstrokes that occasionally depicted more recognizable forms, such as flowers and landscapes. However, after the 1990s, the artist ceased to make art constantly. Cy Twombly suffered from cancer for several years toward the end of his life and died on the 5th of July in 2011 in Rome.
Even though he lost popularity on the US gallery market, Cy remained a hot topic in the European arts world for the entirety of his career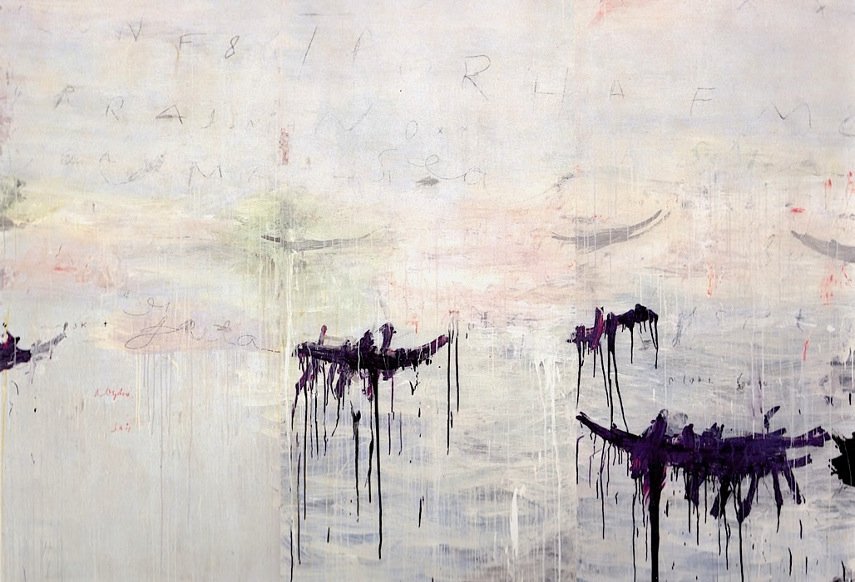 Cy Twombly Forever
Despite the constant and persistent disregard for deserved fame and recognition, Cy Twombly remained steadfast and is widely considered as one of the greatest American painters after Abstract Expressionism. In a sense, his distinctive aesthetic was simultaneously a continuation of Abstract Expressionist techniques and European contexts that run deep in the artistic veins of the Old Continent. Furthermore, Twombly can be credited with influencing an extensive array of following artistic movements, both American and European, such as Neo-Expressionism and Minimalism, even some aspects of Pop art. Cy also confirmed that one may exercise less regarded practices such as penciled words and scribbled crayon in order to deliver what the public considers is the context of grand art.
This artist is represented by GAGOSIAN Beverely Hills, GAGOSIAN BRITANNIA STREET London, GAGOSIAN Madison Avenue, GAGOSIAN Park & 75 New York, GAGOSIAN West 21st Street, GAGOSIAN West 24th Street, WENG CONTEMPORARY, VINCE FINE ARTS Miami and ZOOART.
Featured Image: Cy Twombly - Photo of the artist - Image via francoishalard.com
All images used for illustrative purposes only