CYRCLE. is a two-man collective made up of American artists David Leavitt (Davey Detail) and David Torres (Rabi), whose artwork focuses on life, duality, and the human condition combined with the aesthetic consideration of form, typeface, color, and balance, which is what creates their "signature" style.
Origins
This duo was born in Los Angeles, California in 2010. The CYRCLE was originally made up of three artists, David Leavitt, David Torres, and Devin Liston, on October 8, 2010. They choose the name first and foremost because they had tried working together in the past to no avail, try fail, and now they had come the full circle hence the name CYRCLE. with a "Y" instead of an "I" because there is no "I" in CYRCLE.; it is a "we" thing. The all caps represent power and the period suggests finality… CYRCLE. is here to stay. The deeper meaning of CYRCLE. is rooted in Alchemic mythology, more specifically the inspiration came for the Ouroboros, a self-sustaining creature of perfect balance.
In 2011, the collective first gained public recognition from the street art community after they installed an April Fools joke on a fence at the LA Contemporary Museum of Art. From there, CYRCLE's artwork started appearing in group shows at local Los Angeles galleries.
We Never Die!
Their first solo exhibition, WE NEVER DIE (WND), opened in August of 2011. The CYRCLE Manifesto, which was developed for the show, and has become an important part of their identity, has traveled around the world with the collective and can be found in Europe, Asia, and many cities across the USA:
We left our families, We abandoned our homes, We worked for nothing, We slept on floors, We partied hard, We lost our minds, We danced with the devil, We faced our fears, We swallowed our pride, We gave our hearts, We tried and failed, We followed our dreams, We are cyrcle, We never die!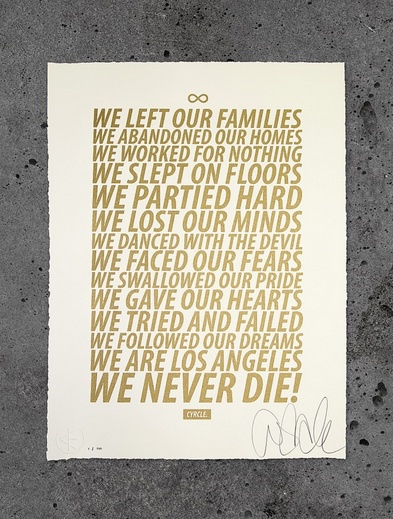 ORGANIZED CHAOS!
CYRCLE. has made a massive impact on the street and gallery scene, quickly gaining the respect of the international art community. Working across a variety of media, CYRCLE. does it all. From investigating form and function to encouraging participation, CYRCLE. challenges and embraces the full spectrum of what art can be.
Their second solo exhibition, ORGANIZED CHAOS! was held in Los Angeles and used the bee and the flower as a metaphor for the relationship between art and society as a whole. Inviting the viewer to interact with the artwork itself, various pieces were made up of cubes which could be arranged in different positions.
CYRCLE's Relationship with the Public
Typography is an essential form of communication, especially in advertisement. CYCRLE. chose to use type/words to effectively communicate to the public through street campaings. Generally words of inspiration that help motivate the public or evoke thought or simply reinstate what CYRCLE. already know but need to be reminded, like "WE NEVER DIE!" or "TRY, FAIL, TRYUMPH!" All in all, most humans can read, therefore it is the most effective form of communication. CYRCLE. aspires to reach the masses with their art and utilizing type helps to ensure it reaches beyond those who appreciate art for arts sake.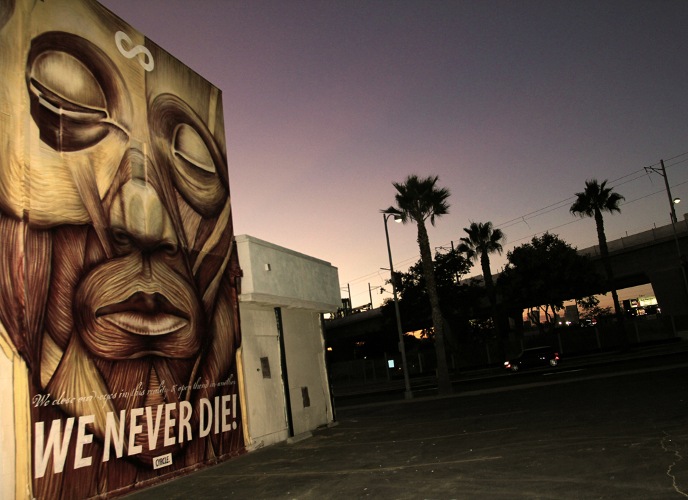 CYRCLE has collaborated with artists, brands and non-profits including, Pharrell, professional skateboarder and artist Chad Muska, David Flores, Esthero, and the AIDS Healthcare Foundation, among others. They have been featured in Pharrell's 24-hour music video for his single, "Happy," in a commercial for Audi, and in publications such as the L.A. Times, L.A. Weekly, Huffington Post and Complex Magazine.
Davey and Rabi live in LA.