A lot of young artists tend to avoid the traps of the past, and so they work their best to fit in the contemporary trends. Naturally, some are completely uninterested in such goals, working instead on their own understanding of art. D.P. Pupuk, also known as Pupuk Daru Purnomo, is an Indonesian artist whose style expresses a very different genre from other artists of his generation, who are mostly grappling with contemporary painting. Through his work, Pupuk depicts and accentuate objects that are captured from daily life, environment, community, surroundings. Many of his oil and watercolor masterpieces come from the modern discourses such as herbal medicine seller or becak rider. Interested in exploring the objects in simplicity, the artist refuses to play with the main theme. Rather, his strength originates in his etches and scratches that are impressive and powerful. He is, without a doubt, influenced by the work of S. Sudjojono, but many art aficionados argue that Pupuk's style is even fresher and more distinguished. As the artist himself humbly admits, most of his inspiration comes from the style of Javanese letters that can be seen in his paintings.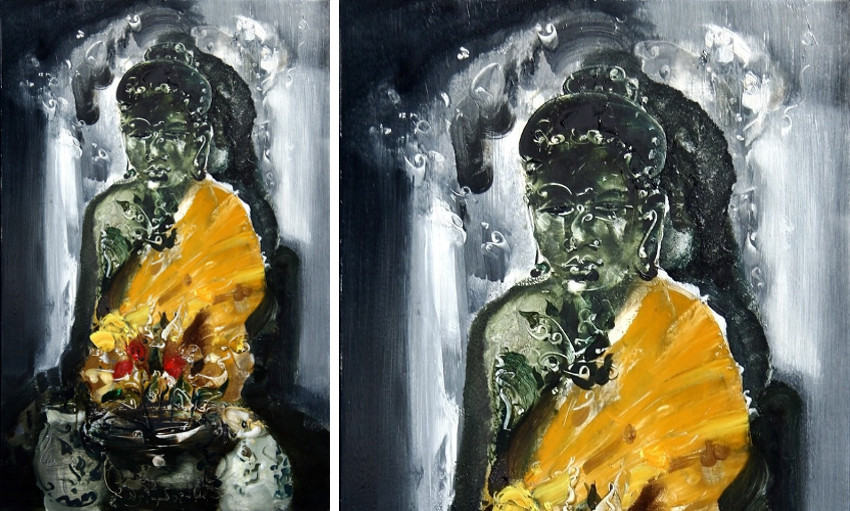 Art and Life of Pupuk Daru Purnumo
Going forward by bringing back the modern touch (but with post-modern presentation), Pupuk represents a different position in the world of contemporary art. Born in Yogyakarta, Pupuk Daru Purnumo studied at the School of Visual Art, Indonesian Institute of Arts in Yogyakarta, where he graduated in 1994. While at studies, he won the Best Painting in the college 7th-anniversary celebration. Also, in 1997, he was a finalist in the famous Philip Morris Indonesian Art Award, National Gallery of Indonesia, Jakarta. His work has been exhibited in numerous exhibitions, both as part of group shows, but in solo exhibitions as well. Often depicting the colorful lives of the people of his hometown, and the ancient Buddhist temples just outside of it, Pupuk is very much interested in the people that live in the community. With a style that is different from his contemporaries, the influence of his Javanese heritage is obvious. And because of all of this, while being a contemporary artist himself, his style escapes the categorization and cannot be specifically defined as contemporary.
D.P. Pupuk lives and works in Yogyakarta.
Featured image: D.P. Pupuk – portrait, image via foto.metrotvnews.com
All other images courtesy of Addicted Art Gallery