Melbourne natives Dabs Myla are a dynamic duo who have been living and working in Los Angeles since 2009, and they absolutely love it. They say it feels like home. Warm colors of L.A. and its vibrant life had an impact on their style, so they welcomed the change. It was in 1995 that Dabs started painting graffiti, unlike Myla who has been painting with a brush most of her career. During art school, where they met while studying illustration, Dabs started using acrylic. Along with their love, a unique style was born, and that is when they both started using spray paint. As it turns out they liked their collaborative work better than the individual one. From that point on they have been working together. They only work solo when they paint letters.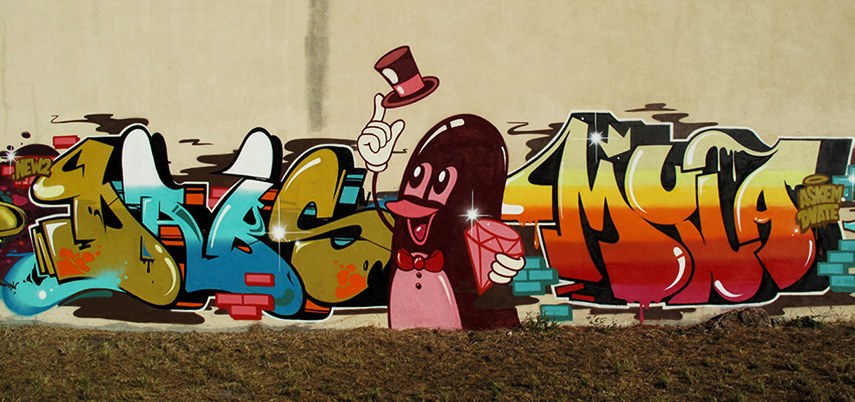 Photorealistic Love
Inspired by graffiti, food, travel and their life together as a couple, their paintings depict Dabs' mischievous characters on Myla's photorealistic cityscapes. They say, with smiles on their faces, how in all their years together, not a day has passed that they've been separate. As they would say, truly – two peas in a pod, that is if peas were this creative, ingenious and flamboyant. The duo does all their work together, at a shared desk. And this is what brings them closer. When something happens, a spill on the painting, or an error – it's not a problem, they will fix it. They keep motivating each other, growing ideas, and never separating their work, in the means of who did what. It is one art piece, and they are clearly one love, so why separate. They keep pushing their creative boundaries, and the collaborative process is blooming with ideas.
Dabs and Myla say they are two peas in a pod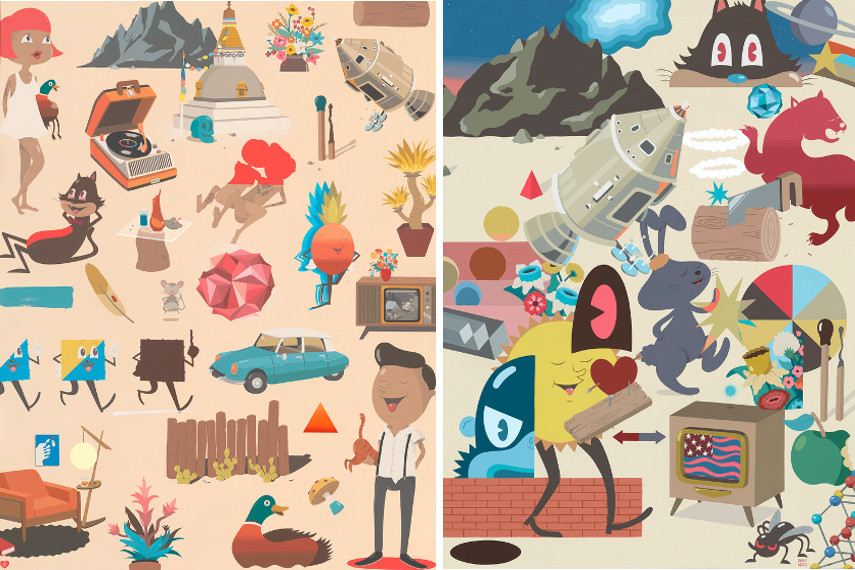 Changing Pop Culture
Their works include installations, murals, and paintings. They are also featured on famous clothing bradns, such as Vans collection 2016. The most ambitious exhibition yet was Before and Further, when Dabs and Myla transformed a 4,000 square foot factory property. Space was filled with their newest paintings, installations, sculptures, and furnishing, including hand-painted ceramics and custom-made light installations. This was more than an exhibition, it was an experience. In 2015 the duo reinvented the logo for MTV Movie Awards, symbolically claiming their place in pop culture history. In all of their art, not only do we get to witness the immense talent they both poses, but also a one of a kind consciousness two people can create and is not seen very often.
Their most ambitious exhibition is Before and Further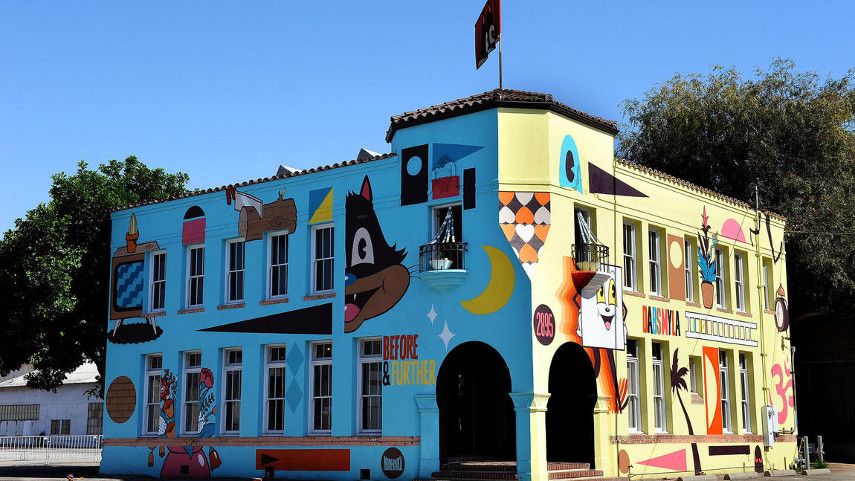 Harmonious Duo
When working outside, on exteriors, they use bold colors, and heavy strokes, while their paintings are subtle, gentle and harmonious. No matter what they do, their shared love for narrative illustrations is definitely to brighten everybody's day. They imagine cityscapes inhabited by photorealistic drawings, with the most adorable faces. The impeccable drawings, filled with either paint or graffiti spray bring to life anything they set their minds to. Whether it's a hydrant, flower or a piece of furniture, it will bring up the warmest memories from your childhood and make you feel like a child again, and all that with their weirdly, joyfully precise lines and fiery colors.
Dabs and Myla live and work in Los Angeles, California.
Featured image: Dabs Myla - portrait, photo via arrestedmotion.com