DALeast is a Chinese artist whose unusual paintings, which are sometimes hundreds of feet across, can look 3D and as if they were created out of thousands of tiny metal shards, but in fact they have been spray-painted onto a flat surface.
Background and Style
DALeast was born in Wuhan, China where he has been making art since he was three; 'I worked on everything when I was in China - painting, sculpture, installations, synchronizing performance, and digital art. He studied Sculpture at the Institute of Fine Arts.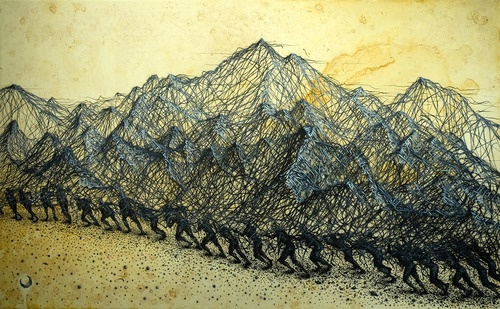 Animals are his main subject matter. His animals are typically depicted in two disconnected parts, often disintegrating at the center or falling away at the sides. Within every piece of DALeast's art, a pop of color observed in the background brings his subject to life. This allows him to focus on the intricacy of his technique while delivering his final product. The use of fractured imagery and contrasting backgrounds serve to give his art a breath of energy and soul that can sometimes be lost in art with a more somber subject matter.
Currently a Human Being
His use of animals, he says, reflects the human condition.
DALeast is self-described as "currently a human being." He has worked on a vast number of projects, starting in 2005, throughout Beijing, China, as well as South Africa, France, Germany, Italy, Australia, Namibia, the United States, and many other countries throughout Europe and Africa.

He lives in Cape Town, South Africa but spends six months of the year travelling and has tagged walls on nearly every continent.