The very talented American artist Damien Gilley is widely known for his geometric style and artworks that challenge the perception of the viewer. He doesn't only exhibit his works in a gallery but incorporates that space into his artworks. By thoughtfully arranging sheets of contact paper and strips of tape on gallery walls, Portland-based artist and educator creates striking landscapes that takes the observer into a new seemingly unpredictable sci-fi landscape full of action and excitement. He transforms flat surfaces into 3D space that changes depending on the viewing angle.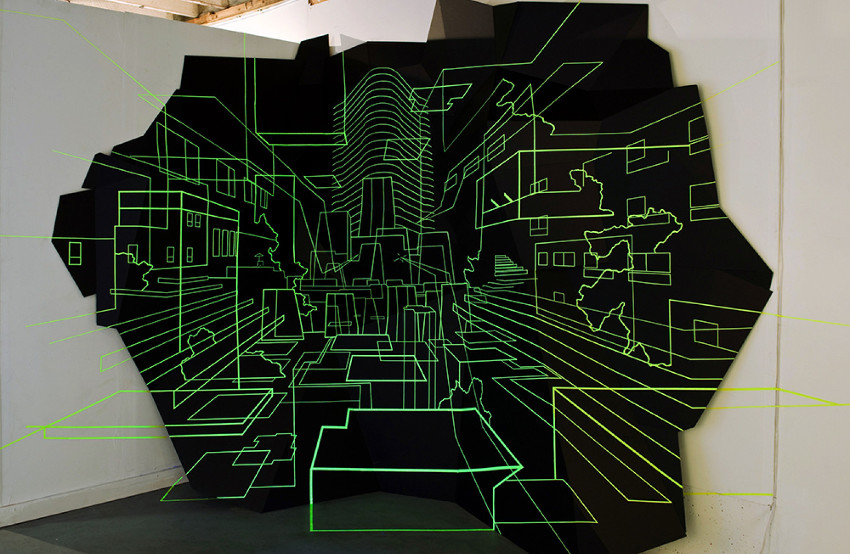 Influences: From Philosophers to Science Fiction
Damien Gilley draws inspiration from various sources including science fiction, non-Euclidean geometry, the King Abdullah Economic City - a project located along the coast of the Red Sea, as well as vintage video games and computer graphics. His main interest is a phenomenology of perception and the way we perceive space and the world around us, so he is greatly influenced by philosophers and theorists such as Henri Bergson and Guy Debord, amongst others. The artists whose work he most admires to include Dutch graphic artist Maurits Cornelis Escher, British sculptor Matthew Ritchie, American abstract painter Julie Mehretu and a minimalist conceptual-based sculptor Fred Sandback.
Damien Gilley's main interest is a phenomenology of perception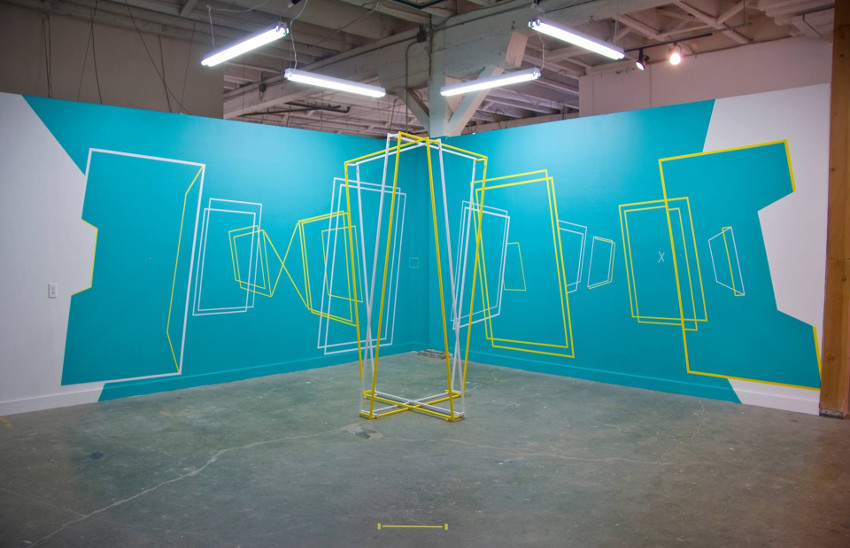 Gilley's Tape Art
Armed sometimes only with his ubiquitous roll of masking tape, Damien Gilley "draws" lines on the walls. Thick, thin, horizontal, vertical, short, tall, diagonal – the fundamental mark in almost all works of art – lines in his work have a new characteristic - they give a depth to the walls creating a port to the new futuristic universe that raises questions about the limits of perceived, actual and speculative spaces. Exploring the possibility of contour, he creates illusionistic wall drawings that seem to extend the boundaries of flatness, combining drawing and sculptural approaches.
The artist explores the possibility of contour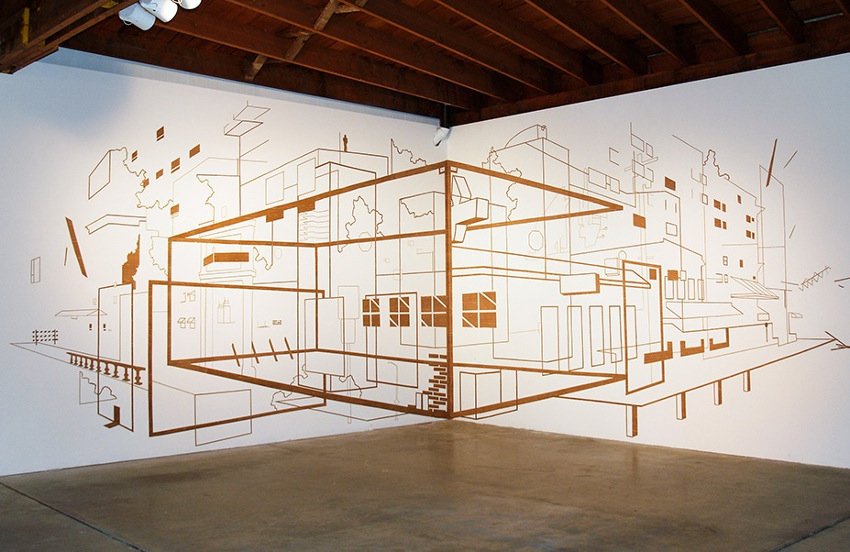 Imaginary Architecture by Damien Gilley
Born in 1977, Westlake, CA, Gilley graduated with a Master of Fine Arts in Contemporary Art Practice, a Bachelor of Fine Arts in New Media and a Bachelor in Psychology. His work has been exhibited in individual and collective shows in galleries, contemporary art centers, and museums throughout the United States and overseas. His imaginary architecture questions the reality and the possibilities of visual perception, as well as the relationship between the seen and unseen. Amongst producing amazing pieces of art, he also teaches at Pacific Northwest College of Art, Portland State University, University of Oregon, and more.
Damien Gilley lives and works in Portland, OR.
Featured image: Damien Gilley - Axis Index, Suyama Space, Seattle, WA
All images copyright of the artist