Dan Colen, an American artist based in New York City, creates visually engaging pieces consisting of painted sculptures, graffiti-inspired paintings of text executed in paint as well as installations and performance. He draws inspiration from mass media, local subcultures, and sources such as Walt Disney movies and cartoons. Dan combines the feel of real life with reflections on the imaginary subjects and worlds. His carefully painted surfaces replicate graffiti and use controversial materials such as bird dropping and absurd slogans from the news. The artist's most famous artworks are his green-splattered oil pieces Bird Shit from 2007 and No Sex No War No Me from 2006.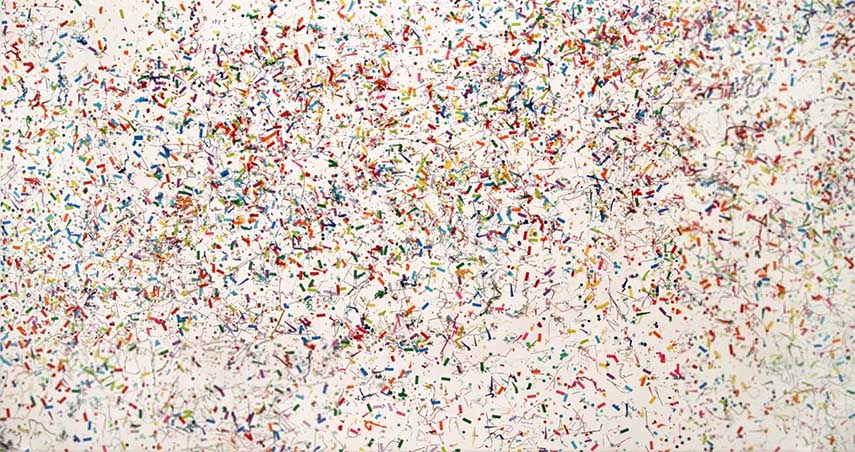 Early Biography and Career Establishing
Daniel Colen was born in 1979 and raised in Leonia, New Jersey. He graduated with a BFA from the prestigious Rhode Island School of Design in Providence, in his home country, in 2001. Colen descends from a family of makers — for instance, his father makes sculptures with wood and clay, while his grandfather was a mechanic and inventor. Due to this influence within his close family at home, it is not overly surprising that Colen is also interested in artistic constructions. He has learned from the creative members of his family not to focus so much on formal perfection as on an intuitive process and share of the discovery. I was often told it's not about virtuosity, it's about commitment, recalls the artist. When it comes to his own career, Colen became a full-time artist after his graduation from RISD. He was never interested in regular sculpture - instead, he chose to follow his own gut feeling and make some non-traditional art. For instance, in his In Secrets and Cymbals, Smoke and Scissors: My Friend Dash's Wall in the Future from 2004, Colen built a realistic replica of a section of an untitled poster, photo and flyer-covered wall from his friend Dash Snow's apartment. Each piece of visual material used in this work was handmade and consequently glued onto a Styrofoam copy of the wall. In 2006, Colen started to adopt another approach and he abandoned the typical processes altogether in order to start using chewing gum instead of paint. Around the same time, he also started to incorporate flowers, pictures, dirt, grass, tar and feathers, Mylar confetti, street trash, and metal studs into his work. He decided to completely liberate his approach to art, instead of allowing the final result to be guided by the behavior of the given material. In 2015, the artist claimed that he found the loss of control exciting experience, as if the paintings themselves were becoming wild and unpredictable.
Colen descends from a family of makers — for instance, his father makes sculptures with wood and clay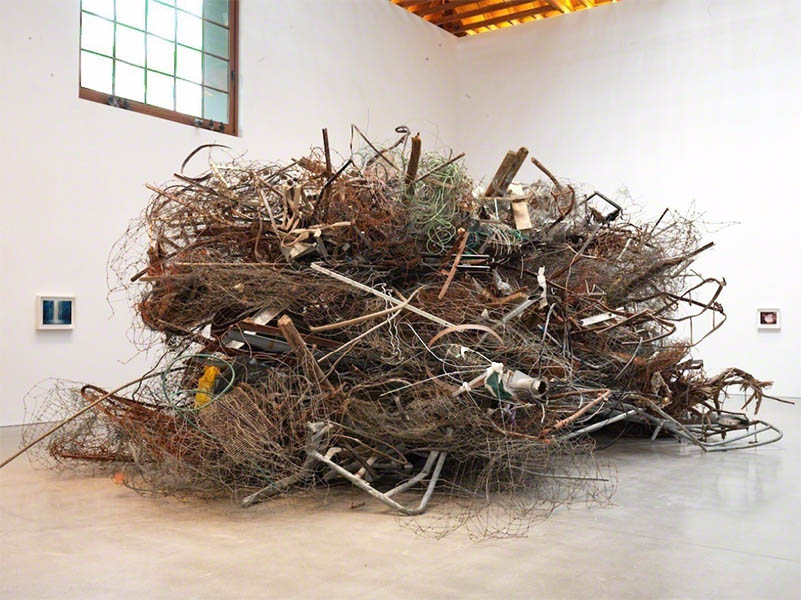 Main Exhibitions of Popular American Artist, Daniel Colen
By using debris from the streets to paint cans and similar objects, Daniel Colen reclaims and transforms the everyday items and activities. His outstanding work has been exhibited at major galleries including Deitch Projects, Gagosian Gallery in 2006 and Barbara Gladstone Gallery in New York, Peres Projects in Berlin, and OHWOW in Los Angeles. He has shown work internationally in many exhibitions including Potty Mouth, Potty War, Pot Roast, Pot is a Reality Kick at Gagosian Gallery in New York, USA Today at the Royal Academy of Arts in London, the 2006 Whitney Biennial in New York, Fantastic Politics at the National Museum of Art, Architecture and Design in Oslo and No Me at Peres Projects in Berlin. Year 2011 was very important and successful for the artist since he had a solo show in Europe - at the Astrup Fearnley Museum in Oslo, Norway. His works are nowadays held in the collection of the highly influential Saatchi Gallery, The Whitney Museum, and The Astrup Fearnley Museum.
By using debris from the streets to paint cans and similar objects, Daniel Colen reclaims and transforms the everyday items into gallery exhibited masterpieces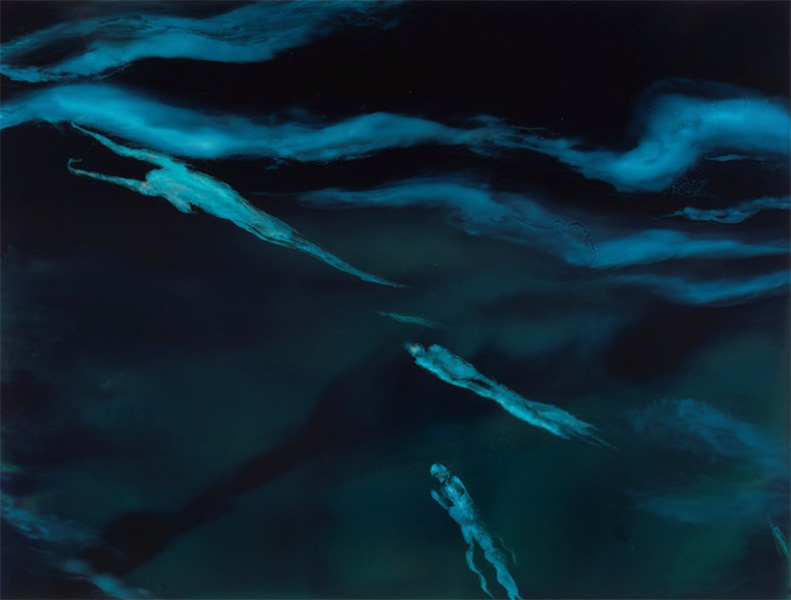 Capturing Magic Involved with the Ordinary
Daniel Colen creates mixed-media, sculptural, and painted art that emphasize the magic within seemingly ordinary and undervalued everyday objects. From the very start, Dan Colen's philosophy investigate the important question such as to what extent does art come from the artist, and to what extent does it arise independent of the creator? In his most iconic artworks, Colen was interested in precise oil depictions of interiors like apartment bathrooms, bedrooms, and camping tents into which he introduced supernatural characters — the Blue Fairy, Jesus Christ and even his deceased grandfather. In such a way, the artist was always floating between the two worlds, the real and the imaginary one, looking to make a unique artistic bridge between them.
The artist is represented by Gagosian and Massimo De Carlo.
Dan Colen lives and works in New York.
Featured image: Daniel Colen's Portrait - Photo Credits Matteo Prandoni
All other images courtesy of Gagosian.