After struggling for years to find the appropriate medium for his artistic expression, Dan Flavin was finally liberated by fluorescent light. It was a paradoxical choice – to use commonplace commercial fixtures and reconfigure them into artworks that both suppressed the artist's hand, and, through this absence, magnified his presence. When Flavin adopted the fluorescents as the building blocks of his work, they were thought of as utilitarian, modern, and not exactly easy on the eyes. They were, in fact, mostly used to provide cheap, unforgiving illumination in industrial, or at least commercial, environments. To use such a thing and successfully turn it into art was a radical gesture.[1] But, what a gesture it was! Dan Flavin continued to charm the world for the next 30 or more years, inspiring countless other artists who pursued his ideas – though rare ones ever approached him in terms of quality.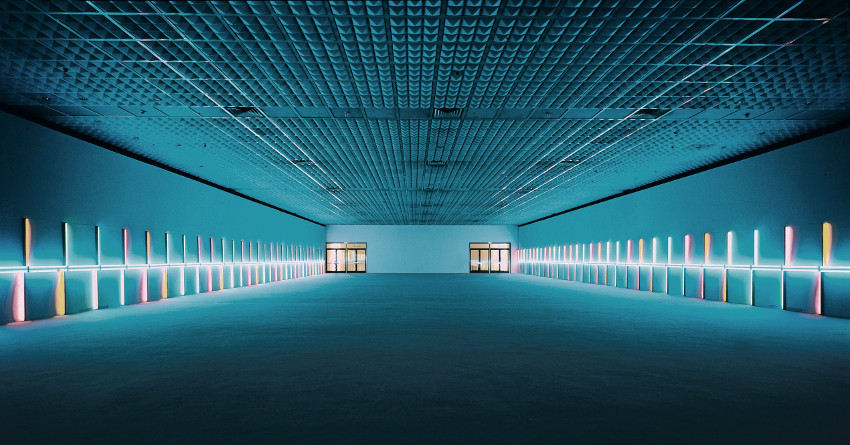 Personal Life
Daniel Nicholas Flavin Jr. was in Jamaica, New York and was raised by Catholic parents. Both Dan and his twin brother, David, went to parochial school and attended church services regularly. The artist began drawing at a young age, and the first person to encourage Flavin's artistic leanings, showing him how to represent movement in the water with little "half-moons." After studying for the priesthood for a brief period of time, Dan, along with his brother, enlisted in the US Army – US Air Force more specifically. In 1953, he was posted in Korea, where he served as an air weather meteorological technician. While there, he managed to take art classes offered by the University of Maryland adult extension program. Three years later, being reassigned to Roslyn Air Force Base, he returned to New York. Pursuing his interest in art, he frequently visited New York galleries and took art classes at the Hans Hofmann School of Fine Arts, as well as the New School for Social Research. The following year, he matriculated at Columbia University with the intention of becoming an art historian to support his work as an artist. Abandoning this route after three semesters, he took various odd jobs, including working in the mailroom of the Guggenheim and as a guard at The Museum of Modern Art. While he was working at MoMA met his first wife, Sonja Severdija. They got married in 1961 and worked together on the construction of the Icon pieces. In 1962, Dan went through a personal tragedy when his brother died. In 1992, Flavin re-married to the artist Tracy Harris. Four years later, Dan Flavin died of complications from diabetes.
Dan Flavin's biography is a story of art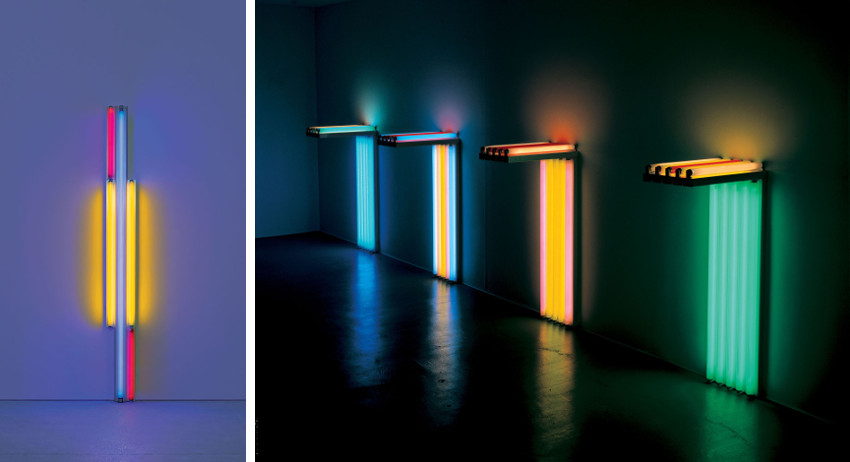 Dan Flavin Art
It is important to mention the artistic environment in which Dan Flavin made his first works. The years 1955–1965 saw artists wreaking havoc with the parameters of painting. At this time, Flavin was creating paintings, assemblages, and collages, showing his interest in Abstract Expressionism. In the summer of 1961, while working as a guard at the American Museum of Natural History in New York, he started to make sketches for sculptures that incorporated electric lights. Later that year, he translated his sketches into assemblages he called "icons," which juxtaposed lights onto monochromatic canvases. By using such an everyday material (neon tubing) and arranging it in simple compositions (in rows, or as diagonals, grids, right angles, arcs), Flavin attained a powerful combination of ordinariness and grandeur, and a purity on a par with the modernist artists to whom he dedicated works - Brancusi, Mondrian, Tatlin.[2] By 1963, he removed the canvas altogether and began to work with his signature fluorescent tubes; and by 1968, he had developed his sculptures into room-size environments of light. In the 1970s and 80s, Flavin began to create more complex figurations of fluorescent tubes, notably his "barred corridors" and corner installations. His work increasingly concentrated on the relationship between his sculptures and the spaces they inhabited. In the 1990s, the scale of his light installations became more and more grandiose. A master colorist, Flavin's works often evoke a cheerful response from visitors – though he does have darker pieces. The monument 4 for those who have been killed in ambush (to P.K. who reminded me about death) (1966) was created in response to the Vietnam War and is made from blood-colored tubes that jut off the wall aggressively — invading the viewer's space.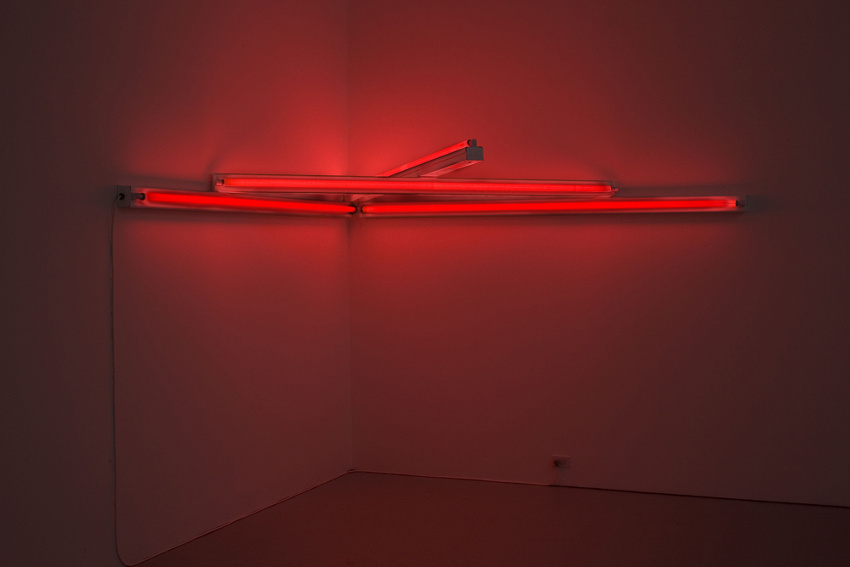 Related Artists
When discussing Dan Flavin and artists somehow related to him, there are at least two major criteria by which we categorize them. One is Light, other Minimalism. Speaking of the first, there are some people associated with the Light and Space movement, who successfully explored the possibilities of Neon. To name a few: Robert Irwin – an innovator in the Light and Space movement, began his career as a painter and turned to installation as a means of disposing with medium and object altogether. His use of light was painterly, supple and sophisticated; Keith Sonnier - another of the iconic neon artists of the 20th century. He differs from many of his minimalist and post-minimalist contemporaries in the vague figuration of many his works in fluorescent light, which often reference natural forms; Bruce Nauman – an artist less focused on neon as an expressive medium than as a reference to American consumer culture and a vehicle for his bold statements, questioning the role and function of art in society. Though he produced a huge number of neon works, including many that were quite sexually explicit, his best-known work in the medium might be his spiraling 1967 statement, The True Artist Helps the World by Revealing Mystic Truths; Tracey Emin – her confessional works transpose her lovesick confessions into neon, written in her own handwriting. During February 2013, several of her neon phrases, like "You touch my soul" and "I promise to love you" lit up Times Square's billboards every night at midnight. On the other side, speaking of Minimalism, one name stands out – Donald Judd. Even though he objected the term Minimalism due to its generality, he was remembered as one of the most important minimalists in the history of art. Without making grand philosophical statements, he was approached his work with the intention of creating pieces that assumed a direct material and physical presence.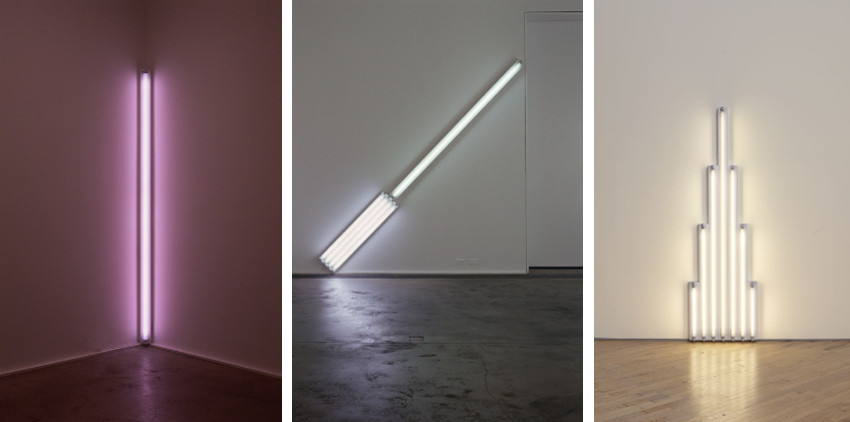 Most Notable Works
When someone is as creative, prolific, and groundbreaking as Dan Flavin, is can be quite a challenge to point out to several of his works and mark them as the most influential ones. His breakthrough with fluorescent light was the diagonal of May 25, 1963 (to Constantin Brancusi) – in this seminal work, Flavin first used fluorescent light alone. He eliminated the square box of the icons, and instead positioned a single, unadorned yellow fluorescent light at a 45-degree angle against a gallery wall. By declaring that a fluorescent light tube can stand on its own as a work of art, Dan Flavin boldly challenged the history of art (particularly the discipline's theoretical separation of art and everyday life), similarly to Marcel Duchamp, whose readymades of the early 20th century consisted of ordinary, utilitarian objects. The "Monument" 1 for V. Tatlin (1964) is a distant rendition of Tatlin's Monument to the Third International. It is one of 39 so-called monuments to the Russian Constructivist artist, Vladimir Tatlin, who Flavin held in extremely high regard. Meant to be an office building built according to the ideals of Constructivism, Tatlin's Third International was never constructed, although the plans for the monument remain a symbol of the movement. Flavin's Monuments, made up of light bulbs that either burn out or are turned off, have an element of impermanence that memorializes the ghost of Tatlin's unrealized project. The green crossing greens (to Piet Mondrian who lacked green) (1966) is one of Flavin's so-called "barriers" – it blocks off the gallery space with two intersecting, fence-like constructions. Dictated by the dimensions of the gallery space in which it is installed, this piece displays traits associated with Conceptual art and can also be considered one of the first pieces of installation art. The crisscrossing framework of Greens crossing greens approximates Mondrian's paintings, which in turn evoke stained glass windows, one of the oldest forms of lighting design. The intense light and imposing physical presence of the installation almost aggressively push against the viewer.
His work still influences many artists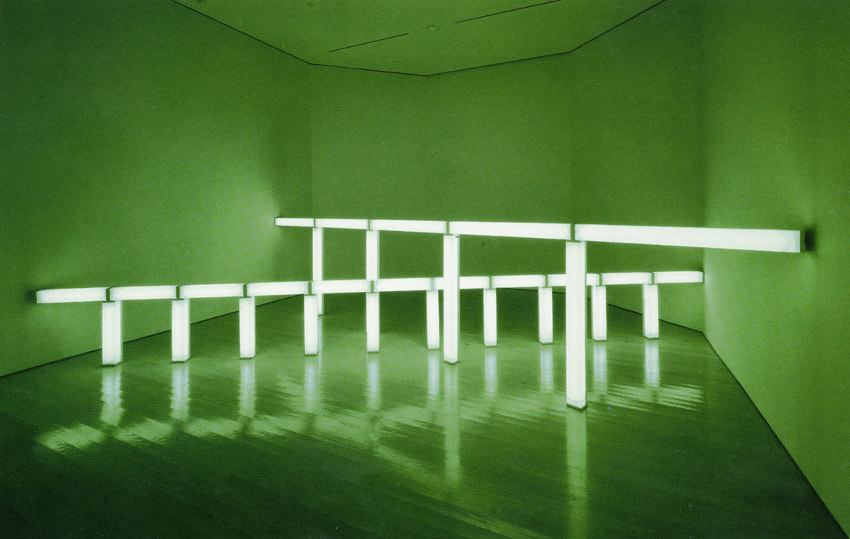 The Legacy of Dan Flavin
Dan Flavin is, without a doubt, one of the most important and innovative artists of the late twentieth century. The simplicity and systematic character of his extraordinary work, along with his relentless exploration and ingenious discovery of an art of light, established him as a progenitor and chief exponent of Minimalism. Uniquely situated outside the mediums of painting and sculpture, the majority of Flavin's work after 1963 consists of art made from light.[3] However, by subjugating his material to expiration (neon tubes will eventually burn out) and even choosing the light as his medium (as opposed to the otherwise industrial character of standard Minimalist materials like steel, aluminum, concrete, plastic, glass, and stone), he managed to position himself not just beyond Minimalism, but to reach that unique place that exists outside of the realm of artistic movements in general. In a way, "Flavin's legacy has to do with the temporal nature of his work. It has an ephemeral quality. It is (as he implied, when he used the word "exposition" instead of "exhibition") a proposal. It is not so resolute or absolute as marble sculpture or oil painting. A single structure can have different colors, the quality of the light is elusive and changes over time, and the materials are replaceable. On the other hand, he made permanent site-specific work. His oeuvre was open and contradictory in many ways. So I guess the legacy is and will be multifaceted."[4]
He is represented by David Zwirner.
Dan Flavin lived and worked in New York.
References:
Dixon G., Focus: Dan Flavin, Hirshhorn Museum and Sculpture Garden [2012]
Fuchs R., Kraus K., Neuner S., Rebentisch J., Wäspe R., Dan Flavin, Hatje Cantz, Berlin [2013]
Govan M., Bell T., Dan Flavin: A Retrospective, Yale University Press; First Edition edition [2004]
Waschek M., Installing in Flavin's Absence: An Interview with Tiffany Bell and Steve Morse, The Pulitzer Foundation for the Arts [2007]
Featured image: Dan Flavin - Sailing Across Gardner's Bay Near Lion Head Beach (To Thomas Moran), 1982 (detail). Black crayon drawing on stone with an embossment. 22 x 27 in. 55.9 x 68.6 cm. This is a unique work. Photo courtesy Berry Campbell Gallery
All other images courtesy of David Zwirner