Dan Witz is an American street artist and painter, born in 1957 in Chicago, Illinois. The artist has been active on the street art scene since the late 1970s, which makes him one of the pioneers of the street art movement. He is best known for his series named Holes, that suggest holes in the walls of Brooklyn.
ABC No Rio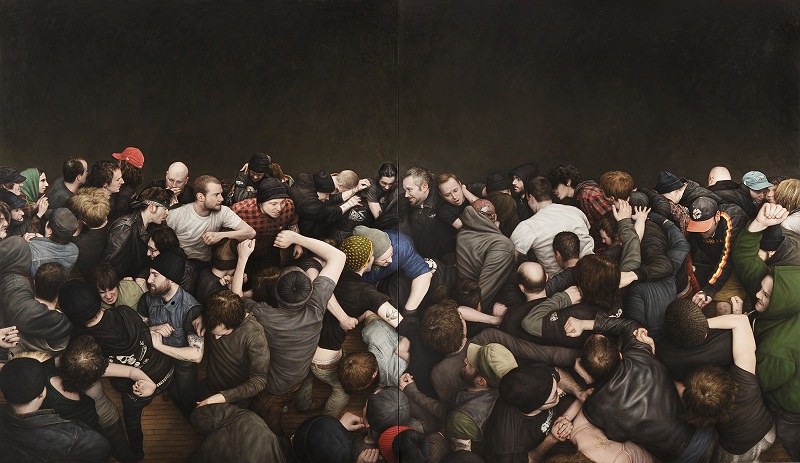 Education
Witz grew up in Chicago and went to Rhode Island School of Design from 1975 to 1977. He moved to New York in 1978 and attended Cooper Union in New York, where he obtained his degree in 1981.
Work
Witz started creating hummingbirds on the walls of downtown Manhattan, New York, illegally, with acrylic paint and brushes. It was in the late 1970s, long before Keith Haring, Shepard Fairey and Banksy became famous around the globe. Witz's work is not only limited to street art. He is also interested in group figure paintings and what he calls, academic realist painting. His works depict mosh pits at punk shows, inspired by his experiences as a musician, and deal with the identity of human beings in modern societies. The painting process starts with digital photos, which are later edited in Photoshop and printed onto canvas as underpaintings. Then, Dan starts applying color with traditional glazing techniques.
Vision of Disorder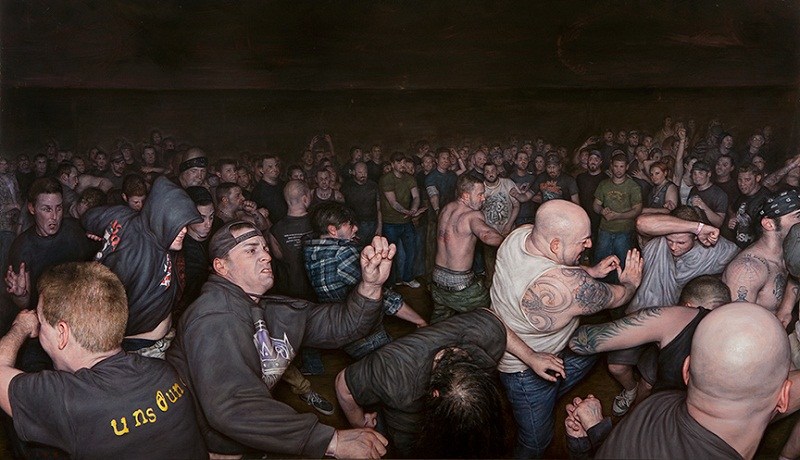 Exhibitions
The artist has exhibited his work throughout the United States and internationally, in galleries and museums such as Jonathan Levine Gallery in New York, Museum of Modern Art in New York, Carmichael Gallery in Los Angeles, the Indianapolis Museum of Art in Indianapolis, White Walls in San Francisco, Stolen Space Gallery in London, United Kingdom; Addict Galerie in Paris, France; and DFN Gallery in New York.
Publications and Books
Witz's first book The Birds of Manhattan was released in 1983. The publisher was Skinny Books. In 2010, Ginko Press published Dan's monograph, which documents 30 years of his career, Dan Witz. In Plain View. 30 Years of Artworks Illegal and Otherwise, as well as Hummingbirds, 2011. The artist also contributed to the renowned street art website and blog the Wooster Collective.
Dan Witz's work was featured in numerous popular publications, such as Art Magazine, Juxtapoz, Time, Sites, Artinfo, New York Magazine, Public Art Review, The Huffington Post, The Daily News, The New York Times, The New Yorker, Newsday, Adbusters, and Harpers.
Byronesque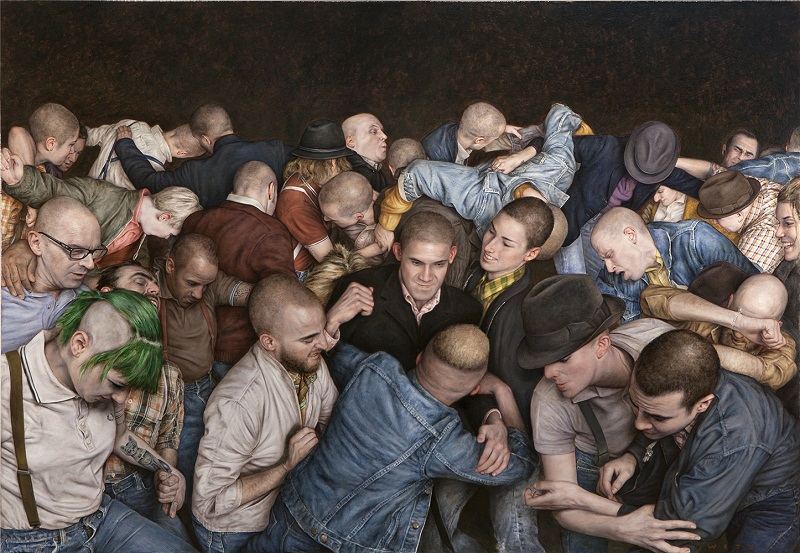 Films
In 2010, Witz's work was featured Exit Through the Gift Shop, the famous film by street artist Banksy. In 2006, Lou Auguste's documentary Open Air showed the studio and methods of Dan Witz and Faile, Skewville, Espo, Tiki Jay, and Mike De Foe. In 2005, his work could be seen in Alice Arnold's film To Be Seen.
Awards and Fellowships
The artist received his first fellowship from the National Endowment for the Arts in 1982. Ten years later, he was the recipient of New York Foundation for the Arts fellowship. In 1998, Witz received the Public Art Fund fellowship, and in 2000, New York Foundation for the Arts fellowship again.
Agnostic Front Circle Pit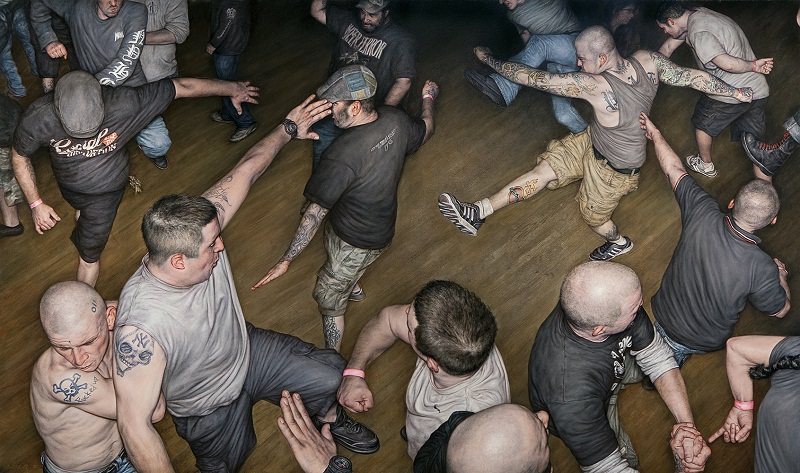 The artist is represented by Jonathan Levine Gallery in New York.
Dan Witz currently lives and works in Brooklyn, New York.
All images courtesy of the artist and Jonathan Levine Gallery