Definitely one of the most prominent French conceptual artists to date, Daniel Buren produces colorful work that is often described as radical due to the artist's refusal of the idea of authorship. Sometimes classified as a member of the Minimalist movement, Buren is best-known for his installation art pieces made from regular, contrasting colored stripes and patterns. In the core of his artistic practices is the effort to integrate visual surfaces and architectural spaces, oftentimes choosing to work with historical and landmark structures. Emerging in Paris during the time of the 1960s, Daniel Buren is nowadays internationally recognized for his contribution to Conceptual Art. It should also be noted that this author is a founding member of the BMPT group, an artistic collaboration that respects and represents most of Buren's own views and ideas about art.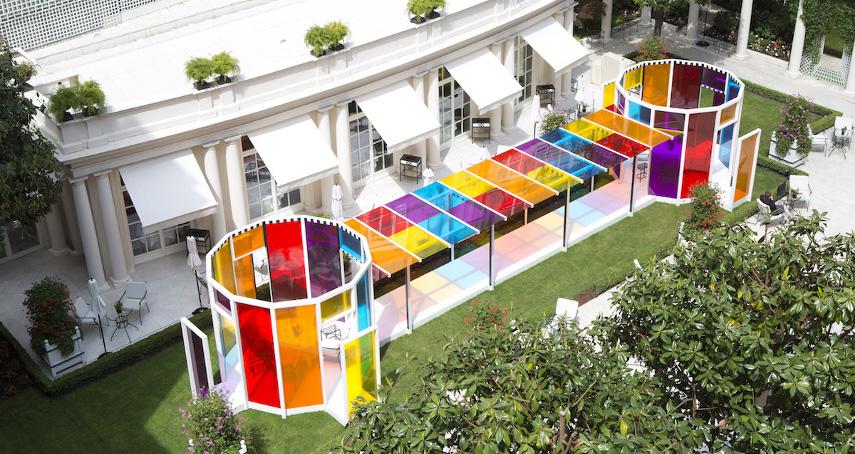 Daniel Buren and His Color Stripes
For the majority of his career, Daniel Buren has been mainly concerned with presenting art and highlighting facture[1] - the process of making art that substitutes the traditional mimesis or representation of anything but the work itself. As it was said earlier, his artistic choice usually falls on installation art as this modern form of expressing oneself seems to suit most of Daniel's creative beliefs. Many of his artistic decisions can be somehow traced to the times Buren was a student at the famous Ecole Nationale Supérieure des Métiers d'Art in Paris where he graduated in the year of 1960. After graduation, he initially began painting - however, by the time of the mid-1960s, he had completely abandoned traditional painting in order to commit to his 8.7 cm-wide vertical stripes.[2] These lines alternated between white and one other color and have quickly become the signature and focal point of Daniel's practices. After the material transition occurred, Buren began producing unsolicited public artworks by setting up hundreds of striped posters he referred to as affichages sauvages. He also worked on Esquisses Graphiques.[3] These bandit-style acts truly caught the eye of the Parisian public. By 1970, Daniel was putting his stripes on the front and back of Los Angeles bus benches - of course, without any governmental permission whatsoever.
Daniel Buren is best known for his distinctive site-specific installations of alternating stripe patterns and lines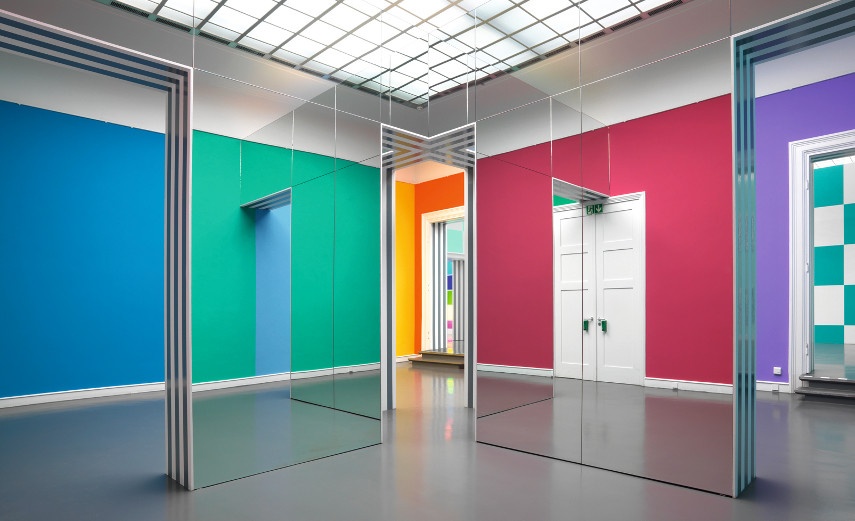 Installation Exhibitions and the BMPT Group
Daniel Buren quickly established himself as a controversial young artist who was not afraid to enter the notorious category of the world of art[4] - this was underlined by his first solo exhibition for which he blocked the entrance of the gallery with stripes. In 1971, he created a six-foot banner titled as Peinture-Sculpture that divided the Solomon R. Guggenheim Museum's rotunda in New York City. This event was followed by Daniel's first solo show in the Big Apple which also carried a lot of controversies[5]. In 1977, the artist started to cut up his old pieces and reuse them in the production of newer works, adding another interesting notion of analyzing for anyone interested in studying Buren's concepts. A surprising and exciting contradiction was surrounding the young artist back then - he was dedicating all of his time to objecting against traditional ways of presenting art through the museum-gallery system while at the same time he was growing in hot demand to show via the same system. Between the years of 1966 and 1967, Daniel joined creative forces with fellow artists Olivier Mosset, Michel Parmentier and Niele Toroni in order to form the BMPT group whose intention was to reduce paintings to the most basic physical and visual elements. This was to be done via a systematic repetition of motifs.
Daniel Buren devised a concept of a degree zero of painting during the 1960s, solving arguably the main issue of the artist's current Conceptual Art phase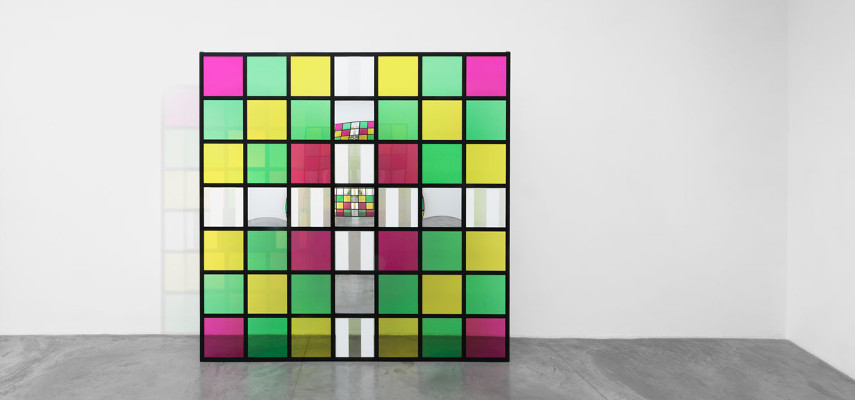 Mature Art of Daniel Buren
Besides working on his installation works, Buren also staged a series of performances with other BMPT artists they called manifestations - public acts based on the critical encounter with audiences[6]. However, installations definitely continued to be this artist's focal point even during this time. Starting with the years of the early 1990s, Buren's work has become notably more architectural. He started creating new spaces within existing environments such as city centers, parks and museums, all the while staying true to his colorful stripes. In many ways, this time can be described as the creative peak of Daniel Buren's career. The 2000s were just as equally successful as the artist created many new installation projects during the current millennium. Some of the most notable pieces Buren created either on his own or via a collaboration during the 21st century are De l'azur au Temple du Ciel (2004), A Rainbow in the Sky (2009), Curseur (2009–2013), Photo souvenirs au carrè (2010) and Défini, Fini, Infini (2014).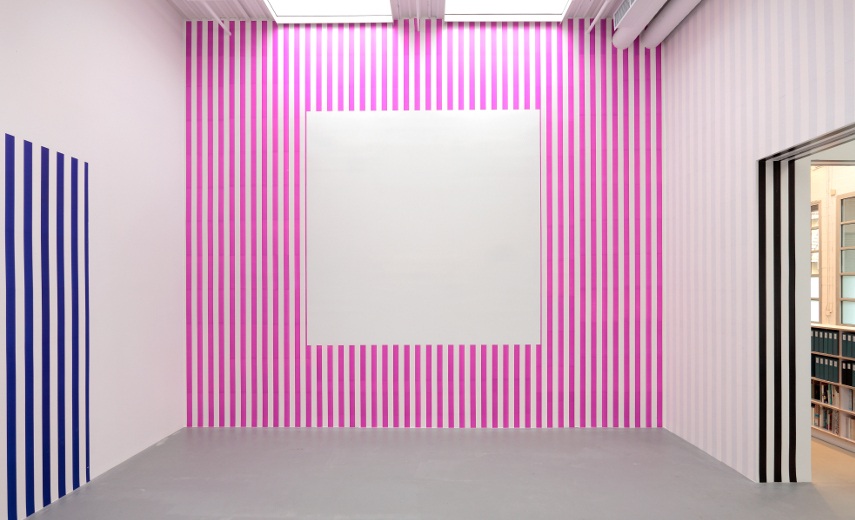 The Results of His Artworks and Biography
Ultimately, Daniel Buren's peculiar site-specific installations of alternating layers and patterns successfully challenged conventional notions of where art can be seen and how it can be understood. Such an achievement, combined with the famous degree zero of painting concept, makes this artist a necessary stop for anyone seriously interested in examining the history of Conceptual Art. Additionally, Buren's goals of deconstructing the idea of space and time, as well as his radical refusal of the authorship norm, only further add value to his life's work that is absolutely one of the most pivotal art making practices the French contemporary art of the 20th century has in its arsenal.
Daniel Buren lives and works in Paris, France.
References:
Lelong, G., Daniel Buren, Flammarion, 2002
Mennour, K., Daniel Buren: 1965-2015, Kamel Mennour, 2015
Buren, D., Daniel Buren: Esquisses Graphiques, Éditions Dilecta, 2012
Cerizza, L., Buren, D., Daniel Buren: Prospettive, JRP|Ringier, 2008
Marlow, T., Obrist, H. U., Buren, D., Daniel Buren: Underground, Art / Books, 2017
Corà, B., Aisa, M. G., Buren, D., Daniel Buren, Silvana Editoriale; Bilingual edition, 2013
Featured image: Daniel Buren - Photo of the artist - Image via uoregon.edu
All images used for illustrative purposes only.