The creations of artists throughout history have led to all sorts of artistic practices we have today. No matter how diverse and how numerous the artists are, there's undoubtedly a bit of history in each and every one of them. Inspired by the great names and their work, especially that of Pablo Picasso, Daniel DALOPO forms a practice that draws from such great historical pieces and methods while adding a unique, personal touch to it. Socially aware in his artwork, DALOPO speaks for human rights in his vividly painted works, climbing the stairs of the contemporary art scene.
Vivid Pieces
Daniel DALOPO had started artistically expressing at a very young age; with an interest in painting and drawing, his depictions stood out during his school days. Having studied artistic silkscreen at Seville at the age of 17, DALOPO started prolifically producing during 2009 making mostly paintings, some sculptures in clay and other materials, and more recently moving towards murals as a form of expression. Each of his vivid pieces is purposefully painted and made, being more than just easy on the eye as they reference various social issues and human rights problems. The act that permeates all of his works is the obvious influence of some of the 20th century movements, instilling DALOPO's pieces with a nuance of cubism, constructivism, and pop art, as well as the feeling of Dali and Picasso in his own brushstrokes, artists that he looks up to even today.
Permeating all of DALOPO's works is the obvious influence of some of the 20th century movements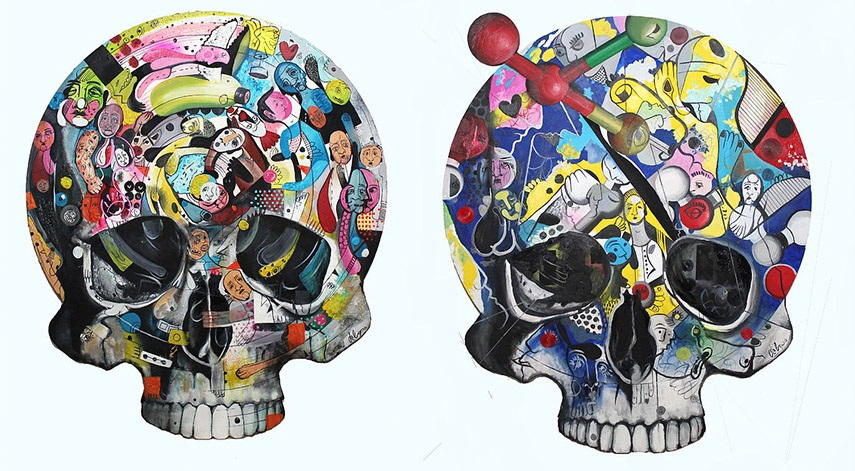 Human Form
In order to best portray not only the human rights problems and social issues, but his own explorations of the meaning of life, its diversity among the people in many of its aspects, and the human form at the center of it, DALOPO paints a massive number of body parts mixed in with other various geometrical shapes and organic forms. Although there is an apparent reference to Dali's and Picasso's pieces in DALOPO's works, he adds a whole new, definite, and ultimately unique line to the movements that dominated the previous century. Existing somewhere between the few different styles, the artist's practice remains distinct in its portrayal of the endless search for balance in humankind, battling between unending desires and fears.
DALOPO paints a great number of body parts mixed in with other geometrical shapes and organic forms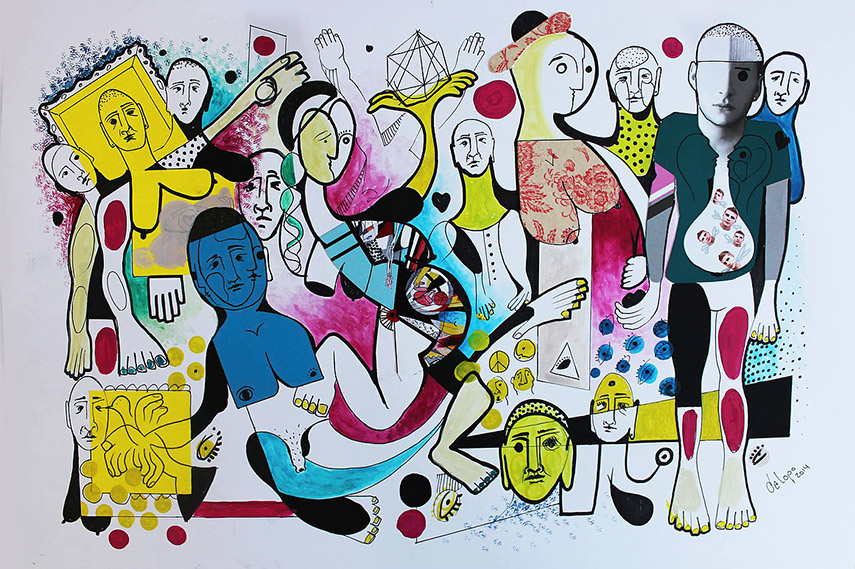 Art of Social Awareness
Giving social awareness a very specific form, DALOPO instills his personal opinions and points of view on certain issues of society, giving shape to those that he feels are inconsistent or unfair. Having stepped into the domain of murals in the second half of 2015, his artwork is sure to reach an even wider audience, presenting not only the social problems but the artist's thoughts of humanity as such, explorations of life, human interaction and behavior. Offering much in his visually enticing works, DALOPO quickly finds his way into the artistic limelight no matter which medium he chooses to represent.
The artist is represented by BC Gallery.
Daniel DALOPO lives and works in Seville.
Featured image: Daniel Dalopo - Untitled (detail), 2014. All photos credit the artist.