Daniele Tozzi, known as Pepsy in graffiti circles, is an Italian artist whose work derives from the field of graphic design and calligraphy. Born in Rome in 1981, Tozzi came in contact with the underground culture in the second half of the 90s, when he started writing tags. After high school, he graduated in Digital Design on European Design Institute (IED) in the capital of Italy and began to work as a graphic designer for different brands and companies.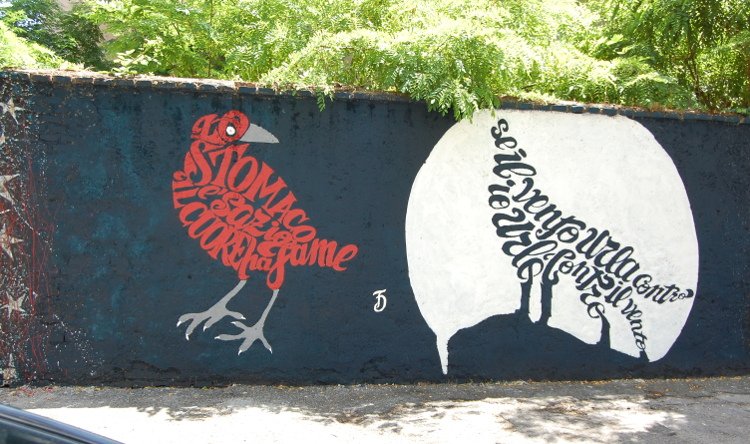 Lettering by Daniele Tozzi:
The core of Tozzi's highly refined and personalized body of work is lettering, a visual art related to writing. Tozzi became interested in letter forms in the 90s when he started writing the tag Pepsy on the streets of Rome. His newly discovered love for calligraphy made the young artist engage in studying of diverse techniques and tools, until he found his own style of lettering.
Over the years, Tozzi began to paint paper with acrylic paint and colored ink by using an old technique that fuse lettering and design: the calligram. Tozzi's artwork created by the words are formed or supported by different fonts and writings, not infrequently referencing graffiti. One of the biggest inspiration of the artist is music, so many of his artworks are made by words and quotes taken from music background of the artist cleverly arranged into shapes that became objects or silhouettes.
The calligraphy Daniele Tozzi employs in his artistic practice is a permanently changing experiment filled with typography, famous slogans or songs, mottos, or important notes from the cultural heritage or beliefs of the artist.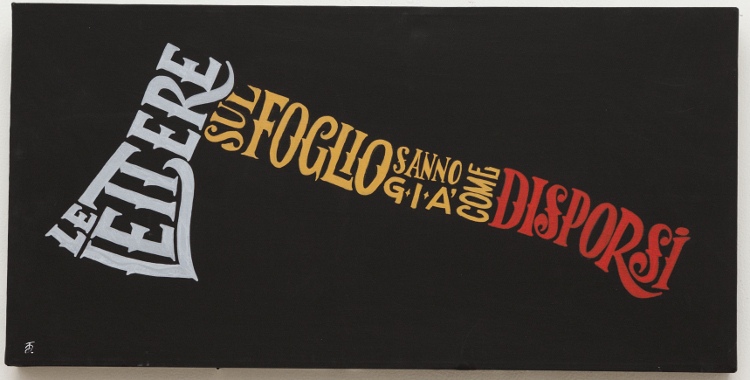 Word Play
Primarily influenced by Italy's hip-hop scene the artist created his famous series of work titled Word Play in 2014. Taking quotes from his favorite Italian rap songs Tozzi has painted 19 stunning canvases of lettering and calligrams which engage the viewers in a dual communicative channel of words and pictures. The name of the series means that both rap musician and the artist play with the words, interweaving them to find the best solution, the same as a calligram.
The solo show Word Play was on view at Galleria Varsi, Rome, in July 2014. Amongst Rome, Daniele Tozzi has also participated in exhibitions and art festivals in Ravenna, Milano, Pisa, and Viterbo.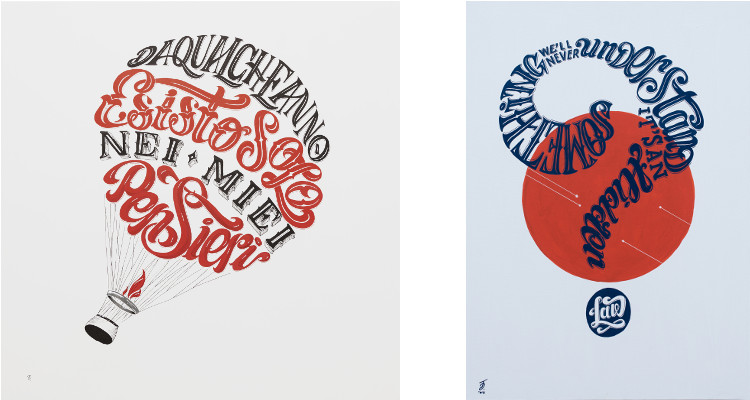 He is represented by Galleria Varsi.
Daniele Tozzi lives and works in Rome, Italy.
All images copyright © Daniele Tozzi