For Danny Lyon, American documentary photographer and filmmaker, artistic approach and everyday routine are never entirely separate realms. If you put a camera in my hand, I want to get really close to people. Not just physically close, but also emotionally close, Lyon said. The artist is renown as a photographer who has produced several bodies of incredible documentary work in the 1960s before he turned 30. He always wanted to be the voice of the marginalized and he believed that photographers are respectful truth tellers, able to look inside and find a hidden beauty in everything. The entire Lyon's work was done in the style called New Journalism, which means that the photographer has become deeply immersed in the documented subject, may it be portraiture or event. He is also known as the founding member of the Bleak Beauty publishing group.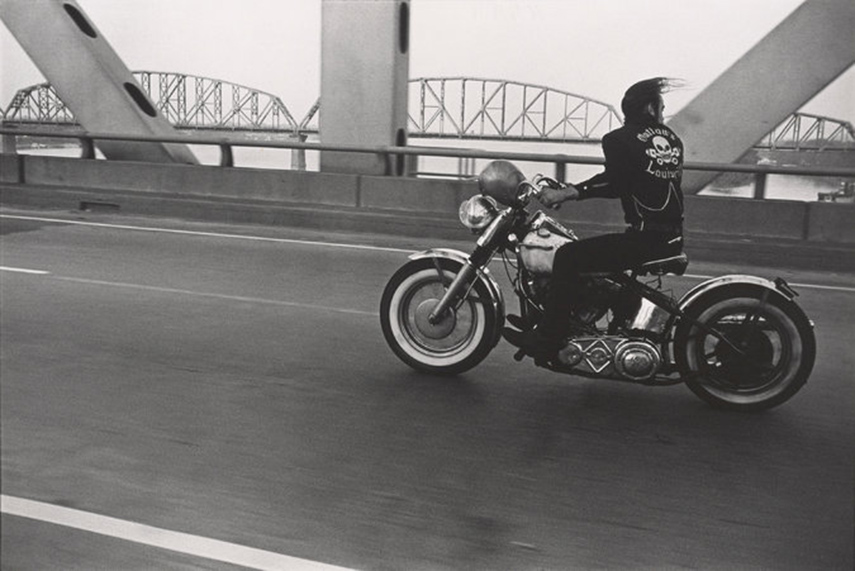 Early Pictures, Exhibition History and Association with Motorcycle Club
Danny Lyon was born in the early 40s in Brooklyn, New York. He was raised in Queens and studied history and philosophy at the University of Chicago. In 1963, he graduated with a Bachelor of Arts and around the same time he published his earliest photographs, which were later featured in the documentary book called The Movement. When it comes to the main topics of Lyon's work, one thing that surely stands out is his interest in the world motorcyclists. His collection called The Bikeriders from 1968 documented the life of bikers in the American Midwest in the 60s. Because of his passion for this lifestyle, Lyon himself became a member of the Chicago Outlaws Motorcycle Club and he traveled often with fellow bikers. Lyon's photographs from the 60s are often considered an attempt the glorify the life philosophy of the American bike rides. This series of his photographs was really influential in both 60s and 70s. During the 70s, Lyon started working on a new photo project, called DOCUMERICE. This project was organized by Environmental Protection Agency.
When it comes to the main topics of his photography, Lyon's passion and interest in motorcyclists surely stands out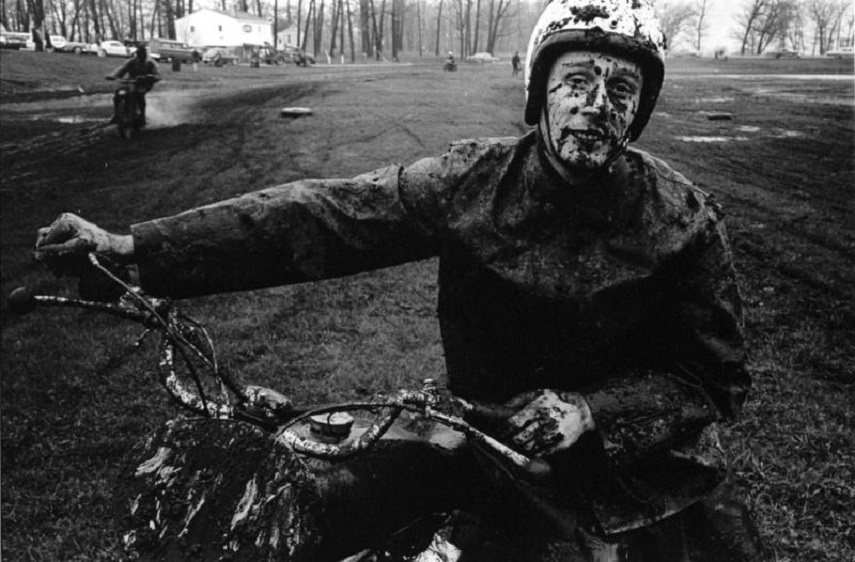 Navigation Through Manhattan and Prisons in Texas
Lyon's other major projects were called The Destruction of Lower Manhattan, from 1969 and Conversations with the Dead, from 1971. The first one documents the demolition which took place in the Lower Manhattan in 1967. Lyon photographs in this series featured streets and buildings which were about to get destroyed. At the same time, he made portraits of many people from the local neighborhoods, which turned out to be very powerful and emotional photographs. The Destruction of Lower Manhattan series was remaindered for one dollar each, but soon it attained the status of a collector's item. It was remade in 2005. When it comes to his Conversations with the Dead, this controversial and brave series was published with the cooperation of the Texas Department of Corrections. Lyon photographed various prisons and prisoners from 1967 to 1968, making one of the most influential American photo series which documents the life in prison.The introduction of this photo book emphasized the idea that the penal system of Texas represents the incarceration policies presents throughout the United States. Images of prisoners represent people subjected to strip searches, those working outdoors as well as the individual portraits of people behind bars. It is interesting to mention that Lyon's tendency to dignify his subjects made his depiction of prison life less repulsive than it was supposed to be. The photographer made friends with some of the prisoners and his photo book turned quite complex and colorful because it included texts taken from prison records and even inmate artworks. The prisoner which took a central place in the book was called Billy McCun and he was a rapist initially convicted to death sentence. However, his sentence was eventually changed into a lifetime in prison. Lyon became fascinated with this prisoner and described him as a real psychotic due to his bizarre behavior.
Lyon photographed various prisons and prisoners from 1967 to 1968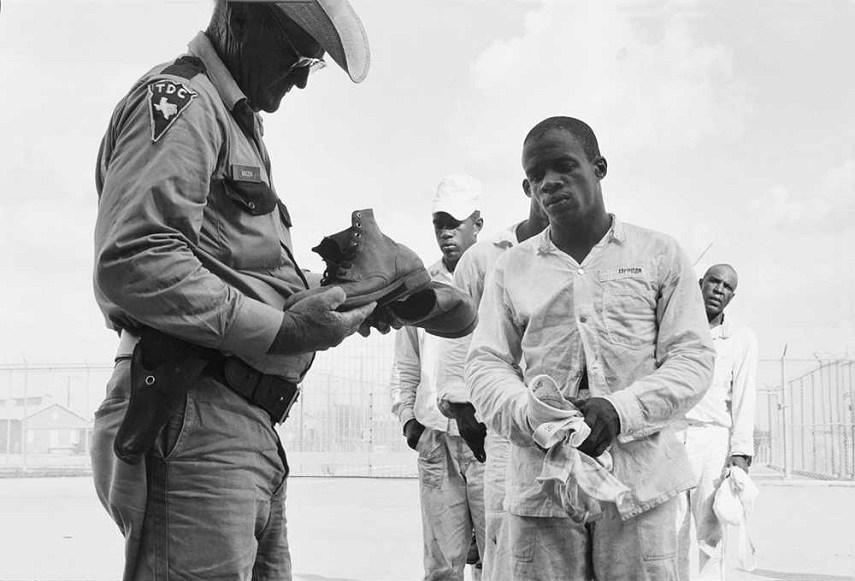 Lyon's Documentary Films
Lyon wasn't interested only in documentary photography – his career as a moviemaker was equally successful. His earliest film from 1969 was called Soc. Sci. 127 and it is a 21-minute portrait of the tattoo artist called Bill Sanders. This short documentary is quite straightforward and it portrays the everyday routine of Sanders's lifestyle. Lyon has filmed Sander's tattoo parlor, where we can see the tattoo artist inking a man's buttocks or a woman's bare breast. While working, Sanders was known to mumble his opinions on sex and politics, which made this documentary quite entertaining. In 1981, Lyon made another short movie called Dear Mark. This 15-minute black and white piece is a portrait of the sculptor Mark di Suvero. The movie shows Mr. Suvero shirtless, working diligently on a huge assemblage. The scene is accompanied to by the soundtrack of an old Gene Autry movie in order to achieve a humorous effect. However, the masterpiece of Lyon's movies is a longer film called Willie, from 1985. It is an 80-minute documentary which combines color and black and white scenes and it follows the story about Willie Jaramillo, who is a prison recidivist. Lyon's approach to building a narrative structure in this film is truly dynamic. He cuts back and forth between the black-and-white footage of delinquent young boys and scenes in color where the main character is already a troublesome adult. During the filming of Willie, Lyon has talked directly with the prisoner through jail cell bars and he included in the final version of the movie even some brief conversations with other prisoners. This amazing documentary can help us understand why Lyon shifted the focus of his work from photography to movies. No matter how artfully a picture is composed, it is still just a static and silent object. Lyon always wanted more – he wanted to capture the movement, the struggle, the power of transformation, which are all outside the realm of traditional photos. The skill of filmmaking allowed Lyon to dedicate himself to more powerful storytelling, which is achieved through the use of moving images with sound.
Lyon always wanted more – he wanted to capture the movement, the struggle, the power of transformation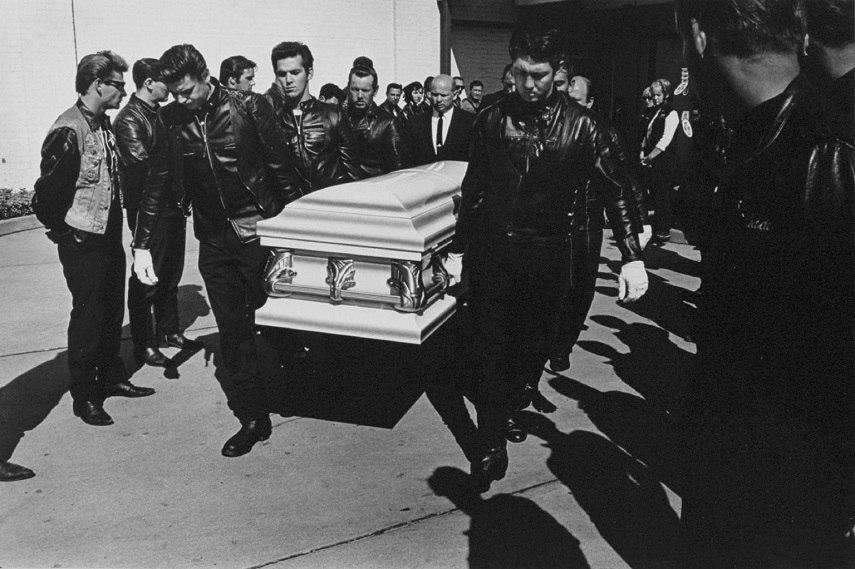 Involvement in the Civil Rights Movement
Lyon's involvement with the Civil Rights Movement dates back to the time of his junior year at the University of Chicago. The artist was impressed by the speech of John Lewis, who was a leader of this movement. Lyon decided to join the gathering of the activists held at a segregated swimming pool. Together with the rest of demonstrators, Lyon knelt down to pray. However, a truck came and went through the crowd in order to stop the demonstration and a young black girl got accidentally hit by the truck. After this incident, Lyon was sure that he wanted to be a part of the Civil Rights Movement. Shortly after joining the movement, Lyon had issues with the police, because they believed his father was an African-American. Lyon had to leave town in order to avoid further complications and keep his photography and movies safe. However, he decided to come back next year, even though the Student Nonviolent Coordinating Committee was unsure whether it's safe to take him back. However, he managed to regain a good reputation and later on he participated in a new project. He was in charge of taking photos of high-school female students who ended up in prison without any real charges against them. After Danny Lyon was being accepted as the photographer for SNCC, he started shooting the majority of decisive historical events related to the Civil Rights movement. His reputation skyrocketed so much that he became the important collaborator of the Magnum Photos, which is the preeminent international association, geared towards documentary approach.
Danny Lyon's involvement with the Civil Rights Movement dates back to the time when he was taking photographs at his junior year at the University of Chicago
[caption id="attachment_290747" align="aligncenter" width="855"]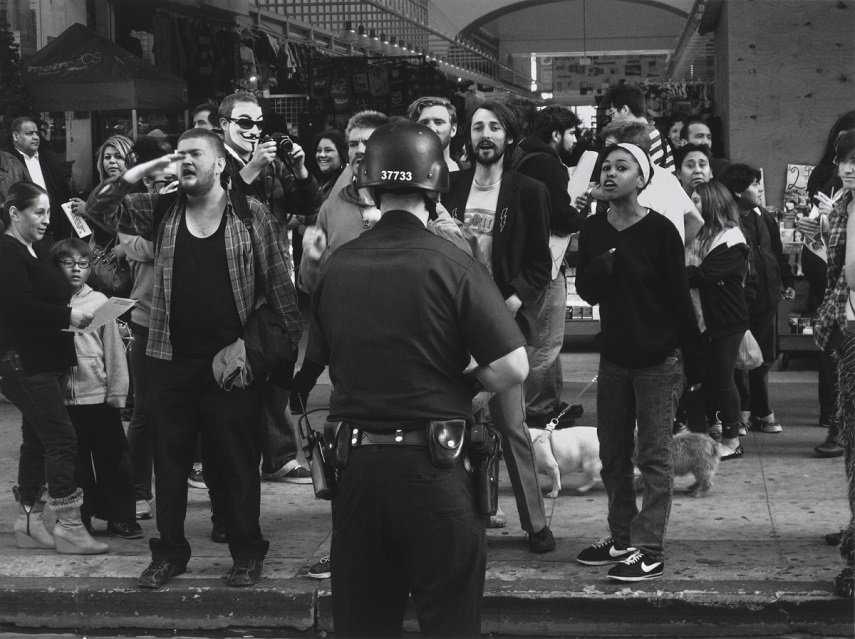 Danny Lyon - Occupy Demonstration on Broadway, Los Angeles, 2011 - image via deyoung.famsf.org[/caption]
Looking for the Truth in the Lives of the Marginalized
Danny Lyon, who is nowadays in his 70, is still passionate and active when it comes to moviemaking and photography. Over the past four decades, he has traveled widely in order to photograph street urchins in Colombia, protesters in California and even coal miners in China. Needless to say, his list of international solo and group shows is very long and varied. In 2015, Danny Lyon has won a prestigious Lucie Award for the lifetime achievement in Documentary category. The artist's work is strongly appreciated by many documentary enthusiasts, because of his unparalleled ability to get really close to his marginalized subjects, sympathize with them and depict their state of mind with a deep and honest desire to let the world hear their voices. Lyon's exhibition called Danny Lyon: Message to the Future is the first comprehensive retrospective of his work to be presented in the last two decades. It is organized by the Fine Arts Museums of San Francisco and it premiered at the Whitney Museum in New York, in June 2016.
Danny Lyon lives and works in New York.
Featured image: Danny Lyon's Self-Portrait, 1967 - image via pinterest.com