Darco Gellert, better known by his first name that serves as an artistic alias Darco, is a French old-school street artist that is responsible for the origins of the lettering subgenre of urban art. This initiator led a whole generation of European artists that wanted to expand on Darco's ideas and concepts. Most of the graffiti authored by this artist are basically tags - although he has managed to bring them to a whole new level by creating complex and dynamic compositions. Darco has enjoyed much international success and has traveled worldwide on a, what he loves to call, quasi-mystical quest for the perfect letter.
First Letters In France And The Rise To Fame
Although he spent most of his life in France, Darco was actually born in the neighboring Germany (in the town of Bielefeld), in the year of 1968. His family migrated to Paris and it is in the suburbs of this city that Darco grew up. Although he enjoyed art and drawing from his early years, he never showed too much interest in the traditional crafts, instead being more attracted to street art and the possibilities that laid in that medium. He got involved in the graffiti painting and urban interventions at the very beginning of street art in France - during the early 80s. In a time when there was minimum copycatting and everyone was contributing to the development of a new medium, Darco established his own personal style. The artist's first piece was painted in his neighborhood in the year of 1984. His technique resembled 3D artwork because of the way Darco outlined his letters, making them seem as they have all three dimensions. Over time, the artist managed to establish himself as a leading painter that specializes in lettering - soon, his style started a trend of similar artworks that attempted to copy Darco's graffiti. Known for his immense talent, rigorous aesthetics and unparalleled devotion, it took Darco only a handful of years to become a living legend of the street art scene. Back then, Darco described his style as a combination of a burgeoning creativeness with typical Germanic meticulousness. All of the details about Darco's development can be found out by reading a book the artist published in 2006, titled Darco Code Art.
Darco became famous for his lettering technique that gave his graffiti an illusion of the third dimension
The FBI Crew And Troubles With The Law
Besides lettering, the most impressive originality of Darco's work is his style, usage of perspectives and the dynamics of varying forms, as well as colors. These are undoubtedly the focal points of Darco's artwork. But, as was explained beforehand, the way this artist creates letters is the highlight of his career. After he already placed his name on the map of the street art scene, in the year of 1985, Darco teamed up with a fellow graffiti painter Gawki and the duo formed the famous group titled simply as FBI. The legendary writer crew soon grew into an international artist collective, with members like Loomit, DAIM and Bomber quickly joining in. Through their stylistic originality, clever choice of subjects and concepts, the sheer quality of work, coupled with extensive global travel, the FBI crew earned the respect of graffiti artists and fans all over the world. Interestingly enough, Darco was the very first graffiti painter in France to be convicted on grounds of causing damage to public property in the year of 1989. He was used as an example and was severely punished by the SNCF - the France's national state-owned railway company upon which cars Darco painted murals prior to arrest. Ironically, a few years later in 1994, Darco was invited to be involved in the renovation of what once was the only Europe's train station – Gare du Nord. The result was an enormous spectacle and an international success – the creation of 900 m2 (approximately 9700 ft2) of murals in one of the world's busiest stations. It should also be noted that, besides starting a whole new subgenre of street art, Darco is also one of the first European graffiti writers to vindicate and assume total responsibility for his status as an artist/author.
Some of the best graffiti Darco ever painted came from a time he was a member of the FBI crew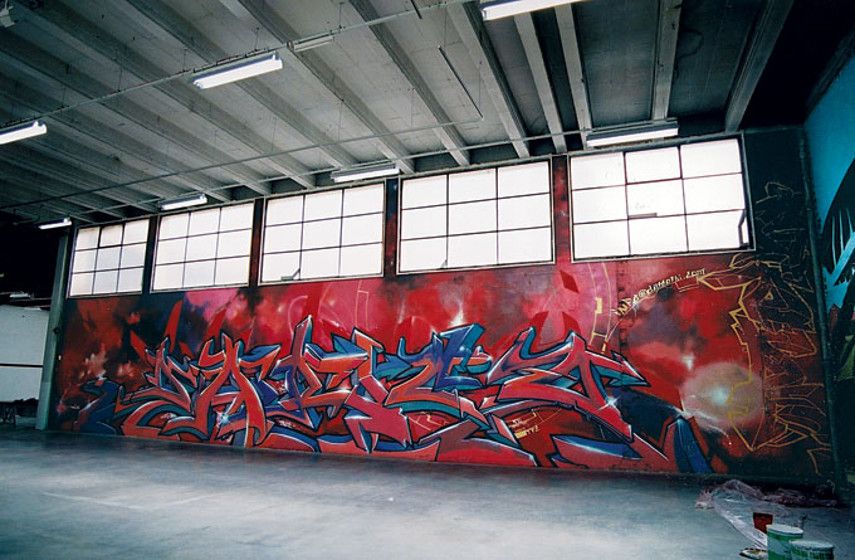 Master Of Graffiti
Since the year of 1984, Darco has left his name in spray paint on every urban surface he considered worthy of his mark. Painting regularly all across the territories of Europe, South Africa, USA, Australia and Canada, the artist has left an undeniable impact on the universe of urban art. He has received worldwide recognition for his style of painting and is credited for influencing generations of graffiti writers across the globe. Besides his street artwork, Darco is also active on other fronts as well, such as decoration, design, fashion, set and stage design. He has worked as an Art Director, adviser and consultant as well.
The artist is represented by Green Flowers Art in Paris, France.
Darco lives and works in Paris, France.
Featured Image: Darco - Photo of the artist - Photo Credits Francoise
All Images Photo Credits Darco