Dave the Chimp is a British artist, currently based in Berlin, known for his cartoon-like style, through which he expresses emotions, ideas, feelings, and thoughts. For this multi-disciplinary and multi-talented guy, the content of the artwork that draws the attention of the viewers is everything. Although he is famous for graffiti, he doesn't consider himself a street artist, because the larger part of his daily work consists of making illustrations, drawings, sculptures, compiling books and magazines, curating exhibitions, directing videos, or even designing clothing and shoe collections. Dave's personal and professional life is very much influenced by his love for painting and skateboarding.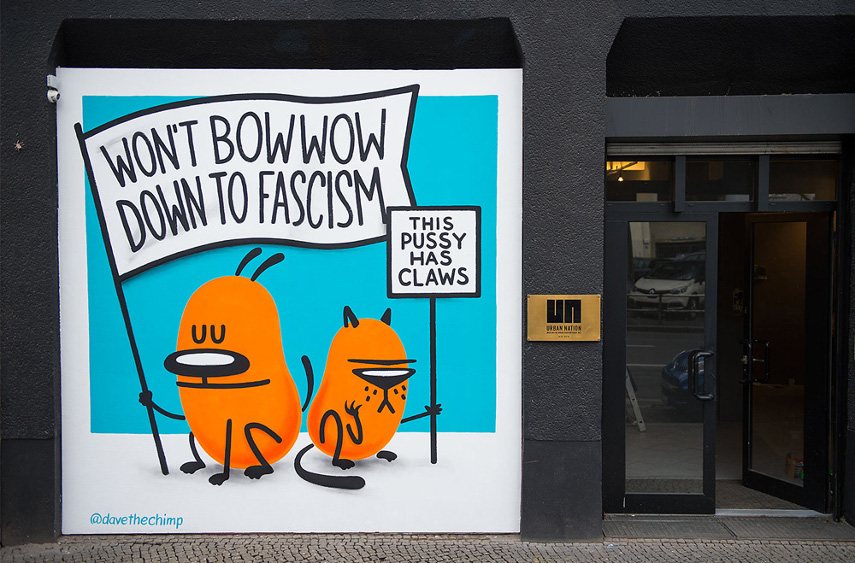 Dave the Chimp's Beginnings as a Graphic Designer
The artist was born in Watford, UK, and after studying on the south coast, moved to London when he was 21. In the mid-1980's Dave started skateboarding, which expanded his horizons by introducing him to punk-rock, cut-and-paste artworks, a large variety of drawing styles used as board graphics, and screen printing. Although his interest in drawing was present since he was very young, it's the skateboarding which helped his head get free, still, relieves him of stress and worries, and brings everything together. In 1998 a lack of storage, showing and selling space led him to the street, where he had all three in one, and an instant audience. As someone who rocked the dance floors at many parties together with a group of close friends, people soon started to call his crew 'the chimps'. Dave listened to a screen printer friends advice to have an artist name, and became 'Dave the Chimp'.
It's the skateboarding which helped his head get free, still, relieves him of stress and worries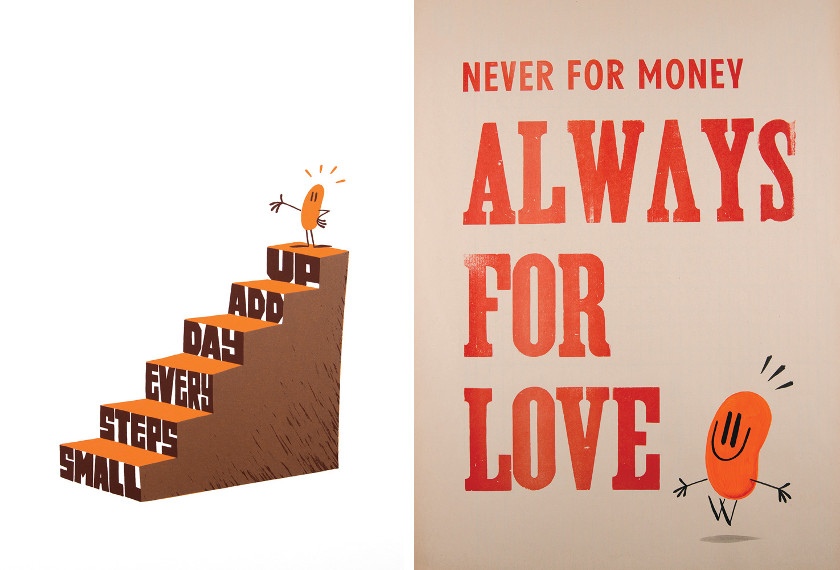 Diversity of Talents
Dave's fanzines, graffiti, and paintings, whether they are in color or in black & white, are just amazing. The main medium is cartoon which he finds the easiest way to communicate with the audience. Whatever he creates the main goal is to make people think and engage. In 2003 he was invited to a street show, held in the streets of east London, and since then his work has been displayed alongside some of the most popular contemporary artists such as Banksy, Swoon, Miss Van, Shepard Fairey, Zevs, and Space Invader. The Chimp's education in graphic design and experience in advertising enabled him to become the first UK artist to design a collection for Vans, a renowned skateboard shoe company. In 2011 Dave and a group of Berlin skateboarders built the 8-metre diameter concrete sculpture Papa und Ich outside of the Bethanien, Kreuzberg, which was his way of saying to this young son 'I love you'. Another sculpture, the 20-metre long Friendship Bowl was built of wood in a gallery in Wroclaw, Poland.
The main medium is cartoon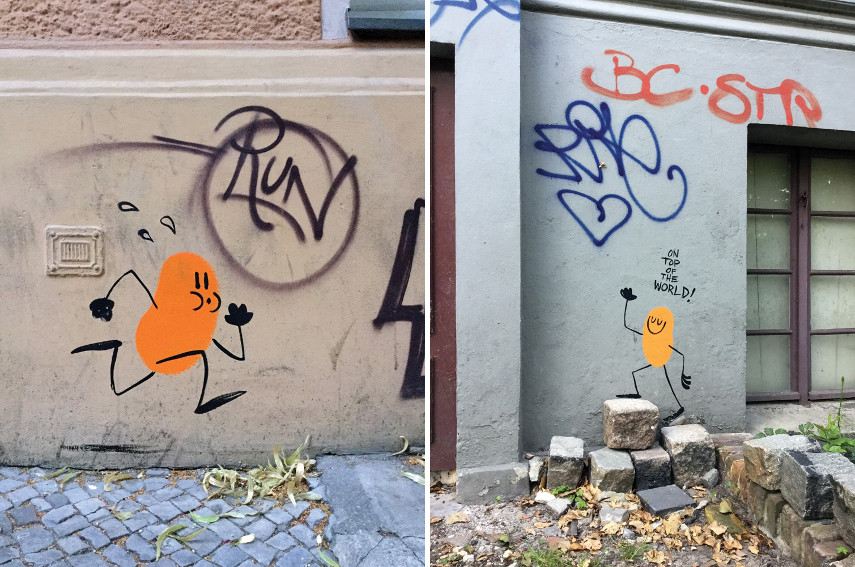 Work in Books and Galleries
Since the late 90's Dave's work has been published in over 35 books such as Scrawl 2- More Dirt, Zines, and Blower. In 2009 Publikat published his book Part of Rebellion 2. The artist is one of the founders of the Big Cheese Magazine, which ran from 1996-2016. In the last few years, Chimp uses 'Human Beans' as a medium of adventure that represents a change that is focused on protest culture, positive vibrations, and encouraging exploration. His artworks have been exhibited in shows in major cities like London, Milano, Tokyo, Paris, and New York, and in many other places around the world.
The artist is represented by the Gallery Guillaume Daeppen in Basel.
Dave the Chimp lives and works in Berlin, Germany.
Featured image: Dave the Chimp – Portrait
All images courtesy of the Gallery Guillaume Daeppen