Big expectations can turn out to be an obstacle on a way to great achievements. Especially if you're compared to the ones like Andy Warhol. Overcoming that burden, Dave White has successfully made his way into the heights of the contemporary art scene. Known for his variety of subject matter, from sneakers to endangered species, he actually chooses the things he's emotionally connected with. He discovered these objects and animals in his childhood and forged a strong bond with them. The artist seeks inspiration in and is heavily influenced by the things he loves, and right in there lays the secret of his success. It is extraordinary how White, not matter how acclaimed he becomes or how much attention he gets from the world's press, remains attached to the same things he loved since he was a kid and manages to stays what he's deep down in his soul – a marvelous painter.
The artist is known for his variety of subject matter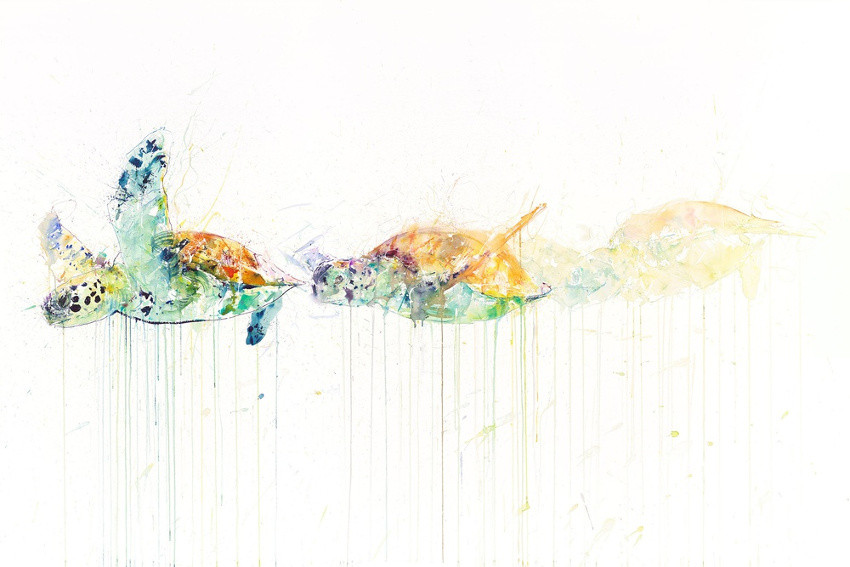 Jordan and Coca-Cola
Dave White is a renowned Liverpool-born contemporary painter known for his various subject matters such as sneakers, animals, and superheroes. His unique expressive style of painting is defined by thick, animated brush strokes and his art oozes colour and vigour. Instantly recognizable, his artworks present splendid oil paintings with a stark sense of life, motion, and emotional integrity. Born on February 19th, 1971, Dave White earned a BA (Hons) Fine Art (Painting) from Liverpool John Moores University in 1994. The same years he was listed for the Northern Graduates show at the Royal College of Art where he first exhibited animal portraiture. In 2002, Dave White pioneered the movement known as "sneaker art" which brought international exhibitions and appearances. White's masterful execution of pop art inspired sneaker portraits has led to collaborations with Nike, Jordan, and Coca-Cola. His collection was showed throughout the world including the People's Square Exhibition Hall in Shanghai to the Atlanta Contemporary Art Centre in the USA.
He's worked with some of the biggest brands in the world such as Nike and Coca-Cola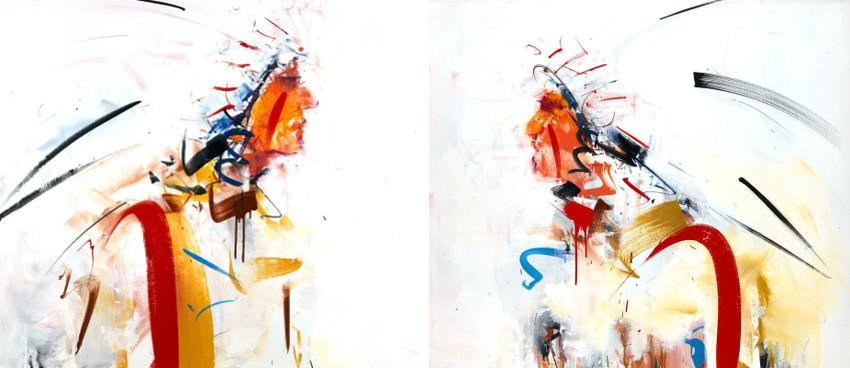 The Subjects
Acclaimed as the United Kingdom's Andy Warhol, Dave White has since turned his hand to the more intimidating subject matter of great white sharks. Fascinated by endangered wildlife and species from around the world, his Natural Selection and Aquatic series deals with the dynamism, movement and presence of wild animals like tigers, orangutans, sea turtles and more. Featuring a range of large-scale oils, watercolours, and some very limited editions, Albion series explores the heritage and iconography of the British wildlife in White's dynamic signature style. In 2014, Dave White has a debut solo show with the Apex collection at Gusford in LA. In his latest series of works Critical, the artist returns to pop art inspired animal portraits which focus on a species' unique aesthetic.
The latest series features pop art inspired animal portraits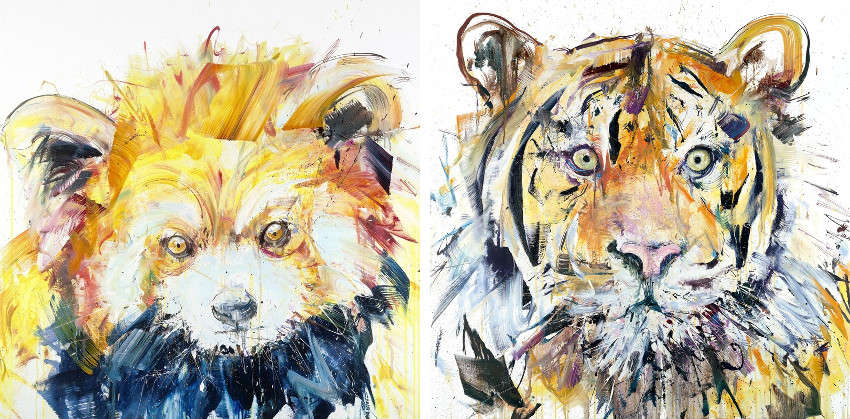 Art is an Instinct
He considers art to be a primal feeling, similar to hunger, it's an instinct. That need to create has guided him from the start of his career. White's work has been widely recognized shortly after graduation, and as his popularity grew, so did his participation in group exhibitions. Naturally, he also started to exhibit as a solo artist. When he was 26, his artworks appeared along the ones made by the greats such as Picasso and David Hockney. Dave White's work has been included in exhibitions at galleries and museum worldwide including The Lawrence Alkin Gallery, London; Imazoo Gallery, Seoul, Korea; Opera Gallery, New York; New Museum of Contemporary Art, New York; Seoul Art Museum, Korea; Galerie Wild Zurich; Tomofuko Gallery, Tokyo; Source Gallery, Shanghai; Refill Gallery, Sydney; Galerie Wild, Frankfurt; and White Gallery, Beijing, to name a few. His oil paintings have been featured in articles in the Wall Street Journal, the Daily Telegraph, GQ, and Time Out.
Art is a primal feeling similar to hunger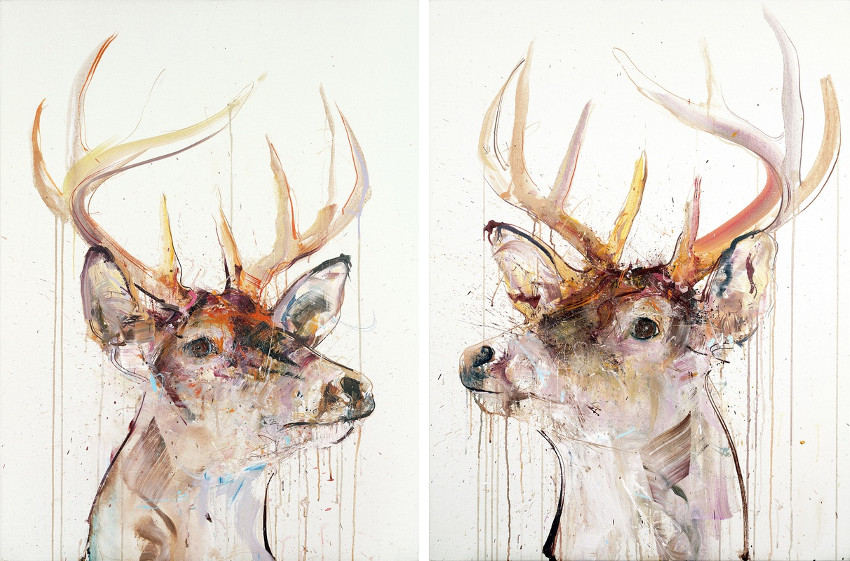 The Energy
Love is truly a powerful source of inspiration. When combined with talent and ability to constantly produce high-quality artworks, you get the career of Dave White summarized in a couple of sentences. But it is so much more. He is so much more. The artist has justified his title of 'The new Andy Warhol' and has successfully overcome the weight of it. Through his expressive and highly energetic style, he's managed to show the viewers the things he cares about, to capture their attention and earn their respect.
Dave White is represented by Hang-Up Gallery in London, UK.
Dave White lives and works in Bridport, Dorset, United Kingdom.
Featured image: Dave White – portrait, photo credits Nicolaj Didriksen.
All images copyright © the artist