Presenting us with an incredible amount of originality and determination, Scotish sculptor David Begbie is one of those artists who work exclusively in their own style which is unlike anything you've seen prior to witnessing their pieces. He relies on metal mesh wires in order to depict human figures and facial expressions - a fascinating method David stuck to for the entirety of his career. The intriguing technique Begbie devised results in sculpted bodies which are simultaneously powerful, erotic, tactile, and intimate, not to mention they are utterly astonishing. Describing his work, David once stated the following: each work is an entity which has a far greater physical presence than any solid object could possibly have because it has the power to suggest that it doesn't exist.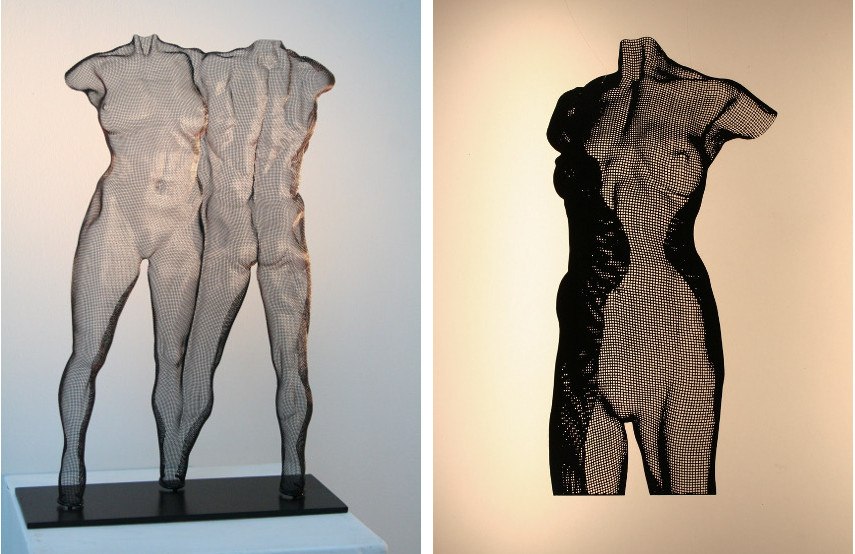 Artistic Roots
Begbie was born in Edinburgh, the capital of Scotland, during the year of 1955. As David recollects, he had his first enlightening moment that led his down the path of art when he was mere 13 years of age - this is considered to be the exact time David realized what the future had in store for him as he realized how happy creating art was able to make him. Naturally talented, Begbie had no trouble completing a program at a local art school where he expanded and perfected his concepts, as well as studied about classic and contemporary movements. During these educational years, David emerged with a unique sculptural technique which would soon become his recognizable trademark - Begbie started establishing a new visual language using wire-mesh materials and this technique was perfected in the year of 1977. Even though he was prone to experimenting as he was wrapping up school, it is noticeable that David has worked almost exclusively with the human form ever since he graduated in 1982 - this, however, does not stand true for the material choices he made over the years. He primarily sculpted in steel and bronze mesh but has been known to combine these metals with prints, etchings, drawings, ink, charcoal and photographs - nevertheless, Begbie is undoubtedly most renowned for his distinctive wire mesh sculptures that remain unmatched to this day. The thin cables he uses are virtually transparent (his pieces are estimated at a 90% thin air) and the results become even more incredible when you consider how challenging it must be to work in such an ungrateful material. As it was already quoted, Begbie estimates that his pieces have a far superior physical presence than any conventional solid sculpture simply because of the way they came to be. In order for such onerous artworks to be made, all of Begbie's skill, perception, understanding and imagination are demanded and utterly necessary. The wire mesh also creates a liveliness and sense of movement which only further expands the already very rich experience of witnessing David's artwork.
David Begbie became rightfully famous for his fascinating sculptures made out of wire mesh - unique pieces with incredible aesthetics unlike anything else you've seen before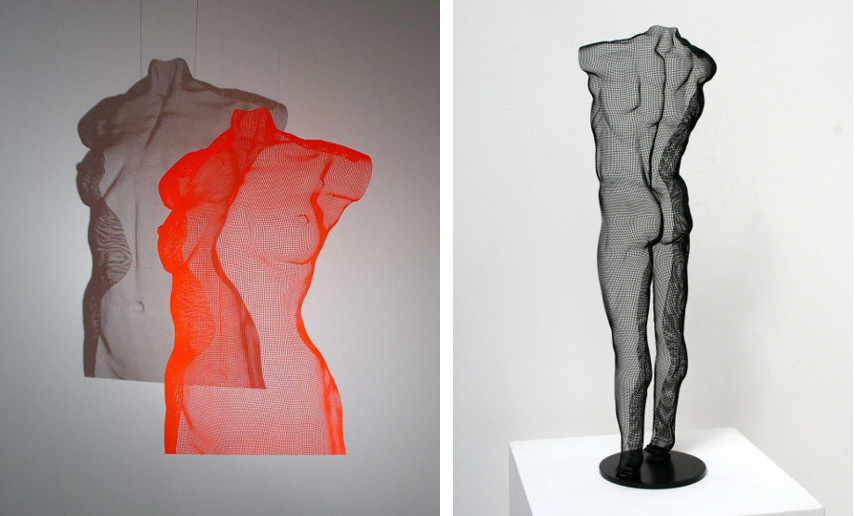 Unique Artwork
As was clued before, the ever-present preoccupation with the human form as Begbie' subject of choice stems from an early age. This unrivaled fascination with reproducing figurative bodies is what drives David and fuels his art from within. That passion and pure love are the only reasons he is able to dedicate so much time to tiresome creating from steel mesh, while the very pieces are extremely beautiful due to both the amount of time and emotion put into them. David Begbie delivers pieces of such fine sculpting detail that his aesthetic of human form has even been compared to the legendary Michelangelo Buonarroti, the man that took the sculpting medium to the highest level of excellence in art history. In order to reach the highest emotional level possible, David also incorporates different kinds of lightning when displaying his pieces - the strategic placement of light provides stronger sensation effects in audiences, not to mention it allows a far superior overlook of the actual sculptures. The end result of that combination is an optical fusion of image and object more than fascinating to look at. Begbie's art took a step forward in 2005 as he started creating complicated portraiture pieces in the same medium of wire meshes - this new art form was enabled David to explore the boundaries of his technique. David Begbie is one of those rare artists that have managed to attract attention ever since he departed school, which is no doubt due to incredible individualness and uniqueness his art possesses. His work has been exhibited globally with enormous success and has served as a tremendous inspiration not only to fellow sculptors but also the likes of architects, designers and photographers.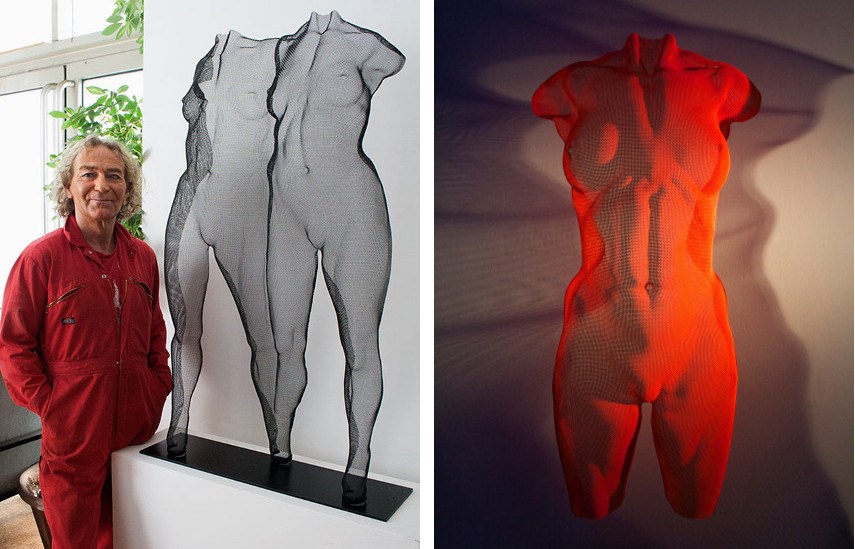 An Ideal Sculptor
David Begbie might as well be the breathing definition of a perfect sculptor - he possesses the predisposition for experimentation, incredible dedication, unrivaled determination, limitless talent and unique end results. Making sculptures from mesh wires is extremely difficult and it's simply astonishing to us that David has not lost artistic drive and energy for all the years he has worked in this unique medium. Ultimately, what should be noted is that Begbie's work must be seen in person in order to completely astonish you as no amount of pictures or videos are able to provide you with the fascinating sensation of seeing the mesh sculptures with your very eyes. Shortly put, David achieved what very few artists before him managed to do - reach the sculpted perfection of form.
This artist is represented by Galerie Hegemann in München, Germany.
David Begbie lives and works in London, UK.
Featured Image: David Begbie - The artist in his studio - Image courtesy of David Begbie
All images courtesy of Galerie Hegemann