David Choe is an American painter, muralist and urban graffiti artist who raise to fame when he painted murals on the walls of Facebook offices in 2005. He gave his style an epithet of dirty. He often portrays explicit scenes of sexual nature, but he does it under the name of expressing true nature of the human soul. He explores the feelings of desire and lust, creativity and decadence. His style is blatant, raw and bold, and he avoids any subtlety in his painting. David Choe started painting at an early age, and one of his first works were urban street graffiti. As his style progressed so did his artistic aspirations, and from graffiti, he switched to figure painting and murals.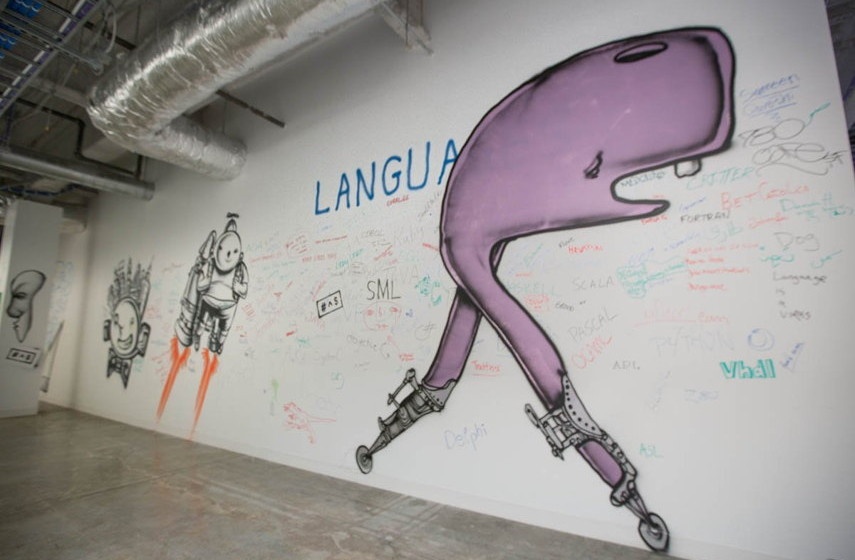 Creative Rebellion and Facebook Murals
Choe is a creative rebel who is on a constant hunt for better quality and new inspiration. He believes in down-to-earth nature of human existence, but when it comes to art, he believes in his visions more than anything. When he was young he felt that the social injustice did more to his perception of the world and values, than it just raised anger. He felt that his anarchistic feelings separated him from his peers, but wanted to do something with all that bottled up energy.That sort of faith led him to great success, when Internet entrepreneur Sean Parker, who was a fan of Choe's work for years, invited him to paint a mural at the new office of Facebook headquarters.
He painted graphic, explicit and sexual murals, and just two years later Facebook CEO Mark Zuckerberg ask him to paint another set of walls, just in more chaste and pure nature. Choe used a somewhat rough style, free and wild, stressing out the freedom of movement. Swirly trails of color, combined with explicit subjects of the mural, opened up the office space and gave it a new and futuristic look. Futuristic, yet raw and natural. The murals were not painted on entire walls, they were carefully positioned on the most important areas. He used his favorite motif, portraits of naked women, painted in erotic light, with exuberant energy. For some parts, he was inspired by Japanese artist Takashi Murakami, and he used the superflat feature of his palette. Along with women, he painted surreal, comic figures, symbolic and fantastic, who complemented the whole idea of originality and creativity. Instead of a commission he took some stocks in the company and gained fortune through this work. The murals became an integral part of the offices and every time the company changes a location, they carry the walls with them.
David Choe called the Facebook business model ridiculous and pointless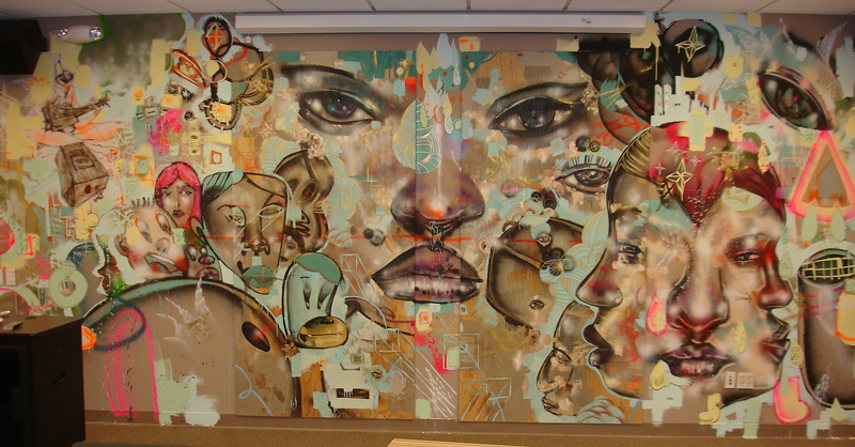 Choe's Odyssey: From Koreatown to California College of the Arts
David Choe comes from Korean family and he spent his childhood in Korean district of Los Angeles. As a boy, he was fascinated with comic books and graphic novels, and at the beginning of 90's he began painting his first graffiti. He joined other LA artists, Mear One and Hex and started developing his own unique style. Graffiti were important to him in more than just creative sense. They were crucial for his self-development, and even in hardest times, he managed to find light and inspiration in his drawings. His spirit animal is a buchtooth whale who became a mascot and a sort of symbolic guide, and he was and still is an essential part of many of his works. Along with the whale, came many religious motifs, especially those taken out from the Bible. What he paints can be perceived as dark and dirty yet at the same time colorful and cartoonish. The case of this polarities in his work can be justified by the nature of the human soul. The unpolished and rough parts are originating from the dark side of emotions, and the optimistic and joyful subjects are following the path of happiness. Erotic and suggestive portraits and motifs are just part of Choe's style. Dirty elements are coming from the surface of the walls since he often paints on surfaces that are already painted or the walls that are decaying and crumbling. For some of his elements, he gets motivated by random shapes and patterns he finds on walls, ceilings, that inspire him to draw the first thing that comes to his mind. Sometimes it is the random scene of erotic nature, other times it is the famous whale again.
Choe's first Xeroxed graphic novel Slow Jams was completely home-produced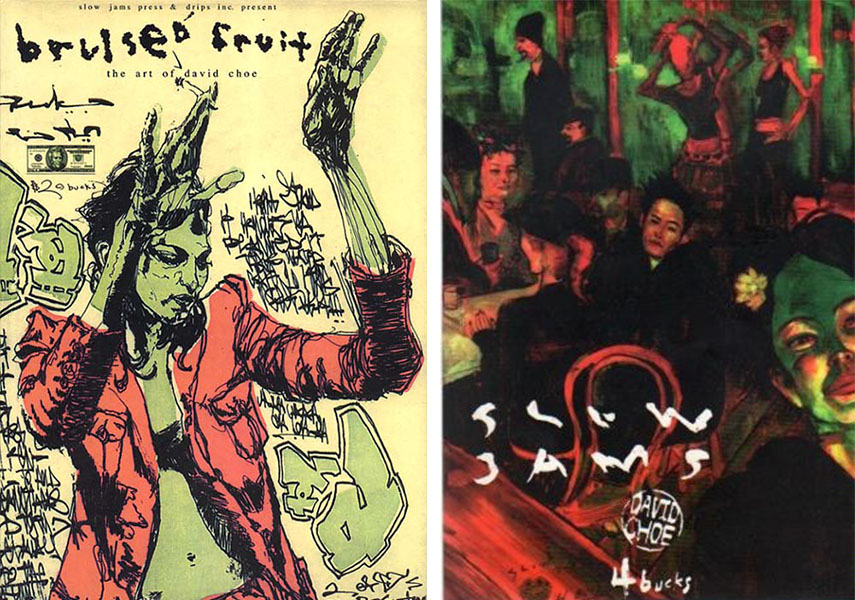 Slow Jams and Bruised Fruit
He spent most of his teenage years living a rebellious lifestyle, but he kept his heart and mind focused on art. Choe decided to drop out of high school and to spend those years on a spiritual journey. He painted graffiti, lead a street lifestyle, and, in the nomadic style, traveled through the USA and Europe, even the Middle East and Africa. He returned to LA to enroll at the university and for two years he studied at the California College of the Arts in Oakland. After all the adventures he returned to his family house where he grew up. Choe wanted to become a comic book artist and spent many years exhibiting at various gallery shows and at a San Diego Comic-Con. He made two novels, Slow Jams in 1998, and Bruised Fruit in 2002, which are now considered as a classics of the genre. Choe embraced pop culture elements and subjects from the entertainment industry. He made movie sets for the indie film Juno and made artwork for Jay Z and Linking Park album. Before the Facebook collaboration, he exhibited his fine art paintings at various galleries but decided to hang up his works in the ice cream shop called Double Rainbow, and became very successful at the hipster districts of LA.
Choe's made a portrait of Barack Obama after the presedential elections in 2008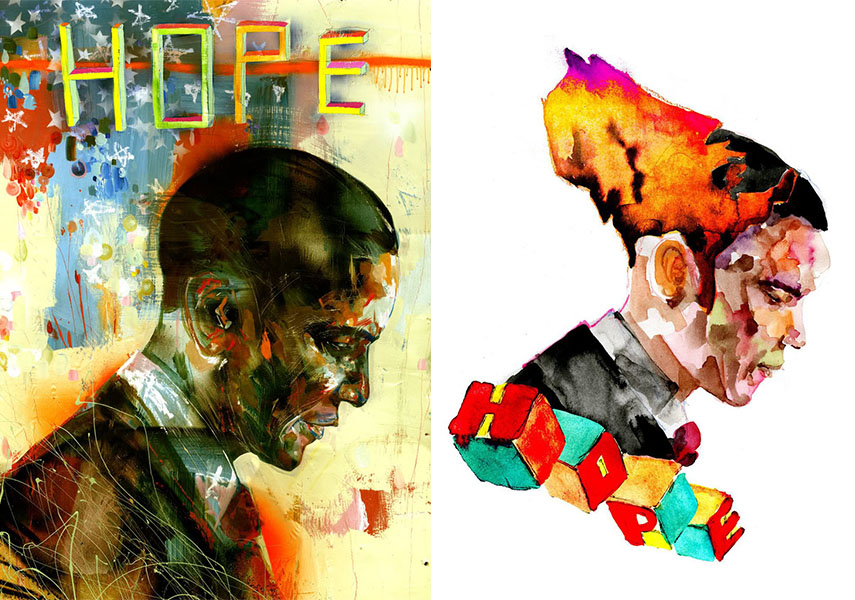 Big in Japan
One life event changes his perspective of life and living. After he was arrested in Japan and spent three months in Tokyo jail, he calmed down a bit and changed his life philosophy. His art was always provocative, full of naked, erotic portraits of seductive women. Over the time, he developed a more tame style but still stayed bold and visceral. For the 2008 presidential campaign, he painted a fine art piece of Barack Obama which the president hung in the White House after the election. The subjects of his work go from profound abstractions to concrete images of vamp women, almost always portrayed in a sexual light. Choe manages to be explicit and enigmatic at the same time. Women are pictured with heavy makeup, but they still have a touch of mystery to their appearance. His hybrid technique is a mixture of dirty walls, chaotic patterns, recurring symbols and harmonious totality. It is in his nature to start out with raw and chaotic style, but also his mission as an artist to expose beauty and harmony. All the women symbolize the feeling of desire, which is often present in his murals. He likes to see himself as more than just a graffiti artist since he believes that graffiti are political and social by definition, and his murals are sometimes only entertaining and fun. However, he puts a lot of work into his murals and paintings, and when it's not political or anarchistic, his work is still spiritual. Art was a form of salvation for Choe, and he believes his life would not function normally without it.
Choe uses images from pop culture and scenarios from his vivid imagination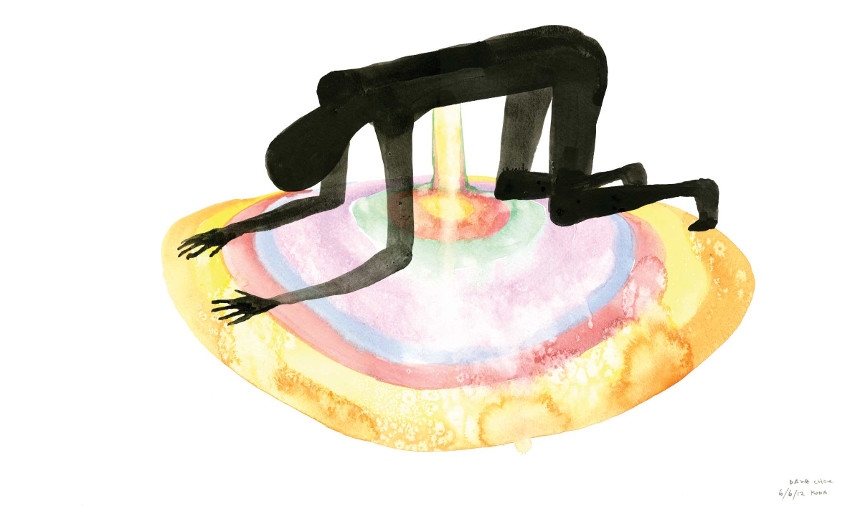 Snowman Monkey BBQ
Even though he enjoys the celebrity culture and pop-culture references, he challenges himself to explore more heartfelt dimensions of fame and creativity. What concerns him is the status of freedom and privacy in our modern times where people expose themselves to the outer world completely. In his murals, he frequently attends the topic of emotional freedom and self-evaluation. Being inspired by the show he had in Mexico in 2013, just a year after he released a book of watercolor works, called Snowman Monkey BBQ. The book was a great success and what is truly admirable in his work is the ability to paint on such diverse levels. The book has all the watercolor work he exhibited in Mexico, and all the paintings are presented neatly over the 266 pages. Not worrying about pleasing the masses, this artist continues to grow as a person and as creative professional.
The artist is represented by Hang-Up Gallery and Lazarides, both from London.
David Choe lives in LA.
Featured image: portrait of the artist and all artwork images © David Choe