Watching the paintings of David Hockney is a unique experience of witnessing a whole new creative dimension designed by a man that never followed popular standards and patterns but rather chose to set his own norms and leave the following to others. Hockney is an English painter, printmaker, photographer and stage designer who was an important contributor to the Pop art movement in Britain and remained a crucial figure of modern art scene to this day. He is famed for his stylistic versatility, but unlike most of the fellow artists out there, David never forsake the previous concepts as he was discovering new preferable styles - he would instead build on the previous concepts and expand his impressive creative arsenal. Shortly put, Hockney is undoubtedly one of the most influential British painters of the 20th century.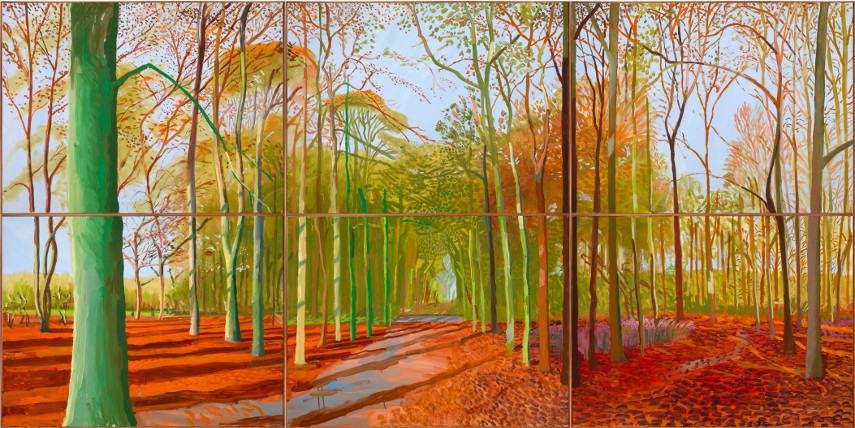 Early Life
David Hockney was born in Bradford, England, on the 9th of July of 1937. His parents Laura and Kenneth Hockney eventually had a large family of five kids, with David being the fourth one in a row. Setting the hardships of World War II that were ripping Europe limb from limb on the other side of the La Manche, Hockney had a very happy childhood in his small hometown tucked away in West Yorkshire. He began showing small flashes of artistic brilliance ever since he was a toddler and it didn't take too long for his parents to figure out he should be supported and encouraged to go down the path of artistic creation. Hockney received an immense education at Bradford College of Art and the Royal College of Art in London which in return to his efforts gave him a masterful command over understanding and expressing himself in all matters concerning art. David's spent his college days in London tirelessly making a name for himself and meeting similar minded fellow artists, some of whom will prove to be very crucial for the art scene as well, like the R.B. Kitaj. Nearing the end of his collegiate endeavors at the Royal College of Art, Hockney featured in the exhibition Young Contemporaries alongside Peter Blake - this show is often regarded as the one that announced the arrival of British Pop art, an exhibition which allowed visitors to see what the likes of Hockney and his friends had in store for the future of UK's art. Interestingly enough, David's initial pieces actually revealed flashes of expressionist elements above all, very comparable in nature to the works of Francis Bacon and not too correlated with the concepts of the early Pop art. Nevertheless, David Hockney became a blindingly bright star on the rise and his reputation grew overnight. At one point it seemed as he even became more influential than the actual Royal College of Art, like the time David refused to write an essay required for the final examination, insisting he should be assessed solely on his artworks - the RCA actually changed its regulations and awarded the diploma despite the strict rules.
The first sudden alteration of David's style came in the 60s as he started incorporating swimming pools in all his works, substituting the expressive elements he employed previously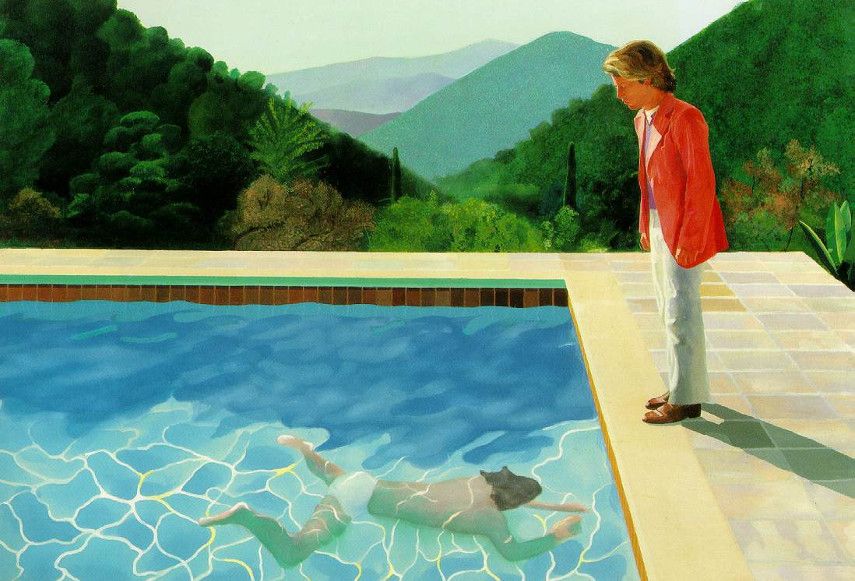 Evolution of David's Art
Even before he became an era-defining artist, Hockney found ways to reintegrate a personal subject-matter into his compositions. The first recognizable sign of such concepts appearing in his work came to be just after he graduated when David started experimenting by copying fragments of poems and placing them on canvas. This not only created a specific individual identity through the alliance of word and image but also encouraged a close scrutiny of the painting surface. These concepts eventually led Hockney to the famed series of paintings produced in 1960/61 that focused on the themes of homosexual love. The next creative step of Hockney's career occurred after a visit to California where he subsequently lived for many years - it motivated and inspired him to make a series of paintings depicting swimming pools in a highly realistic style focusing on the usage of vibrant colors. This radical alteration of David's style was one of the rare instances of changing the very roots of one's art, as he suddenly concentrated on acrylic depictions of athletic young men, swimming pools, palm trees and perpetual sunshine. Hockney spent the 60s and 70s exploring stylistic boundaries and traveling between London and Los Angeles, as well as the beloved Paris which served as a calming retreat. As the early 1980s were passing along, David began to produce photo collages - or joiners as he preferred to call them - which will eventually prove to be an important milestone of his career. Initially using Polaroid prints and subsequently turning to the 35mm commercially-processed color prints, Hockney stopped painting for a while to exclusively pursue this new technique and see if it allowed more expressive freedom. However, David soon became frustrated with the one-eyed limitations rooted in the very ideas of photography and eventually returned to painting - nevertheless, the joiners were a massive expansion on the creative front and they served him much good in the long run.
Hockney spent a short period of time exclusively making 30pm photographic collages during the early 80s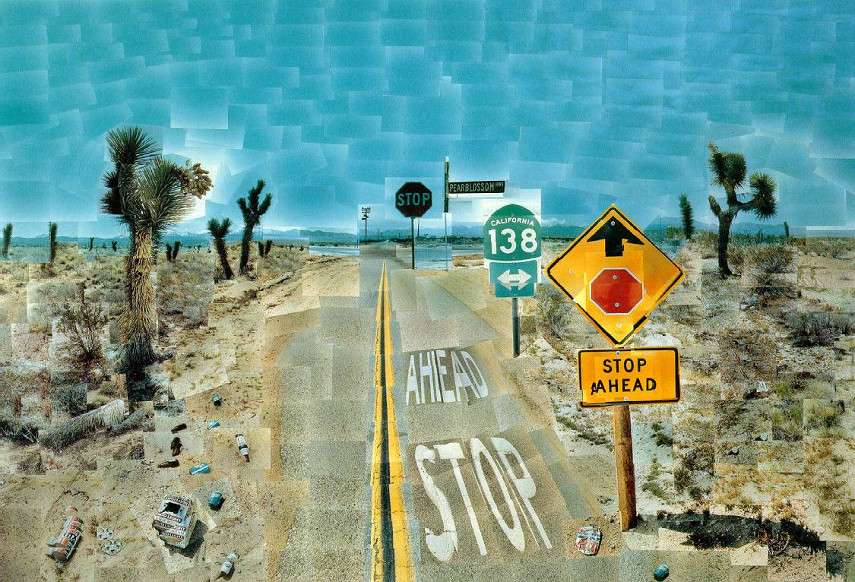 Mature Artworks of Hockney's Canvas
Besides doing what every artist does and that is creating for his own imaginative soul, Hockney also worked on many commissions over the years. As he had the commodity to freely choose on what he desired to work, David often accepted the jobs of designing stages and this became one of his trademarks. He worked for the likes of Royal Court Theatre, Glyndebourne, La Scala and the Metropolitan Opera in New York City, leaving permanent marks in all these prestigious ballet and opera locations and adjusting synesthetic colors in response to musical stimuli - this feat does not appear in his painting or photography artworks, but is a common underlying principle in his designs for stage sets. As the 90s were passing by, David worked extensively with landscapes, depicting different sights with a strong and unnatural coloration - these pieces are considered to be some of the greatest landscape paintings of the 20th century. They are vivid, incredibly composed, imaginative and one hundred percent unique - all of which makes them instantly recognizable. In the year of 2001, Hockney launched a book titled as Secret Knowledge that proved to be a great commercial and critical success. In it, David presented a theory that the Old Masters relied on what he called camera obscura technique - a projection of the image onto the surface of the painting. He stated that this technique migrated gradually from Italy and is the main reason for the revered photo-realistic style of painting we see in the Renaissance and later periods of art. In more recent years, David has been expanding his concepts of colorful depictions, continuing to paint fabulous landscape pieces full of bright and unnatural colors. He also continued to paint realistically, finding a perfect balance between his old photorealistic collage pieces and the younger affinity to landscapes and colors.
The unnaturally colored and grand landscapes remain the arguable highlight of Hockney's artwork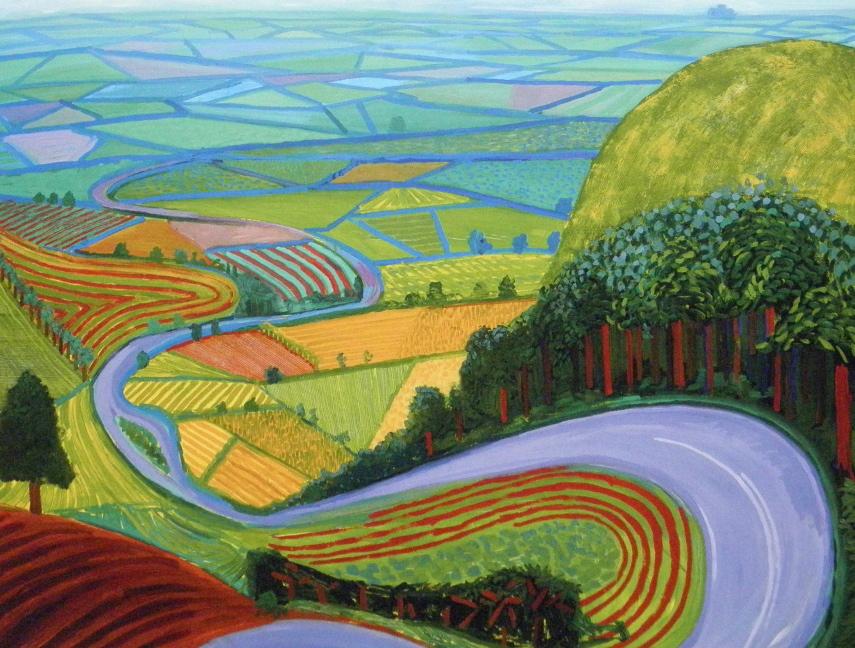 Britain's Sub for Jones and Warhol
While the legendary Andy Warhol was setting the Pop standards on the other side of Atlantic, David Hockney played the exact same role in the British Pop art scene, dictating the very course that served as a guiding star for most English contemporary artists. David was celebrated in the United States as well but fell short in popularity behind the aforementioned Warhol, Roy Lichtenstein and Jasper Johns as the American trio was simply too successful to be rivaled with. Nevertheless, Hockney was the go-to-guy when it came to British Pop art and undoubtedly made his mark on the European modern art, influencing generations upon generations for decades.
This artist is represented by Marlborough Fine Art London, Marlborough Gallery Monaco, Woodward Gallery New York, Pace Gallery London, Pace Gallery Beijing, Pace Gallery Menlo Park, Pace Gallery Hong Kong, Puccio Fine Art, Galerie Fluegel-Roncak, Puccio Fine Art and Gregg Shienbaum Fine Art Miami.
David Hockney lives and works in Los Angeles and London.
Featured Image: David Hockney - Picture of the artist - Image via netdna-cdn.com
All images used for illustrative purposes only