Widely considered as one of the world's top living filmmakers and movie innovators, David Lynch is an avant-garde director who is revered for his ability to film mind-bending visions of reality that simultaneously entrance and disturb the viewers. He is responsible for bringing such cult films to screen as Eraserhead (1977), The Elephant Man (1980) and Blue Velvet (1986), as well as many other movie gems that were deemed to be critical and commercial successes both in and outside Hollywood. However, a lesser known fact is that David Lynch is also an author of other mediums besides films - he is a painter and a successful singer/songwriter[1], as well as an avid practitioner of and an advocate for intuitive meditation. Regardless of the chosen medium at hand, Lynch makes lush, dark and often violent pieces of art that rarely leave anyone emotionless.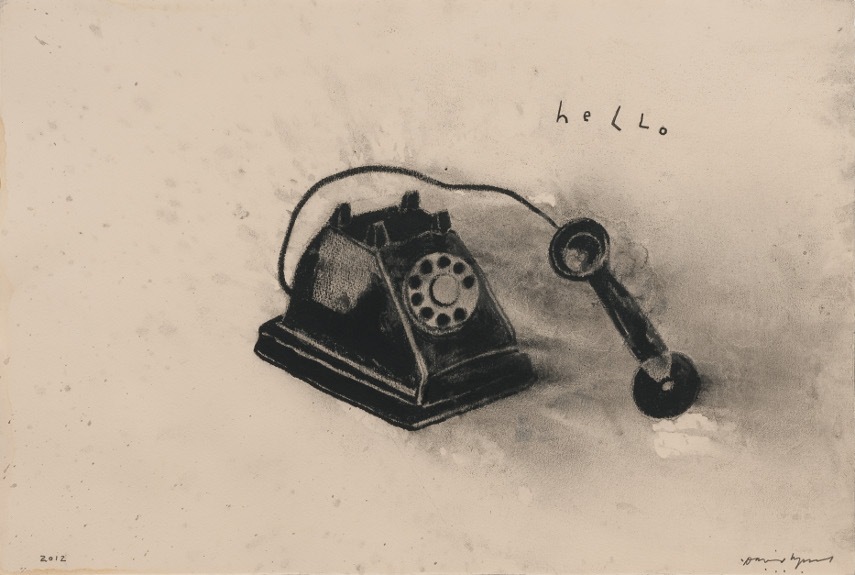 Early Days of Exploring Art
With a full name of David Keith Lynch, this director was born in Missoula, Montana on the 20th of January in the year of 1946, during the aftermath of World War II. As a child, Lynch moved frequently due to his father's line of work who was employed as a research scientist. Whilst still a student at a high school in Virginia, young David began taking art classes at the Corcoran School of Art in Washington, D.C. After successfully finishing high school, Lynch made his way through Boston, most of western Europe and Philadelphia in order to study art further. He was very interested in painting techniques early on and, despite the fact he will eventually become more famous for his moving pictures, Lynch never stopped painting pieces of art.[2]
Lynch once explained that his paintings are organic, violent comedies: They have to be violently done and primitive and crude, and to achieve that I try to let nature paint more than I paint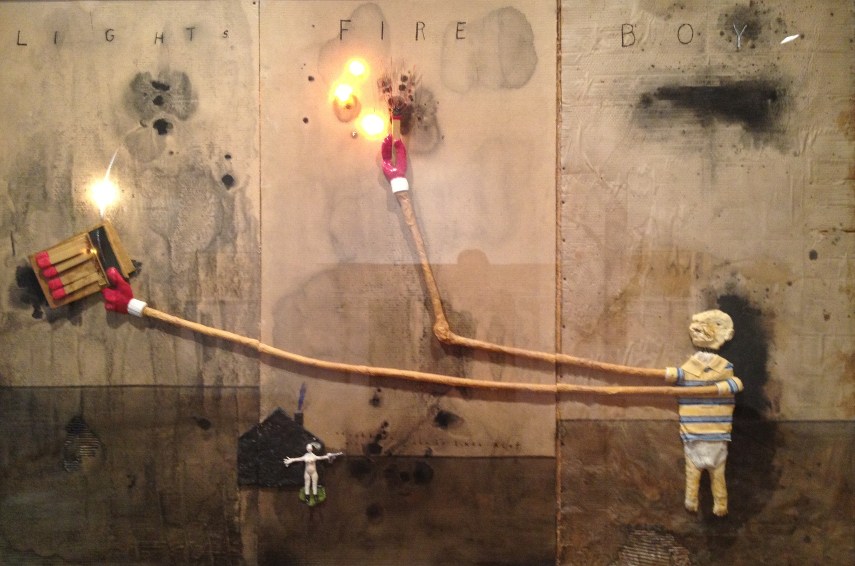 David Lynch, The Free Filmmaker
In the 1960s, Lynch began making short films as a hobby, fascinated by the endless possibilities of the moving pictures. He started with making the animated Six Men Getting Sick (1966) and a short titled as The Alphabet (1967), a combination of animation and live action. Lynch's first completely live-action short film was The Grandmother (1970). Soon, David started working on his first feature film, the aforementioned Eraserhead, which premiered in the year of 1977. With a dark setting, disturbing subject matter and a surreal tone, this bizarre movie placed Lynch on the map of filmmaking, securing his place among the most talented aspiring directors in the United States. Since 1973, David was a proponent of transcendental meditation. Of course, he continued to paint regularly during this period of his life as well - he tackled the problem of color at this point, deciding to leave most of his paintings with as much dark hues as possible.
David Lynch always tried to keep his works as dark as possible, believing that color is too real, too limiting and that it doesn't leave too much room for dreaming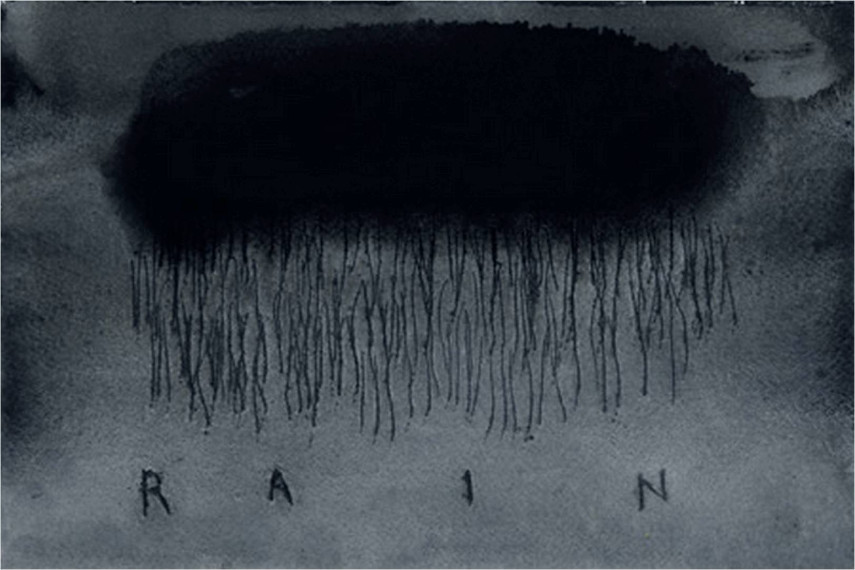 From Eraserhead to Blue Velvet
Eraserhead might not have been a blockbuster film at the time of its release, but it garnered enough attention to land Lynch the job of directing The Elephant Man (1980), a cult film that was starring John Hurt. That movie received eight Academy Award nominations, including two for Lynch in the categories of directing and adapted screenplay. After suffering what can arguably be called the biggest bust of his career, the science fiction film The Dune (1984), Lynch wanted to reestablish himself as one of the leading directors in Hollywood. Explaining that the failure of The Dune was owed to the production problems, David set his sights for putting on screen another of his sinister visions. This resulted in a legendary 1986 film, the aforementioned Blue Velvet. Staring MacLachlan, Dennis Hopper, Laura Dern and Isabella Rossellini, Blue Velvet's darker moments led to some outraged reactions. Nevertheless, Lynch received critical accolades and a second Academy Award nomination for directing.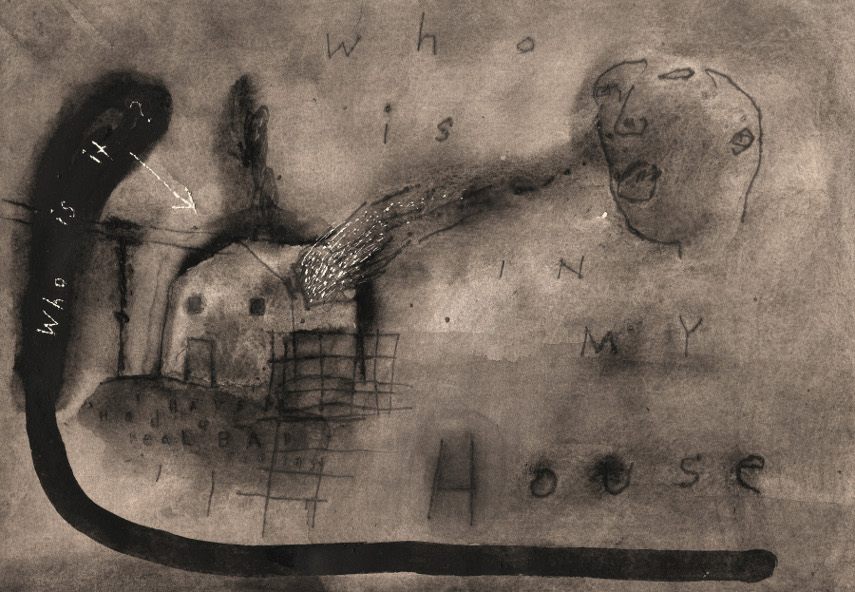 David Lynch in the 1990s
Blue Velvet was an important stylistic indicator that reflected the dark visual tone of the author's painted works[3] - on that note, David once stated the following: The more you throw black into a color, the more dreamy it gets ... Black has depth. It's like a little egress; you can go into it, and because it keeps on continuing to be dark, the mind kicks in, and a lot of things that are going on in there become manifest. And you start seeing what you're afraid of. You start seeing what you love. In 1990, Lynch took his unique vision to television with the series Twin Peaks, a show that featured MacLachlan as FBI agent Dale Cooper. Just like Blue Velvet, Twin Peaks took a deep dive into a small-town in America that had hidden horrors never previously explored. After receiving mixed reviews for the Twin Peaks show, David's next big screen outing came in the form of Lost Highway (1997), a polarizing movie based on a true story that put a new twist on the director's usual surreal themes.
Interestingly, Lynch considers the work of the 20th-century Irish author Francis Bacon as his greatest inspiration in the world of painting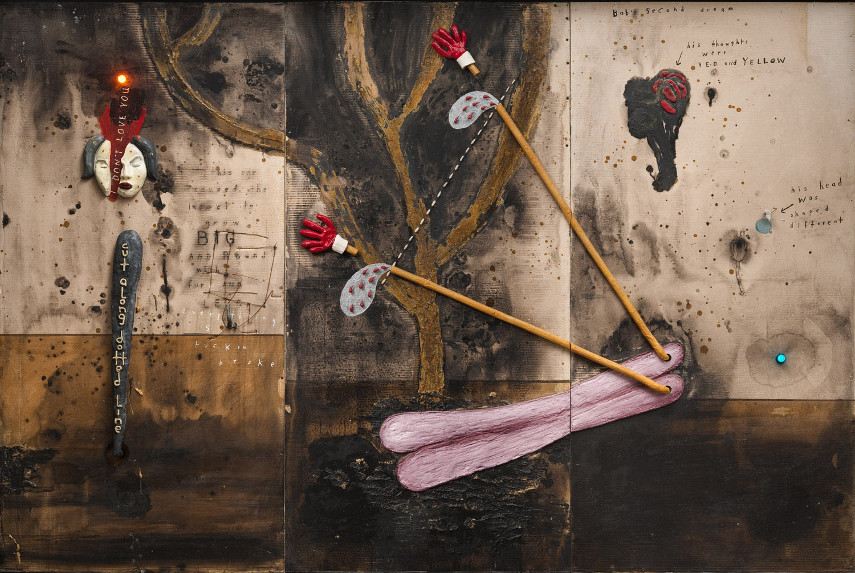 Entering the New Millenium
By filming Mulholland Drive (2001) and Inland Empire (2006), Lynch revisited the dreamlike qualities of his more stylized dark creations[4] that made him famous in the first place. Mulholland Drive is now acknowledged as the director's arguably the greatest achievement and it earned Lynch another Academy Award nomination for directing. As for his other mediums, Lynch loved to experiment with additions of words in his visual pieces - many of his works from this time contain letters[5] that were usually far from traditional calligraphy. He explained this with the following statement: The words in the paintings are sometimes important to make you think about what else is going on in there. Usually, the words written on the very piece are also the title of the painting. As for his photography practice, Lynch's favorite photographers include William Eggleston, Joel-Peter Witkin and Diane Arbus. However, as is the case with everything he creates, David's photographic style is completely his own and unlike anything else present on both the current and the past scene.
This artist oftentimes relies on the written word that is placed amidst the painted composition - a slogan or a statement that gives a clearer meaning to the entire piece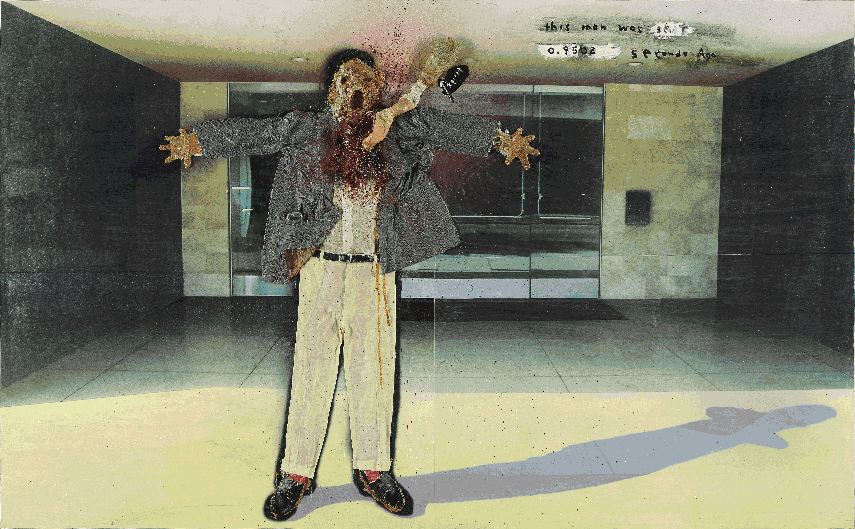 Creative Practices and Related Results of the 2000s
Before we finish, it should also be noted that this author founded the David Lynch Foundation for Consciousness-Based Education and Peace in 2005, an institution which provides support for students, people suffering from post-traumatic stress disorder and others who may benefit from this form of meditation. This was in many ways the crown achievement of Lynch's decades-long practice in transcendental meditation. Furthermore, the 2017 documentary film titled as David Lynch: The Art Life was unveiled at the London Film Festival - this highly intimate look at the director's life offers an incredible insight into the mindset of the surreal author and lets us understand more than ever before what David wishes to accomplish with his creations.
David Lynch: The Art Life is a 2017 movie that sends a clear-cut message - no matter how obscure Lynch's art may seem, there's always a human character behind each brushstroke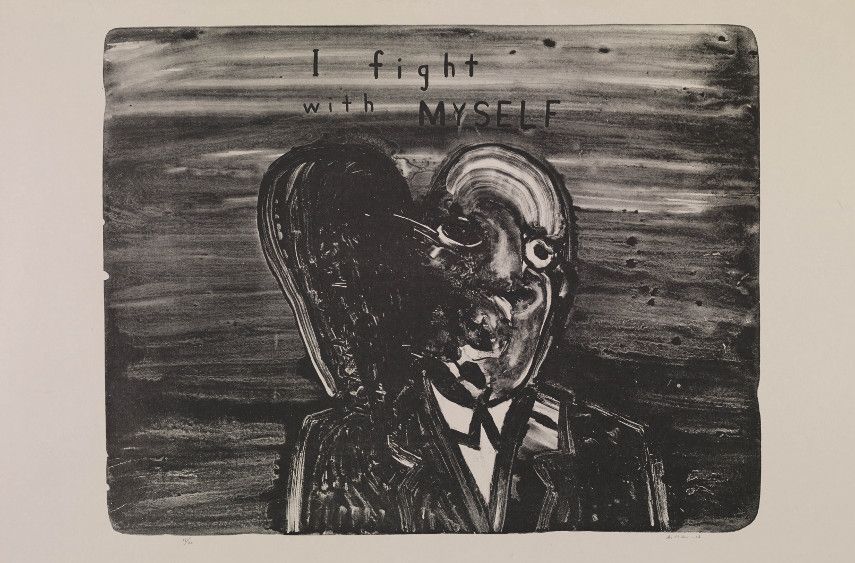 Navigation Through the Dark Art of David Lynch
When David Lynch was once asked how his creative process looked, he stated the following: I used to go to well-lit diners, because in a well-lit diner I could sit and think and daydream and I could go to dark places knowing that I could surface in a well-lit, safe place. Watching his films and observing his other forms of art definitely prove with their style and themes that such a safe place for thinking about them is a necessity - everything Lynch authors is underlined by some sinister note or theme, demanding from the viewers to be one with their darkest selves if they desire to truly understand what they are seeing. Ultimately, David Lynch became a cultural phenomenon of the 20th century and the new millennium that has redefined the possibilities of many mediums and techniques[6], films, drawings and paintings, leaving such a strong mark on the world of art that his imprint will probably never truly disappear.
This artist is represented by The Cat Street Gallery.
David Lynch lives and works in Los Angeles, California, United States.
References:
Chion, M., David Lynch, French CAH CINEMA, 2010
Lynch, D., David Lynch: Works on Paper, Steidl; Box Blg edition, 2011
Cozzolino, R., David Lynch: The Unified Field, University of California Press; First Edition, 2014
Spies, W., Schuster, K. P., Dath, D., Lynch, D., David Lynch: Dark Splendor, Hatje Cantz; First Edition, 2010
Littman, B., Lynch, D., David Lynch: Naming, Kayne Griffin Corcoran, 2014
Lynch, D., David Lynch: Snowmen, Steidl/Fondation Cartier pour l'art contemporain, 2007
Featured image: David Lynch - Photo of the artist - Image via thephoenix.com
All images used for illustrative purposes only