David Radon is a German artist, best known for his connection to the art project Art is just a four letter word - an agency and a gallery in Soest, Germany.
Radon was born in 1975, in the city of Dortmund, Germany. He decided as early as in 1989 that art will be his vocation, so he dedicated himself entirely to that goal.
Radon first started developing his art expression on the streets, through graffiti and urban art.
Radon and Urban art

Today, this artist is well known for some awkward queries in his artworks – whether they are obvious or very subtle. Like, for example, in his piece titled "Too much brown is shit" where Radon shares with the audience his concern about the currently growing acceptation of National Socialism, that awkward query is pretty much direct. But, in others, such as "Als ich ertrank" (When I drowned) or "Inside my behavior", David unveils a certain inner conflict, talking about the quest for something that one can get to know only when it is already found.
Art is just a four letter word is an art agency and gallery that was founded by, among others, David Radon. This project was created on the initiative of Patrick Droste, a current Managing Director, and Radon - who is now responsible for the artistic direction. Art is just a four letter word is on the mission to take care of the art and everything connected to it. Their lemma is Inspired by reality, Realized with inspiration.
In March 2013, David Radon had his first ever solo exhibition in cooperation with his art agency Art is just a four letter word. The show was entitled Wer macht sauber (Who does the cleaning?).
Radon at Art is just a four letter word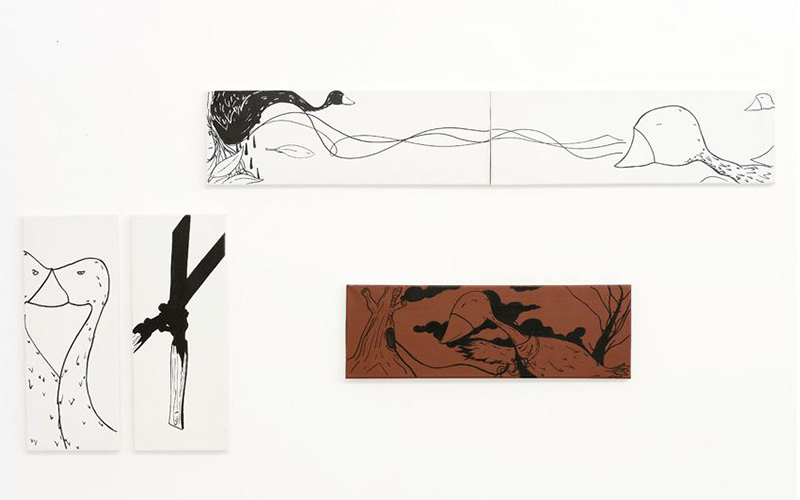 Together with Robert Matzke aka Rookie the Weird, David realized an art intervention on NHOW hotel in Berlin. NHOW is a music and art hotel, the epicenter of the Berlin creative scene. These two artists were in charged to artistically design the corridor in the wellness area.
David Radon lives and works in Germany.
All images copyright © the artist