David Reed is an abstract painter who works on large canvases. When he started out as a painter he fell in love with the strong and significant trails his brushes were leaving, and that became his signature move. While he was a student he was eager to learn and to explore, and his desire to imprint a meaning into the painting stayed with him to the present days. His palette is bright, his brushstrokes are visible and the dimensions of the canvases are directly inferencing the artist himself. When there is a vertical picture there is a shadow of its creator in front of it. At the beginning of his career in the 60s, the main subject was the bare process of creation, how a painting was made and how the method looked like. They looked like someone was taking a photo of the painting process and merged them into a larger piece. That reminded him of filmmaking and that is how these three art directions lead to the original abstract painting he is now famous for doing.
Reed was making vertical abstractions early in his career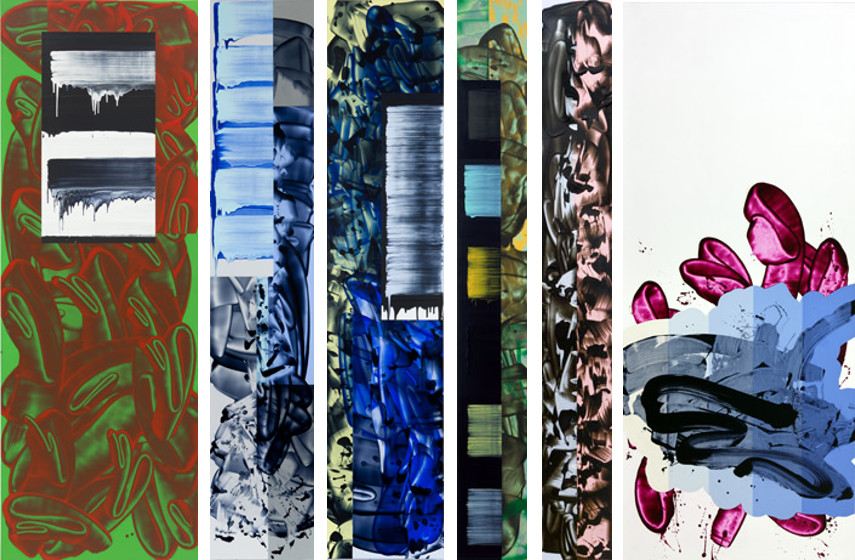 Ideas are Lurking on the Surface of the Paint
David was born and grew up in California where he attended Skowhegan School of Painting and Sculpture. He studied at Reed College in Portland, Oregon and earned his BA in 1986. When he moved to New York he spent a lot of time at the New York Studio School, where he was not registered as an official student, but he attended many seminars with the famous artists from that time. Although his contemporaries were abandoning painting, he knew that painting was the only thing he wanted to do and practice. Everything had to have a concept, a meaning or a hidden idea, and Reed discovered that his idea was lying in the structure and surface of the painting. His works look like they were cut into pieces and reassembled together insinuating the video films. Bright technicolor palette refers to computer screens and digital art. His personal vision is that the image should not imitate reality, it should show the artist's vision. In the digital age, the accent is on reproduction, whereas for Reed the emphasis is in creation.
Reed's pieces look like they were cut into pieces and reassembled together insinuating the video films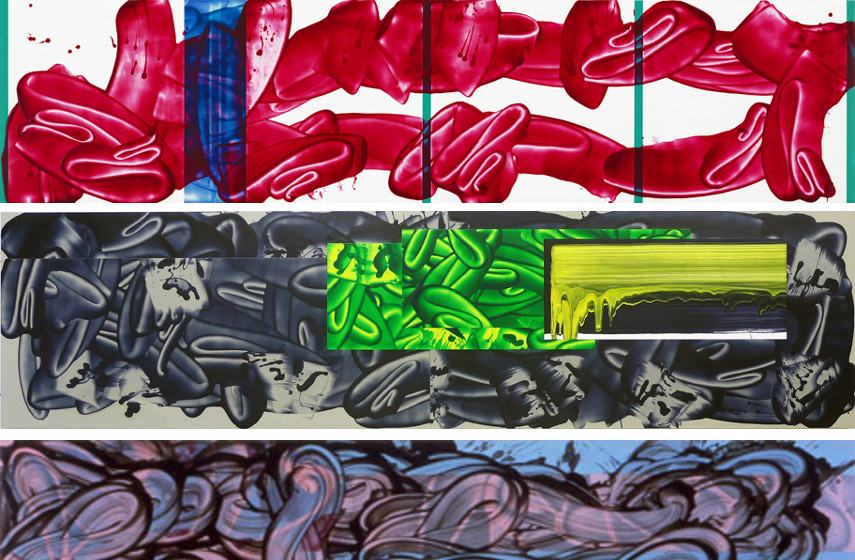 High and Intellectual Times
Reed was the adviser for the exhibition High Times, Hard Times: New York Painting 1967-1975 and many artists from that collection shared the same history as he did. They all came from smaller towns to New York, the artistic mecca at that time, to explore and excel as artists. Embracing the Abstract Expressionism was freeing and relieving because abstraction meant freedom and equality. Everyone was welcome, and everyone was encouraged to share their vision. With Reed, like many other artists, it was important to share personal philosophy and beliefs, and that is where he found his true calling. Being an artist in New York at that time was everything but easy, since making intellectual abstract art did not earn a lot of money, there were days where he was squatting and living in abandoned buildings. Using color and light to express himself he found a sense of freedom in his work. He paints to show who he is.
The artist makes unconventional work in order to incude unconventional response
Paintings as Film Stars
Reed's paintings act as a live entity where they provide a unique projection of the live person. His earlier works were vertical, but his more recent items are horizontal. The change of the form originated from the evolution of the idea. Now, the paintings represent the shadow of the human being. What was an artist in person before, now is a digital film or a ghost in the media body. Our digital screens, computers and smartphones are staring at us in landscape mode, and the paintings insinuate how our spirit must feel like when being neglected like that. There is a special characteristic of his work, found in the free form of abstraction, where he likes to pretend his works are live entities. He made a Vertigo project where he put scans of two of his paintings as characters in Hitchcock's film. The resemblance is uncanny because of his specific brushstrokes that make his art look like it's been taken from a video film. He named this video installation Two Bedrooms in San Francisco inspired by stories of people who bought his artwork and hung it in their bedrooms.
Reed made a video installation called Two Bedrooms in San Francisco, inspired by Hitchcock's Vertigo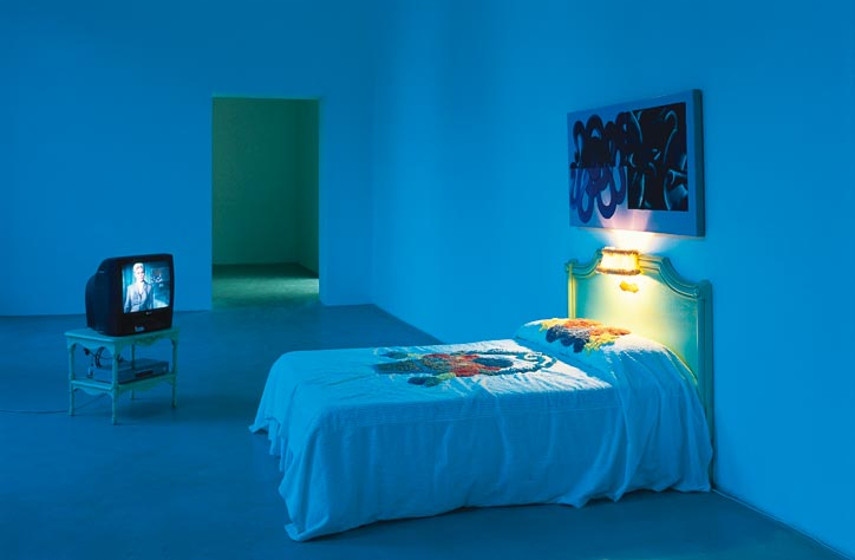 Sentiment of the Color
The surface of his composition was directly correlating to the surface of the film. There was no information lost when he made a switch. His idea for this project was that paintings can live, lead lives of their own because they are the epitome of an artist's freedom. Free as they are, the pictures can sometimes narrate a story of their own. Reed's play with color has the ambition to humanize the contemporary scene. Unlike before, where the inspiration was being chased outdoors, in the physical world, in the modern age, we are being surrounded by artificial and synthetic elements. It is difficult to relate to the neon plastic and unnatural items and their bright colors because they do not resemble anything people are used having an emotion towards. That is why Reed is using his art to share a political and anthropological vision of how we deal with our emotions and where we find our sentimental soul when we chase it aways with our computer screen and digital reality.
David Reed lives and works in New York.
Featured image: David Reed – Untitled, 1999 (detail). 21 67/100 × 29 67/100 in. 55 × 75.4 cm. Photo courtesy Kavi Gupta Gallery
All images used for illustrative purpose only © David Reed