Denali Schmidt was a New Zealand artist and a professional mountain climber.
Adventures Spirit from New Zealand
Schmidt was born in Macksville, NSW in the late 80s. His mother, Joanne Munisteri, was a Waldorf teacher and performing artist. His father was Marty Schmidt, mountain climber and guide, who moved to Australia with his wife, after his first ascent of Aconcagua in Argentina, the same year Denali was born. Soon after his birth, this adventurous family traveled and climbed in the USA, Switzerland, Italy, France and New Zealand. Denali followed his father's footsteps and became a professional mountain climber.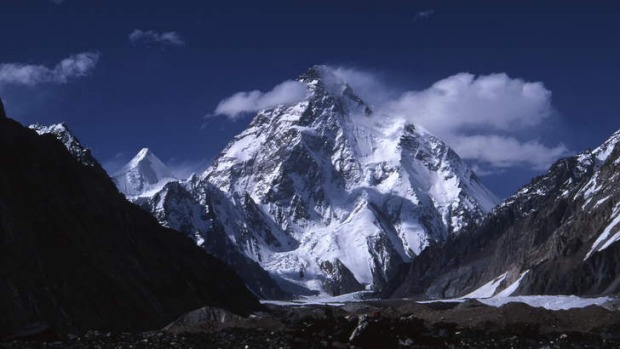 Denali began drawing and painting at age 2, and his skills were developed and encouraged at the Waldorf (Steiner) schools he attended in the USA, Australia, New Zealand and Germany. Schmidt graduated from the California College of the Arts in 2013. He wanted to conquer another peak that year so he went on expedition with his father with only one thing in mind: to be the first father-son team to summit one of the most unforgiving mountains in the world – K2 (something his father has been trying to do since 1992).
K2
On July 27th 2013, Denali Schmidt and his father Marthy, were killed in an avalanche on one of the world's most deadly mountain – a 8611-metre-tall K2 - the highest point in the Karakoram Range spanning Pakistan, India and China, the second-highest peak in the world.
Following the death of Denali Schmidt, some of his most inspired art works (painting, photography and installation) were accumulated and stored in Oakland, CA.
Peak Inspirations Exhibition
Denali created paintings and installations inspired by mountaineering and climbing. That artwork was planned to go on display in an international touring exhibit titled Peak Inspirations, so his friends and family launched Kickstarter campaign with a goal to raise money for this show. Unfortunately, the funding was unsuccessful as this project's funding goal was not reached on September 21, 2014.
However, those who respect the work of Denali did not give up. In 2015, the exhibition Peak Inspirations was held in San Francisco White Walls and Shooting Gallery.
Peak inspirations exhibit consists of many of the mountaineering and adventure related artworks created by Denali Schmidt. The exhibit travels throughout five countries and eight cities and ends in Wellington, New Zealand. Each location of the exhibit holds a special significance in Denali's life.
Ueli Steck, a Swiss rock climber and mountaineer, who many have labeled a "game changer" in the mountaineering community, shared his thoughts of the artwork of Denali Schmidt, from mountaineers prospective:
"They are abstract, which reflects the kind beauty of the mountains. Climbing itself is similar. Climbing is beautiful but a lot of the time, not. It's cold, it's dangerous, why are we doing this? There is no real reason to climb mountains…? But we are doing it because we feel alive out there! There is a lot more behind these great paintings, it's not only color on paper."
Denali Schmidt died in 2013.
All images copyright © the artist