Desi Civera is an emerging Spanish painter, best known for her highly expressive portraits. Apart from canvas, Civera also occasionally chooses walls as the surface for her wonderful pieces. Born in 1987 in the city of Valencia, Desi became interested in art when she was only 8 years old. She began shaping her talent at an early age by taking classes at Amparo Ballester and Matuca Nogales studio.
Wanting to further develop her immense talent, Desi enrolled at the Polytechnic University of Valencia in 2006. However, she received a scholarship in 2009, and moved to Italy to study at the famous Academia di Brera in Milan. Civera spent a year and a half in Italy, where she had the opportunity to show her work in numerous galleries in Milan. After some time, Desi returned to Spain, and she finished her undergraduate studies, graduating from Complutense University of Madrid in 2012.
Portraits by Desi Civera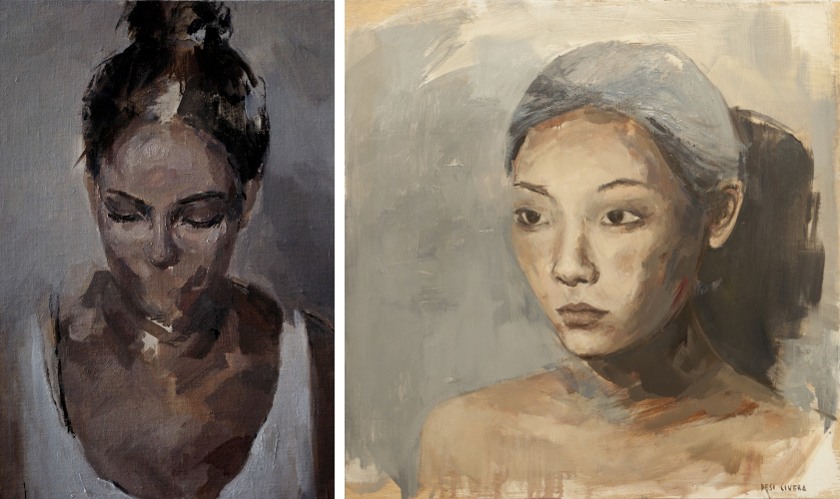 Desi's work is primarily focused on portraits, through which she studies human figure and face. She experimented with numerous techniques and mediums in order to perfectly reproduce the essence and expressivity of various different situations and moods. Her portraits touch on the proximity between familiarity and estrangement.
Desengaño Exhibition


Civera has participated in numerous collective and one-person shows. The most recent group exhibition was organized and hosted by Fellini Gallery from Berlin. Titled Blank Canvas, the show took place from June, 2015 until September, 2015. One of her most notable solo shows is titled Desengaño (Disappointment), and it took place in September and October, 2015. It was hosted by Espositivo gallery from Madrid. Nowadays, Desi works on her projects and teaches at the same time at the El Enclave Art Academy in Madrid.
She is represented by Espositivo.
Desi Civera currently resides and works in Madrid, Spain.
All images copyright © the artist