Iconic for her intimate black-and-white portraits and the sudden death that shocked the world, Diane Arbus was a gifted American woman whose talent was only rivaled by her inner sorrows. She was an elite photographer of her generation, marking the time she was on this earth with some of the most awe-inspiring pieces the medium of photography has to offer to this day. Arbus shot a wide cast of characters in order to make her portraiture artworks as varied as possible. She often opted to photograph those who existed on the fringes of society and were abandoned in the margins, interested in capturing the lesser known and harsh truths that many dared not to acknowledge. For that reason, many of her subjects included the likes of dwarfs, giants, transgender people, nudists, circus performers and surreal individuals. Diane Arbus was also recognized for her brave and uncompromising approach as she would stop at nothing to get the perfect shot in line.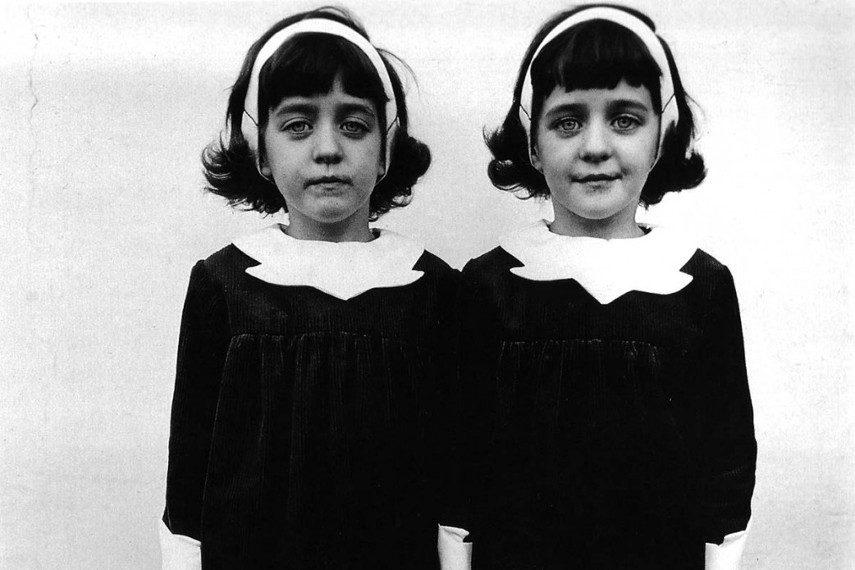 Growing Up in the Great Depression
Arbus was born Diane Nemerov on the 14th of March in the year of 1923, in the heart of New York City. Her parents were David Nemerov and Gertrude Russek, a Jewish couple who owned Russek's, a famous and well-respected Fifth Avenue department store. Diane's family was quite wealthy and had no trouble making ends meet even during the times of the Great Depression, effectively allowing the young girl to be completely isolated from all the harshness that was plaguing the rest of the United States in the 1930s. After David Nemerov saw fit to take a step back and retire from directly running Russek's, he wanted to pursue an old dream and started painting, introducing a strong artistic element to his household. Additionally, Diane's younger sister wanted to be a sculptor for the majority of her life and the two's older brother, Howard Nemerov, would later become United States Poet Laureate. All of this played a factor in the forming of Diane's creative personality as she was literally surrounded by all shapes and types of artistic practices as she was growing up. However, she desired to be a part of something completely her own[1], something no other member of the Nemerov family had any say or experience in.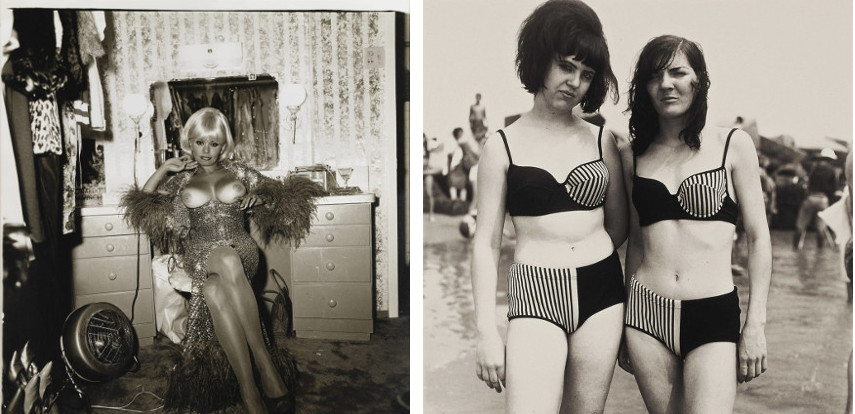 Becoming Diane Arbus
Diane Nemerov received her education by attending classes at the Fieldston School for Ethical Culture, a prestigious prep school. In the year of 1941, as the United States were entering the biggest human conflict in the history of war, Diane married her childhood sweetheart Allan Arbus. After the marriage was official, she took on the name that will eventually prove to be much more famous than her original name ever was - Diane Arbus. The two had a relatively happy marriage for the majority of its existence[2]. Their first daughter, Doon, was born in the year of 1945 and later become a respected writer when she entered womanhood. Diane and Allan had a second daughter as well, Amy, who was born in the year of 1954. Amy Arbus later became a photographer herself and, despite never reaching the level of recognition her mother did, was and still is an appreciated artist in her own right. For reasons never fully explained to the public, Diane and Allan Arbus separated in the year of 1959 and the divorce was finally concluded ten years after that. Despite being separated and later divorced from her husband, Diane never abandoned the surname of Arbus which remained her artistic alias for the rest of her life.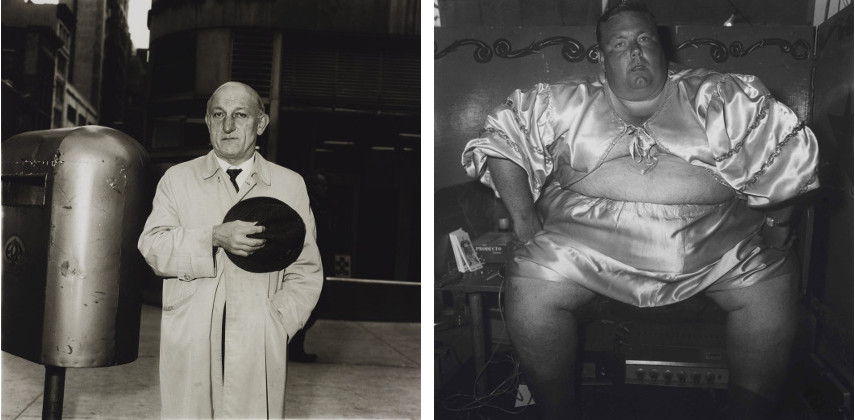 Diane & Allan Arbus Photography
During the same year that was also the time of her marriage, Diane Arbus decided to visit the gallery of Alfred Stieglitz and learn about the secrets of photography from the best masters the United States had to offer. She observed the artworks and learned from the likes of Mathew Brady, Timothy O'Sullivan, Paul Strand, Bill Brandt and Eugène Atget. Many professional photographers were hired by her father over the years as well, especially when David was promoting some new features of his store. Diane observed how they worked and was surprisingly adept to understand many aspects and factors of the master photographers whose work she observed in 1941. During this time, Allan was a photographer for the U.S. Army Signal Corps in the World War Two. Upon his return to the States, the reunited couple had a shared interest in photo making practices. Diane and Allan began a commercial photography business called Diane & Allan Arbus in the year of 1946. In the initial stages of the firm, Diane was an art director and her husband was the de facto photographer. Diane & Allan Arbus collaborated with many companies such as Glamour, Seventeen, Vogue, Harper's Bazaar and other magazines. Interestingly, both of them have stated on many occasions that they hate fashion photography[3]. However, the works of the newly found firm were described as mediocre at best.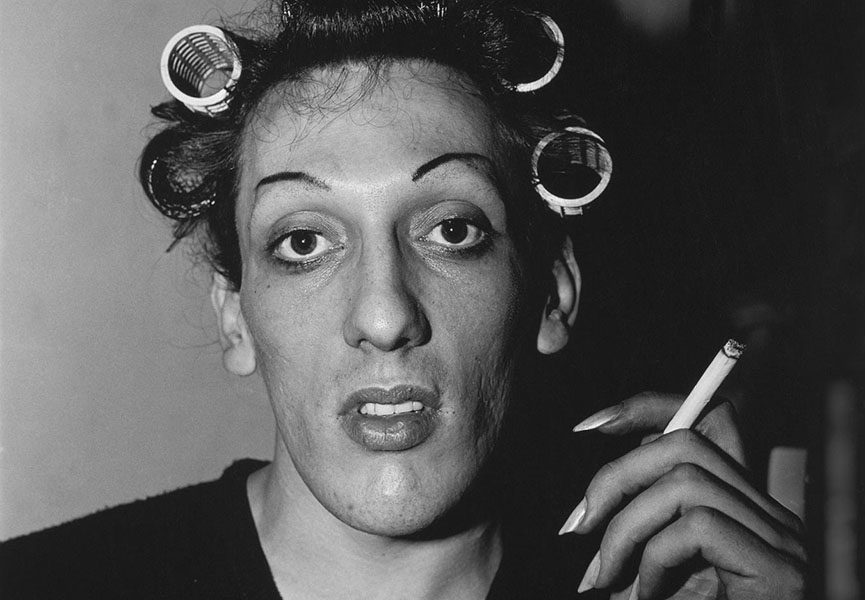 Diane Arbus - A Solo Artist
During the year of 1956, Arbus quit the commercial photography business after she was discouraged from the lack of critical success, as well as wishing to belatedly pursue her own artistic goals for the first time in her life. Although Diane did study the art of camera pictures with Berenice Abbott at some point, Arbus' studies with Lisette Model, which began in 1956, was the most crucial personal experience the aspiring artist ever had. It was the influence of Lisette Model that led Diane to her recognizable style and well-known methods. Initially, she used a 35 mm Nikon camera which produced grainy rectangular imagery. By the year of 1959, Diane was photographing on assignments for magazines such as Esquire and The Sunday Times Magazine, enjoying a stellar recognition. Somewhere around the year of 1962, Arbus switched from her beloved 35 mm Nikon camera and started using a twin-lens reflex Rolleiflex camera which produced more detailed square images. She also began using a twin-lens reflex Mamiya camera with flash in addition to the Rolleiflex. Soon after that, Dian was awarded a Guggenheim Fellowship[4] for a project on The American Rites, Manners and Customs.
After she separated her artistic efforts from those of her husbands, Diane Arbus discovered an incredible gift of making sincere and courageous pieces of portraiture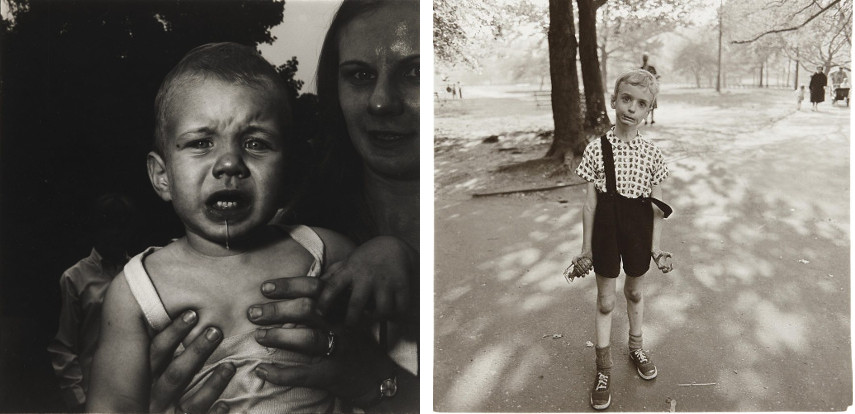 Later Career and The Death of Diane Arbus
Diane Arbus had a very personal approach to making photos. Her methods included establishing a strong relationship with her subjects and even re-photographing some of them over the course of many years. From the moment she emancipated herself from the work of her husband, she was highly appreciated in the world of photography and even held classes at the Parsons School of Design, the Cooper Union in New York City and the Rhode Island School of Design in Providence. The first major exhibition of her photos occurred at the Museum of Modern Art in an influential 1967 show titled as New Documents. Alongside the works of numerous colleagues, Diane was presented as the core of what was described as a new generation of documentary photographers. As this is often the case with many authors, Arbus' magazine assignments decreased as her fame as an artist increased. She was not able to chase her own expression and was finally being appreciated for doing so. Using much softer light than in any of her previous projects, Diane took a series of photographs in her later years of people with intellectual disability showing a wide range of emotions. Many theories exist that state different kinds of relationships Arbus may have had with these photographs, some asserting that she adored them whilst some claiming that the author hated them. Regardless, this will prove to be the last big project of Diane's life. She experienced what her closest friends and relatives described as depressive episodes for the bigger part of her career, a condition that was probably inherited from her mother who suffered a similar condition[5]. These episodes may have been made worse by symptoms of hepatitis. These ups-and-downs and violent changes of mood reached their peak on the 26th of July in 1971. While living in the Westbeth Artists Community in New York City, Arbus took her own life by ingesting barbiturates and subsequently slashing her wrists with a razor blade. She was 48 years of age at the time.
What many describe as being Diane Arbus' greatest creative asset was her ability to connect with her subjects on the deepest emotional level
Posthumous Recognitions
In 1972, a year after she committed suicide, Arbus became the first photographer from the United States to have her photographs displayed at the Venice Biennale. This was, of course, done posthumously, but it never the less represents a huge milestone in the acknowledgment of the American photography. Her emotional portraits of individuals cast to the margins of society, all the homeless people, transvestites, nudists and carnival performers, all of them were finally allowed to tell their story on the global level in 1972. And the name of Arbus was echoing along every step of the way. As the case was for the majority of her career, some have seen Arbus's work as highly controversial, some viewers were overwhelmed with a sense of compassion, while many others found her pictures bizarre and disturbing. Although we have no way of knowing this for a fact, we suppose that this was the way the author herself would have preferred it anyways. It should also be noted that in the year of 2007, Metropolitan Museum of Art in New York acquired the entirety of Arbus's archives, giving a clear cut and loud indicator of just how crucial Diane was to the modern art history of the United States.
This artist is represented by kunzt.gallery, Gagosian Park & 75 New York, Gagosian West 24th Street New York, Gagosian Beverly Hills, Gagosian Britannia Street London and Gagosian West 21st Street New York.
References:
Schultz, W. T., An Emergency in Slow Motion: The Inner Life of Diane Arbus/em>, Bloomsbury USA; First edition, 2011
Arbus, D., Diane Arbus: An Aperture Monograph, Aperture; First Edition, 1972
Bosworth, P., Diane Arbus: A Biography, W. W. Norton & Company; Revised ed. edition, 2006
Arbus, D., Diane Arbus: Revelations, Random House; First Edition and Later Printing edition, 2003
Lubow, A., Diane Arbus: Portrait of a Photographer, Ecco; 1St Edition, 2016
Featured image: Diane Arbus - A photo of the artist at work in New York City - Image via americansuburbx.com
All images used for illustrative purposes only.