One can enter surreal only upon breaking the shackles of expectation. By wanting to see what is beyond the horizon. By inventing a new world. Dilka Bear is a contemporary artist based in Italy, working predominantly as an illustrator and a painter. Known for painting emotive children often found in rural settings amongst wildlife of a surrealistic nature, the artist creates every work as a piece of a greater story, imbuing them with dream-like qualities of a child's imagination. Her characters are suspended in a world where the most attention goes to their face and eyes – it is through them that they speak to the viewer, telling everything. Happiness, sadness, hopes, dreams, what could have been, but never really was.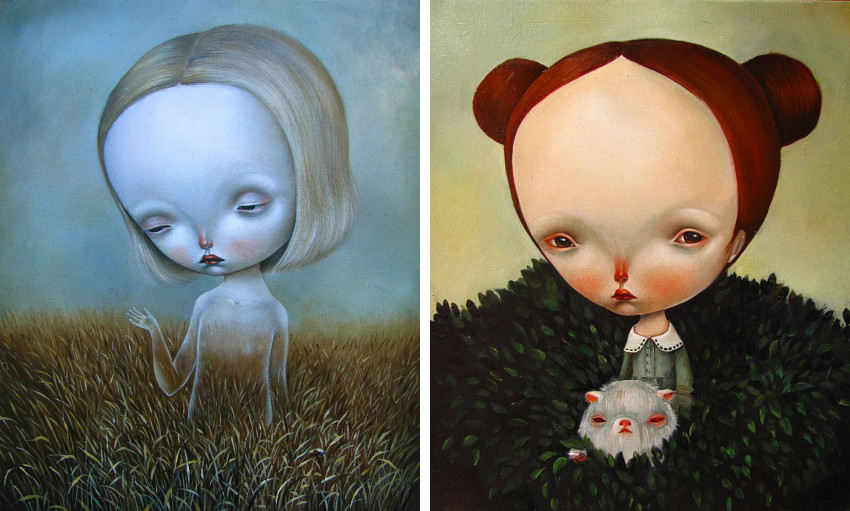 Art of Dilka Bear
She studied Architecture at the Almaty University of Arts for a year before deciding to be an artist, so she did some distance studying. In 2005, she moved to Italy. After spending a number of years working as a graphic designer and realizing that the job was actually limiting her creativity, Dilka shifted to painting around 2008. From an early age, she'd shown a strong interest in art, especially drawing, influenced, at the time, by cartoon and Grimm stories and children books. As she matured, so did her influences – now she enjoys Italian Renaissance painters and Dutch painters, mostly Bruegel and Bosch, simply because their work is beautiful. In terms of a connection, she admires Ray Caesar and Marion Peck, as she feels slightly closer to their world. The unique mix of dark and sweet colors in her paintings is based on instinct, as she doesn't really give that much thought to the choice of colors as she paints. The artist feels that a painting should express an entire variety of emotions, and yet, there is a noticeable lack of smile. Tears and sadness are dominating since Dilka thinks that there is often nothing to smile about. She prefers to be truthful and express whatever emotion she feels, without having to care about the image she transmits to others.
She worked as a graphic designer, but the job limited her creativity, so she turned to art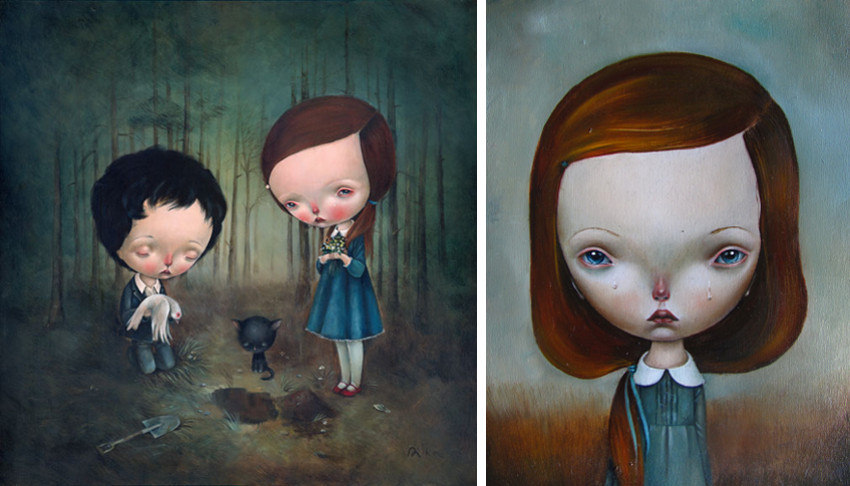 Full Moon Children
This most recent series focuses on the changing environment, something that can be noted through the artist's palette, landscape, and narrative. Creating a universe far away from pristine, Dilka Bear depicts a symbiotic balance of life, demonstrated by the natural interactions present between animals and humans. Darker themes of reality are unveiled as a sense of melancholia touches each child's face and death echoes. In each of these girl's (girls being, of course, an omnipresent motif in Dilka's work and the trademark of her style) gazes, beyond their innocence, is a sense of all-knowingness present that makes us question our current relationship with our own environment. Full Moon Children is Dilka Bear's latest solo exhibition that will be on display until October 23, 2016, at Haven Gallery in Northport, NY.
She is represented by Haven Gallery and Fousion Gallery.
Dilka Bear lives and works in Trieste, Italy.
Featured image: Dilka Bear - Self-portrait (detail)
All images courtesy of the artist