Dominic Vonbern is a Swiss designer, artist/tagger and author based between Bern, Shanghai, and Torquay in the UK.
Vonbern in Switzerland during the 80's and 90's
Dominic was born in Biel/Bienne, a city in the canton of Bern, Switzerland, in 1970. His father was a painter fond of Auguste Renoir. Dominic has actively participated, illegally, at the re-colouration of the city of Biel/Bienne during the 80's and 90's, which were the golden age of mural vandalism in Switzerland. Dominic Vonbern describes himself as a tagger who pushes the limit as fair as possible always using the same tag.
"The biggest difference between a tagger and a graffiti artist is the velocity at which the cops are running behind him." - Dominic Vonbern
Too busy to find a way to escape the police and to get rid of the finger prints on the freshly used sparvar, he never produced any mural artwork outside illegality.
At that time there was two distinguished type of graffiti artist - the one who stays in the illegality and the other. Vonbern never derogates from the fact that graffiti is and must stay outlaw because graffiti is in his own definition "only outlaw".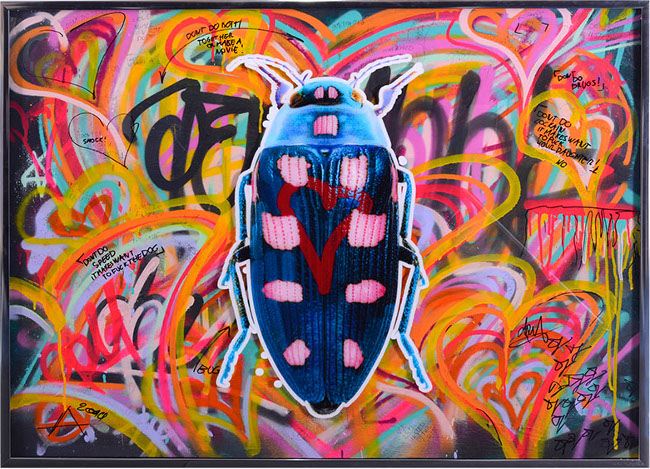 "Stencil or any kind of guide during the work would have been considered by the mob at that time as literally a total sucking practice. At that time the idea was to get as famous as possible and to put our names on the hardest location possible. With the cops running around, there was no time for such a device. Later when we got the first street art magazines, we saw the use of stencil.
But for us that was something else, a practice that couldn't be compared to what we were doing. It was something different, something the for the punks who used stencils to make they Anarchist sign on the lower street corner, certainly cute but less real, for us something much less respectable." - Dominic Vonbern
Academic Background
Dominic has a superior certificate in industrial design from the Athenaeum school of architecture and design in Lausanne - he has two federal certificate of capacity, one in microeconomic and one in mechanical conception. This made him an ideal candidate for the watch industry. After coming back from Australia where he studied English, Vonbern moved to Japan and studied Japanese in Tokyo for a several years.
The Luxury Industry
Dominic Vonbern has been working in the luxury industry in Switzerland for watch brands for the last 15 years as lead designer, art director and head of product development. The artist made his own company 23 Karats, with which he was working for the hippest and trendiest watch company in the world. Today, from Bern to Torquay and Shanghai, where he resides most of the time, Dominic continues at a slower pace to create watches for a few specific clients in Switzerland.
Amongst that, he has been creating artworks and sculptures for galleries in his long spare time.
Present Work
Dominic Vonbern works with a variety of media, but never forgets that the root of his creation was in massive tagging. So he managed to keep that fact as "rough and trashy" as possible, making it the base that can be clearly seen in each of his creations.
Vonbern's style is the "radical truth" in its purest expression, adding notes and labels in his work to promote his ideology and way of thinking, helping the people to see it more clearly.
Mixing tagging and mix media to give a unique rendering to the viewer, Tags and Bugs volume 1, his first real public release was shown in the London West Bank Gallery in 2015.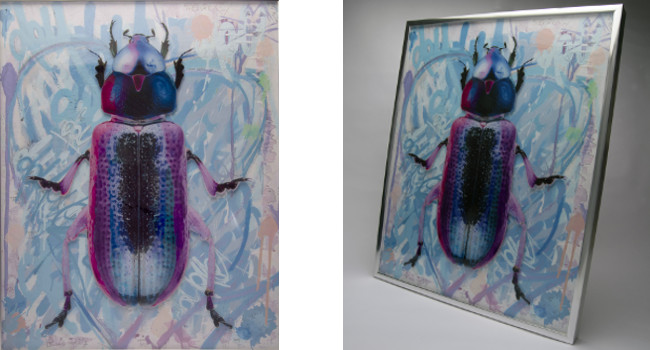 The Metaphysical Field
Dominic Vonbern is an ideologue. His book The Metaphysical Field, written in Shanghai in 2012, is dedicated to all travellers to the human consciousness. Also, The Metaphysical Field is a tribute to Albert Hoffman, the father of LSD.
The radical thinking of right is omnipresent in all Vonbern works, so The Metaphysical Field is not a reading for everybody. It is esoteric, politic and fully fighting the unique thought, which makes his work quite different from the work of other artists and writers.
Dominic Vonbern lives and works between Bern, Shanghai and Torquay, UK.