Great artists always seemingly strive towards perfection, while at the same time hoping they'll never reach it. Donald Sultan is no different. But, to be perfectly honest, there is no such thing as perfection in the world of art. If it were, that would mean the artworks are devoid of any kind of human qualities, lacking the most imperfect and the most significant part that indeed makes us humans – the emotions. Because, if an art piece is truly perfect, then it wouldn't stir up feelings within its observers, and thus, it wouldn't be art. Sultan has an amazing ability to annihilate the indifference in his audience, making them either thoroughly enjoy or dislike his work, with one thing common for all of them – once they've seen one of his artworks, they're going to want to see them all.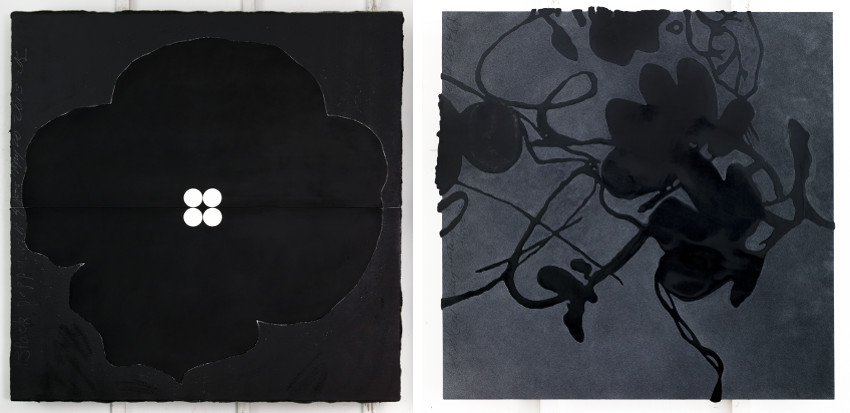 Donald Sultan: From Theater to Art
Born in an artistic family, Sultan originally shared his mother's interest in theater, something that she had actively pursued. He learned how to create theatrical sets and also how to paint them while he acted. However, he decided to devote himself to art – a domain where his father was present. Due to fear of not being able to support himself or his family, Sultan senior chose business and owned a tire company, spending his free time painting in Abstract Expressionist mode. After spending his high school years at the Wilbraham Academy in Massachusetts, Sultan enrolled at the University of North Carolina with the intention of studying the theater. And yet, reluctant to take a direction that would set him on the path of becoming an actor, he changed his interests and transferred to the art department, where he earned his BFA in 1973. Two years later, he completed his MFA from the School of Art Institute of Chicago. The artist has received two honorary doctorate degrees – in 2000, from the Corcoran School of Art, Washington D.C., and in 2002, from the New York Academy of Art. His pieces are included in many prestigious public and private collections throughout the world, e.g. Whitney Museum of American Art, The Solomon R. Guggenheim Museum, Museum of Modern Art in New York, Tate Gallery in London, The Museum of Contemporary Art in Tokyo, Ludwig Museum Budapest – Museum of Contemporary Art, and many more. Sultan moved to New York in 1975 with the goal of becoming a successful artist, and he supported himself at first by helping other artists in constructing lofts. He would often spend all day doing physical work, which left the nights for his artistic endeavors. After winning the Creative Artists Public Service Grant from the New York State Council on the Arts in 1979, he was finally able to focus all of his time on art.
He was surrounded by artists since the day he was born - his father painted and his mother pursued theater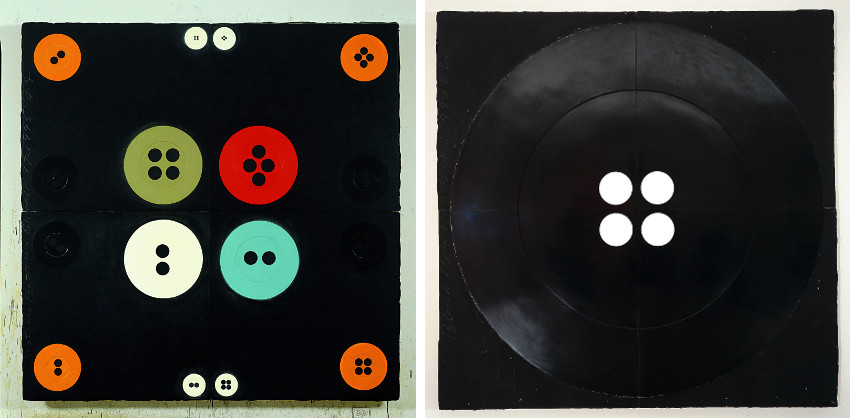 The Master of Physical Density
The artist holds mastery over physical density and is one of the first to use the industrial materials such as tar, spackling plaster, and vinyl tile in his creations. "Anything can be used as a material for making art". The tar was used particularly often, something that stayed with Sultan since his early years when he watched his father's tire business. This interest was crystallized during his years in Chicago. With a unique approach to his unusual materials, he applied them as they were tubes of paint, making his work direct, and more importantly – always fresh. The paintings seem to follow a specific formula, where the images are cut, gouged, and burned out of surfaces made of squares of ordinary linoleum tile. Instead on canvas, he works on masonite covered with 12-inch floor tiles. The artist cut the desired shapes into the vinyl, fills in the cutout space with tar and/or plaster, before painting over it, which gives the entire thing an extraordinarily rich texture. When these two filler materials abut, the plaster is sometimes tinged with a hint of the tar, creating an instantaneous chiaroscuro effect. The train wrecks, silhouetted factories, forest fires, and harbor scenes are emphasized when the artist wipes thin billows of tar across expanses of uncut linoleum, resulting in a toxic smokiness. A lot of his early works were about the juxtaposition between rigidity and gesture, with all of that dark imagery being really about the architecture in the paintings. The pieces seem very strong and massive, with the element of permanence, but nothing is permanent as the artist hid the meaning of everything that his paintings contained in the extremely fragile image in the front.
As a result of a unique approach to unusual materials, the artworks seem fresh and direct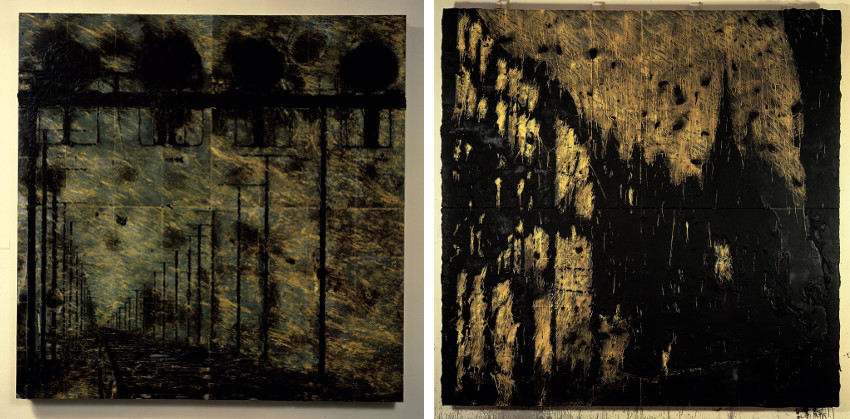 The Famous Still-Life
Still-life is one the most familiar subjects in the history of art, but Sultan makes a good case that it's still a fertile ground for further exploration. His choice of the subject matter certainly isn't radical, but a still-life piece can surprise and open new possibilities when it's approached with a striking technique. Similarly, Sultan's before-mentioned chiaroscuro effect creates elegant images where his selected forms are flattened on the pictorial plane. Speaking of forms, he constantly returns to the pears, apples, and lemons, but not literally. His still-life projects are exclusively about putting the imagery back into the abstract, and while the pieces possess an undeniable element of realism, it is far from his original intention. The arrangement of domestic objects means that they can be held in hand, moved without limitations in order to become a composition. Some features of the great masters from the past can be noticed in the Sultan's work – as the 16th-century Dutch still-life was an emblematic art of material plenty, meticulous and triumphal, but always in an assertion of time's scythe. The dark note present in this era originates even further into the past, when Greek's and Roman's mosaic art first snared the familiar domesticated things, laying them out in a flattened space. Peter Aertsen, Jan Brueghel the Elder, Hans Memling, Caravaggio (with his revolt against the lavishness of the Roman Church which is seen in the simplicity of his Basket of Fruit), Zurbaran, Rubens, Chardin, and many later artists that occupied the realm of still-life have inspired Sultan, but there is something unique in his work. It doesn't necessary implies that difference in technique and materials is responsible for this uniqueness; it is probably based on the intention of going into abstraction, but as the artist explains, some of the pieces that look most abstract are indeed those who are the most realistic.
His choice of the subject matter certainly isn't radical, but the results still surprise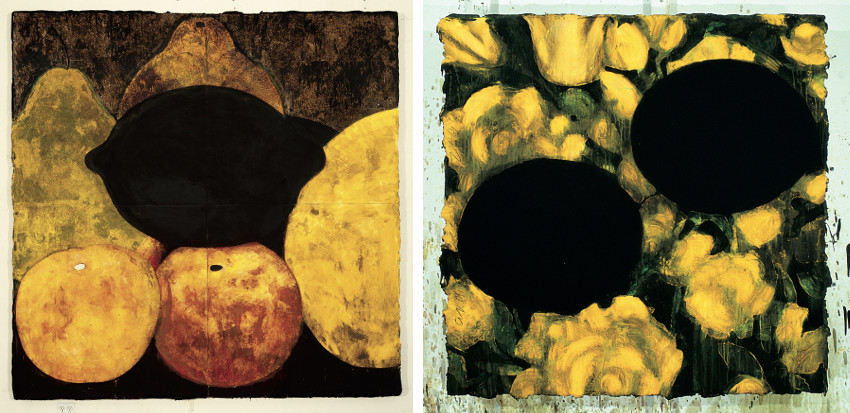 The Floral Imagery
Floral imagery has been a part of Sultans's oeuvre for over 40 years. Back in the 1970s, he began to see the urban environment as a source for new growth. The fact that no one in his generation was painting flowers helped in making it one of his most recognizable features. He is most famous for the paintings of tulips and for some massive poppy works that extend far beyond the familiar address of similar subjects that preceded them. Remaining faithful to his process, Sultan covers the vinyl-tile surfaces with the tar on which he draws his celebrated poppy images. These floral forms are then excavated and filled with a drywall mud, that, when cured, is painted with vividly hued enamels. A black rayon flocking is introduced next, with the texture reminiscent of the pollen on the anthers at a poppy's heart. The abstract ground is created in the torching the surrounding areas of tile, gouging and scraping in order to produce rhythmically obsessive vertical striations into their surfaces. Sultan's gargantuan semi-abstract paintings of fruits and flowers are results of the merging between the Western traditions of still-life painting and the process art, which is, by far, his strongest quality and the basis for the majority of the pieces.
His red flowers are easily recognizable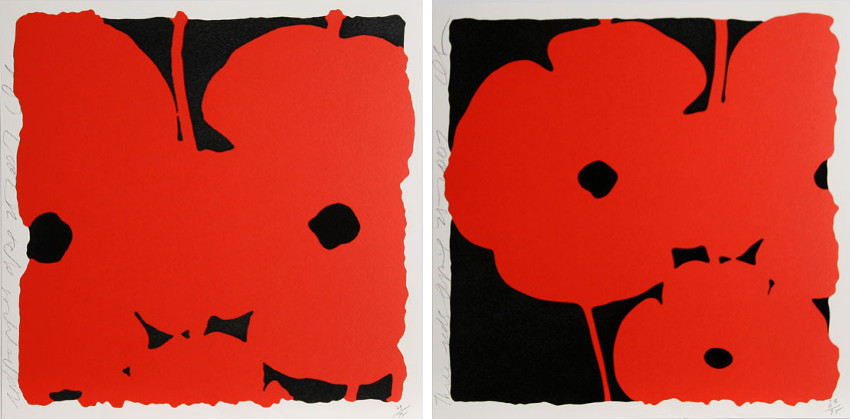 Other Fields of Expression
While extremely successful and famous as a painter, Sultan also works in drawing, printmaking, and sculpture. The lithography, wood cut, linocut, etching, serigraphy are in his printmaking scope, with aquatint etchings large in scale being technically extremely complex. He belongs to a small group of American artists who have frequently collaborated with none other than Aldo Crommelynck, who was Picasso's master printer. Sultan's etchings emulate soft-edge charcoal drawings, and to make them, he had to work out a method of blowing and brushing the resin powder on printing plate before heating it. For his immensely popular black lemons, he blew through long tubes and used delicate Japanese brushes to blur the edges of shapes. In his drawings, the artist remains in the realm of nature, where the themes and forms of flowers and fruits are explored through silhouetted charcoal drawings on paper and his compositions in color conte crayon and flock. The results are monochromatic and prominent images. The combination of various industrial materials appears in the process of sculpting as well. Other than the familiar and unorthodox materials he uses in his paintings, Sultan tackles the challenges of sculpture by using the usual stuff like wood, iron, lead, and painted aluminum. He is also quite active in the world of written word. Even before graduation, he wanted to start a publication of artists writing about their own work. It was intended to be a trade publication where every year or two years artist from around the USA would write about their recent work so everyone could read it and be acquainted with their thoughts and artworks. The first book was named the Namebook one, and it featured some extremely talented people such as Richard Artschwager, Barbara Kruger, and Ron Gorchov. Sadly, the second one never came out. Nevertheless, Sultan didn't turn his back on the writing, and his collaborations with David Mamet resulted in the books titled Warm and Colder in 1989, and Bar Mitzvah in 1999, for which he created a series of drawings.
The black lemon and the egg are recurring motifs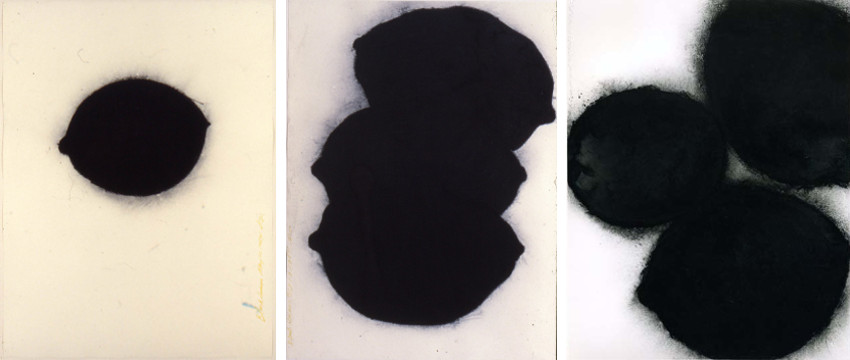 The Visual Language of Magnificence
Image after image, Sultan inevitably circles back to his formal technical abilities to craft lovely and beautiful paintings, drawings, prints, and sculptures, by using unusual materials and their combinations. While it's not so rare to find an artist who has discarded canvases and paint for enamel, tar, and tiles, it is rare to find one that pushes and explores further than many before him. With no signs of stopping, Sultan has reached the age of artistic maturity which, in combination with his talent and clear vision, provides almost endless possibilities for expression.
He is represented by Gregg Shienbaum Fine Art in Miami, Puccio Fine Art in New York, Weng Contemporary in Zug, Puccio Fine Art in Water Mill, Kunzt Gallery and Galerie Fluegel-Roncak in Nuremberg.
Donald Sultan lives and works in New York City and Sag Harbor.
Featured image: Donald Sultan – portrait, Donald Sultan - portrait, photo credits Zach Hilty-BFA.com
All images courtesy of the artist