Dondi White, real name: Donald Joseph White, was an American graffiti artist born in 1961. His urge to create coupled with his incredible talent made him one of the most influential graffiti artists in the 20th century. He started with subway graffiti and for years, he painted trains and subway walls. His personal style was bold and bright. Dondi always used clear and defined writing, because he wanted his work to be recognized and shared. This was a healthy type of ambition, and this talented artist truly mastered the skill of the street art. After years of tagging, he successfully made a transition from street art to gallery art. On the streets he worked with his CIA and Soul Artist crew, but did most of his work solo. Eighteen years after his death, he still influences and inspires many artists. His followers, admirers, and the audience worldwide, keep his legacy alive.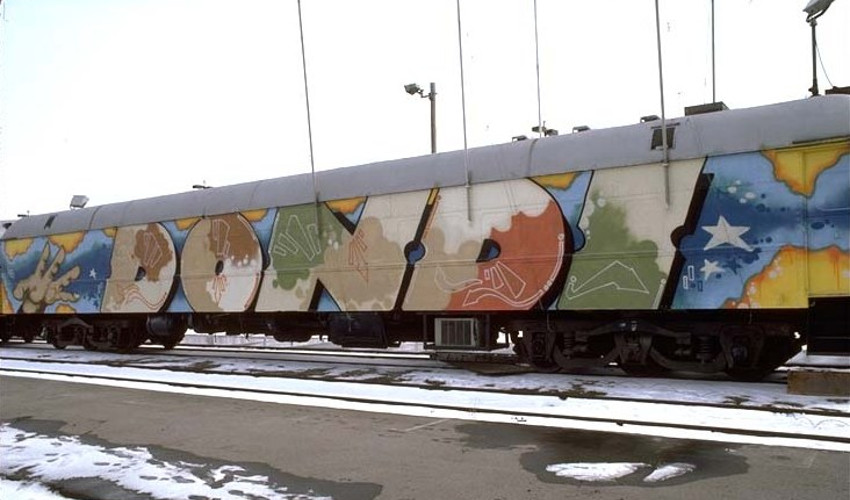 Biography and Personal Life
Dondi White was born as Donald Joseph White in Manhattan, New York. He had four brothers and he grew up with them in a big family house. His parents were of African American and Italian American origin. He used various nicknames for tagging his art, but Dondi was his favorite since it was derived from a childhood nickname. Dondi became his new persona, a representation of his true self. He earned his GED in 1984 and after graduation took a job in a government office. Growing up in New York at the time was challenging and living in his neighborhood was everything but safe. He had to have several connections with local gangs, just to ensure his safety and freedom. Even though he grew up in a certain lifestyle, he never raised to the stereotype of problematic graffiti artist from the streets. He was a family man, and his friends and collegues were the most important people in the world for him. When they were growing up, he and his brothers went separate ways. All of them, except for Dondi, moved out from the family house in New York, and the largest bedroom of the house was soon transformed into a graffiti studio. The popular theme was gang-related graffiti and their street and whole blocks around them were covered in writings that referred to actions on the other side of the law. Dondi felt, deep in his heart, that he had so much more to offer. He was driven by strong will and vision that he can achieve something bigger and more important than the petty gang and criminal exposition. When it comes to law, his main concern was the global politics and the state associated policies of American government. He wanted his work to be political, so it could have, at least, a minimal impact on society.
Dondi made Children of the Grave series inspired by a Black Sabbath song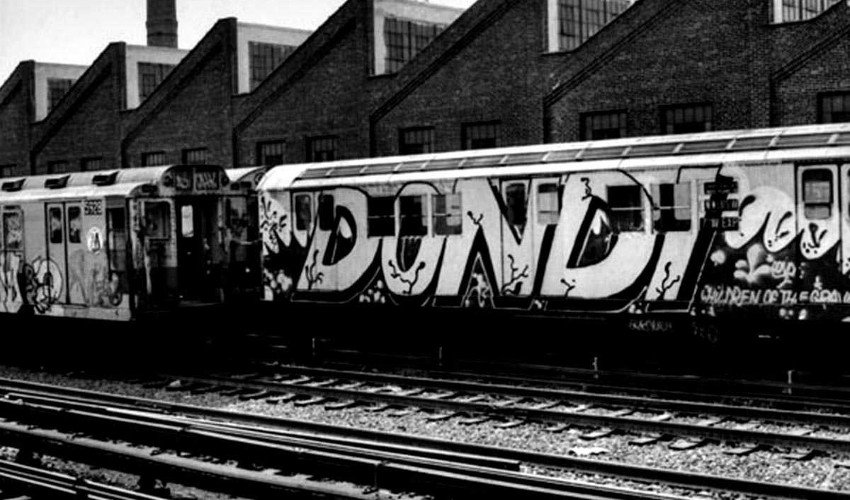 Beginnings and Crews
Dondi believed that an artist must achieve a perfect balance in showing the obvious message and hiding the more provocative reference. He wanted to make some of his work suggestive, so one would have to dig deeper to find out what it is all about. What he knew for sure is that he wanted everyone to know his name. He started tagging by writing Dondi and Naco, but after sometime Dondi became not just a name. It became a synonym for a style, for a movement, it was a part of lifestyle and culture. In the 70's and 80's he worked with other graffiti artists like Duro, Noc 167, Kid 56, Kel 139, and Fuzz One. The work they have done in that time span later became the iconic graffiti legacy. Dondi formed CIA creative fellowship, Crazy Inside Artists in 1978 with his colleagues Crash, Doc, Rasta and Duro. They teamed up with Soul Artist crew that was founded by Marc André Edmonds aka ALI, in 1980. Dondi worked with Futura 2000, Keith Haring, Eric Haze, Lee Quiñones, Jean-Michel Basquiat and Zephyr, who became his best friend for life. He also befriended a photographer Martha Cooper who often captured his work and followed him during his career. All of those people deeply influenced his work and helped him to truly believe in himself and to rise and evolve. He successfully transitioned to galleries and swapped buses and trains for canvases.
The Part Two of the Children of the Grave series came two years after the first one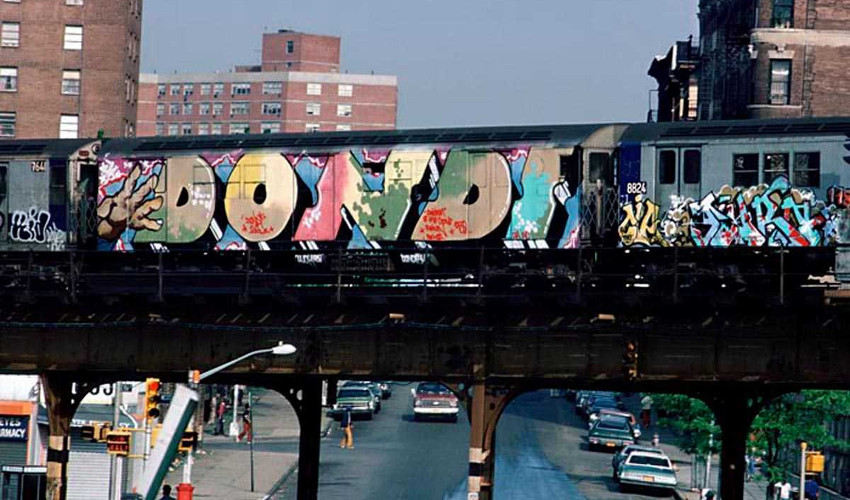 The Children of the Grave
Dondi's most famous work is the Children of the Grave series. The inspiration for this three-part artwork came from the Black Sabbath song. Dondi was always influenced by music, and although the graffiti movement is connected with hip-hop and rap, he was no stranger to good old heavy metal. Part One was sprayed over the surface of three train cars and photographed by Francisco Reyes II. Part Two and Three were photographed by Martha Cooper. The odd fact is that Martha Cooper did not know about the Part One of the Children of the Grave series, and only saw the recreation of the piece at the gallery exhibition years later. Part Two was painted on one train cart and there Dondi ensured to write his name in bold and clean letters. His name was part of the artwork and the writing style was important to him as much as the graffiti itself. Part Three was probably one of the most important pieces of graffiti artwork in the history of the style. Cooper's photograph of the piece is as legendary as the piece itself and it is one of the most exemplary and widely recognized representations of the graffiti movement, not just Dondi's work.
Cooper's photograph of the Part Three is as legendary as the piece itself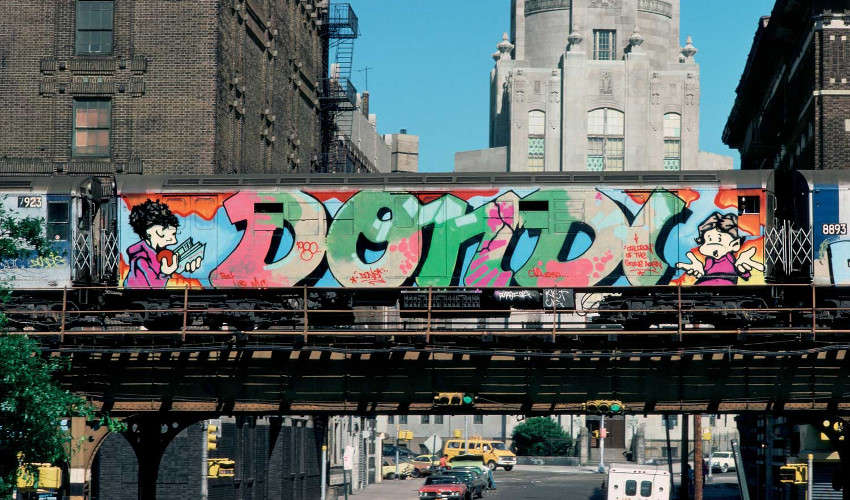 Transition to Fine Art
Undisputed talent in combination with the eagerness to create helped Dondi to become one of the first graffiti masters who exhibited his work in an international gallery. His first solo exhibition happened in Netherlands in 1983, and after that one more followed all around Europe. He felt that it was important to exhibit solo, to show his own story, to let his inner voice out. He collaborated with others for years, but in that period in his career, he wanted his art to be more personal. Dondi truly enjoy everything he did, but he put so much energy and effort in all of his work, so after the long period of activity, he had to take a break in 1984. After his energy levels were stable again, he made some of his most famous and memorable blueprints, collages, ink and pencil drawings. Working at his own pace helped him to focus more on a storyline of his work. When he didn't have to worry about deadlines and pressure to finish his pieces as soon as possible, he felt more relaxed and the working became enjoyable. In 1986, thanks to Art Train Project, Dondi was given a chance to recreate, now in accordance with the law, his most famous work, The Children of the Grave. His artworks have been exhibited throughout Germany, Netherlands, France and the USA. Dondi's goal was not to sell his art or to gain popularity. His mission was to create something important and inspiring.
Dondi created blueprints, collages using ink and pencil tools and always recieved positive reviews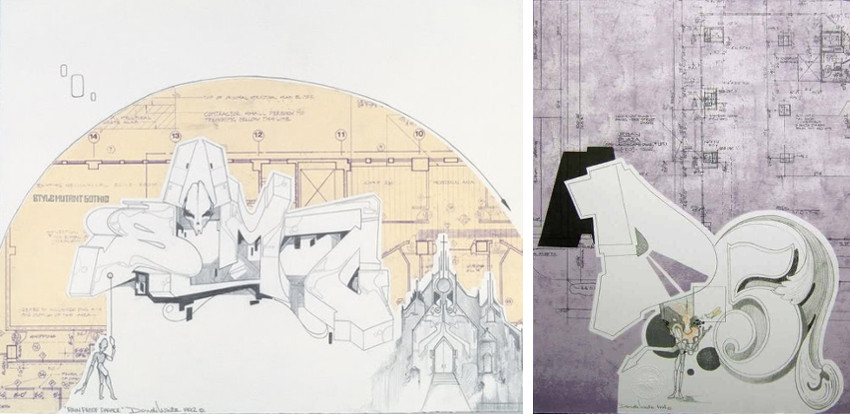 Taking Breaks and Making Ideas
He started working on canvases around 1980, and from 1985-86 that sort of work became his preoccupation. After a long period of constant painting and traveling, he took some years off at the beginning of the 90's. He did much commercial work, traveled for his exhibitions all over USA and Europe, painted in his breaks. He put his heart and soul in everything he did, and the whole process turned out to be quite exhausting sometimes. When he felt his energy was drained, he would take a break. In those periods of solace and rest, he contemplated his ideas. He did not want to make small works anymore. His goal was to focus on quality and not to pile up the small works in large quantities. His transition to galleries was very important. He refused to be labeled and classified as just a graffiti artist. Dondi evolved over the years, and the beauty of his growing was his ability to mix different styles and to make something different. He fought hard for his independence and identity. He did not want to be described as just a street artist or a gallery one from the streets. He wanted to be everything in once. His strong faith led him to major progress, and he wanted to help others to achieve a similar success. He wasn't much fond of group exhibitions, he preferred to show his art solo, even in small galleries and in front of a modest audience. All that he wanted is his work to speak in his name, for people to understand what it is that he's doing, for them to surpass the doubt they felt towards him in the beginning.
Dondi liked to put time on pause and to enjoy in small good things around him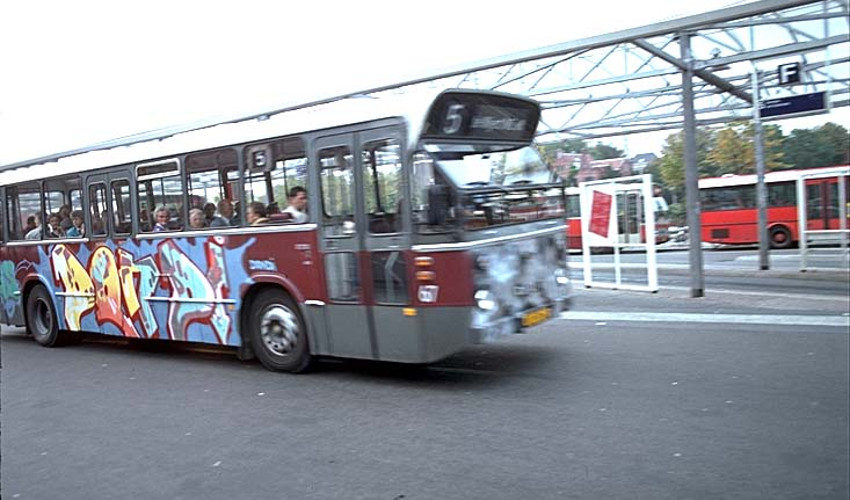 Legacy
Donald Joseph White died on the October 2nd, 1998, from the illness and complications caused by AIDS. He was surrounded by friends and family. He was always close to people he loved, and in his last moments, they were there for him. His magnetic personality and optimistic nature helped him to meet and have many friends. He was an inspiring figure and a huge influence for many graffiti artists. Dondi White, Dondi, Bus 129, Mr. White, Pre, Pose, Roll, 2 Many, Asia, no matter what name he used, he set the standards for graffiti art in his time. His letters were enigmatic, yet clear. They were visible and memorable. So many people were touched, not just by his work, but also his personality, and that's why he was loved by so many. His brother, Michael White, who co-authored (with Zephyr) the book about the artist, Dondi White Style Master General: The Life of Graffiti Artist Dondi White, said that his brother's wishes were simple in life. He wanted to see his 37th birthday, take a long ride on his bicycle and see the year 2000 and the rise of a new millennium. Sadly, only his first wish came true. In the prime of his life, with endless creativity and excessive experience, he passed away, leaving a wonderful legacy behind him.
His creative breaks that he took during his career, were parts of his personal philosophy. Searching for purpose and chasing fame and wealth never fascinated him. Dondi liked to put everything on pause and to enjoy in small good things around him. He believed that ideas and art can change the world and make it a better place for everyone. Not only he was one of the most original style masters on the streets, he managed to translate that overwhelming talent onto a canvas in a way few others have done. The artist never wanted to compete, to be better than others, for him it was about friendship, streets and expressing himself.
All images used for illustrative purpose only © Dondi