Dorothea Margaret Tanning was an American artist who devoted her life to developing her creative craft, becoming a versatile author and a talented painter, printmaker, sculptor, writer and poet along the way. An active artist for nearly 70 years, Tanning began her career as a member of the Surrealism movement, but later moving away from the concepts of this movement to create the raw and prismatic merging of color planes she called Insomnias[1]. Her career, following the conceptual exit from Surrealism, was a turbulent one - her earlier paintings were heavily representational, favoring strong line, shading and linear perspective while her mature paintings, like the aforementioned Insomnias, were displaying overriding preoccupations with luminous color and energy with only the vaguest hints of figures.
[caption id="attachment_386028" align="aligncenter" width="855"]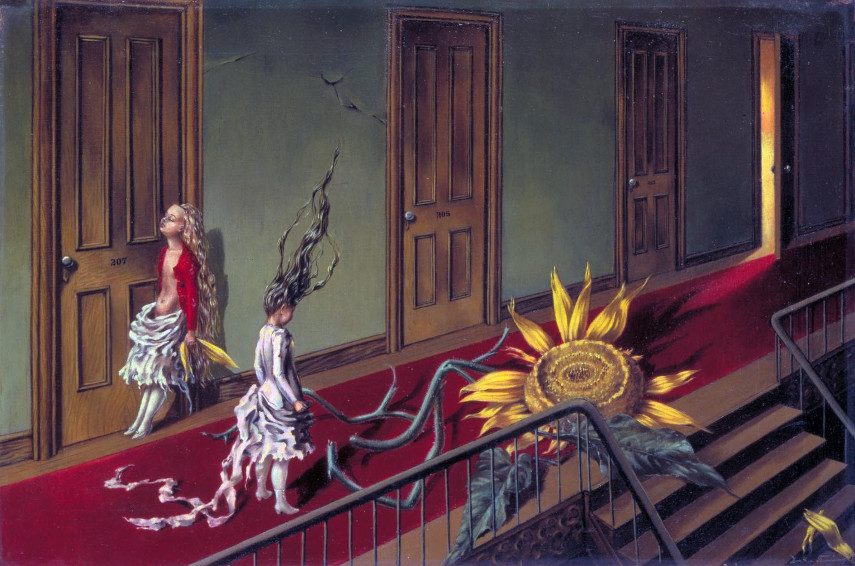 Dorothea Tanning - Eine Kleine Nachtmusik, 1943 - Image via pinterest.com[/caption]
The Times Before Dorothea Tanning Knew Surrealism
Dorothea Tanning was born and raised in Galesburg, Illinois. In 1926, she attended Galesburg public schools and skipped two grades, a decision which led to a lifelong weakness in arithmetics. After attending Knox College for two years, Tanning moved to Chicago in 1930 and then to New York in 1935. There she supported herself as a commercial artist[2] while pursuing her own artistic expressions and style - it was then that she discovered Surrealism at the Museum of Modern Art's seminal 1936 exhibition titled as Fantastic Art, Dada and Surrealism. After an eight-year relationship, she was married briefly to the writer Homer Shannon whom she met just before the start of the World War II. Impressed by her creativity and talent in illustrating fashion advertisements, the art director at Macy's department store introduced her to the gallery owner Julien Levy who immediately offered to show her work. This truly opened the door for young Tanning who quickly became a hot topic within the art scene of the United States.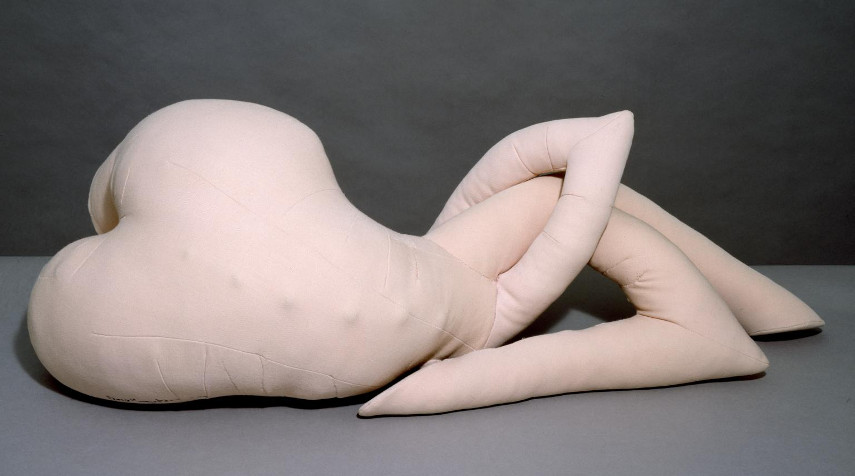 A Unique Painter, Sculptor and a Poet
Dorothea Tanning, who was heavily influenced by Marcel Duchamp, Man Ray and Max Ernst, to whom she was married, turned increasingly to experimental styles as her career progressed, advancing from her initial painterly experimentation to her soft cloth sculptures and installations. However, it should be noted that she never fully abandoned the surrealistic aesthetic despite often venturing far from the movement's fundamental concepts. Furthermore, despite the often association to his work, Tanning was not an acolyte or imitator of Ernst. Her own vivid, dreamlike images are highly distinctive, although a bit more gothic than surreal. Over the course of the 1950s, Tanning's painting evolved, becoming less explicit and more suggestive. By the late 1960s, Tanning's works Dorothea were almost completely abstract, yet always suggestive of the female form[3]. The artistic couple lived in Paris and later Provence until Ernst's death in 1976, after which Tanning returned to New York. She continued to create studio art in the 1980s, then turned her attention to her writing and poetry in the 1990s and 2000s, working and publishing until the end of her life. Tanning died on January 31, 2012, in her Manhattan home.
Although the first association to the name of Dorothea Tanning is usually Max Ernst, Tanning was a talented artist in her own right and definitely deserves creative emancipation from the work of her husband
A Navigation Through Her Main Achievements
When the artist Dorothea Tanning died at the age of 101, the US art scene felt a deep earthquake strike like never before. Suddenly, the last of the major female Surrealistic figures was gone and the scene lost what may very well be the most experimental artist of all the women in the 20th-century world of art. Between her talent and the long marriage with the great surrealist Max Ernst, Tanning was an extremely intriguing artist who managed to develop her craft to astonishing heights despite the fact she had to overcome many obstacles during her life - many of which were discussed in her autobiography Birthday (1986).
References:
Howard, R., Stuckey, C., Dorothea Tanning: Insomnias 1954-1965, Kent Gallery, 2005
Greskovic, R., Kleinberg, J., Liebowitz, R., Dorothea Tanning: Early Designs for the Stage, The Drawing Center; First edition, 2010
Tanning, D., Bailly, J. C., Morgan, R. C., Dorothea Tanning, George Braziller; 1st edition, 1995
Featured image: Dorothea Tanning - Photo of the artist - Image via anu.co.za
All images used for illustrative purposes only.