Doze Green is an American street artist. He was born in New York City in 1964 to a family which consisted of musicians and artists. He is one of the pioneers of street art movement and a b-boy member of the legendary Rock Steady Crew, which popularized breakdancing. The artist is also interested in sculpture, ceramics and animation. He has performed live painting shows.
Annunaki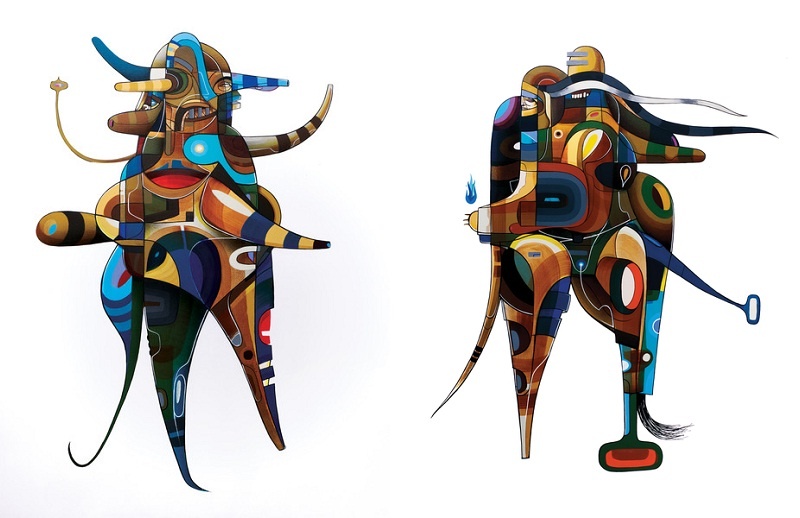 Early Career
In the 1970s he started painting subway cars with the Rock Steady Crew, the hip hop pioneers who spent their time breakdancing and tagging graffiti. Doze Green frequently participated in breakdance performances and graffiti writing actions. From urban art and b-boying, the artist shifted to studio work, and public and private mural commissions, such as a large-scale mural in Brazil, painted during Sao Paulo fashion week, and a public mural in Las Vegas, Nevada, which measures 20×80 feet. His murals can be found in the United States, Japan, the United Kingdom and Brazil. His street art background is still visible in his work. His early mentors included Rammellzee, renowned hip-hop and visual artist. Doze Green's distinctive style was shaped by a variety of influences, such as H.P. Lovecraft and theories about space and time, and his interest in experimenting.
Siddhartha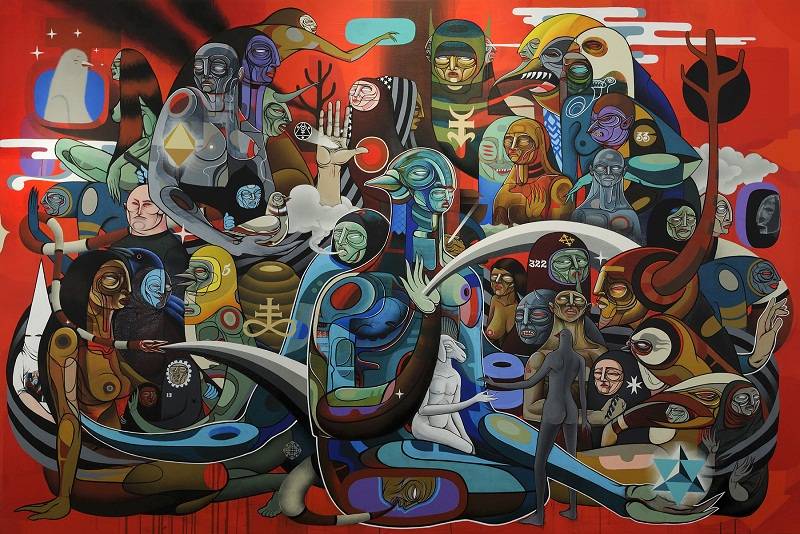 Work
Transitioning from the walls of New York to canvas, the artist started creating paintings which are inspired by the art of the Edo Period in Japan. Green uses black gesso and sumi ink, letter forms and chaotic, intuitive brushstrokes in order to create unique and distinctive abstract narrative. The legendary b-boy creates new worlds of fantasy, which stem from the kinetic flow of action painting. His works blend figurative abstraction, fluid line work and organic cubism. The narrative of his works is always changing, presenting illusion of time and immortality.They are based on his graffiti culture roots and metaphysical ideologies. Cubism in his work stems from repetitive, concentric lines and ascending and descending planes, mixed with calligraphy and graffiti. His fragmented characters symbolize his life and his experiences, the people he engaged with in his life time. For Out of Knowhere exhibition, the fifth solo exhibition at the gallery, the artist used brightly colored canvases and applied different degrees of layers, ranging from structurally loose to highly-detailed. The show also included his monochromatic pieces on paper, which portrayed Doze's mentors and friends, the pioneers of street art culture.
Luminous Series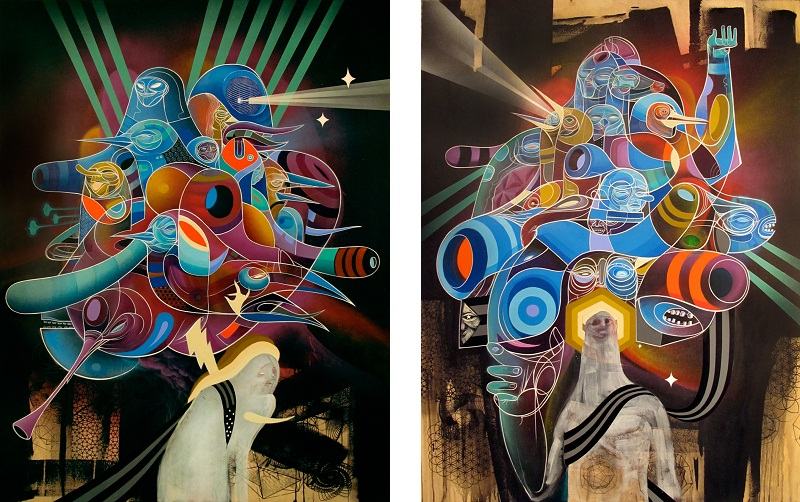 Exhibitions
Doze Green exhibited his works in many solo and group exhibitions around the world. The venues where he had solo exhibitions include Webbs Gallery in Auckland, New Zealand; Carlos Irizarry Gallery in San Juan, Puerto Rico; 111 Minna Gallery in San Francisco, Space Time Light Gallery in New York, and Jonathan Levine Gallery in New York (which hosted five of his solo exhibitions).
His work is featured in numerous private and public collections locally and internationally, in Japan, Australia and Europe. You could see his art in Juxtapoz, Tokon, Anthem, BlackBook, Vibe and on CNN.
He is represented by Jonathan Levine Gallery in Chelsea, New York.
Doze Green currently lives and works in California.
All images courtesy of the artist and Jonathan Levine Gallery