Dylan Egon is an American artist known for his assemblage art with an American Pop culture imagery and motifs. Dylan is also a passionate collector of toys, comic books, motorcycles, helmets, jackets, vintage furniture, art, fashion…
Egon was born in New York in 1966. He went to Spring Hill College in Mobile, Alabama where he studied Anthropology and Archaeology. Dylan also majored in Film, At City Tech University in New York.
In creating assemblages in mixed-media, collages, and screen-printed works on panel – Egon sometimes uses objects from his vast personal collection to address American values theme. He has been exploring pop culture through treating issues of mass production and mass consumption. A reference to history of fashion and design is always present in his works.
Man Vs. Nature

Egon's academic background and knowledge in anthropology and archeology help him to go in and dig deeper into the collective phycology. At the same time, his artist's fetishistic approach and reverence for craftsmanship blend in together with much success. Dylan is also interested in the vocabulary of modern graphic symbols of his own design, so he creates it and then applying it to furniture items. The example of that type of his artistic work can be found in his editioned cabinets for reGeneration's line of furniture, with Egon's signature modern graphic hieroglyphics.
Dylan Egon and ReGeneration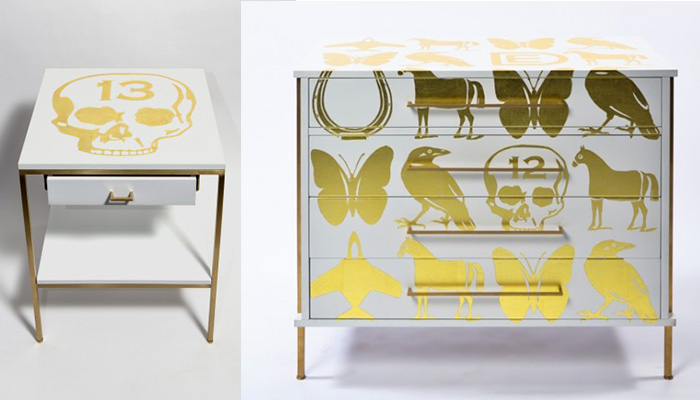 The artist is represented by Jonathan LeVine Gallery from New York.
Dylan Egon is currently based in Jersey City, New Jersey.
All images copyright © the artist