Ed Hicks, also known as Hicks 54, is a British muralist, illustrator and graffiti artist, whose works move between graphically expressive landscapes and a bit more obscure themes. Born on 18th January, 1982, Hicks emerged from the London street art scene in 2007, as a member of the controversial 54 Crew, and Dead Leg crew. Apart from street art, Ed also dabbles in music.
Landscapes by Ed Hicks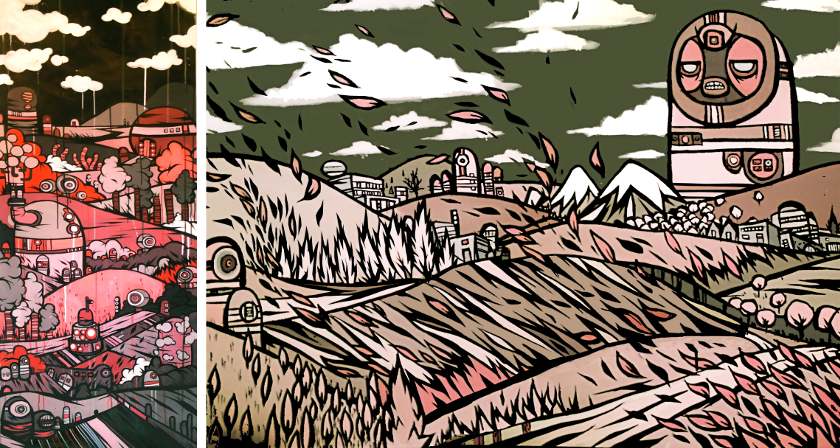 Ed Hicks is constantly developing his art – he started off with conventional graffiti characters and then incorporated elaborated figures and landscapes. Nowadays, however, Ed produces more confusing and complicated pieces. A painted character provides the viewer with a whole narrative. In the other case, the absence of a character in a painting leaves room for the viewers to find themselves, and that's how the dialogue starts.
Hicks never planes before painting. He believes in muscle memory rendering certain shapes. These shapes are then morphed into more concrete themes like animals or faces. The influence of other artists is present, but as a piece develops, it slowly vanishes, leaving the artist with a unique artwork. Ed finds an ordinary brush and black paint do the job flawlessly. He is only conducting, and the painting emerges itself on the surface.
Tarot Exhibition
Ed draws from numerous different artists he has worked with over the course of his prolific career, including Mr. Jago, Best/Ever, Will Barras, and Jim Vision. His art is rooted in German Expressionism and Chinese watercolors.
He has exhibited in many solo and group shows. Most notable collective exhibition Ed was featured in is Kick-Ass 2, hosted by Rockwell House in December, 2013. He also had a one-person show at The Jeffrey West Gallery. Titled Tarot, the exhibition took place in March and April, 2015. In 2009, Hicks won Secret Wars tournament. He is a part of End of the Line collective.
Ed Hicks currently lives and creates in London, UK.
All images courtesy of © End of the Line