Known for stickers, stencils, and wheatpastes filled with defiance and socio-political activism, Eddie Colla is an American street artist and designer, whose works can be seen throughout public spaces in San Francisco Bay Area, Los Angeles, and Miami. A powerful collection of expressions, his work illustrates how individuals on both sides of the fence react to the constant threat of social and political desire for conformity. His visions of people in the throes of isolation, oppression and conformity are multi-layered and crafted in an assembly of aesthetic retinal fantasy. Subtly defiant, his visual imagery allies itself against the forces that stain what lies deep in the heart of all his work - a celebration and a passion for freedom. Portrayed characters are often donned in surgical mask and gloves, a metaphor that infers protectiveness against not only the physical but also psychological reverberations of our society and the oppressive forces, representing a dynamic of fear and protection.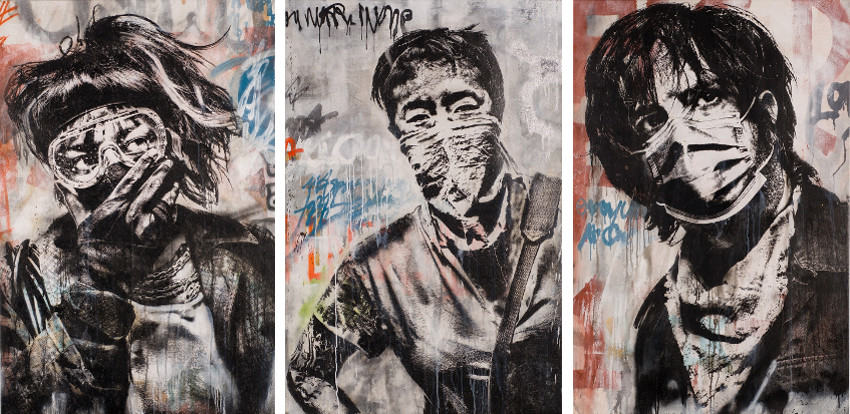 Biography
He studied at the School of Visual Arts in New York before graduating from the California College of Arts with a BFA in photography/interdisciplinary fine arts in 1991. Practicing photography at the start of his career, the artist worked for the New York Times and numerous ad agencies, record labels, and magazines. After 15 years, Colla has morphed into one who counters the all-pervasive nature of commercialism in public spaces. Since 2005, his stencils and wheatpastes can be seen in public spaces in Miami, Los Angeles, and, of course, the Bay Area. He first got into the national spotlight in 2008, when his street art began incorporating images of presidential candidate Barack Obama. Subsequently, his constantly growing popularity landed him features in six published books (so far), wide attention on internet blogs, and participation in the "Manifest Hope Art Gallery" shows at the 2008 Democratic National Convention and at the Presidential Inauguration in Washington D.C.
The viewers' reception of Eddie Colla's work was extremely positive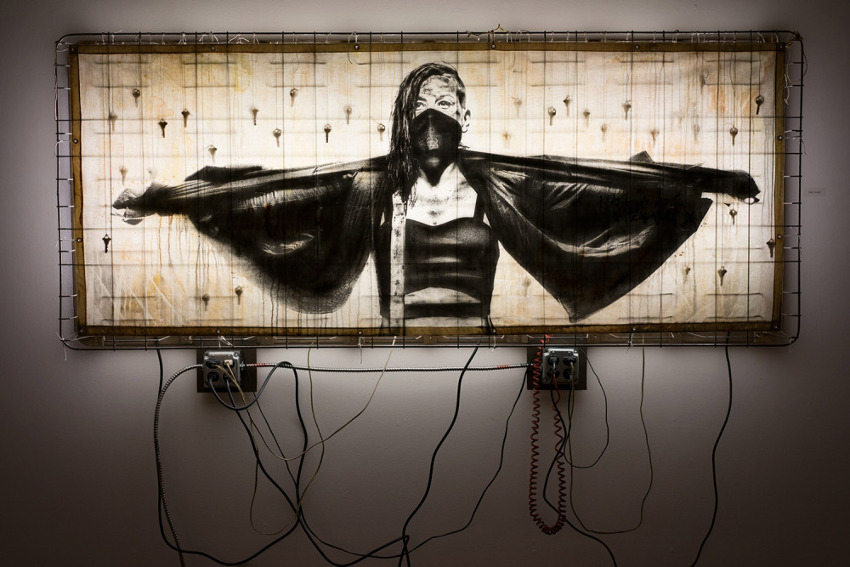 The Art of Eddie Colla – the "Thief"
In Colla's own words: "There is a visual conversation that takes place on the streets of urban environments. This conversation is dominated primarily by advertising and utilitarian signage and assumes passive participation. Whether invited or not I am going to participate in this conversation. Public spaces were never intended to be coated from top to bottom with photos of consumer products. These spaces should, in some manner, reflect the culture that thrives in that space." He realizes that some people consider what he does to be vandalism, and he openly admits that he's a vandal (although he prefers the term "graphic criminal"). His assumption is that people object because he alters the landscape without explicit permission – the response is brutally honest and somewhat tragic: "Advertising perpetually alters our environment without the permission of its inhabitants. The only difference is that advertisers pay for the privilege to do so and I don't. So if you're going to call me anything, it is more accurate to call me a thief."
Public space should reflect the culture that thrives in that space - Eddie Colla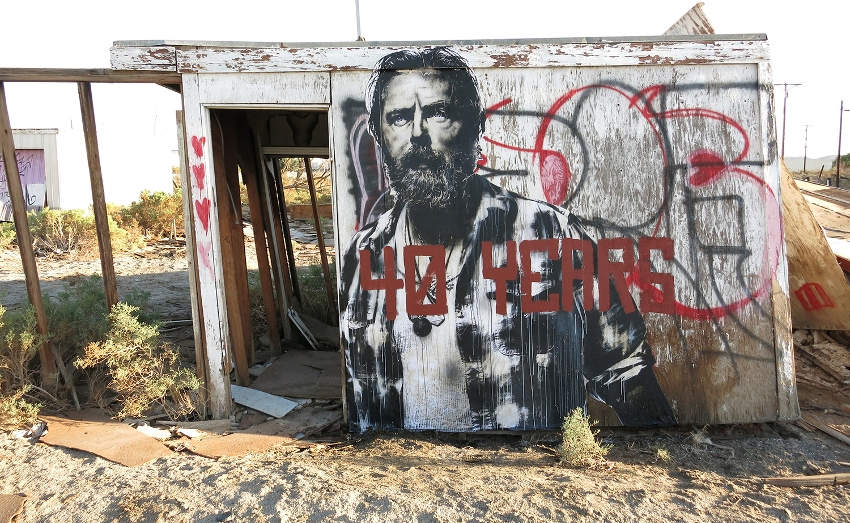 Eddie Colla and Walmart – the Real Steal
Sadly, one of the main principles today is: "It's only stealing if you get caught." Individuals creating original art and content are quite exposed to this kind of ill-behavior. Colla is no excuse. After creating one of his best-known works titled Greatness, where he added a powerful and inspiring message (If you want to achieve greatness stop asking for permission), he found himself completely stunned upon discovering that Walmart has taken the visuals of this masterpiece, labeled it as Banksy's work, and are selling it openly. The feeling of irony is exponentially increased by the fact that he made a piece about individuals controlling their own fate and not making their success contingent on the approval of others – just so it could get adopted by a neo-feudal corporation like Walmart. Nevertheless, because his art visually challenges the viewers to question their environment and thoughts on pressing social issues and individually draw their own conclusions about how they think things ought to be, Eddie Colla has rightfully earned his place on our list Ten Bay Area Artists You Need To Know.
Eddie Colla lives and works in Oakland.
Featured image: Eddie Colla – Air City
All images courtesy of the artist