Although considered one of the founders of Impressionism, Edgar Degas didn't accept that label, preferring to call himself a Realist or Independent. He was a member of the group of Parisian artists who began to exhibit together in the 1870's. Sharing their convictions and innovations, his academic education and personal affinity for Realism still set him apart from his colleagues. Degas despised the scandals about their Impressionist exhibitions, often deriding his friends for painting outdoors. He was also intrigued by capturing effects of light and themes of modern life, but showing a little interest in plain air painting, Degas preferred theatre and café scenes illuminated by artificial light which helped him to draw more precise contours of his figures. Impressed by the human figure, his many images of female dancers, singers and laundresses are represented from different angles, striving to capture the body in unusual positions.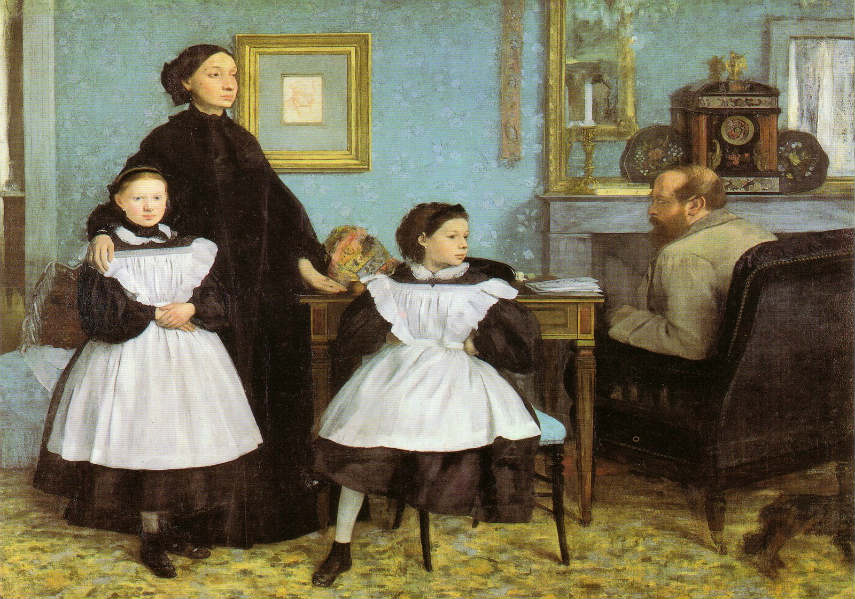 Exploring the Old Masters
Born in the well-situated Parisian family, Edgar Degas showed his talent for painting and drawing at his early age. By eighteen he turned one house room into the artistic studio, orderly visiting Louvre to copy classical art. His acquaintance with Dominique Ingres encouraged him to draw lines and in 1855, he received the admission to Ecole des Beaux-Arts in Paris where he studied drawing under Louis Lamothe, Ingres' former student. He travelled to Italy, to visit his aunt, Baroness Belleli, where he spent three years exploring Renaissance painters, especially impressed by Michelangelo, Raphael and Titian. This important moment in Degas' style development resulted in the Realist portrait The Belleli Family.
Degas began to paint early in his life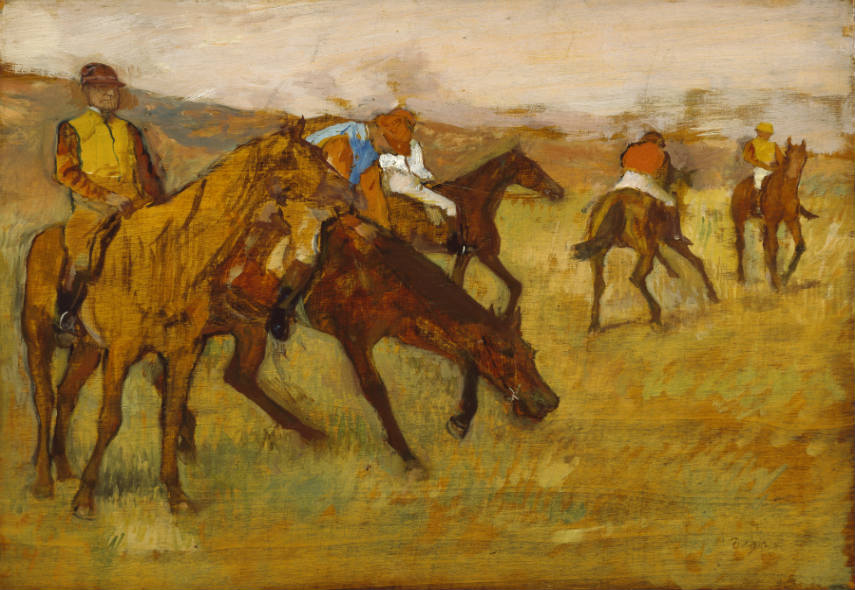 The Impressionism was Born
Returning to Paris, he continued visiting Louvre, where, in 1864, while copying one painting by Velazquez, he had met Eduard Manet. This friendship was of crucial importance for the future establishment of Impressionism. After his historical painting exhibited at Salon in 1865 attracted little attention, Degas decided to focus on scenes of modern life. He drew his inspiration from Parisian cafes, boulevards, dance studios, theatre and opera. By 1868, he became a part of a group of avant-garde artists including Claude Monet, Eduard Manet, Pierre-Auguste Renoir, and Alfred Sisley, who gathered at the Café Guerbois discussing their engagement in modern art. In 1873, they formed the Society of Independent Artists, aiming to deliberate exhibition from the Salon control. On April 15, 1874, they held the first Impressionist exhibition which became a tradition which lasted for the next 12 years.
His friendship with Manet was of crucial importance for the future establishment of Impressionism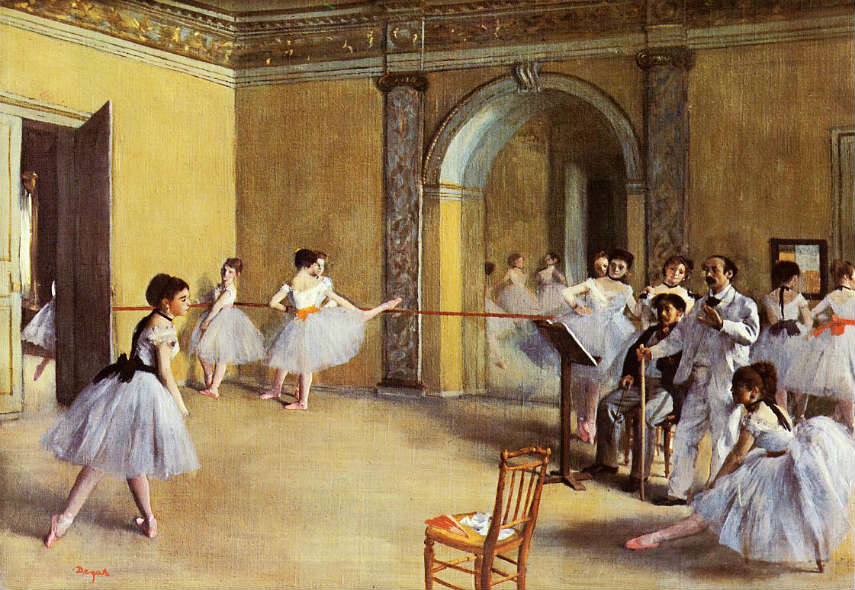 Dancers and the Theme of Female Emancipation
Degas' oeuvre consisted of portraits and genre scenes, representing mostly female characters. Although his paintings are not political, they reflect changes in the social and economic environment, including the growth of the bourgeoisie, female emancipation and entrance of women into the public life. At the eighth and final Impressionist exhibition, he showed his paintings portraying nude women in different stages of bathing. They have divided the critic and became a source of controversy. Later on, he painted hundreds of paintings and studies of nudes, but ballet dancers remained his favorite theme, shown from the radical perspectives in their rehearsals or in a backstage.
At the final Impressionist exhibition he showed his paintings portraying nude women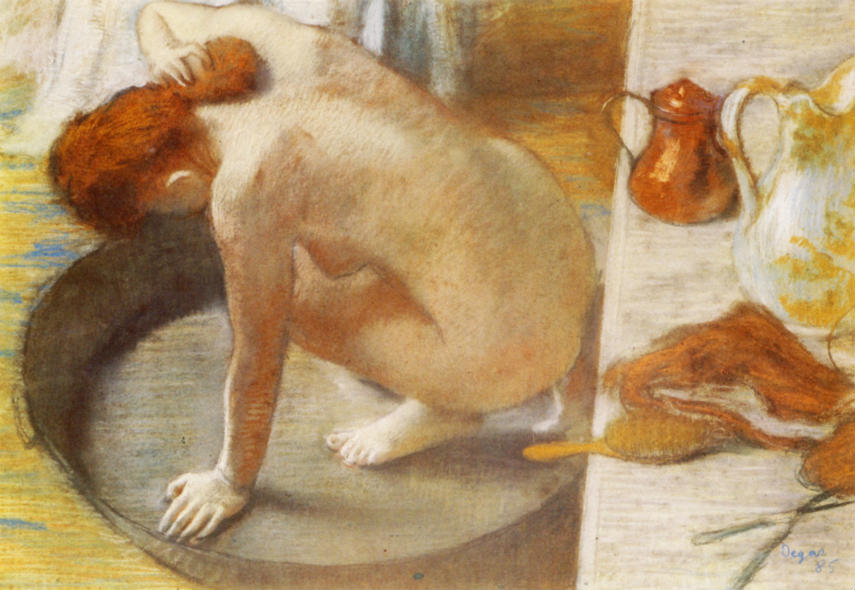 Late Period and Acceptance of New Media
Edgar Degas developed his distinctive style influenced by admiration for the old masters and great respect for the work of Domonique Ingres and Eugene Delacroix. As a collector of the Japanese prints, he fused its compositional principles with realistic illustrations of Daumier and Gavarni. During the ages, as his subject matter changed, so did his technique. The vivid colors and bold brushstrokes replaced the dark palette from the beginning of his career. Rejecting the rigid rules, Degas' work was controversial, but essentially admired and accepted. He continued working until he was forced to leave his studio in Montmartre in 1912. By that time, he was nearly blind, living a life of solitude which was his own choice, probably in accordance with his argumentative nature. Edgar Degas died on the streets of Paris in 1917, at the age of 83. In his late work, he abandoned the oil painting, using different media, as photography, pastels and sculpture. His reputation as one of the leaders of the late 19th-century French artist was confirmed by the time of his death. His work greatly influenced on many important painters, especially Henri de Toulouse-Lautrec.
Featured image: Edgar Degas - Self-Portrait (detail), photo credits sh.wikipedia.org
All images used for illustrative purpose only