A master of blending street art with concepts of optical illusions, the name of Edgar Mueller does not require too much introduction to the fans of the urban medium, especially if they are intrigued by the 3D street art scene. Mueller has been building up a rather impressive Curriculum Vitae over the years by giving birth to some of the most enthralling visual illusions the medium of urban art has seen in the relatively short history it existed. Ever since the year of 1998, Edgar has held the elite title of maestro madonnari (master street painter), an honor awarded at the world's largest street painting gala, The Grazie Festival, which is held in the small pilgrim town of Grazie in Italy.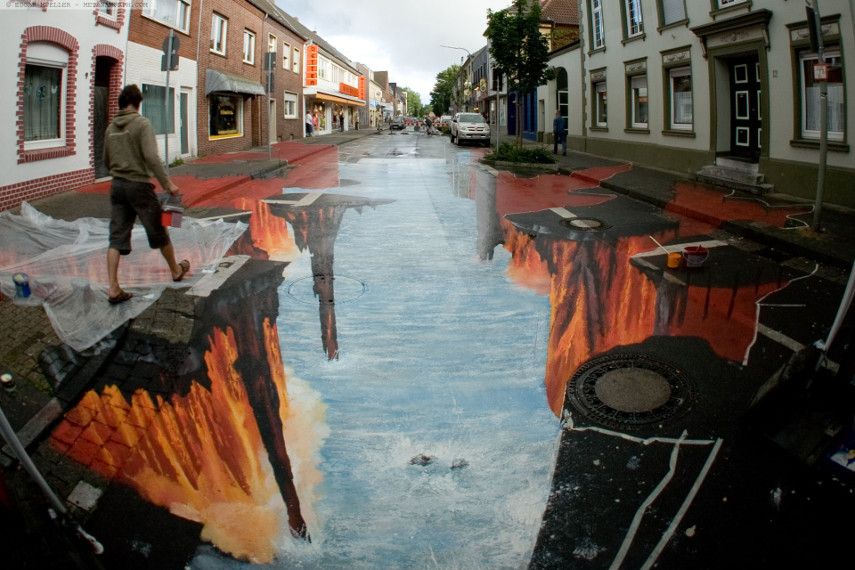 The Scholl in Geldern and the Hard Choice
Edgar Mueller was born during the year of 1968, in Mulheim an der Ruhr, often described by the local populace as The City on the River. Although he was born here, Edgar did not grow up in Mulheim - he came of age in the rural city of Straelen on the western edge of Germany, located in the North Rhine-Westphalia and near the border with the Netherlands. Ever since his pioneering years, Mueller showed fascination towards painting - his earliest works were rural scenes of his town, through which Edgar showed an incredible insight into composition and organization uncommon for such a youthful mind. By his parent's acclaim, Edgar was drawing ever since he was able to hold a brush, showing signs of artistic versatility and competitiveness that will never truly abandon this artist's methods. When the time came for Edgar to enroll with a high school of his choosing, the young painter decided to become a part of a school in the neighboring town of Geldern. This decision later proved fruitful because it opened a door for Mueller to join numerous international competitions of street painters that regularly took place at his new school - it held the second oldest street painting competition in the world! Mueller took part for the first time when he was 16 years old and won the first competition just prior to his 19th birthday with a copy of the famous Jesus at Emmaus, a renaissance painting originally done by the legendary Caravaggio. These experiences led Mueller to a habit of participating in numerous international artistic tournaments. Around the age of 25, Müller decided to devote himself completely to street paintings and it's perspective, traveling all over Europe and making a living with what will soon become his trademark of - transitory art. By doing so, Muller literally turned the street into his studio. Due to his history of traditional painting, it was not an easy choice to make when Mueller dedicated himself exclusively to street art, but it was a resolution that proved to be more than conducive in the future, although certainly a bit painful for Mueller.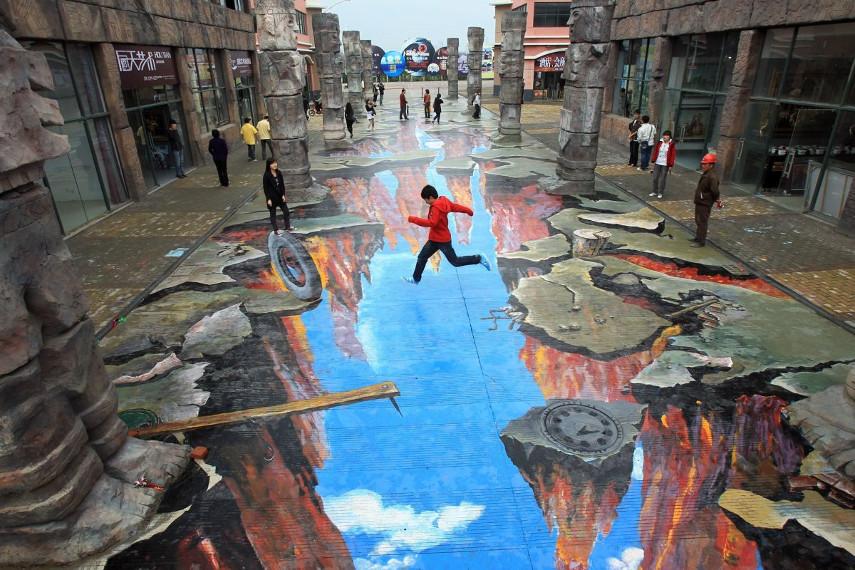 The 3D Master Of Street Art
Ever since he relied on his Jesus at Emmaus to win the first competition he was a part of, Edgar Mueller never stopped using classical art as an influence and foundation for his own pieces. That fascination with the old masters is ever-present in Mueller's portfolio and it's not a private, secret influence in the least - Edgar openly invites the audience to enjoy and analyze his versions and takes on the works of the great artists. Inspired by three-dimensional illusion paintings (particularly by the works of Kurt Wenner and Julian Beever), Edgar has managed to develop his own take on the genre of visual delusions, stamping his signature style on every piece he ever authored. Usually due to his grounding in traditional painting and modern communication, Muller uses a more simple and graphic language for his art then it's often the case with street mediums. He paints over vast areas of urban communal life and provides them with a new appearance, thereby disputing the perceptions of accidental bystanders. Through participating in his work, whether you do so willingly or accidently, you become a part of the new scenery offered by Edgar - by literally passing over or through his work, you change the painting's statement. The artist himself best explains the ideas behind the optical illusions: Beside personal messages and different layers of questions and sometimes even answers - I guess I´m mainly questioning the daily perception and experience of people by changing the appearance of public places. As his arguable masterpiece, Müller created a 100' x 40' 3D street painting at the Avenida de Colores, the first known contemporary street painting that metamorphosed from one image to another with the change from day to night because the painter used photoluminescent paints! Over the course of his career, Mueller has regularly been holding workshops at schools, as well as being a co-organizer and committee member of various street painting festivals. It should also be noted that Muller was the first artist to set up an internet board for street painters in his home country - a forum designed to promote solidarity between German and International street painters, as well as providing a place where aspiring artists can freely communicate and exchange ideas.
Edgar Mueller has managed to establish himself as one of the most popular and successful 3D street artists out there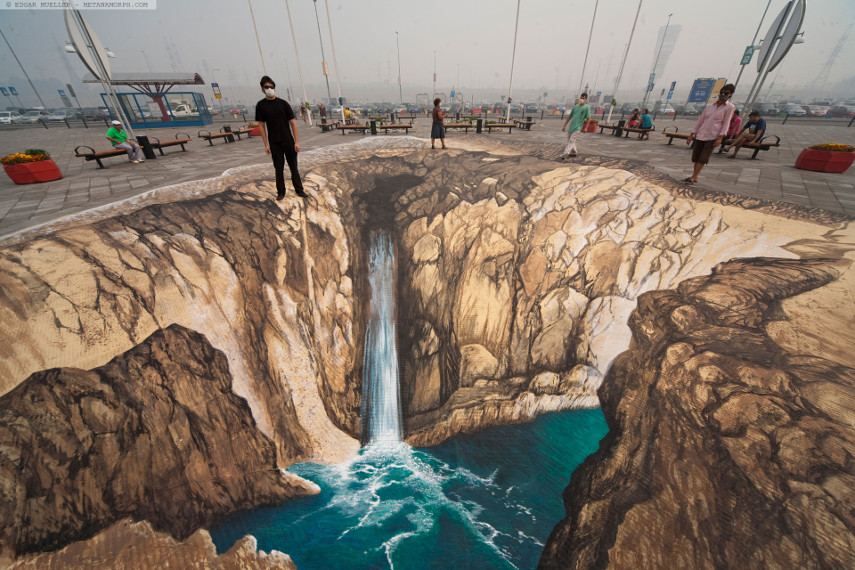 A True Maestro Madonnari
Ever since his earliest years of art making, Mueller was completely self-tough due to the uniqueness of his work and the sheer competitiveness he developed during high school. That is probably the only thing that can rival the awe-inspiring effect of his works as it's rather incredible that an artist of such degree has taught himself all he knows. Luckily for us that are not fortunate enough to be in the cities where Muller works, his extraordinary art has been widely covered in print and digital media which allow all of us to enjoy Edgar's creations sovereign from the boundaries of geography - the best way to truly witness Mueller's art through a screen is to visit his official website, the link to which you can find above the first image.
Edgar Mueller lives and works in Straelen, Germany.
Featured Image: Edgar Mueller - The artist in front of his work - Image courtesy of Edgar Mueller
All images courtesy of Edgar Mueller