The boundaries of art are virtually endless, and though we might be limited as to what we can physically accomplish, artists have explored every nook of the given spectrum of possibilities. Regardless of the method of expression, it is the very freedom of choice and portrayal that makes art what it is. Led by his own sense of freedom, Édouard Manet chose art as a calling in life over other paths intended for him since his youth, forging a career that is seen as one of the most influential on his peers of the 19th century as well as Impressionism as a whole. As one of the first artists to depict scenes of modern life in his works, Manet's practice remains monumental for the artistic history.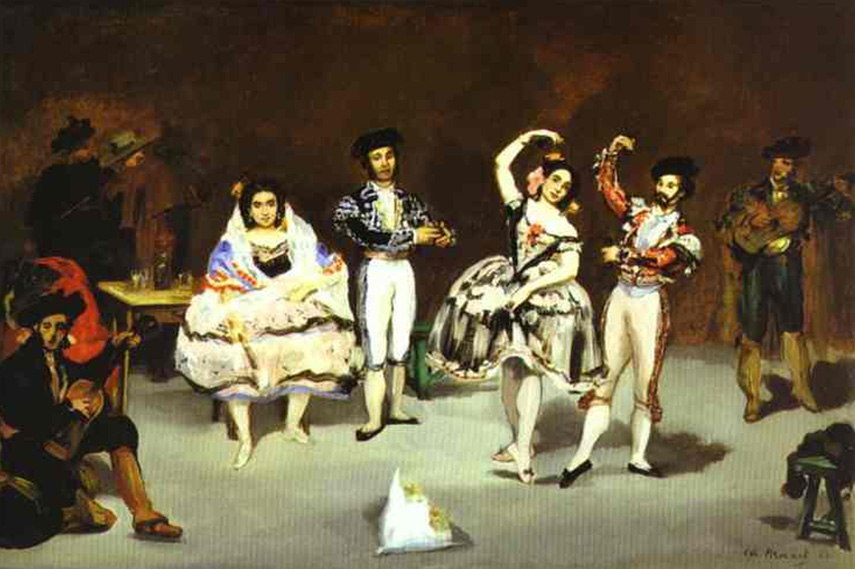 The Freedom of Art
Though the freedom of art wasn't as widely "liberal" in the 19th century as it might be today, Édouard Manet pursued such a notion both in his practice and in his life. Even during his early years, he expressed a tendency to follow his own instinct rather than the conservative ideas of both society and his family. His father, August Manet, who was a high-ranking civil servant, saw the future of his son in the boundaries of law, and in order to please the wishes of his father Édouard signed up for the Naval Academy regardless of his personal desires towards art. Failing the entrance exam, he was sent to Rio de Janeiro in 1849 as part of the Merchant Marine, with his father's hopes of him acquiring experience as a student pilot.
However, the year-long voyage didn't pan out quite as August envisioned it. Young Édouard's fire for art had been kindled by his uncle who supported him against the wishes of his father. Encouraging him to take up painting as a child, Edmond Fournier would take Édouard to the Louvre, admiring the works of great artists. It wasn't the end of artistic influence on the future artist, as he enroled at the Collège Rollin, a secondary school, in 1841. Taking up a special course of drawing in 1845, he met Antonin Proust, a lifelong friend and a future Minister of Fine Arts. It all left an impression on Manet, and dissuading him from the course of art was hardly possible, given his headstrong nature.
Naturally, Édouard Manet returned a year after his departure for Rio with a portfolio of paintings and drawings, proving his dedication and interest towards the practice. His father was reluctant to allow him to take such a path, as Édouard was no better than an average art student, and in 1950 August let down his guard and gave him permission to pursue what was his dream. In line with his nature, Édouard never studied at the intended Ecole des Beaux-Arts, even though his family was more than economically stable. He sought to expand his knowledge at Thomas Couture's studio whose encouragement to his students to explore their own artistic expressions suited Manet perfectly.
Édouard Manet studied under Thomas Couture's encouragement of a free artistic expression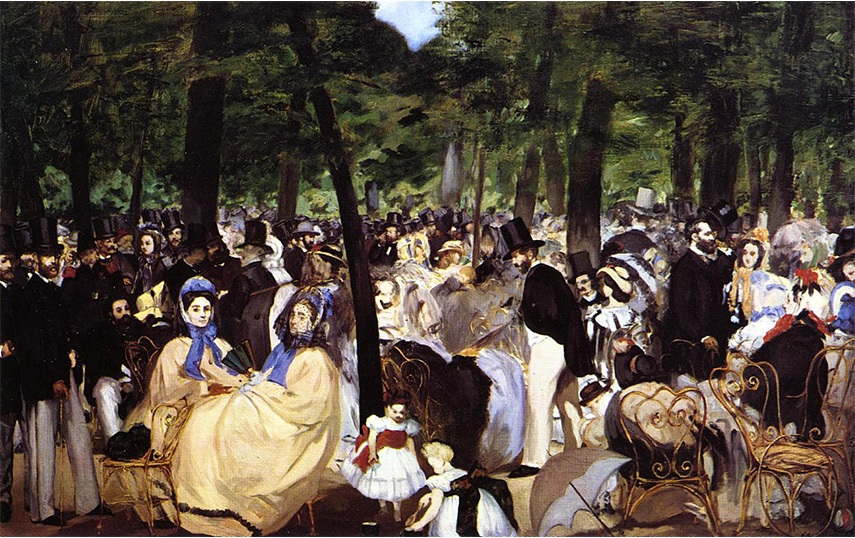 Towards a Unique Style
Six years of study under Thomas Couture thought Manet the importance of a unique style and he's implemented it quickly after his departure from the class. Given the strong economic status of his family, he had no issues opening his own studio in 1856 in the rue Lavoisier, working towards his own recognizable style. One of the rare few artists of the time that heeded the advice of the poet Charles Baudelaire to start depicting modern life, Manet portrayed his observations of Parisian life with a natural sense for it. Making his The Absinthe Drinker in 1858 is what truly set him apart from the teachings of Couture, setting him upon a bold path of disapproval from the society.
Although it can't be said to have influenced his style, things of personal matter were as much of a part of modern life as any other, and one, in particular, would follow him for the rest of his life. Falling in love with his piano teacher at no more than 18 years old, Manet fathered a son, Leon, with Suzanne Leenhoff. Born in 1852, Leon was passed off to the Leenhoff family and in order to avoid scandal, he was introduced as Suzanne's younger brother and Manet's godson. Throughout the years, Manet would often use Leon as a subject for his paintings, resulting in many pieces of which the most famous one is Boy Carrying a Sword produced in 1861, as well as appearing in The Balcony in the background of the painting. Suzanne Leenhoff became Manet's wife after the death of his father in 1862, and she, too, was a subject for his portrayals, most notably in The Reading, among other paintings.
Manet quickly realized the importance of a unique style in art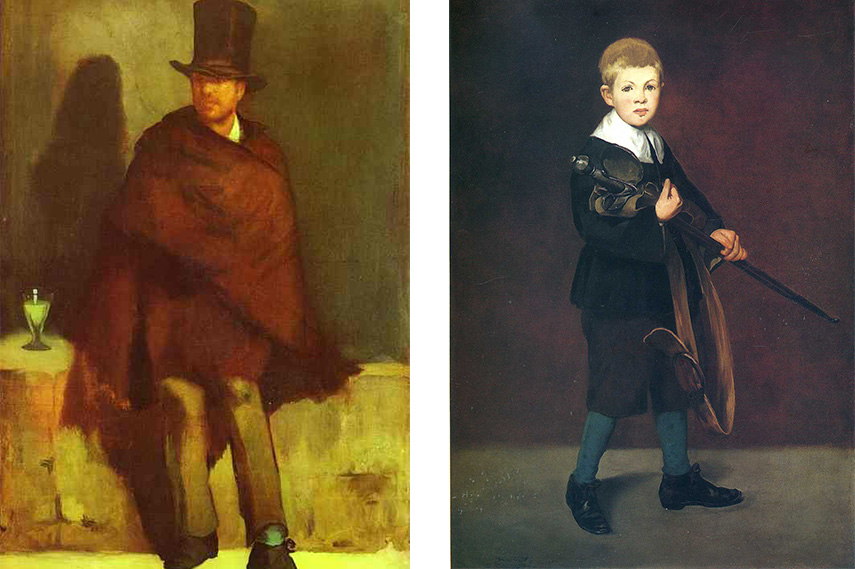 Works that Influenced a Generation
Choosing his subjects among the general public of the time, Manet depicted beggars, gypsies, street people, and in a time when realism was the "go-to" style in the world of art, he would induce his knowledge of the old masters focusing on his subjects which evoked an array of reactions to his pieces. During this period, Manet would create some of the works he is most known for to this day, one of them being Le Dejeuner sur l'Herbe from 1863. Depicting a naked woman with two men that seem to be having a conversation, Manet's attempt at the annual Paris Salon with Le Dejeuner sur l'Herbe went more than sour, receiving criticism from the public that would follow him for his quaint style.
Having been denied entry at the Salon and being included at the Salon des Refuses, Manet set out to prove the worth of his art and change the current system of exclusion that the Salon operated under. Unknowingly, his devotion made him one of the first modern artists in history. Given his unsettling character, he produced Olympia in the same year, presenting it at yet another Salon in 1865 only to be denied again. The painting featured a nude of his favorite model, Victorine Meurent, and it proved to be too confrontational and found unacceptable to the Parisian public.
Manet's devotion to his style made him one of the first modern artists in history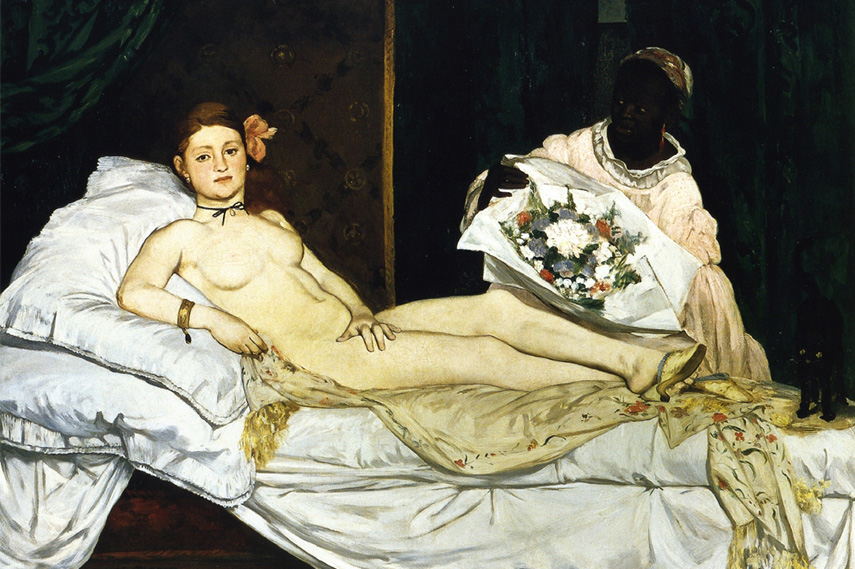 Between Peace and War
Manet's life situations influenced the depicting subjects in his art, as anyone would expect of an artist following the course of modern life through his practice. His socialization unmistakably led to a series of paintings depicting café scenes and they ended up being some of his most loved works. Based on small sketches that he would make while hanging out, works like At the Cafe, The Beer Drinkers, and The Cafe Concert all stand as representatives of his 1970s period depicting Paris. More than just cafes, the more formal social activities that he would attend due to being in the upper class of society also found way into his portfolio, presented in pieces like The Luncheon, from 1868 as well as Masked Ball at the Opera.
Following the same line, a contrast to depictions of Parisian society were his portrayals of war scenes. Even before his serving in the Franco-German War in 1870, his modern life representations were somewhat devoted to the subject of war. The first such piece was the Battle of the Kearsargeand Alabama made in 1864, followed by three versions of the Execution of Emperor Maximilian referencing the French intervention in Mexico. As some of his largest pieces, the Execution versions supposedly spoke about the importance of the event of execution of a Habsburg emperor.
Some of the key subjects in Manet's portoflio were social scenes and war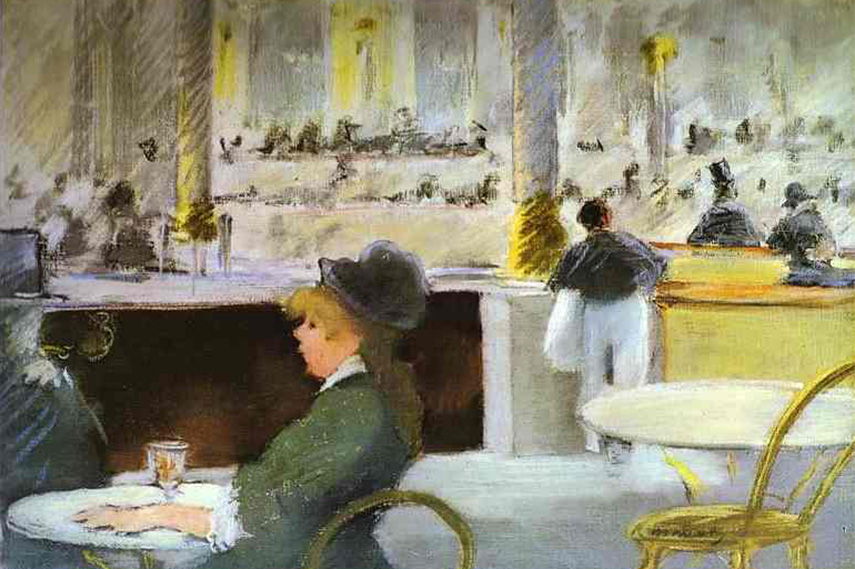 Life in Paris
Yet another scenery often found in Manet's exploration and "documentation" of modern life are the streets of Paris and its people. One of the main representatives of this practice is Manet's The Railway painted in 1873, also known as The Gare Saint-Lazare. Depicting his favourite model and a fellow painter, Victorine Meurent, who also modeled for Olympia and the Luncheon on the Grass, The Railway shows a scene that ignores the traditional convention of deep space. Sitting in front of an iron fence that stretches across the canvas are a woman holding a sleeping dog and a girl with her back to the viewer, with the only indication of a train the girl is watching is the cloud of white steam in the background. The painting, much like a lot of Manet's other pieces, was ill received on its first exhibition at the Paris Salon of 1874, with only a few recognizing the symbol of modernity it represents. The period was also marked by a number of boating subjects, showing what Manet has learned from the Japanese printing examples.
Learning from the Japanese printing examples, Manet depicted a number of boating subjects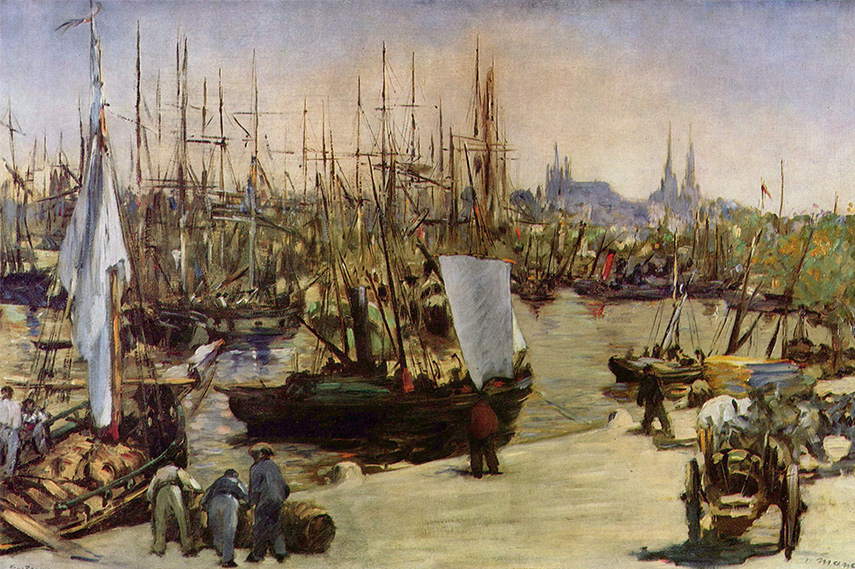 Birth of Impressionism
Disapproval of Manet's artistic ways at the Salon continued, and his work has been rejected once more in 1866, with his presentation of The Fifer (1866) and The Tragic Actor (1866). However, his art, unorthodox style, and rebellious character all found acceptance among some of his peers and colleagues, revering him for his work. Gathering at the Cafe Guerbois on a regular basis, the group of artists big names of the time that included Henri Fantin-Latour, Edgar Degas, Camille Pissarro, Paul Cézanne, Emile Zola, Felix Nadar, Pierre-Auguste Renoir, Claude Monet, and of course Manet himself would end up influencing each other in their mixture of thoughts and ideas, forming a new kind of style.
They were all very supportive of what the painter was representing as well as his actual works. The denial that he constantly received from the Salon would eventually lead to his own public exhibitions held at his studio; Zola even wrote an essay about Manet in L'Evenement which got him fired. Portraying the influence that Manet had among this group of progenitors of Impressionism is his A Studio at Batignolles from 1870, depicting Monet, Zola, Bazille, and Renoir, among others, as they admire Manet who is painting in his studio. It was mostly the artists from this group that decided to stand on their own, separated from the Salon, forming the Société Anonyme Coopérative des Artistes Peintres, Sculpteurs, Graveurs in 1873 which consequently led to Impressionism as an art direction. Though Manet declined to be a part of their first exhibition that was a pure representation of revolt against the Salon, he is considered to be a pivotal figure in the very creation of Impressionism and an enormous influence on its other representatives.
Manet was a pivotal figure in the very creation of Impressionism and an enormous influence on its other representatives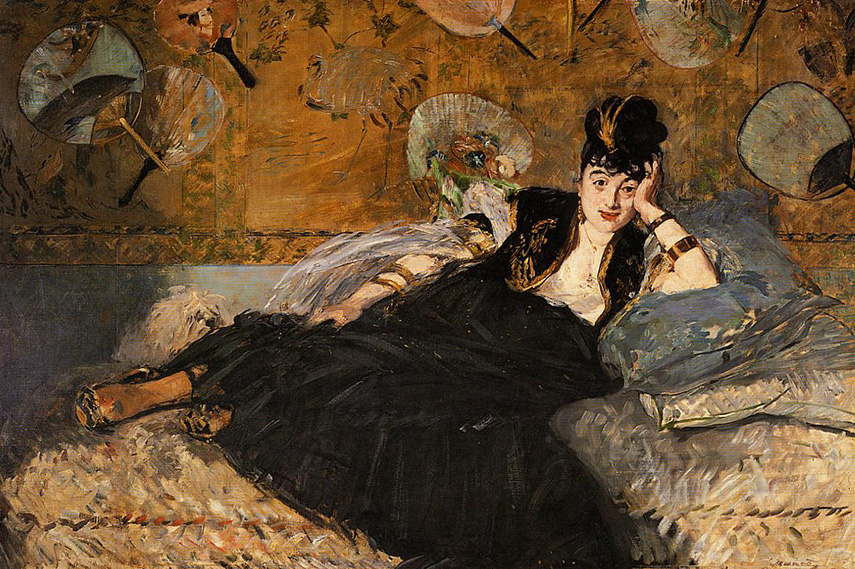 Impression of Boldness
The very definition of contradictory, Manet stayed true to his devotion to the Salon to the very end, even though his work had been repeatedly turned down up until the later years of his career. The artistic period of the early 1880s was marked by portraits of women, still-lifes, landscapes, and flowers, and Manet would go to great lengths with the poor condition of his health to portray these subjects. Leaving his wife and son, he died aged 51 in 1883, with a portfolio of about 420 paintings to his name. Defined as undoubtedly bold and influential, he is seen as the father of modern art and his impact on the world and history of art, immeasurable.
Featured image: Édouard Manet - Self Portrait with a Palette (detail), 1879
All images via wikiart.org