Street art is one of the most celebrated forms of art in São Paulo, Brazil. It adds color and context to the walls throughout the city leaving the viewer at a loss for words. One of the artists at the forefront of metropolis' stunning contemporary art scene is Eduardo Kobra best known for his massive-scale, brightly colored murals infused with bold lines. His famous photorealistic pieces often depict portraits of some of the most iconic people throughout history. He also produces three-dimensional works. Not infrequently, the core message of Kobra's street art is the fight against pollution, global warming, destruction of forests and war.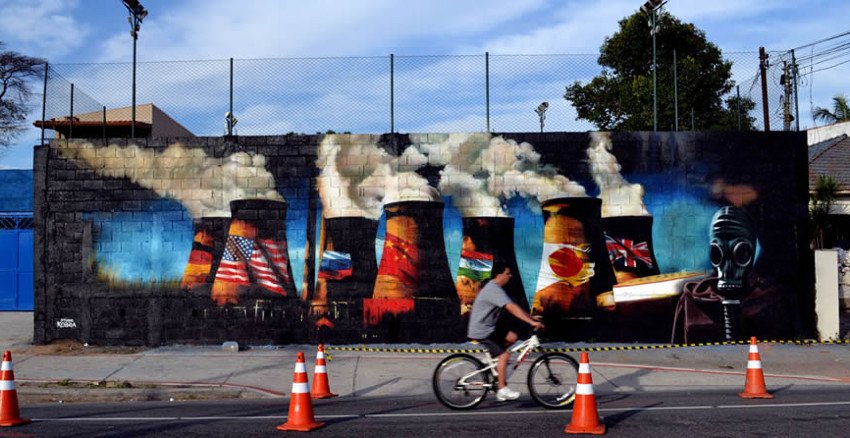 Walls of Memory
Born in 1976 in Clear Field, a low-income neighborhood located in the suburbs of Sãn Paulo, the artist discovered his passion for street art in his early years. During his teens, he entered the world of tagging with an older graffiti crew known as "Hip Hop." In the 1990s, São Paulo became one of the prominent centers of contemporary street art. Kobra followed the emergence of urban art in his native town and converged – with Studio Kobra – to a unique mural painting, taking advantage of his characteristics as a curious artist, good designer, and proficient realistic painter. Additionally, his project Walls of Memory (Muros de Memoria) has been developed as a way to transform visual appearance of the urban area through art and bring back the memories of the city. The panel - which measured about 10,000 square feet - was made of several smaller murals on the same theme with the idea was to create portals to the city of the past. Depicting vintage scenes, black and white images, the artist created a contrast between the various historic times.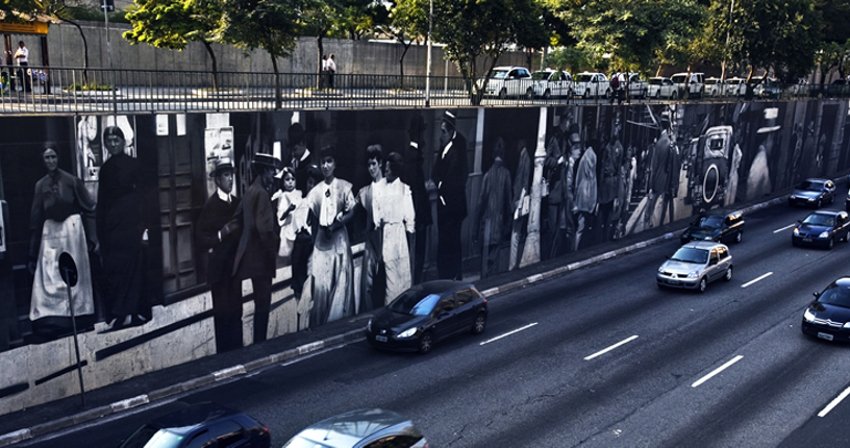 Process of Work
The artist spends a lot of time in museums and libraries exploring the city's history before starts creating a new piece. After he gets an impression of the history of the location he chose for a painting he begins working on it and creating images pulled from vintage photographs that evoke a sense of memory and nostalgia for the passers-by. Although Kobra usually uses intense colors, he also utilized a darker palette in some of his pieces without losing the amazing air of beauty in them.
Kobra's murals evoke a sense of memory and nostalgia for the passers-by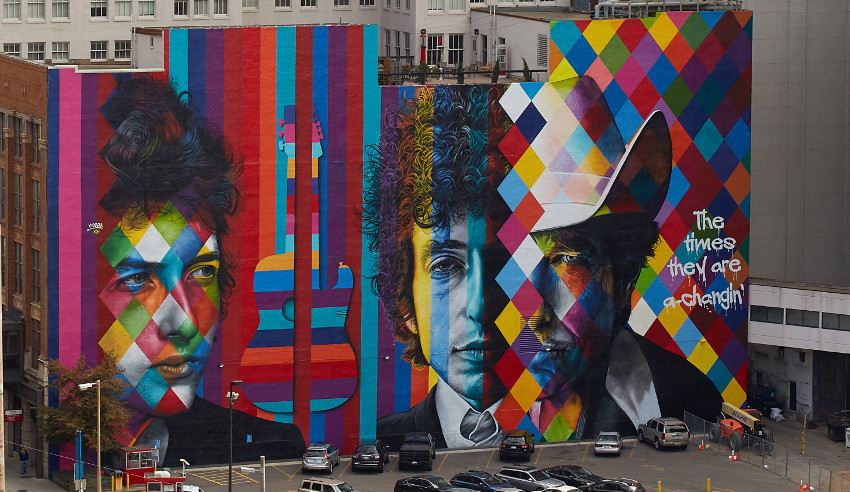 Photorealistic Murals by Kobra
Kobra likes the contrast between different historic times: the cars, the clothes, the behaviors. His work is a combination of various techniques including painting with a mix of brushes, airbrush and aerosol cans. These different approaches are determined by the size of walls and buildings that he works on. In his practice, Kobra combines geometric shapes like circles, triangles, and squares in multicolored backgrounds and embroiled shading and swirling effects to achieve a sense of photorealism often with an emphasis on imagery that requires a high level of technical prowess.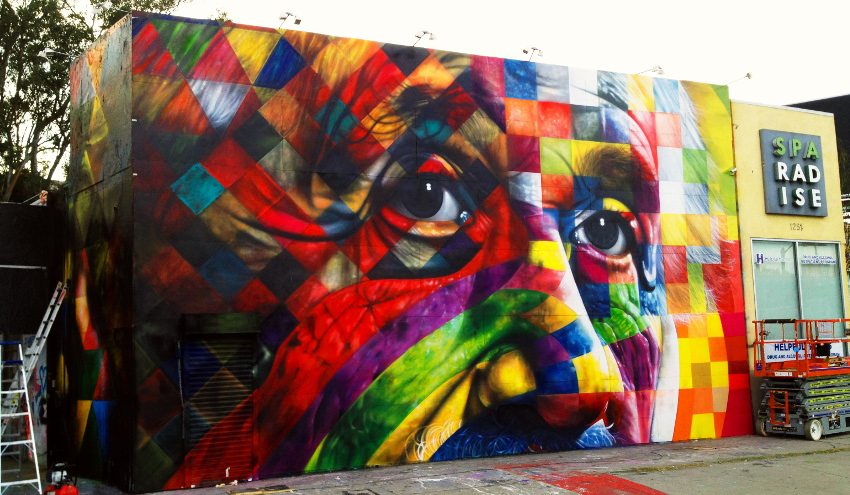 Tribute to Oscar Niemeyer
In the beginning of 2013, Kobra painted a larger than life mural of the Brazilian architect Oscar Niemeyer, covering the entire side of an 18 story skyscraper on Paulista Avenue in São Paulo's financial district. A 52-meter tall polychromatic portrait of the renowned architect who passed away in December of 2012, at the age of 104, has attracted worldwide attention. The artwork was inspired by Niemeyer's architecture, his love of concrete and Le Corbusier.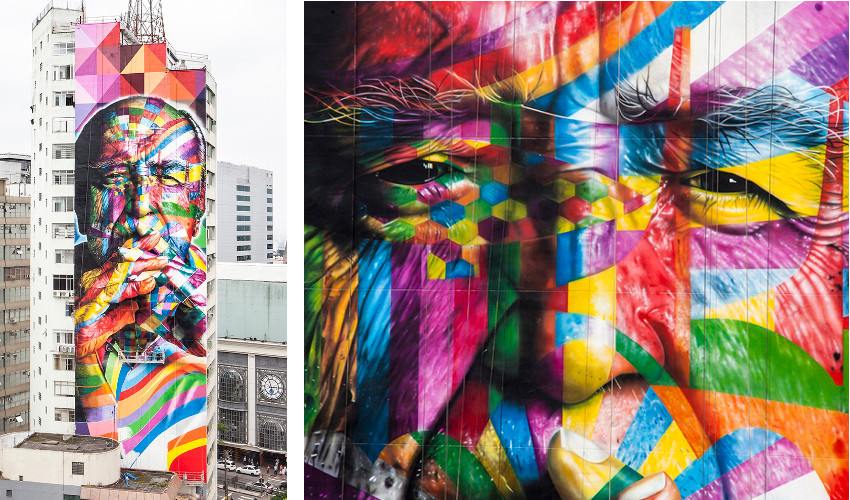 Mural of Eisenstaedt's Photo "V-J Day in Times Square"
Another famous work by the Brazilian artist is the two-level public art piece viewable from the High Line Park in NYC and is based on the iconic Alfred Eisenstaedt photograph, V-J Day in Times Square, which portrays an American sailor kissing a woman in a white dress on Victory over Japan Day in Times Square. The bottom panel shows Times Square in 1945 when the famous kiss scene happened. Kobra has added colorful hues over images giving them new life in our contemporary imagination.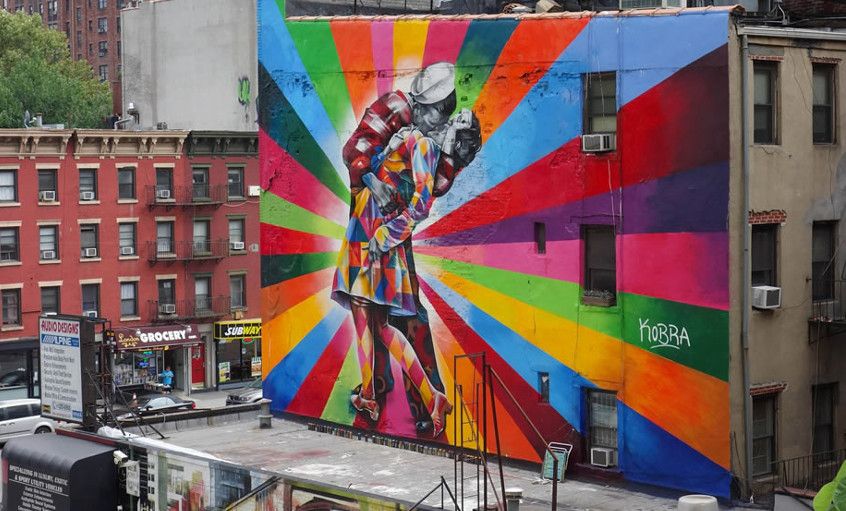 Famous Murals by Kobra
Utilizing bright colors and bold lines, he brings to life the notable people he depicts in his images. His piece titled Genial is riding a bike is 13 meters high by 7 meters large piece depicting Albert Einstein riding a bicycle. The piece showing Abraham Lincoln in Kentucky, USA, was made during the PRHBTN art festival in 2013 while his famous piece in Moscow shows Russian ballerina Maya Plisetskaya. In August 2015, he and a team of five artists, have created a five-story mural of the famous American singer Bob Dylan in downtown Minneapolis, the county seat of Hennepin County.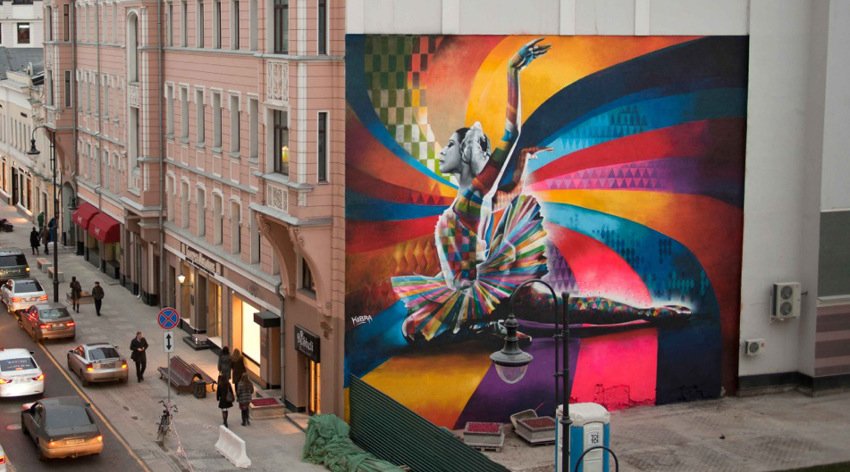 From São Paulo to New York to Moscow
Kobra's colorful pieces can be found all over the world including such countries as the USA, Russia, the UK, Brazil, Japan, Switzerland, France, Greece, the UAE, Poland, and Italy, to name a few. He has participated in many exhibitions, including the 2013 Miami Art Basel. In May 2014, the artist presented a body of work consisting of ten portraits of historical leaders who all stood in the name of Peace. The show was titled Kobra and it was on display in Dorothy Circus Gallery in Rome.
The exponent of new urban, artistic vanguard in São Paulo and Brazil, Kobra keeps creating enchanting murals that serve as a kind of social visual diary depicting persons who went into history for their achievements and actions. Through his truly remarkable realistic murals, rich in both color and geometric shapes, Kobra pays tribute to all those people.
Eduardo Kobra lives in São Paulo.
All images copyright © the artist