Enchanted by modern machines and the rapid development of technology, Eduardo Paolozzi produced graphic art, collages, pottery, films, mosaics and sculptures. Mainly driven by industrial engineering, this prolific and inventive Scottish artist was a prominent member of the international Pop Art movement. His early practice of making bronze sculptures representing anguished figures eventually evolved into a process of making geometric human forms by piecing together aluminum and brass casting molds. Paolozzi's mature sculptures have often been described as totems of the technological age.[1]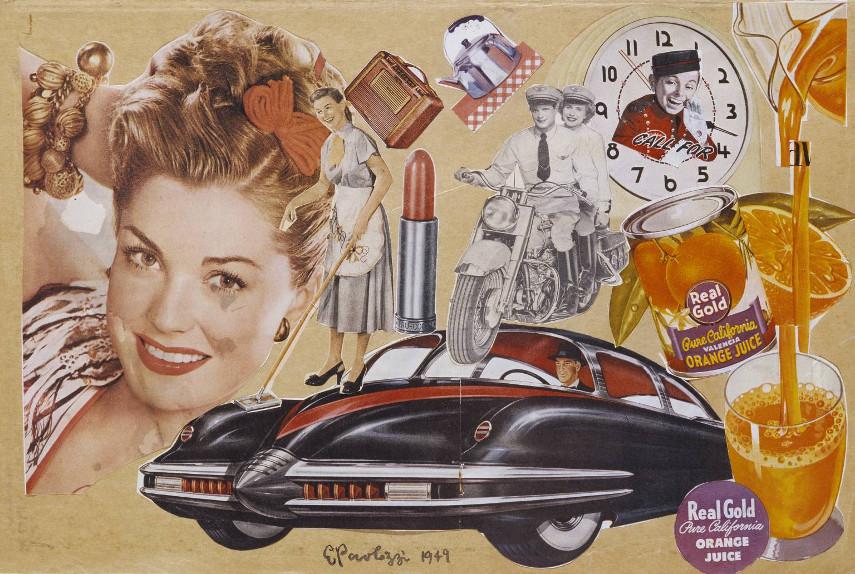 Early Career Choices
Eduardo Luigi Paolozzi was born on the 7th of March in the year of 1924, in Edinburgh, the capital city of Scotland. He was an only child in a family of Italian descent. In 1943, young Paolozzi enrolled at the Edinburgh College of Art with the intention of becoming a commercial artist and using his creativity to make a living. Although he was slowed down a bit by his short stint in the Royal Pioneer Corps, he transferred to the London's St. Martin's School of Art in 1944 and graduated by the following year at this prestigious UK institution. When the World War II came to a halt and the rifles became silent around the Old Continent, Luigi Paolozzi changed his career path and begun studying sculpture at the Slade School of Fine Art.[2] He stayed there until the year of 1947 when Paolozzi completed his course at this institution.
Paolozzi was a part of a small group of modern artists that truly believed in the positive relationship between art and machinery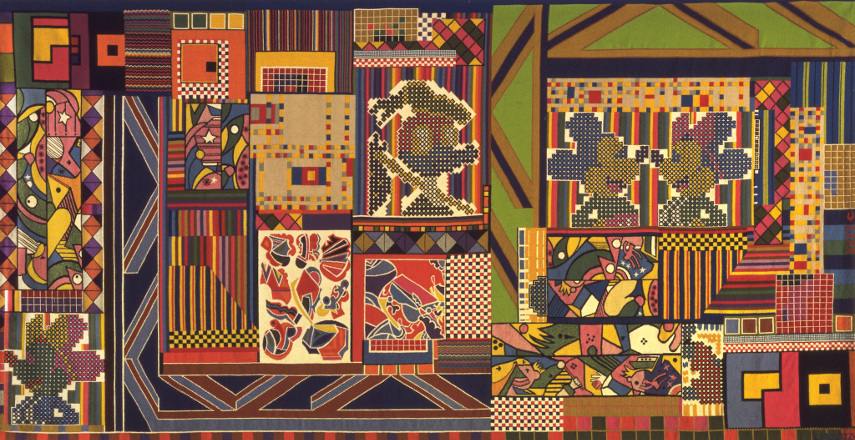 Surrealism and Collage Artworks
During the late 1940s, Paolozzi spent some time in Paris, France. Whilst there, he was watching and studying the works of many local surrealist artists[3], such as Jean Dubuffet and Alberto Giacometti. During this time, Paolozzi also started making sculptures and collages - these pieces uniquely combined the influences of Surrealism and Cubism with elements of popular culture and contemporary machinery. By the year of 1952, the pieces Paolozzi made in Paris and their unique style established this artist as one of the creative inventors of what will soon be known as Pop Art.
Eduardo Paolozzi dedicated his early creative life to finding the artistic balance between Surrealism and Cubism
[caption id="attachment_368719" align="aligncenter" width="855"]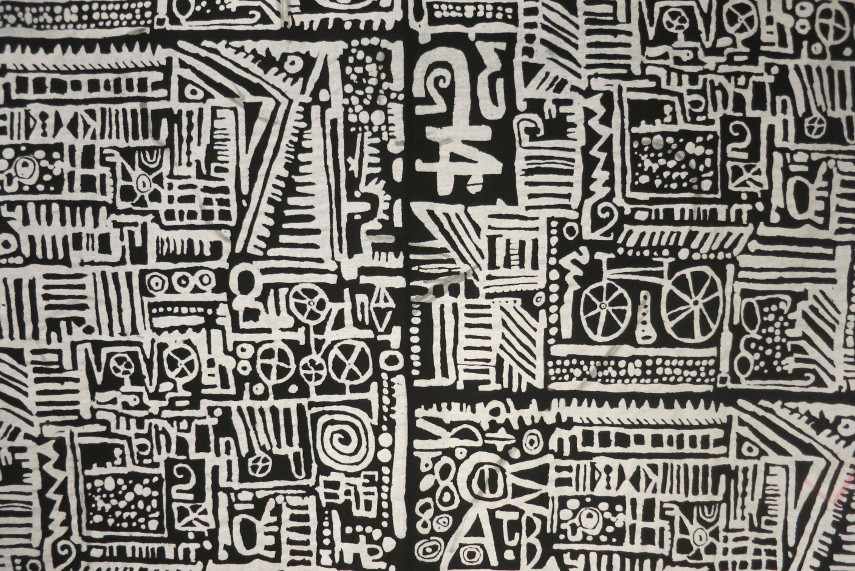 Eduardo Paolozzi - Barkcloth - Image via calsfieldnotes.com[/caption]
The Mature Art of Eduardo Paolozzi
During the 1950s, Paolozzi's primary artistic focus was the suffering human form. In the next decade, he further incorporated the theme of modern machinery into his art, a feature that was already responsible for putting this artist on the map of modern art. Aluminum became Paolozzi's new material of choice as he littered his work with discarded machine parts. This was an interesting new feature in his work as it linked him to the early avant-garde art and ready-made pieces. Through his industrial art, Eduardo Paolozzi aimed at making a social statement about man's role in the age of growing technology. Later in his life, this author spent much of his time working on abstract art[4], exploring printmaking techniques and reliefs. Through the 1980s and 1990s, Paolozzi continued to accept public commissions on a regular basis, working on artworks like his 10-foot bronze statue of Sir Isaac Newton. Eduardo Paolozzi died after a long period of illness in 2005.
Sir Eduardo Paolozzi was among the first early Pop Art authors to appropriate images from advertisements in order to create collages that were completely independent of the original material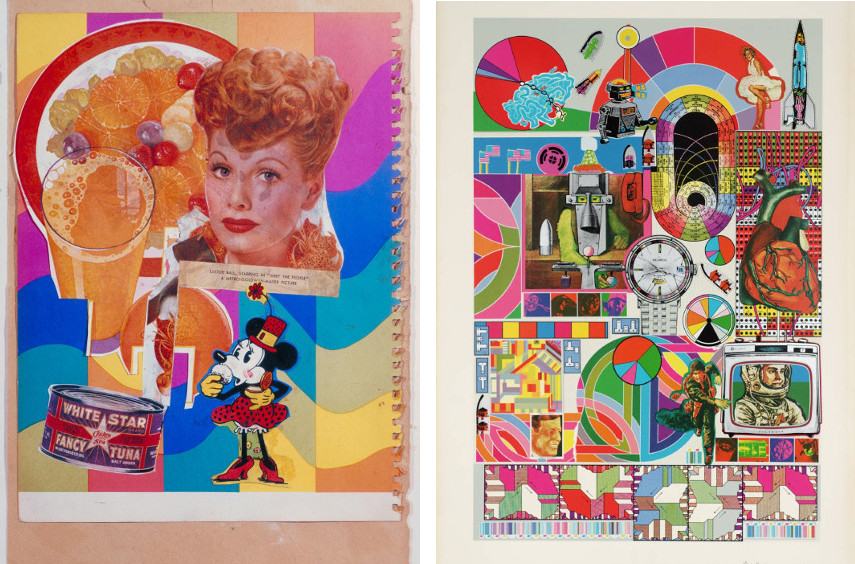 Main Achievements of His Biography ( 1924–2005 )[5]
Thanks to his incredible works of art that attempted to bridge the gap between the rapid development of technology and artistic traditions, Eduardo Paolozzi established himself as a prominent member of the international Pop Art. He was also one of the most unique and distinctive authors of the movement, which is saying a lot since Pop Art was so diverse and rich with characteristic artists. Maybe the greatest of Paolozzi's achievements was his embrace of technology - rather than perceiving it as a sort of demon to be feared, Eduardo insisted that 20th-century art and culture must not reject the results of the industrial development but rather use it and creatively profit from such a correlation.
References:
Paolozzi, E., Eduardo Paolozzi, Whitechapel Gallery, 2017
Collins, J., Eduardo Paolozzi, Lund Humphries; New edition, 2014
Spencer, R., Paolozzi, E., Eduardo Paolozzi: Writings and Interviews, Oxford University Press, 2001
Anonymous, Eduardo Paolozzi, Guggenheim Museum [Apr 18, 2017]
Whitford, F. (2005), Sir Eduardo Paolozzi, The Guardian [Apr 18, 2017]
Featured image: Eduardo Paolozzi - Photo of the artist - Image via mattfraser4.com
All images used for illustrative purposes only.